These vegetarian Sweet Potato and Black Bean Enchiladas are packed with flavor – perfect for a Tex-Mex dinner on a budget!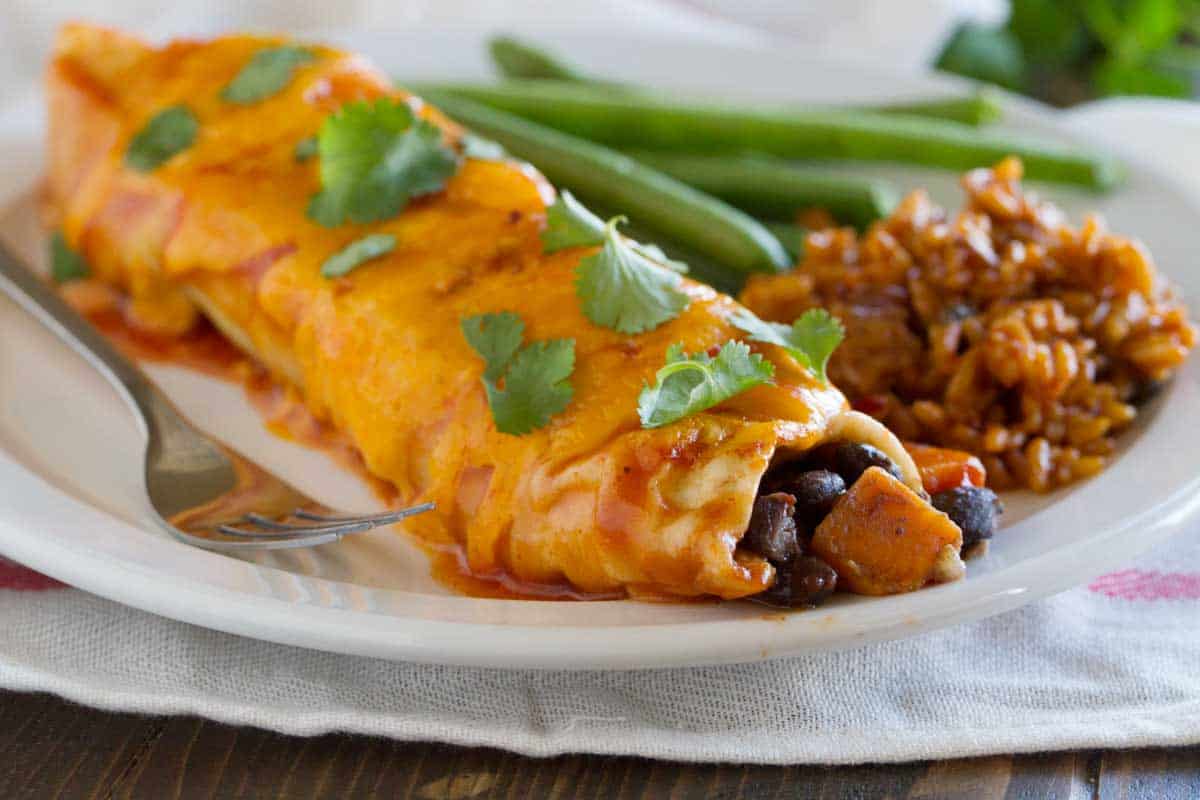 I have always been fascinated with the "food holidays" for some reason. You know, when they say (whoever they is!) that February 3rd is National Carrot Cake Day or that October 8th is National Fluffernutter Day. I mean, I have no idea who comes up with these, or why even, but I love them. I don't normally change my menu plan based on these holidays, although that would be pretty fun, wouldn't it?!? That would mean today's menu would consist of strawberries (National Strawberry Day February 27) a hot breakfast (February is National Hot Breakfast Month) and pancakes (the last week of February is National Pancake Week.) I'm pretty sure I could work with that!!
Although I don't alter my menu plan for these food holidays, sometimes things just fall into place.
Like did you know that February is National Sweet Potato Month?
I totally didn't even plan this, but earlier this month I posted those delicious Twice Baked Sweet Potatoes. Then today, I have Sweet Potato and Black Bean Enchiladas. And believe it or not, we are finishing off February with another sweet potato recipe tomorrow.
It couldn't have all worked out any better. 🙂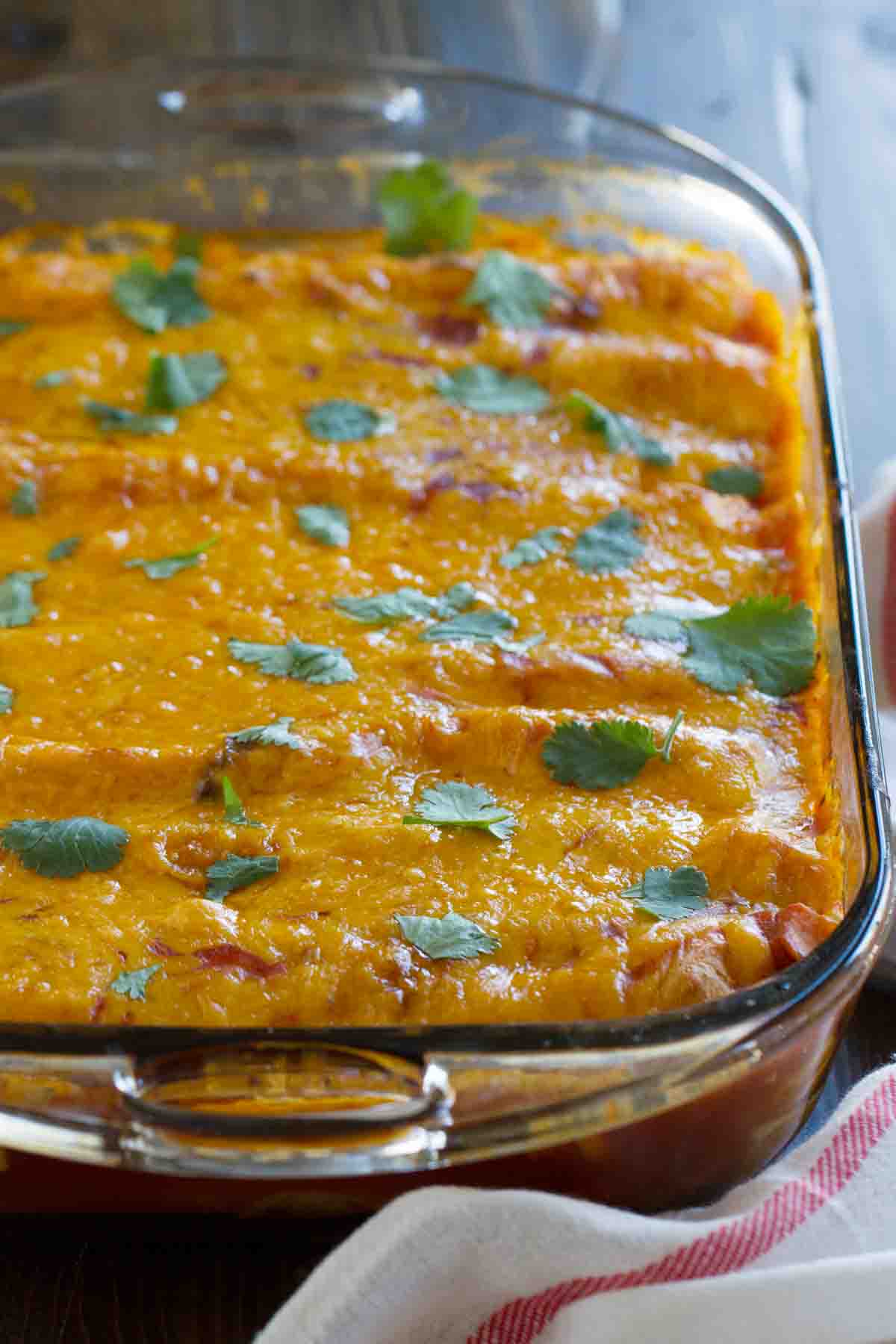 So, my love of sweet potatoes is pretty apparent. No excuses here – just love!! I saw a version of these enchiladas in the latest Every Day with Rachael Ray, and I knew I had to have them. I made them on a whim one day, and had to make some adjustments to what I had on hand, but it totally worked out.
And honestly – I could have eaten the whole batch of enchiladas myself. These Sweet Potato and Black Bean Enchiladas are the perfect meatless dinner, in my opinion. There is so much flavor, and they are super hearty and filling – you won't even miss the meat. I really think that both vegetarians and meat lovers would fight over the last enchilada.
These are definitely a new favorite enchilada recipe!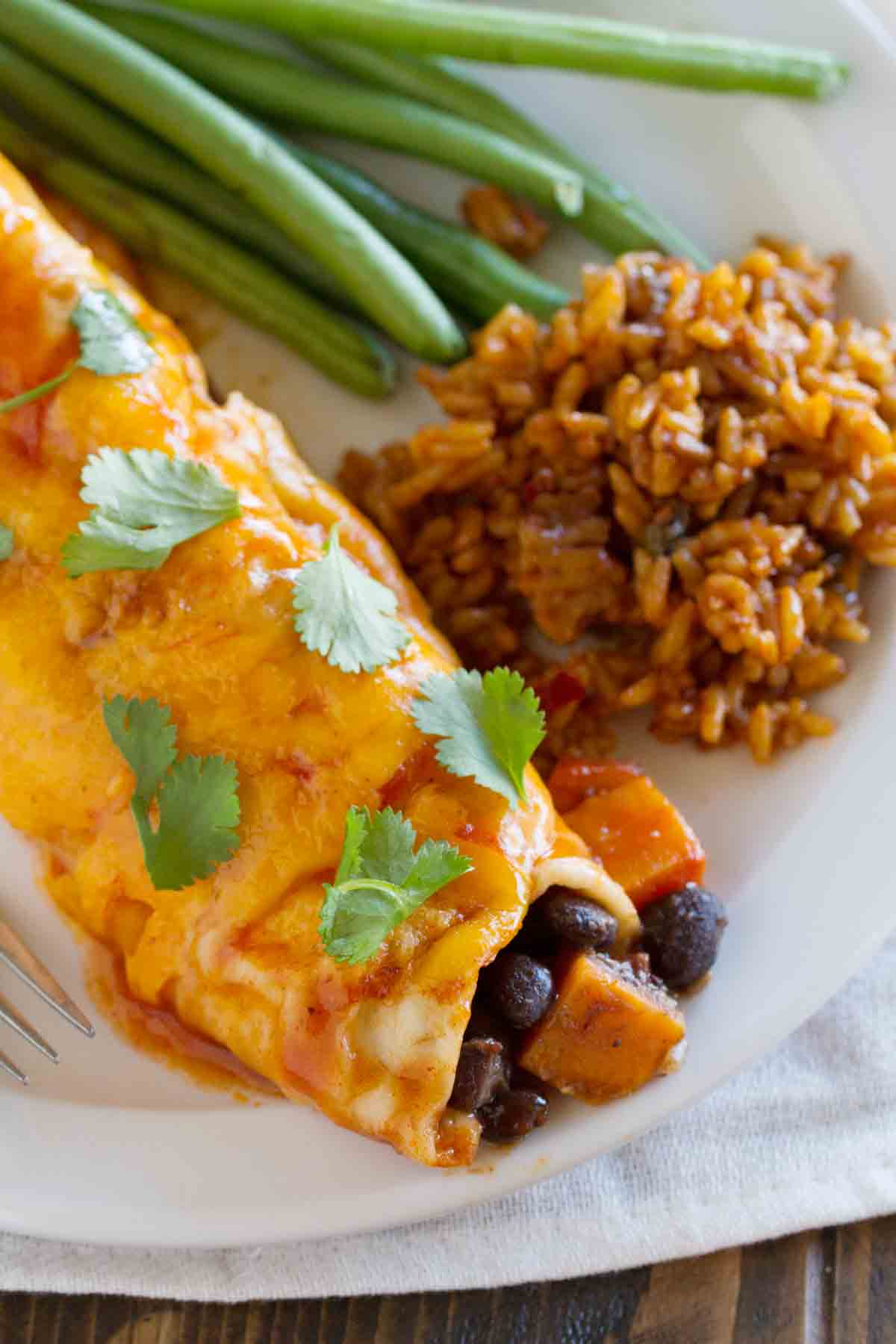 More Enchilada Favorites:
Chicken, Black Bean and Zucchini Enchiladas
White Chicken Enchiladas
Cream Cheese Chicken Enchiladas
Beef and Bean Enchiladas
Green Enchiladas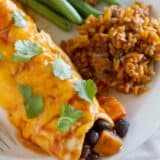 Sweet Potato and Black Bean Enchiladas
---
Author:
Prep Time: 15 minutes
Cook Time: 30 minutes
Total Time: 45 minutes
Yield: 4 servings 1x
Category: Main Dish
Method: Baked
Cuisine: Mexican
Description
These vegetarian Sweet Potato and Black Bean Enchiladas are packed with flavor – perfect for a Tex-Mex dinner on a budget!
---
Scale
Ingredients
3 tablespoons vegetable oil
1 cup chopped red onion
4 cloves garlic, minced
2 tablespoons brown sugar
1 tablespoon ground cumin
1 chipotle chile in adobo sauce, minced (seeds removed for less heat) plus 1 teaspoon of the adobo sauce
2 cans (15 oz each) black beans, drained and rinsed
1 lb sweet potatoes, peeled and diced
2 cans (10 oz each) enchilada sauce
8 (6-inch) flour tortillas
2 cups grated Cheddar cheese
---
Instructions
Preheat the oven to 425ºF.
Heat 2 tablespoons of the oil to a large sauté pan over medium heat. Add the onion, garlic, brown sugar, cumin and chipotle pepper plus adobo sauce. Cook, stirring occasionally, until the onion starts to soften, about 5 minutes. Add the beans, sweet potatoes and 2 cups of water; bring to a boil. Cover the pan and reduce the heat to low. Simmer until the potatoes are tender and the liquid is absorbed, about 10 minutes.
Pour one can of enchilada sauce in the bottom of a 9×13-inch baking dish. Dredge both sides of the tortillas in the enchilada sauce. Divid the filling between the tortillas, roll up and place in the dish, seam side down. Pour the remaining can of enchilada sauce over the top, then sprinkle on the cheese.
Bake the enchiladas until they are heated through, about 10 minutes. Turn the heat to broil and cook until the top is golden brown, 2-3 minutes. Let the enchiladas stand for 10-15 minutes before serving.
Keywords: sweet potato enchiladas