Sometimes you need something easy and fast. This Easy Spaghetti Meat Sauce starts off with canned spaghetti sauce but elevates it with a few simple ingredients.
If you are looking for more spaghetti recipes, make sure you check out this Spaghetti Lasagna, this Beef and Blue Cheese Baked Spaghetti, a family favorite Cowboy Spaghetti, or this budget friendly Garlic Spaghetti.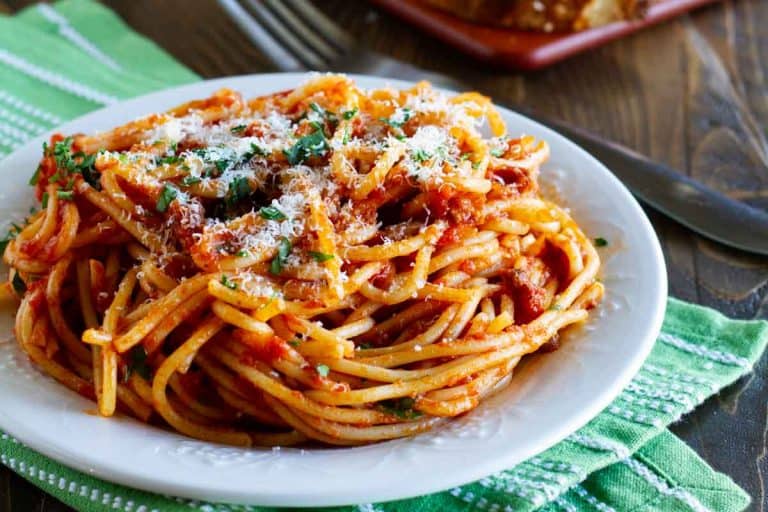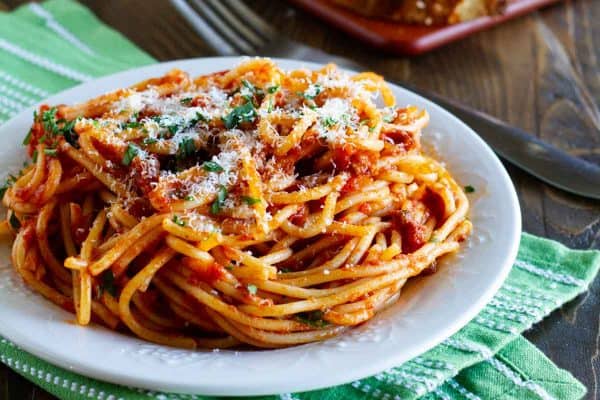 This spaghetti recipe – in all honesty – is one I would have probably passed over because it's so simple and it's practically just jarred spaghetti sauce. But I was intrigued by the sweet aspect. I've put sugar into spaghetti sauce before, but never this amount! I'm so glad I didn't pass this recipe by, because I absolutely loved this spaghetti. The sugar gives it that extra something that makes you notice that this isn't your every day spaghetti. I thought it was going to be too sweet, but it was just perfect. I won't even admit how much of this I ate!!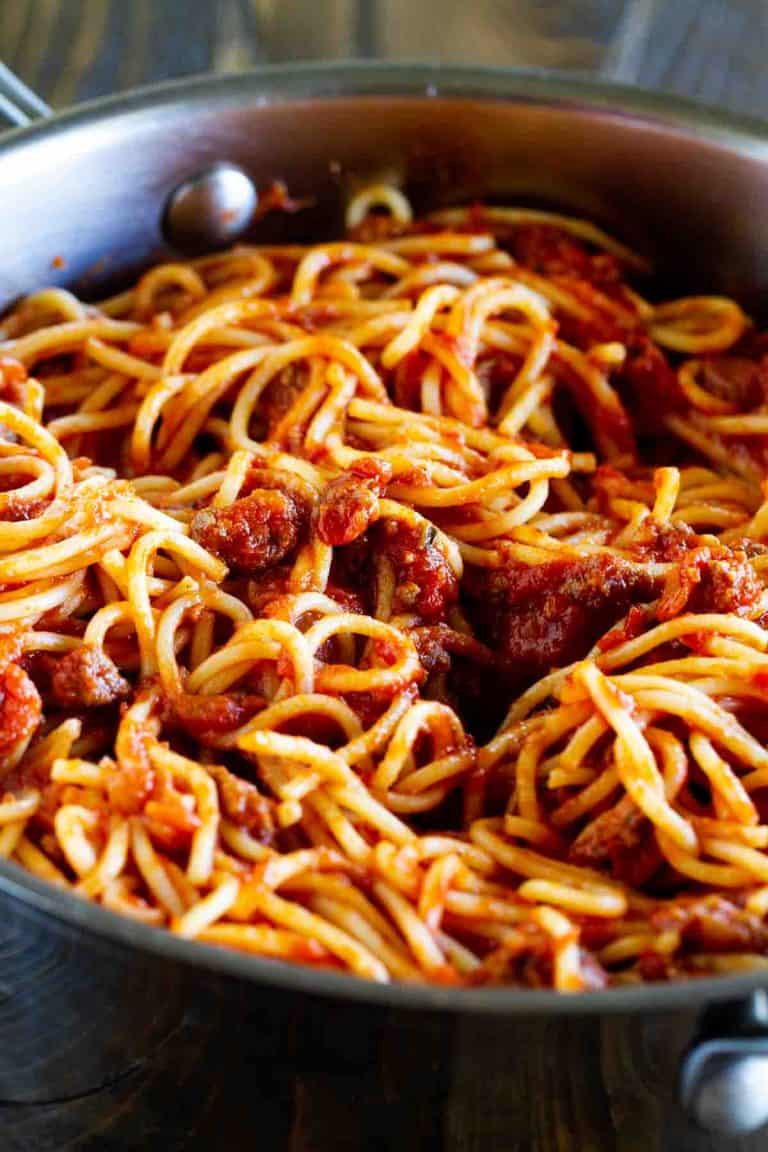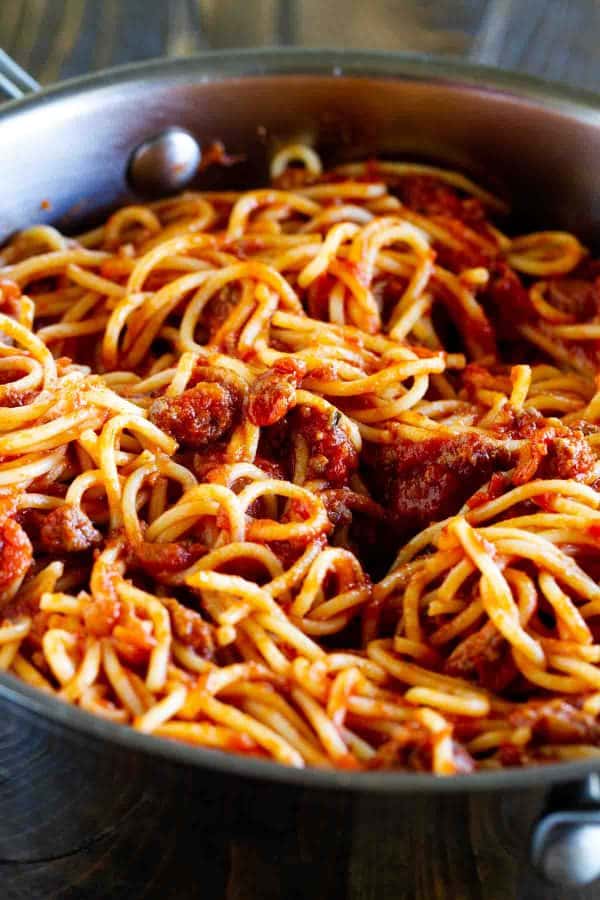 How to make a quick spaghetti meat sauce
This spaghetti meat sauce is so simple – it's perfect for busy nights or for someone who isn't as comfortable in the kitchen. All it takes is 6 ingredients and just over 30 minutes.
There are 2 secrets to this recipe.
You use a store bought spaghetti sauce for this meat sauce. Some may say it's cheating, and I say there is no such thing as cheating in the kitchen. This is a simple, fast recipe. A homemade marinara can take hours, and this recipe definitely doesn't take that long.
You use way more sugar in this recipe than others. I talk more about this below, but the sugar makes this meat sauce stand out from all of the others.
Feel free to add to this recipe as you would like. Italian seasonings, fresh basil leaves, maybe some mushrooms – this is a great base recipe that can easily be added to. I totally have it just as it is written, but this is an easy one to play with, as well.
What fat percentage do you want for your ground beef?
Do you ever feel overwhelmed when you go to the grocery store to buy ground beef but there are too many choices? 97% lean, 90% lean, 80% lean – all you wanted was ground beef but your recipe doesn't say which one!!
My biggest advice with this is that fat equals flavor. The leaner percentages, ie 97% lean, will have a lot less fat, but the meat won't be as flavorful. Technically, all of these will work. But I suggest not using anything leaner than 80% lean. This gives you enough fat for the meat to be really flavorful, and since this recipe is so simple with few ingredients, that flavor is needed.
If you are worried about too much fat or about a greasy sauce, you can drain off any fat after the meat is cooked, before you add the spaghetti sauce.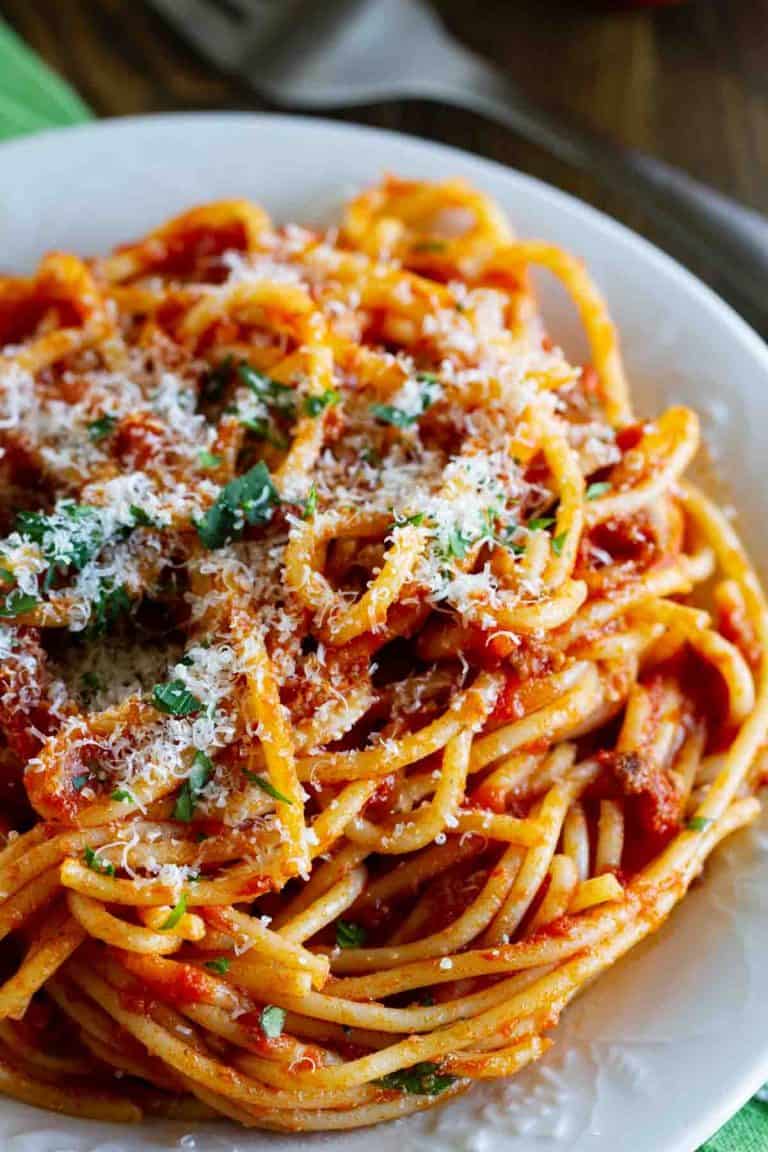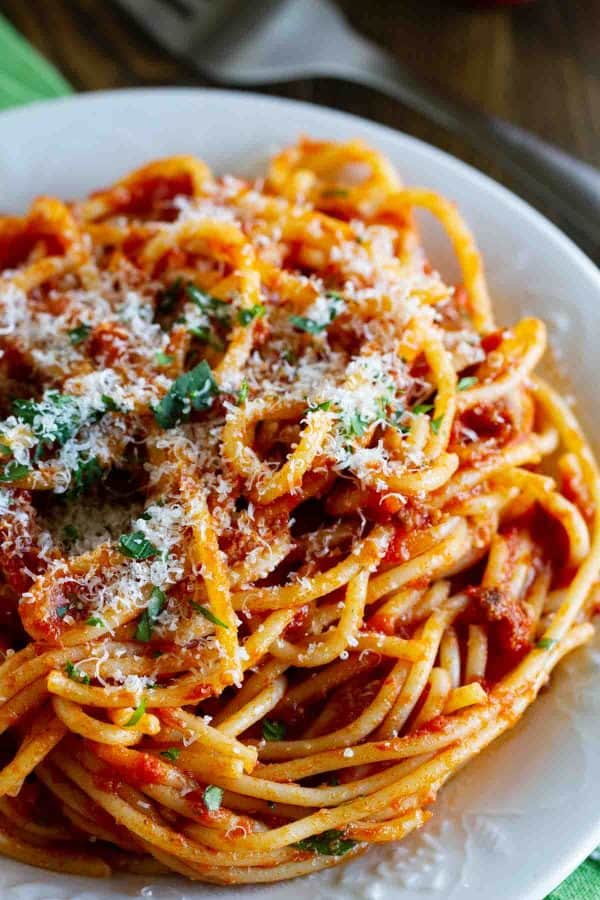 Why do you add sugar to spaghetti sauce?
It is not uncommon to add sugar to any tomato based sauce. Tomatoes, on their own, are quite acidic, so the sugar helps to cut down on that acidity. But this recipe is a little bit different. Most recipes have you adding sugar about a teaspoon at a time, until the acidity is neutralized.
But this recipe has several tablespoons of sugar. But the sugar in this recipe adds another layer of flavor and depth. Yes, you can taste the sweetness, but it's not overly sweet and it's not like a dessert sweet. But it definitely adds something special to this recipe!
More Favorite Pasta Recipes
One Pot Ground Beef Stroganoff
Penne Pasta Bake
Orzo with Italian Sausage and Peppers
One Pan Pasta with Bacon and Peas
Sloppy Joe Mac n Cheese
Gnocchi with Meat Sauce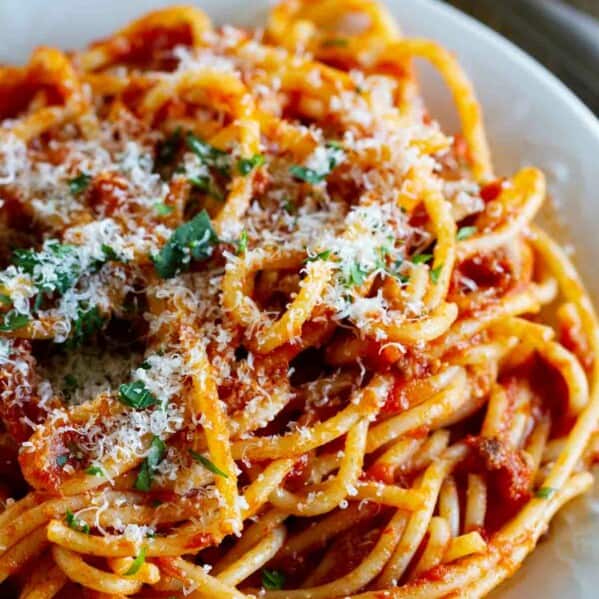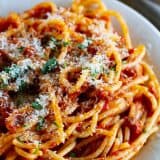 Easy Spaghetti Meat Sauce
---
Author:
Prep Time: 10 mins
Cook Time: 40 mins
Total Time: 50 minutes
Yield: 6 servings 1x
Category: Main Dish
Method: Stove Top
Cuisine: Italian
Description
Sometimes you need something easy and fast. This Easy Spaghetti Meat Sauce starts off with canned spaghetti sauce but elevates it with a few simple ingredients.
---
Scale
Ingredients
1/2 lb ground beef
1 small sweet onion, chopped
1 1/2 jars (24 oz each) jarred spaghetti sauce (36 oz total)
2–4 tablespoons sugar
1 lb dry spaghetti
1/2 cup freshly grated Parmesan cheese
---
Instructions
Cook the beef in a large skillet over medium-high heat, breaking it up as it cooks.  When the beef is halfway cooked, add the onion and continue to cook until the beef is cooked through and the onion is softened.  Add the spaghetti sauce and the sugar and bring to a simmer.  Simmer for 20 to 30 minutes.
Bring a large pot of water to a boil.  Salt generously.  Add the pasta and cook until al dente.
Stir the pasta into the sauce.  Serve topped with freshly grated Parmesan cheese.
Recipe Notes:
adapted from The Reluctant Entertainer
Nutrition information provided as an estimate only. Various brands and products can change the counts. Any nutritional information should only be used as a general guideline.
Nutrition
Calories: 516
Sugar: 27 g
Sodium: 898 mg
Fat: 10 g
Saturated Fat: 3 g
Unsaturated Fat: 3 g
Trans Fat: 0 g
Carbohydrates: 87 g
Fiber: 8 g
Protein: 23 g
Cholesterol: 31 mg
Keywords: spaghetti meat sauce