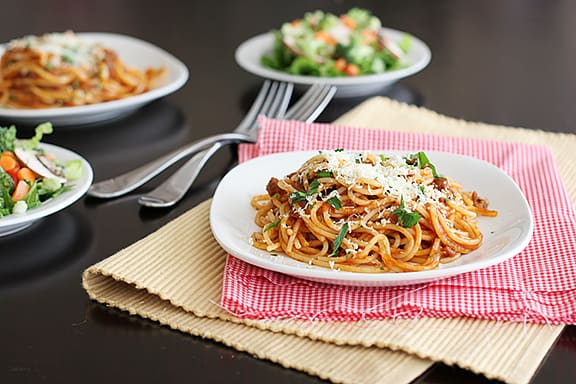 2 days ago, I got a call in the morning saying that my sister had had her baby. She wasn't due for 3 more weeks, so it wasn't a call I was expecting that morning! He was born within 10 minutes of getting into her room, and luckily, he's a healthy little guy. Little as in 4 pounds 10 ounces. So little and so cute!!
Then in comes my (not so) little guy. He turned 2 months on Monday, and at his 2-month well check this week, he was 13 pounds 7 ounces. I seriously can't believe that he is only 2 months older than his newborn cousin! Granted, he was almost twice the size of my sister's baby when he was born, but it's crazy how fast they grow!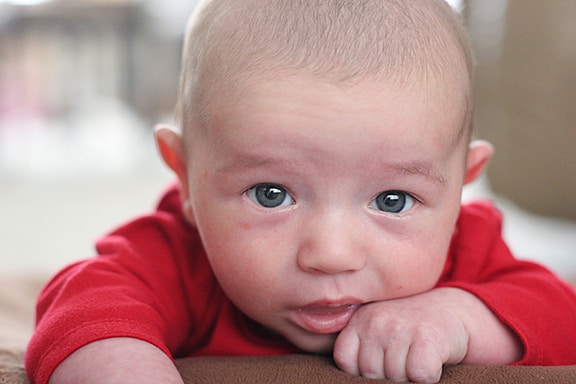 (I am pretty biased, too, but I think he's one handsome baby!!)
There have actually been quite a few babies being born around me lately. Which I love, because I love little babies. I've had a few opportunities to take meals to families with newborns, and while trying to figure out what to bring to one family last week, my mom made a comment about how it seems like a lot of people take in pasta to families with newborns. I'm not sure why this is, but I have a feeling it has something to do with pasta being such a comforting food, and that comfort food tastes great after you've had a baby!
This spaghetti recipe – in all honesty – is one I would have probably passed over because it's so simple and it's practically just jarred spaghetti sauce. But I was intrigued by the sweet aspect. I've put sugar into spaghetti sauce before, but never this amount! I'm so glad I didn't pass this recipe by, because I absolutely loved this spaghetti. The sugar gives it that extra something that makes you notice that this isn't your every day spaghetti. I thought it was going to be too sweet, but it was just perfect. I won't even admit how much of this I ate!!
Recipe Rating: 9 out of 10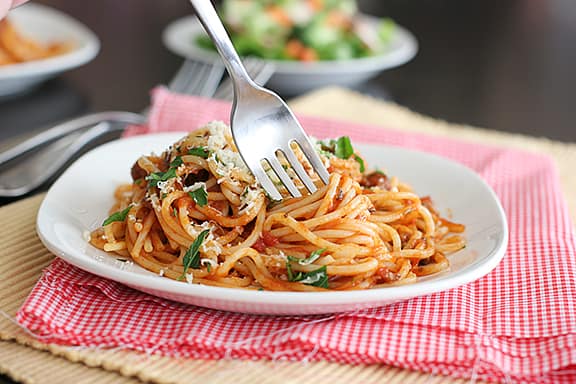 Sweet Home Spaghetti
from the Reluctant Entertainer
serves 10 to 12
total time: about 45 minutes
1 pound ground beef
1 large sweet onion, chopped
2 tablespoons olive oil
2 to 3 (24 oz) jars Italian spaghetti sauce*
1/4 to 1/2 cup sugar (or 4 to 6 teaspoons Stevia), to taste
2 pounds dry pasta
Parmesan cheese, freshly grated
Cook the meat until browned and cooked through and drain, if needed.
In a separate pan, saute the onion in the olive oil. Add the cooked meat, the sauce and the sugar. Simmer for 20 to 30 minutes.
In the mean time, cook the pasta until al dente. Drain. Serve the meat sauce over the pasta (or if you like it like me, mix the sauce and the pasta together.) Sprinkle with the Parmesan cheese.
*the author suggests using Prego Traditional Italian sauce