Pizza crust is covered with an herb oil, then ricotta, lots of sweet roasted tomatoes and mozzarella cheese in this White Pizza Recipe with Roasted Tomatoes.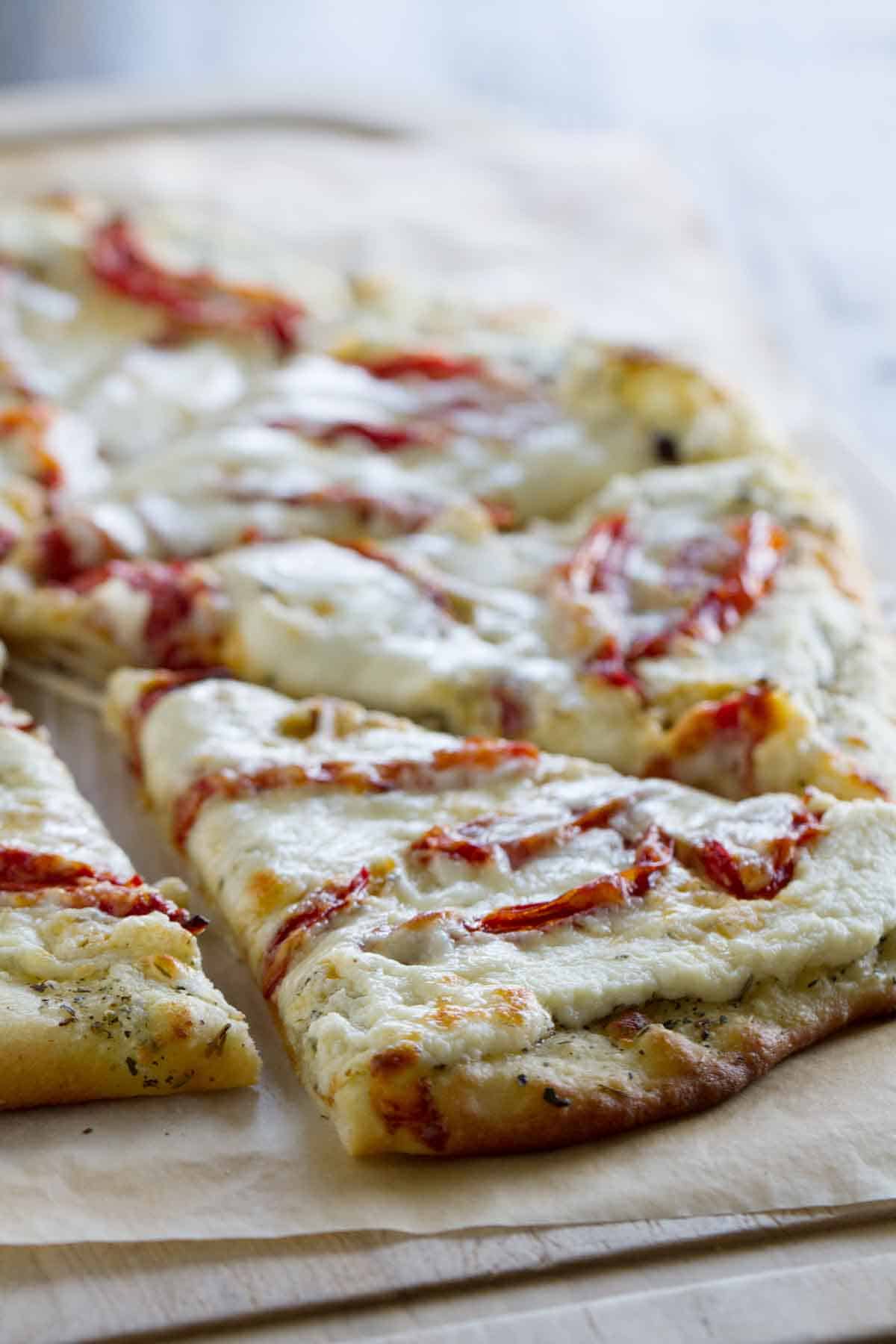 I seem to be on a bad streak of luck in the kitchen. I cook a lot. That's no secret. But the last few days have been…. interesting to say the least.

I won't even go into detail about how many recipes I've made that have gone straight to the trash. Yeah – that bad. Then there was another handful that were edible, sure, but blog worthy? Not even close. I was hoping that my streak of bad luck was over when I went to make Easter dinner yesterday. I was not that lucky.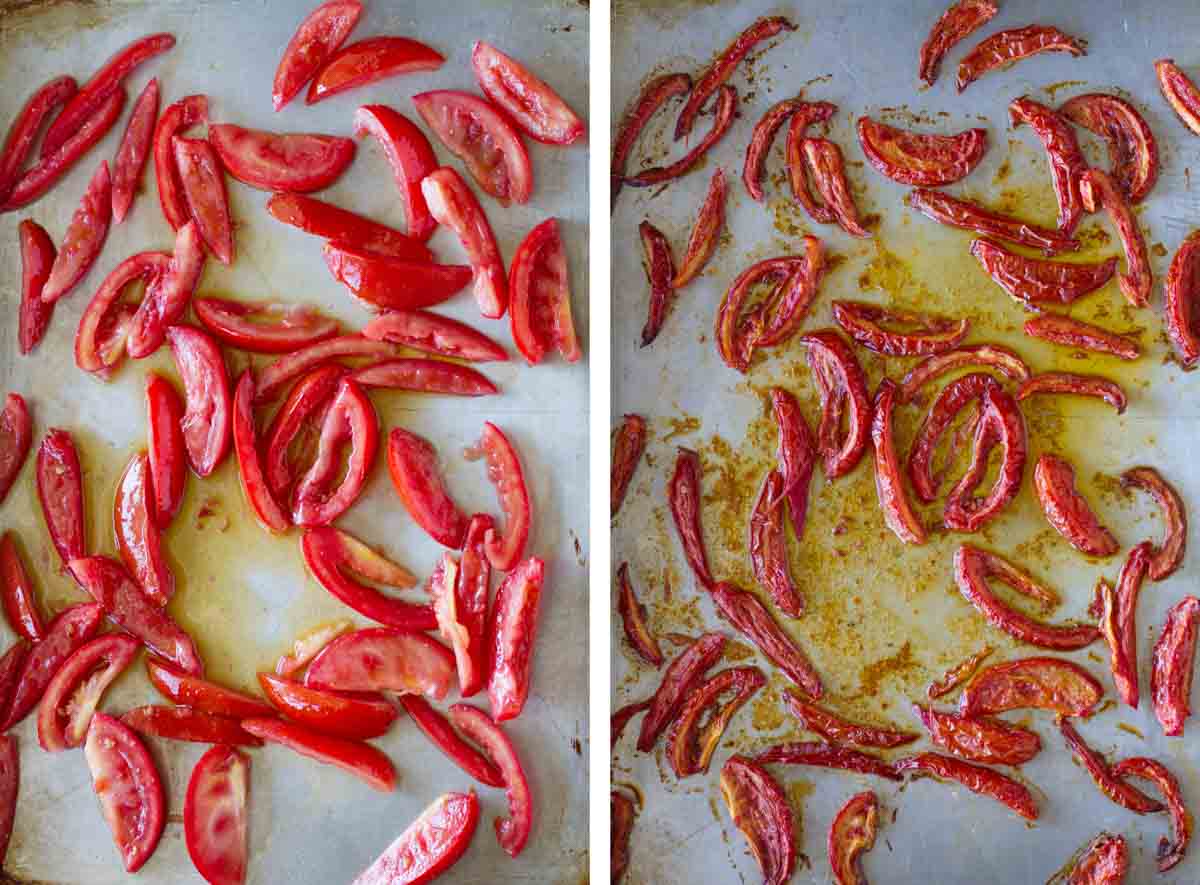 At least most everything came out well yesterday. But my rolls, which I've made dozens of time, came out wrinkly and flat. And then I made a glorious pavlova for dinner, with hopes of sharing the recipe with you here today. The bad luck started when I finally took it out of the oven and it was cracked like crazy. But I know that's a common problem with pavlovas, so I decided to overlook the cracks. And honestly – I think that dessert was the star of our Easter dinner, it was so delicious. But when I sat down and looked at the photos? I know I'm hard on myself sometimes, but that definitely deserves to be made over and photographed properly.
So instead, today you are getting pizza. Which was mighty delicious in it's own right. And made before the "weekend of great recipe disasters".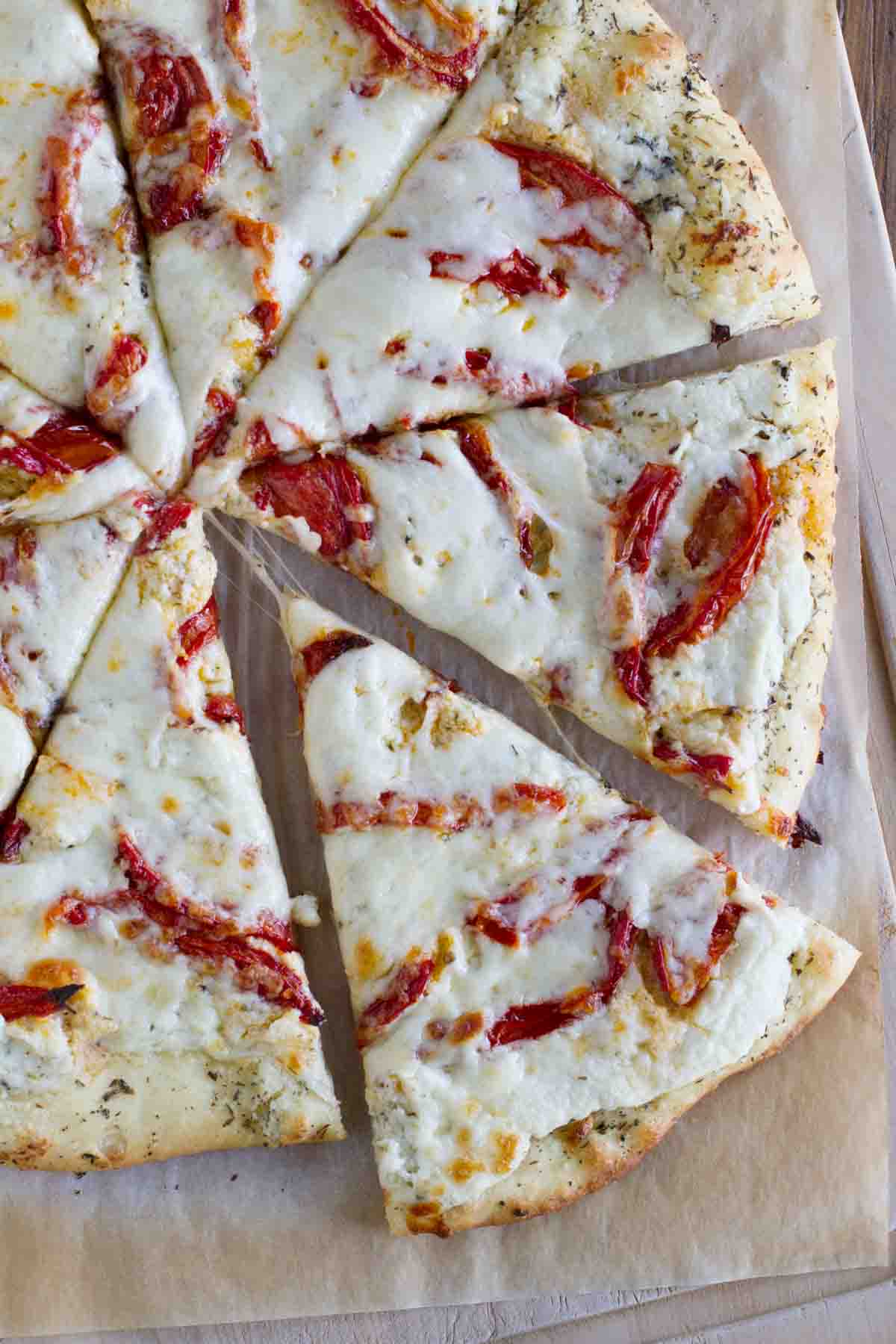 We are definitely not strangers to pizza around here, but with all of the different combinations we have tried in the past, I think this one ranks pretty high in my list of favorites. An herb oil gets rubbed all over the crust, followed by some garlicky ricotta. And then my favorite part – the roasted tomatoes. Roasted tomatoes are so easy to make at home. They just require a little bit of time. And trust me when I say that you might want to throw in an extra tomato, because you'll want to snack on those babies, straight from the baking sheet. Top the whole pizza off with mozzarella, and you have a winning white pizza recipe.
But if you really want to take it over the top, top it off with a balsamic drizzle. This was a total last minute inspiration that came to me, and I am so glad I tried it. You get a lot of sweet and savory with this pizza, and that bit of sour from the balsamic brings just the right amount of a wow factor to this pizza. I mean, you can't go wrong with a balsamic drizzle on pretty much anything, but it really takes this pizza to that next level.
I'm sure hoping that I start to fare better in the kitchen this week. Or else we might be having this pizza for dinner over and over again (which really wouldn't be that bad of an idea!!)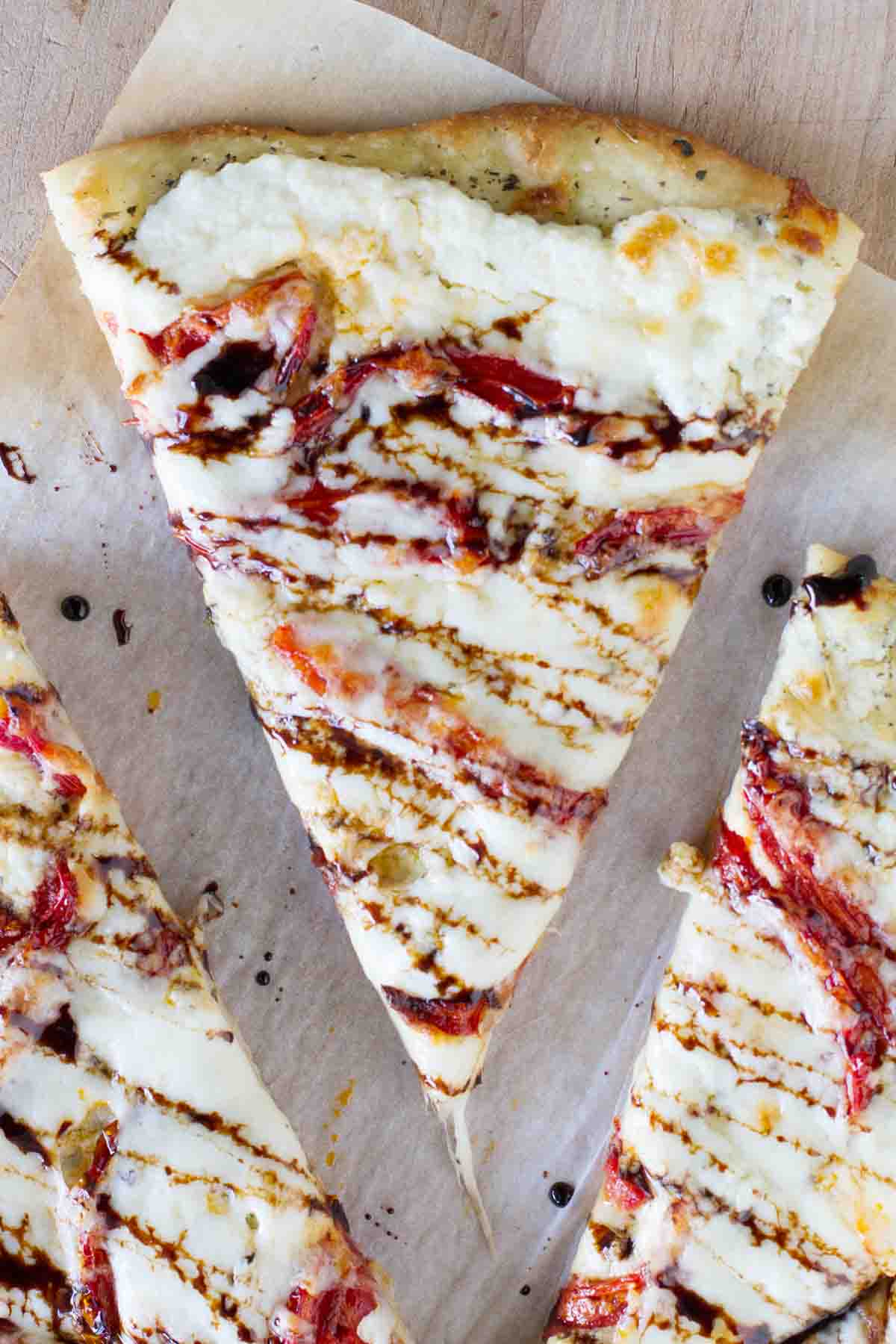 More Pizza Favorites:
Blue Cheese and Bacon Pizza
Egg Pizza with Creamed Spinach
Grilled White Pizza with Bacon and Basil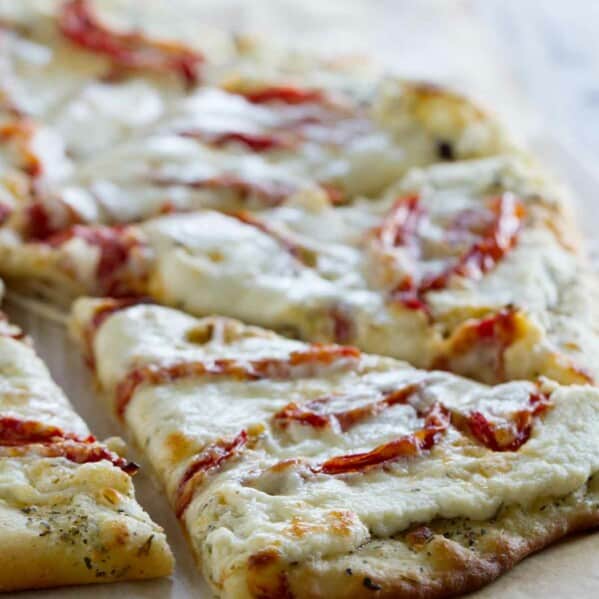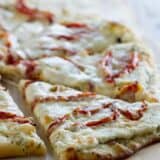 White Pizza Recipe with Roasted Tomatoes
---
Author:
Prep Time: 20 minutes
Cook Time: 2 hours 10 minutes
Total Time: 2 hours 30 minutes
Yield: 4 servings 1x
Category: Main Dish
Method: Baked
Cuisine: Italian
Description
Pizza crust is covered with an herb oil, then ricotta, lots of sweet roasted tomatoes and mozzarella cheese in this White Pizza Recipe with Roasted Tomatoes.
---
Scale
Ingredients
Roasted Tomatoes
1 lb plum tomatoes, seeded and cut into 1/2-inch slices
1/4 cup olive oil
1 tablespoon sugar
1/2 teaspoon salt
Herb Oil
2 tablespoons olive oil
2 teaspoons dried basil, crushed
2 teaspoons dried thyme, crushed
1/4 teaspoon salt
Pizza
1 lb pizza dough
1 cup ricotta, drained if needed
2 cloves garlic, minced
1/4 teaspoon salt
4–6 oz shredded Mozzarella cheese
balsamic drizzle, optional*
---
Instructions
Preheat the oven to 250ºF. In a bowl, combine the tomatoes, olive oil, sugar and salt. Spread the tomatoes on a baking sheet in a single layer. Roast the tomatoes until they are soft and shriveled, about 2 hours.
Place a pizza stone in the oven and raise the heat to 450ºF. Allow the stone to heat for at least 30 minutes while you prepare the pizza.
In a small bowl, combine the olive oil, basil, thyme and salt. Set aside.
On a pizza peel sprinkled with cornmeal, or on a piece of parchment paper, roll the pizza dough out into a round. Use a pastry brush to brush the entire surface of the dough with the herb oil.
In a bowl, mix together the ricotta, garlic and salt. Spread the ricotta mixture over the surface of the dough, leaving a 1-inch border around the pizza. Spread the roasted tomatoes over the top of the ricotta, then sprinkle with the mozzarella cheese.
Transfer the pizza to the oven and bake until the crust is browned and the cheese is bubbly, 8-10 minutes.
If desired, drizzle the pizza with balsamic drizzle before serving.
Recipe Notes:
*to make a balsamic drizzle, combine 1/2 cup balsamic vinegar with 1 tablespoon brown sugar and bring to a boil. Cook down until reduced by half. You can also purchase a store-bought balsamic drizzle at most grocery stores or online.
inspired by Taste of Home February – March 2015