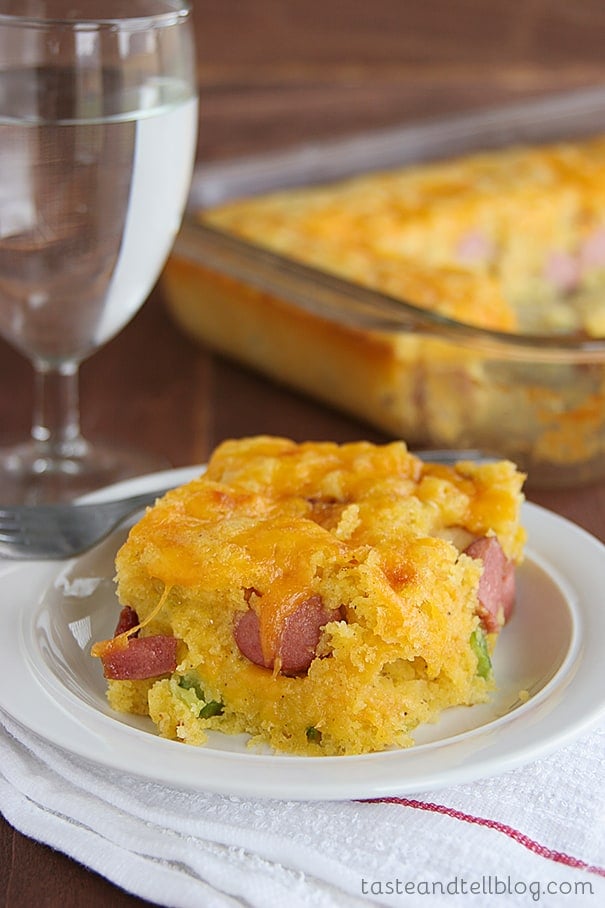 Photo Updated November 2012

If you look over at the side bar on my blog, you will first see that it says "I am not a food snob." And this recipe right here proves it!!
First of all, I have to say that I was getting really good at scaling recipes down to 2 servings. I got tired of always having so many leftovers in the fridge. And now, it's dark at 5pm. I usually start making dinner at 5 pm. So now I am either stuck with making extra food so I can photograph the leftovers, or trying to make do with the horrible lighting. Oh, the trials of a food blogger!!
For some reason, as soon as I saw this recipe, I couldn't get it out of my head. I'm not ashamed to admit that I love a good hot dog, and a good corn dog as well. But this sounded so easy, I just had to try it. Corn dog flavor without having to get out the fryer? Of course I'd try it!
And I'm not ashamed to admit that I really liked this. Maybe it's the kid in me. (And I know kids would lovethis meal!!) You do get that taste of corn dogs all wrapped up in an easy casserole. Maybe it's not what you want to share at your next dinner party, but it sure is a kid and family friendly meal!
Recipe Rating: 4.4 out of 5
Corn Dog Casserole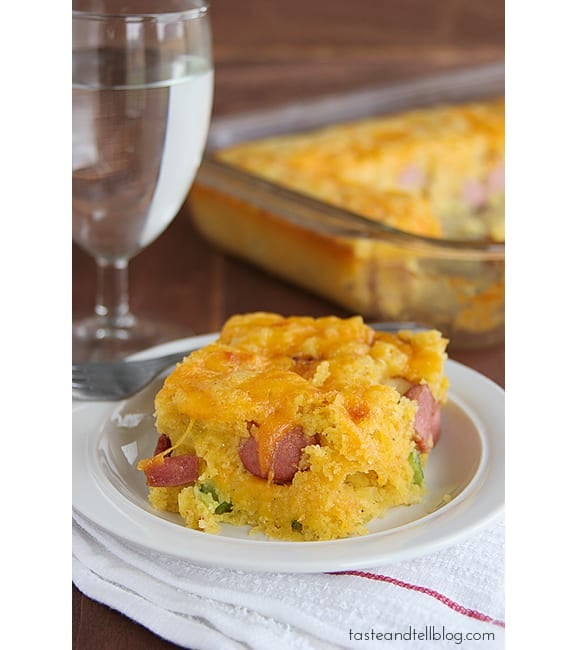 An easier version of the kid friendly corn dog - made into a casserole topped with cheese.
Ingredients
2 cups celery, sliced
1 cup onions, chopped
1 1/2 pounds hot dogs
2 eggs
1 1/2 cups milk
1 teaspoon sage
1/3 teaspoon black pepper
18 oz. cornbread mix
8 oz. shredded cheddar cheese
Instructions
In a skillet, cook celery and onions until tender. Place in a mixing bowl; set aside.
Cut hot dogs into quarters, then into thirds. Place in a skillet, cook until lightly brown. Fold into celery mixture; set aside, reserving one cup of the mixture.
In another bowl, combine eggs, milk, sage, and black pepper. Fold in hot dog mixture. Stir in cornbread mix. Add one and a half cups cheese. Spread mixture into a greased 3 quart dish. Top with the reserved hot dog mixture and cheese.
Bake uncovered at 350F until golden brown, 20-30 minutes.
----------------------
from Recipes from River View
http://www.tasteandtellblog.com/cookbook-of-the-month-recipe-corn-dog-casserole/
Recipe from www.tasteandtellblog.com