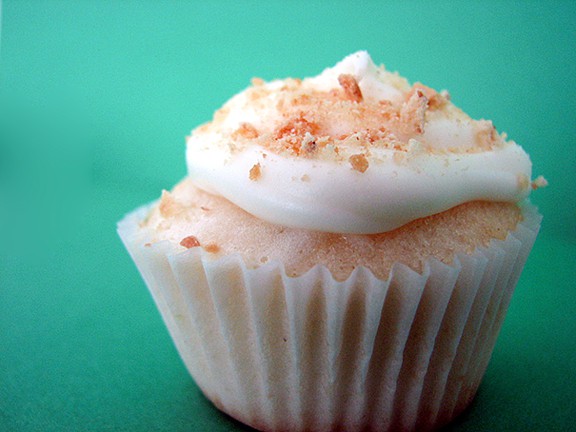 When fall hits around here – it really hits!! The temperatures around here have been in the 80s, but over the weekend, a storm moved it, and it is really chilly outside! Driving into work this morning, I was able to see the mountains that have been covered by clouds – and now they are covered in snow!! It hasn't frozen down here in the valley yet, but it is always a magnificent sight to look up and see the mountain tops covered in the first snow.
So what do you do to bring some of the warmth back while you are cuddled inside? You bring a bit of the tropics to you! When I saw these wonderful cupcakes – made by none other than Peabody – I knew I wanted to make them. And seeing that there have been so many work birthdays in September, I knew I wouldn't have to wait long to make them.
I have had a bit of a bad baking month so far. For one birthday, I tried to make the Brickle Bundt Cake that Chris at Mele Cotte made, but I made a mess of it. The toffee layer sunk to the bottom of my bundt cake pan, and then the cake wouldn't come out of the pan. So what do I do?? I rummage through the pantry and come up with a vanilla cake mix that I made into cupcakes and topped with buttercream frosting. And then for another birthday, I wanted to make a cake roll that my mom made growing up, but after three attempts (yes – I tried it 3 times!) I gave up and made a boxed brownie mix. I was just about ready to give up as a baker, but I knew I wanted to try these cupcakes. I finally had a day that I was not jinxed in the kitchen. But then again, Peabody has never let me down!! (But for the record, I do not blame the recipe from Chris or from my mom, either! Both of them have made the recipes perfectly!) But really, if you ever feel like making a sweet treat, if you haven't checked out Peabody's blog (and who really hasn't??) you should! She makes some of the most mouth-watering sweets that I have ever seen!
This is a recipe that she came up with to enter for the Cupcake Hero contest. And if I have a vote for who wins – I choose this one!!
A basic white cupcake (with added lime zest) is filled with a tangy key lime pie filling. To top the cupcake, you have a wonderful lime cream cheese frosting. And as if they didn't already look good enough, a sprinkling of crushed graham crackers is sprinkled on top. And the taste – this recipe is definitely a winner!! I made mini cupcakes, and I think my cupcake tin is a bit smaller than the normal mini cupcake tin, but I got 96 cupcakes from a single batch!! And guess what – my office ate them all!!! And now that it is getting colder outside, I can see myself making these again in the dead of winter – just to bring a bit of sunshine into my kitchen!
For the recipe, head over to Peabody's blog. And her pictures do them a lot more justice as well!