Tart and sweet, these Key Lime Cupcakes are lightly lime flavored cupcakes filled with key lime pie filling and topped with a sweet key lime buttercream. Don't forget the graham cracker crumble on top!
Feel like baking? These Tres Leches Cupcakes and these Red Velvet Cupcakes are favorites!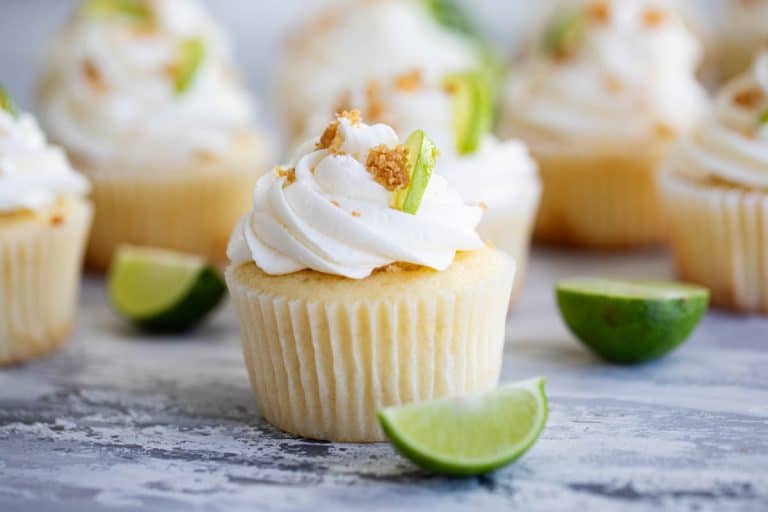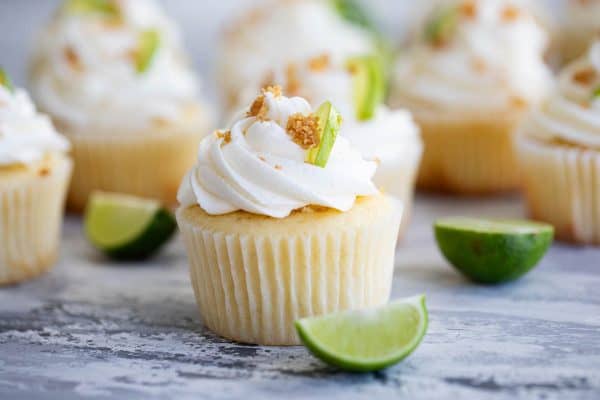 If I am ever in the need of some sunshine – there are 2 things that are a guaranteed win.
Citrus and cupcakes.
And these Key Lime Cupcakes have both.
Lime cupcakes, filled with a key lime filling, and topped with the best key lime buttercream. And let's not forget that graham cracker crumble. A little bit of key lime pie flavor and a whole lot of sunshine.
I dare you to not smile while eating one of these.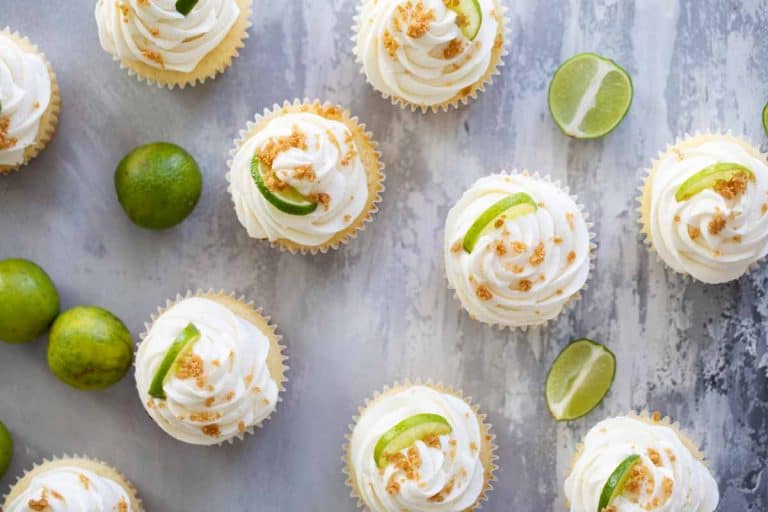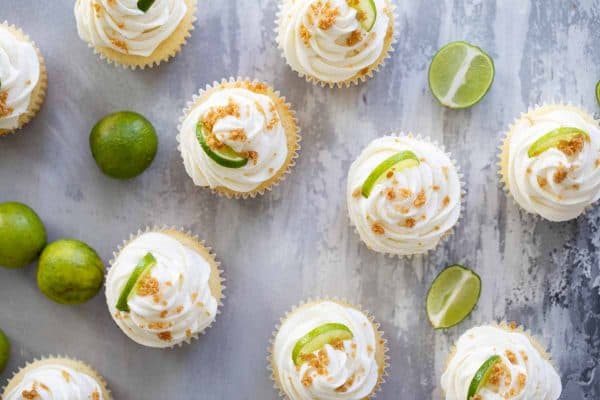 Key Lime Cupcakes
Let's chat about these cupcakes, because there is so much more than meets the eye!
The Cupcake
These cupcakes are based off of my very favorite homemade cupcake recipe. It has become my go-to, and is really easy to change up. In this instance – to make it lime.
These aren't overwhelmingly lime – just a bit of key lime zest in the batter gives it just enough lime flavor to compliment the rest of the cupcake.
The texture of these cupcakes is more along the lines of a bakery cupcake versus a cupcake that will come from a cake mix. They are a little more dense, but they are moist and flavorful and are really my ideal cupcake.
The Key Lime Pie Filling
If you are a fan of key lime pie, you will adore this filling. It really is like a little key lime pie surprise in the center. Made with only cream cheese, sweetened condensed milk and key lime juice, the filling is super simple and really brings a lot to these cupcakes.
You'll use most of the filling for filling the actual cupcakes, but you'll want to make sure you save 1/2 cup to add to the buttercream.
And don't be afraid if the filling is a little thin when you first make it – after sitting in the fridge for just a bit it will start to thicken up and will fill the cupcakes perfectly.
The Key Lime Buttercream
Oh, I could eat this stuff with a spoon! This is just a basic buttercream recipe with the addition of some of the filling and more lime juice. My biggest hint for you when making this buttercream is to make sure and beat it well. My family prefers buttercream when it is light and fluffy, and beating it for longer than you normally would will give you this perfect buttercream.
The Graham Cracker Crumble
If you are wanting a cupcake that gives a nod to key lime pie, don't skip this graham cracker crumble. It's quite easy to make and can be made a little it ahead of time. It's buttery and sweet and I may have saved a bit of it just to snack on.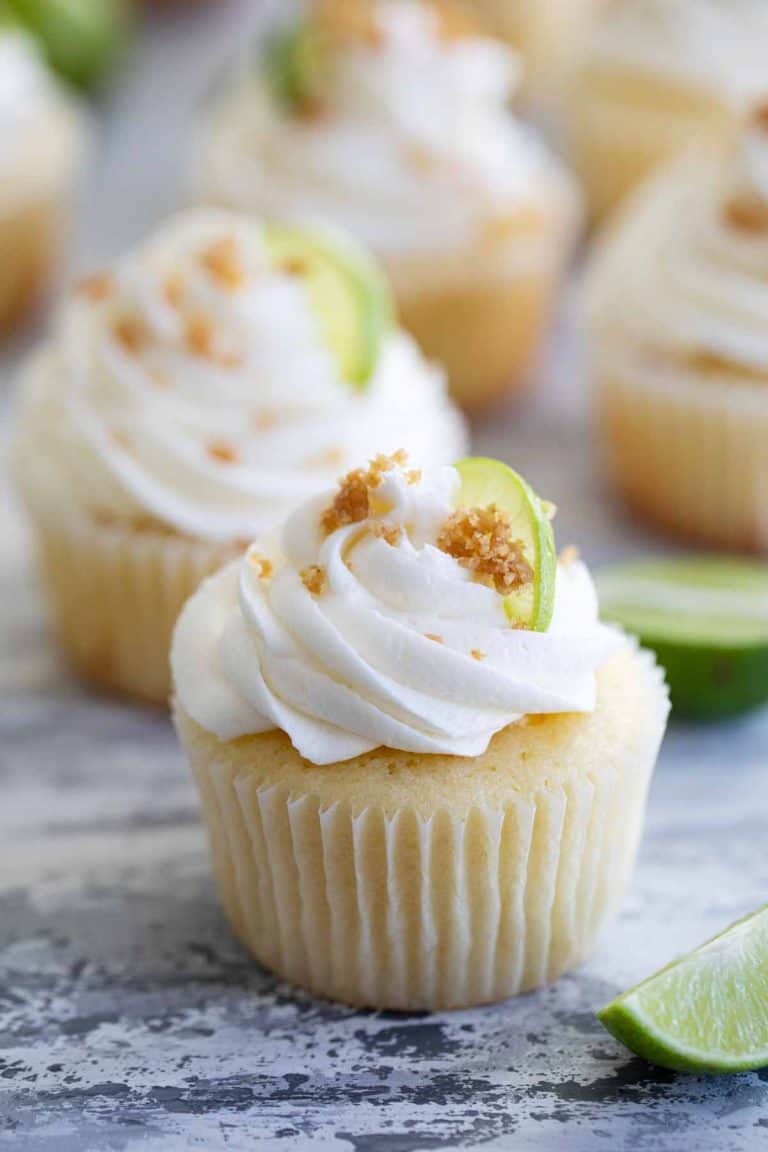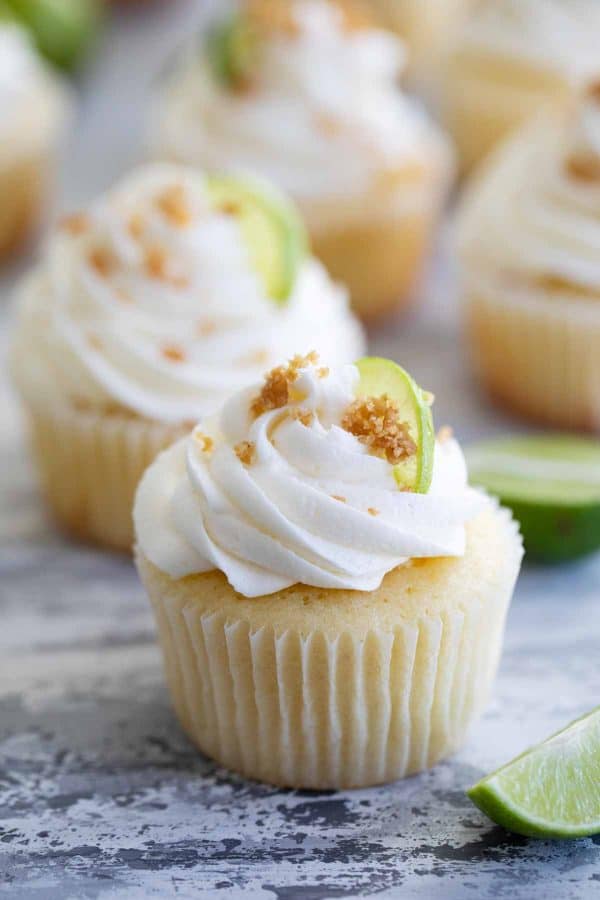 How to Make a Filled Cupcake
This is a filled cupcake, meaning you'll remove some of the center of the cupcake and fill it with a delicious key lime filling. You can totally leave this part off, (especially if you are trying to save some time), but you don't really get the full effect of the cupcake without it.
There are a few different ways to fill your cupcakes, but this is how I do it:
Start with cupcakes that are completely cooled down. Take a sharp paring knife, and cut a cone shape out of the cupcake. You'll want to go about 1/2 – 2/3 deep, and leave a border around the cupcake about 1/2″ thick. Remove that cone piece, but save it.
Fill the hole of the cupcake with the filling.
Take the reserved cone piece and cut off the pointed side, leaving just a flat round piece. Place that flat piece over the filling. Discard the pointed part that you cut off – my kids love to snack on these!
Pipe the buttercream over the top.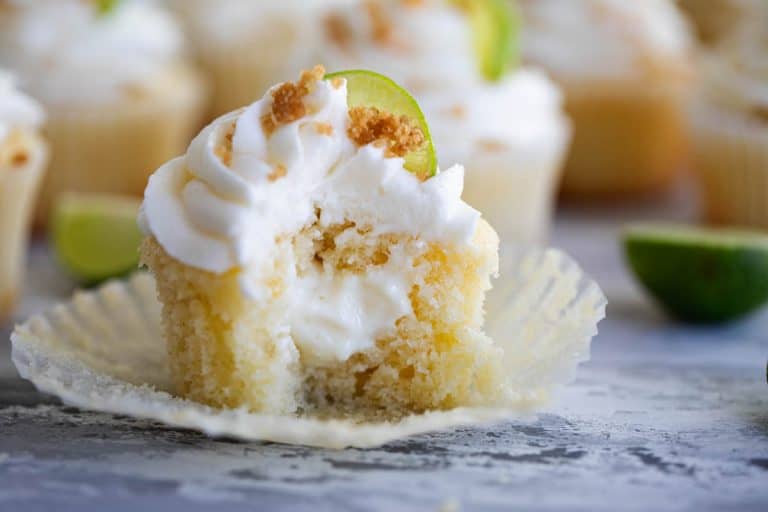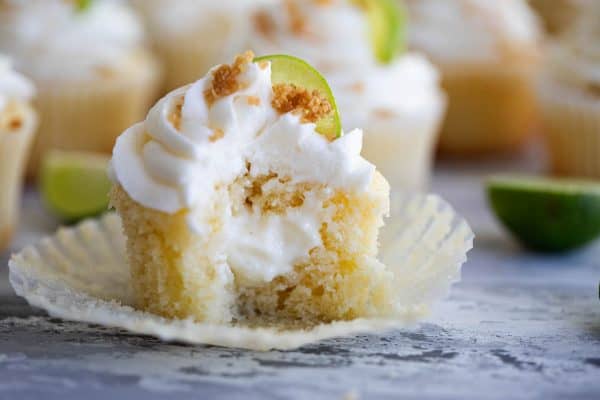 More Key Lime Recipes
Key Lime Pie
Instant Pot Key Lime Cheesecake
Baked Key Lime Pie Donuts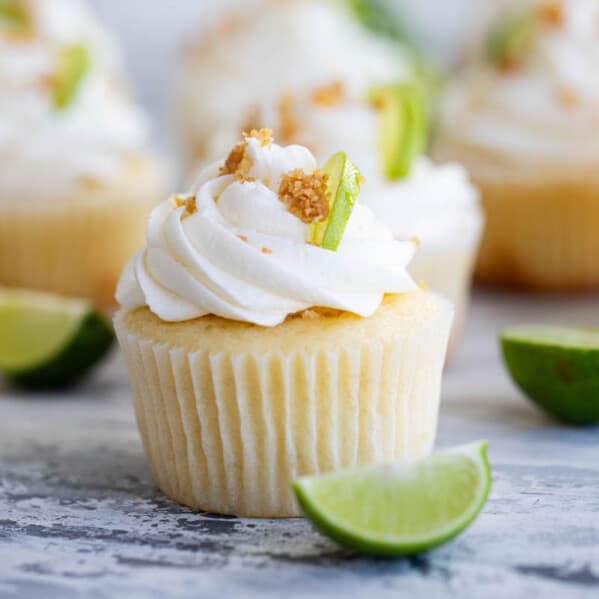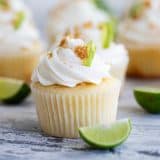 Key Lime Cupcakes
---
Author:
Prep Time: 40 mins
Cook Time: 18 mins
Total Time: 1 hour
Yield: 36 cupcakes 1x
Category: Dessert
Method: Baked
Cuisine: American
Description
Tart and sweet, these Key Lime Cupcakes are lightly lime flavored cupcakes filled with key lime pie filling and topped with a sweet key lime buttercream. Don't forget the graham cracker crumble on top!
---
Scale
Ingredients
Cupcakes:
3 cups all-purpose flour
2 teaspoons baking powder
1 teaspoon salt
2 cups granulated sugar
1 cup butter, softened
4 large eggs
1 tablespoon key lime zest
1 teaspoon vanilla extract
2 cups buttermilk
Key Lime Filling:
1 (8 oz) package cream cheese, softened
1/2 cup sweetened condensed milk
4 oz key lime juice
Key Lime Buttercream:
1 cup butter, softened
6–8 cups powdered sugar
1/2 cup Key Lime Filling
1/4 cup key lime juice
1/2 teaspoon vanilla extract
1/4 teaspoon salt
Graham Cracker Crumble:
2 graham cracker rectangles, crumbled
2 tablespoons butter, melted
1 tablespoon light brown sugar
---
Instructions
To make the cupcakes:
Preheat the oven to 350ºF. Line 36 muffin tins with cupcake liners.
In a bowl, combine the flour, baking powder and salt. Set aside.
In a large bowl, or the bowl of a stand mixer, beat the sugar and the butter together on medium speed until combine.  Add in the eggs, one at a time, scraping down the sides of the bowl as needed. Add the the zest and the vanilla and beat to combine.
With the mixer on low speed, add 1/3 of the flour mixture. When it's almost mixed in, add half of the buttermilk, followed by an additional 1/3 of the flour, and then the final buttermilk. Continue to beat just until it is blended.
Divide the batter evenly between the prepared muffin tins, filling each about 2/3 full.
Bake until a tester inserted in the middle of the cupcakes comes back with just a few crumbs, about 15 to 18 minutes. Cool in the pans for 5 minutes before removing to a cooling rack to cool completely.
To make the filling:
In a bowl, beat the cream cheese until smooth.
Add the sweetened condensed milk and lime juice and beat to combine.
Reserve 1/2 cup of the filling for the buttercream, and refrigerate the remainder until ready to use.
To make the buttercream:
Beat the butter in a large bowl until light.
Add in 3 cups of the powdered sugar, the reserved key lime filling, the lime juice, vanilla and salt and continue to beat until combined.
Gradually add more powdered sugar, 1/2 cup at a time, until the buttercream is smooth and thick.
To make the graham cracker crumble:
Preheat the oven to 350ºF.
Line a baking sheet with foil.
In a small bowl, combine the graham cracker crumbles, the melted butter and the brown sugar.
Spread out on the baking sheet into a thin layer.
Bake for 4 to 6 minutes, just until golden, then remove from the oven.
Allow it to cool completely, then crumble into small pieces.
To assemble the cupcakes:
When the cupcakes are cool, use a sharp knife to cut a cone out of the center of each cupcake, reserving the cut piece. (I will usually cut off the cone end and discard that, leaving just the circle to cover the filling once filled.) Fill the cupcake with some of the key lime filling, then replace the cut out piece back onto the cupcake.
Pipe the buttercream onto the cupcakes, then garnish with the graham cracker crumbles.
Recipe Notes:
Filling, buttercream and crumble from bhg.com
Nutrition information provided as an estimate only. Various brands and products can change the counts. Any nutritional information should only be used as a general guideline.
Nutrition
Serving Size: 1 cupcake
Calories: 316
Sugar: 36 g
Sodium: 159 mg
Fat: 14 g
Saturated Fat: 8 g
Unsaturated Fat: 5 g
Trans Fat: 0 g
Carbohydrates: 45 g
Fiber: 0 g
Protein: 3 g
Cholesterol: 57 mg
Keywords: key lime cupcakes