7 Layer Chili Dog Dip – Get ready for game day with seven layers of flavor found in this cheesy chili dog chip dip.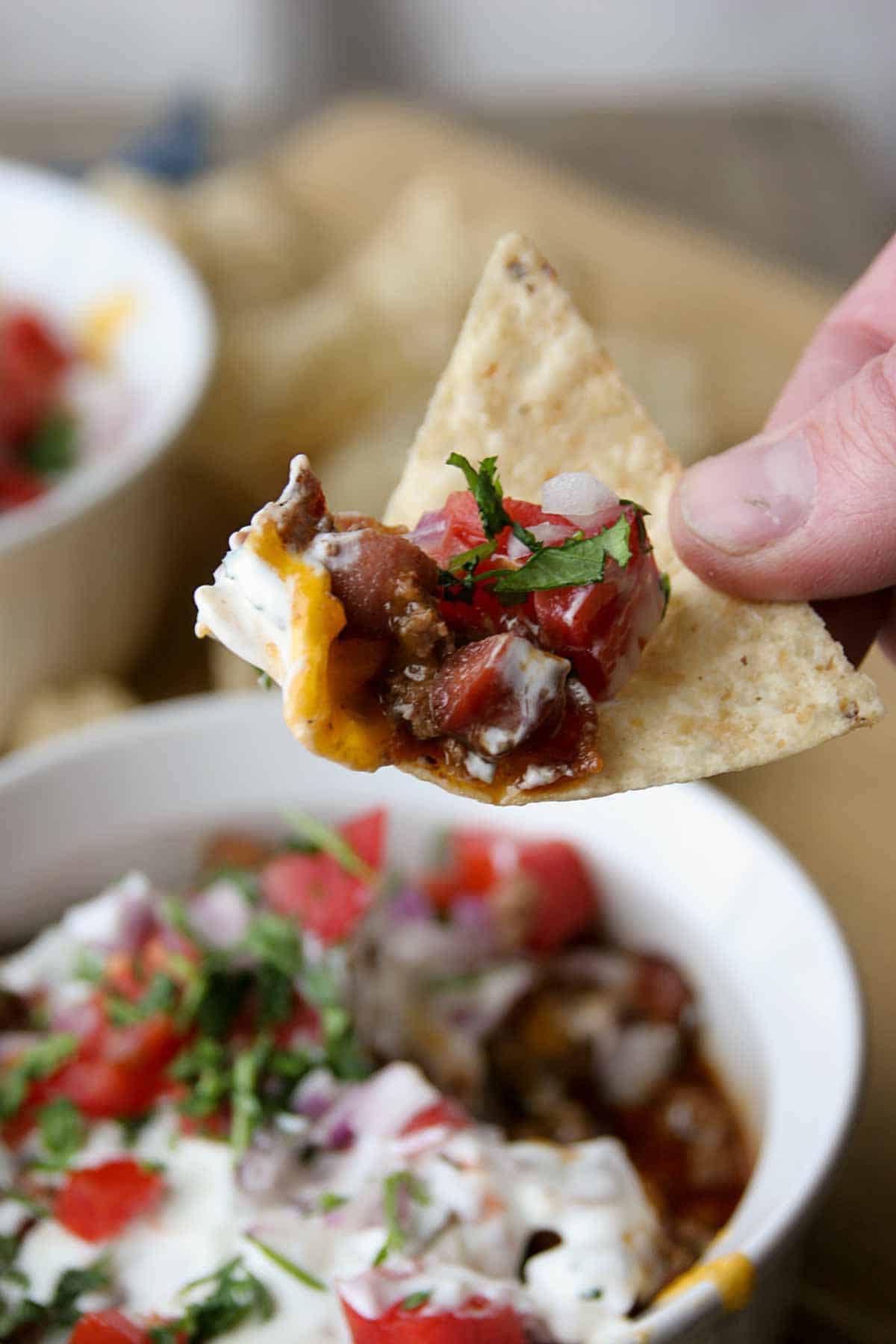 Do you know what you are going to make for the big game next week?  Boy, do I have a good recipe for you today!!
I actually had a different recipe planned to post about today. But then I saw this episode of The Rachael Ray Show this week. And I just knew that I had to make this recipe – football game or no football game!
It's probably not very "cool" to admit, but I totally love hot dogs. Call it a guilty pleasure. But I love them. Give 'em to me plain, with just ketchup and mustard (and some finely diced onion!!), or dress them up with all kinds of toppings. I like them all. And I'll freely admit that every now and again, I get a major craving for a chili dog. This usually ends up in a trip to Sonic for a coney dog. But then I see this recipe – giving me a chili dog, combined with all the topping of a 7-layer dip, and you get to eat it on chips? Count me in!!
This really was everything that I hoped it would be. Total indulgence, but totally delicious. If you are still looking for something to bring to your Super Bowl party, this should definitely be a contender.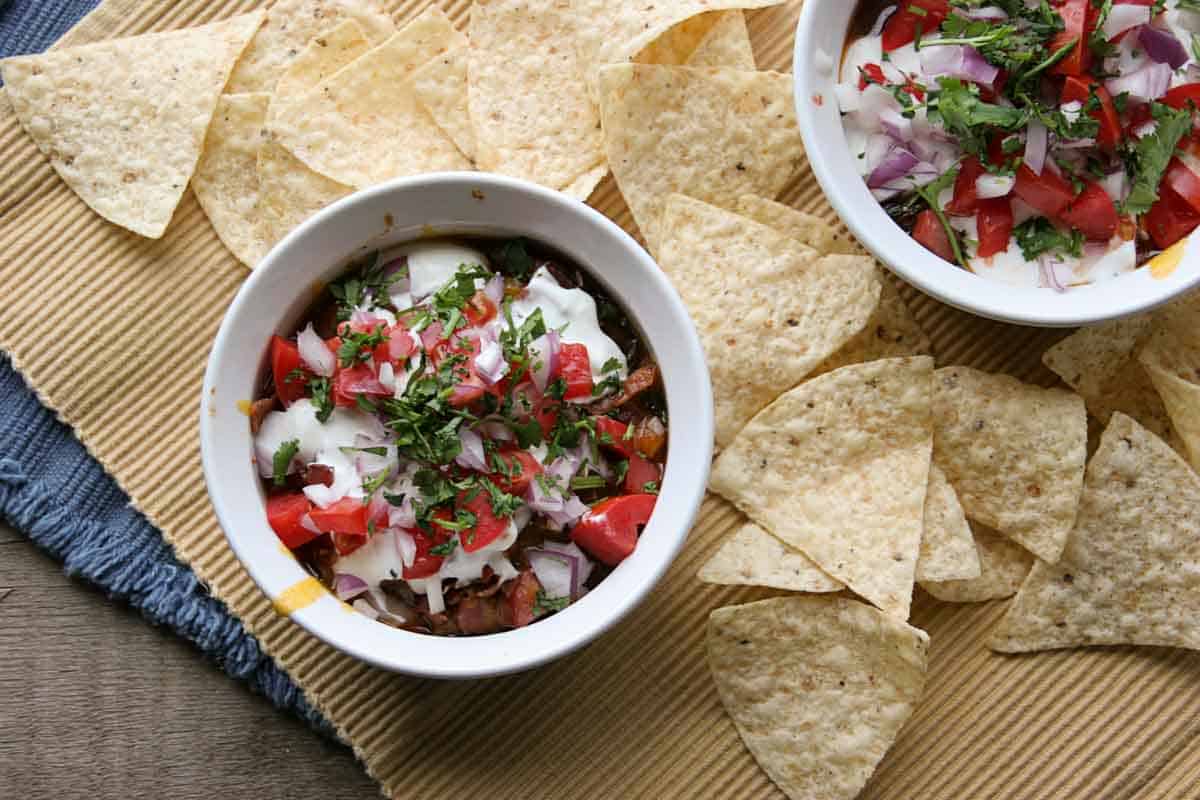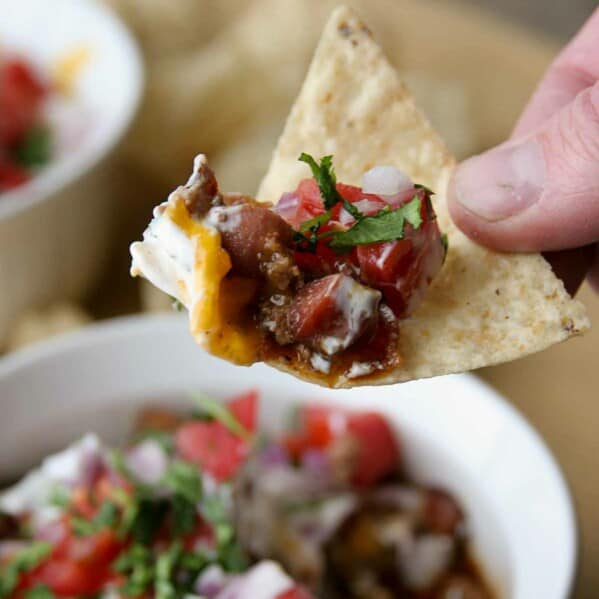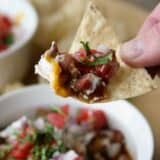 7-Layer Chili Dog Dip
---
Author:
Prep Time: 20 minutes
Cook Time: 30 minutes
Total Time: 1 hour
Yield: 6-8 servings 1x
Category: Appetizer
Method: Baked
Cuisine: American
Description
7 Layer Chili Dog Dip – Get ready for game day with seven layers of flavor found in this cheesy chili dog chip dip.
---
Scale
Ingredients
For the Chili:
1 tablespoon extra virgin olive oil
1 pound ground beef
1 small onion, chopped
1 tablespoon chili pepper
1/2 tablespoon grill seasoning
1/2 tablespoon ground cumin
1 teaspoon ground coriander
1 cup beef stock
1 can (14-oz) diced tomatoes
For the Dip:
Chili (recipe follows)
1 tablespoon extra virgin olive oil
4 hot dogs, diced
1 1/2 cups shredded cheddar cheese
1 cup sour cream
1/2 pound bacon
1 cup fresh tomatoes, diced
1/4 cup diced red onion
1/4 cup chopped cilantro
1 bag corn tortilla chips
---
Instructions
Make the chili:
Heat the oil over medium high heat in a large pot. When the oil is hot and rippling, add the ground beef. Cook, breaking up, until browned and cooked through. Drain, if needed. Add the onion, chili pepper, grill seasoning, cumin and coriander; cook another 5 minutes.
Add 1/2 cup of the beef stock and allow to cook another minute or two, scraping up any browned bits on the bottom of the pan. Add the remaining stock and the tomatoes. Bring to a bubble, reduce the heat, and cook for an additional 10 minutes.
For the 7-Layer Chili Dog Dip:
Preheat the oven to 375°F.
Arrange the bacon on a broiler pan and cook until crisp, 12-15 minutes. Roughly chop and reserve.
Meanwhile, in a pan, heat the olive oil. Add the hot dogs and cook until browned. Reserve.
Spread the chili in the bottom of an 8×8-inch baking dish. Layer the hot dogs on the chili, followed by the cheese. Bake for 12-15 minutes.
Top with dollops of sour cream, chopped bacon, tomatoes, onion and cilantro. Serve with tortilla chips for dipping.
Recipe Notes:
slightly adapted from The Rachael Ray Show