Pieces of chicken breast are coated in crispy cereal and then pan fried in these kid-friendly Crispy Chicken Nuggets.
Want more traditional chicken nuggets? Try these Homemade Chicken Nuggets!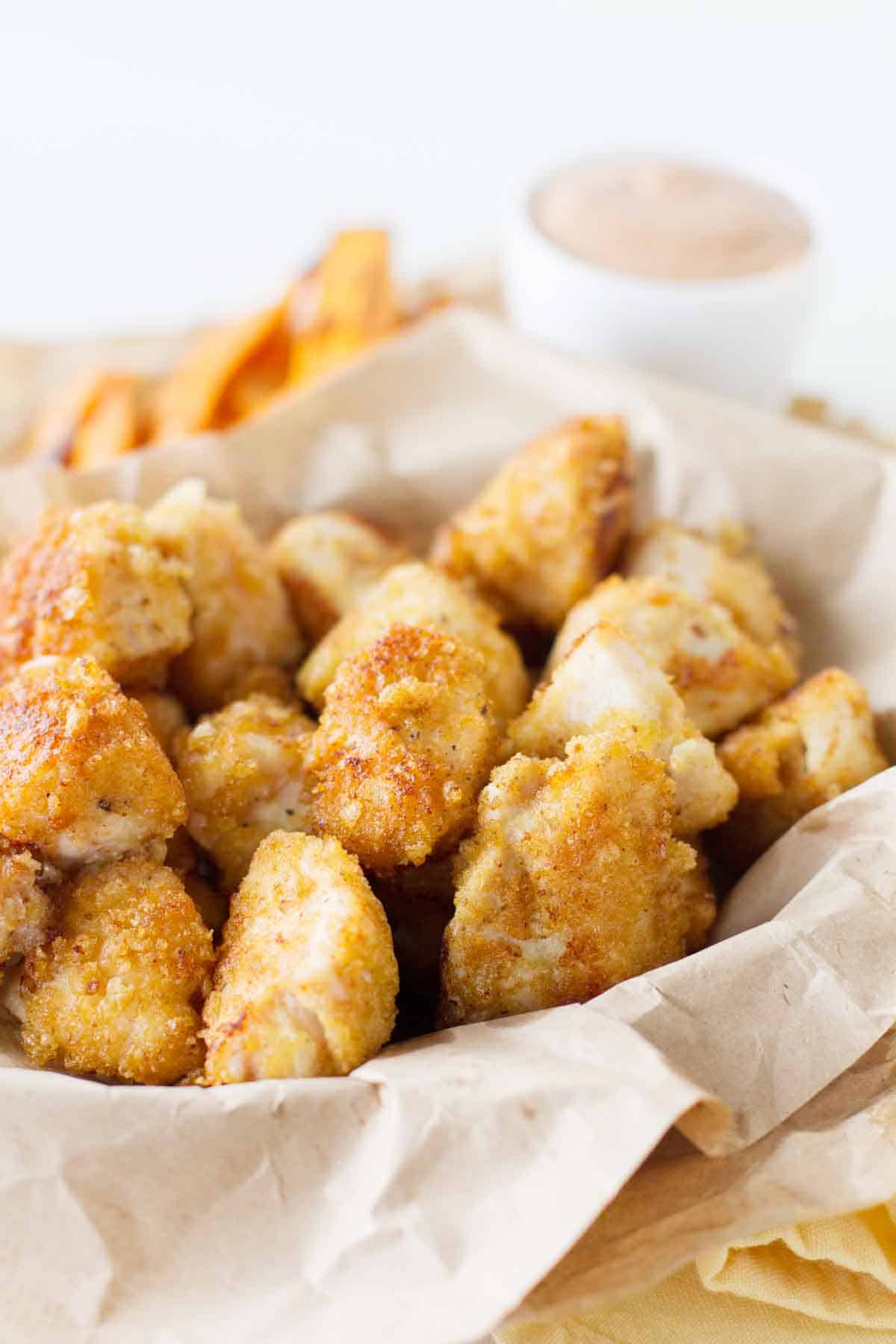 I've never been that great at making New Year's resolutions. I love making goals, but the whole "make these grand goals at the beginning of the year when everyone else is" – I'm not so great at. And I totally understand why people vow to eat better when January 1st rolls around. If you were here on my blog during the month of December, you know that I had more than my fair share of the sweets and not-so-good-for-you foods. So I totally see why everyone is detoxing and cutting back.
But like I said, I'm not so great at that. If I were, you'd be getting a whole month full of good for you foods. And I do have a some recipes coming at you. But let's just say that I'm not promising a lot of low cal, low sugar, low carb recipes this month. 🙂
With that aside, I bring you chicken nuggets. And while they are not considered health food, I think there is a lot to be said about making your food at home, with ingredients you know, starting from scratch.

My kids adore chicken nuggets. In fact, that is one of the very few forms of meat that my oldest son will eat. So when I saw these chicken nuggets in Every Day with Rachael Ray several months back, I knew I needed to try them. I was intrigued by the breading – crispy rice cereal (aka Rice Krispies) – and I was curious to see how they actually worked out for the breading.
The verdict was that these were pretty awesome chicken nuggets – probably the best that I've made at home. I'm pretty sure my husband and I enjoyed them just as much as the kids. You definitely wouldn't guess that the breading was cereal, but I thought it actually worked quite well. And while they are pan fried, it's better than deep frying them. I just don't think you'd get the same texture or crispiness if you baked these. But there is no doubt that these are better for you than what you'd get in any kid's meal!!
And bonus – these could totally be gluten-free if you use the gluten-free Rice Krispies. Win!!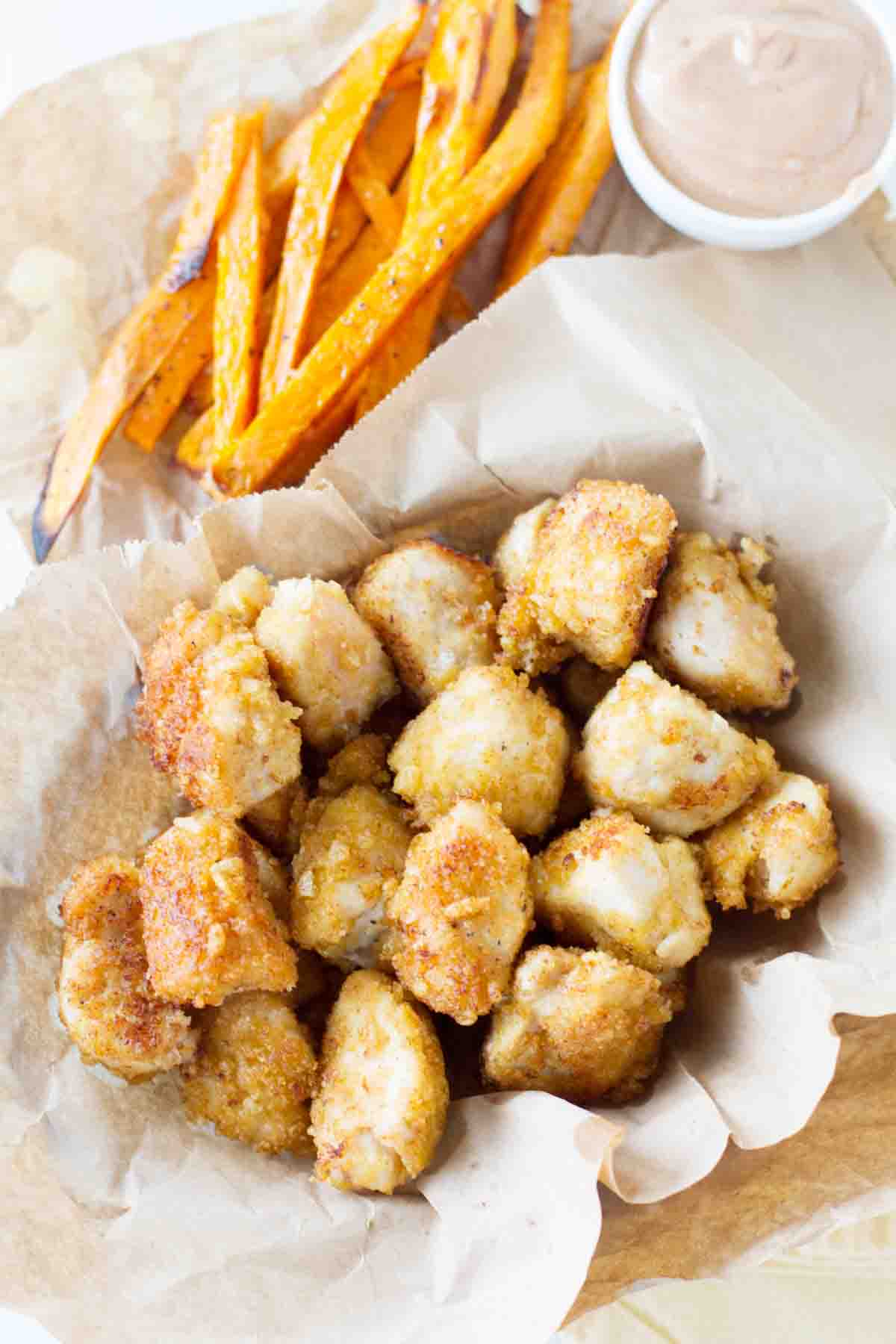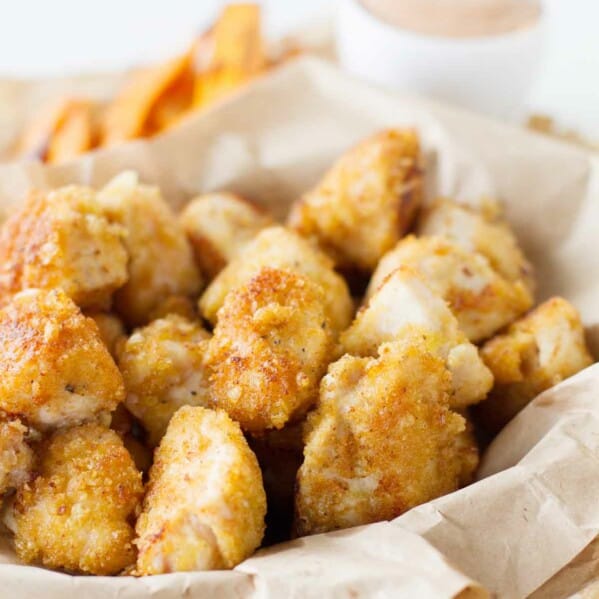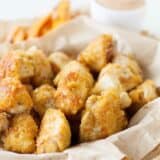 Crispy Chicken Nuggets
---
Author:
Prep Time: 15 minutes
Cook Time: 10 minutes
Total Time: 25 minutes
Yield: 4 servings 1x
Category: Main Dish
Method: Stove Top
Cuisine: American
Description
Pieces of chicken breast are coated in crispy cereal and then pan fried in these kid-friendly Crispy Chicken Nuggets.
---
Scale
Ingredients
1 egg
salt and pepper
2 1/2 cups crispy rice cereal, crushed (like Rice Krispies)
1 1/4 lbs boneless, skinless chicken breasts, cut into 20 pieces
1/4 cup olive oil
2 tablespoons butter
---
Instructions
In a bowl, lightly beat the egg. Season with salt and pepper. Place the cereal in a second bowl.
Heat the oil and butter in a medium skillet over medium heat.
Dip the chicken pieces in the egg, then coat in the cereal. Add the chicken to the hot skillet and cook, turning occasionally, until browned and cooked through, about 7 minutes.
Recipe Notes:
Keywords: crispy chicken nuggets