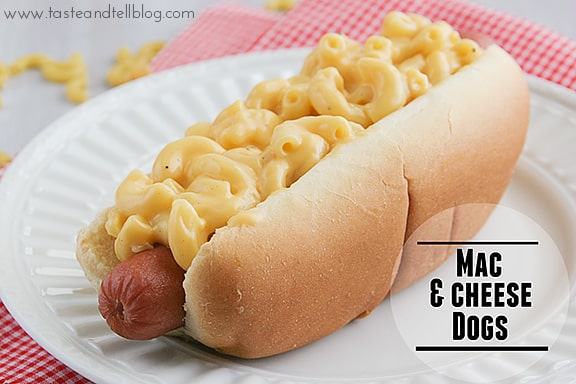 So – I'm being a little bit selfish having a whole week devoted to hot dogs.  And I'm going to tell you something that you might not believe.
My kids don't really like hot dogs.
I know.  Who's kids are these??  I was somehow under the impression that every kid loved hot dogs.  But it's not true.  It's a myth.  Abbi will occasionally take a couple of bites, but I don't think she has ever even eaten a quarter of a hot dog.  And Easton will barely touch them.
So when I make hot dogs, I pretty much make them for myself.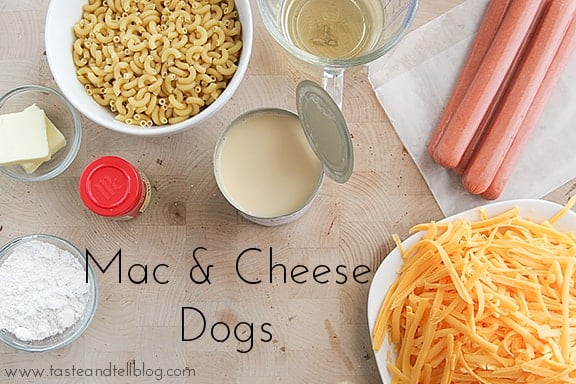 And then I had a brilliant idea.  Since I wasn't going to give up the hot dogs, I thought I'd combine them with something that I know my kids love.  Mac & Cheese.  At least this way, I could give them the mac & cheese, minus the hot dog, if they didn't want to eat the hot dog.  Then I get my hot dog, and they get their mac & cheese!
I didn't think this recipe would be totally out in left field – you see mac & cheese recipes that have cut up hot dogs in them all of the time.  But I have a feeling people are going to totally love these, or think that they are way over the top.  Me?  I thought they were amazing.  The mac & cheese on it's own is so creamy and delicious.  And easy!  Combine it with a hot dog, and you have 2 of my favorite "kid" foods combined into one.  These babies are decadent and over the top – and one will probably be all that you need – but if you are like me, it will leave you with a big smile on your face!!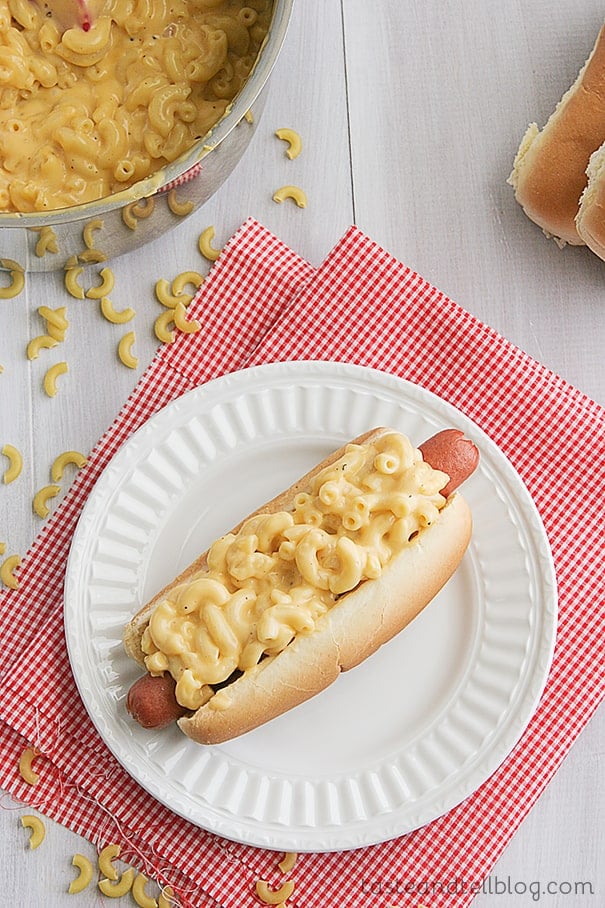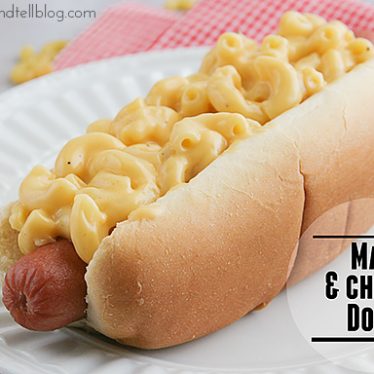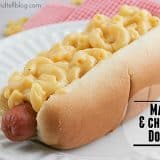 Mac and Cheese Dogs
---
Prep Time: 5 minutes
Cook Time: 15 minutes
Total Time: 25 minutes
Yield: 8 hot dogs 1x
Description
2 of your favorite kid foods in 1! Hot dogs are topped with creamy, cheesy mac & cheese.
---
Scale
Ingredients
For the Mac & Cheese
1/2 lb macaroni pasta
2 tablespoons butter
3 tablespoons flour
1 (12-oz) can evaporated milk
1/2 cup chicken stock
1 teaspoon mustard powder
8 oz grated cheddar cheese
For the hot dogs
8 hot dogs
8 hot dog buns
---
Instructions
Bring a large pot of salted water to a boil. Add the pasta and cook until al dente and drain.
Meanwhile, melt the butter in a medium saucepan. Whisk in the flour and cook for 1 minute. Whisk in the evaporated milk and chicken stock and cook until thickened, stirring regularly. When thick, add in the mustard powder. Working in 3 batches, stir in the cheese until melted.
Add the pasta into the cheese sauce and stir to combine.
While the sauce is cooking, bring a small amount of water to a boil in a shallow pan. Add the hot dogs, cover, and cook until the hot dogs are warmed through.
To serve, place a hot dog in a bun and top with the mac & cheese.