Take your pizza and give it a roll! This Homemade Pizza Roll Recipe is perfect for after-school snacks, game day, or just a different way to serve pizza!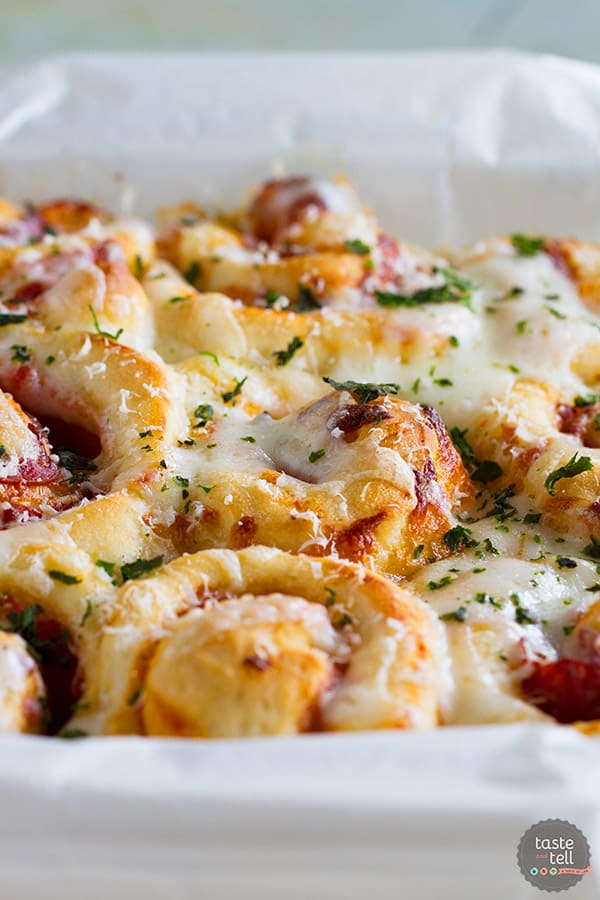 Yum


Oh, carbs… You get me every time.
I will readily admit that I could never go off carbs. I tried once. And it was not pretty. Needless to say, it did not last long. At all. I was grumpy and irritable, and just not a nice person to be around.
So I can say with a surety that carbs are in my life to stay.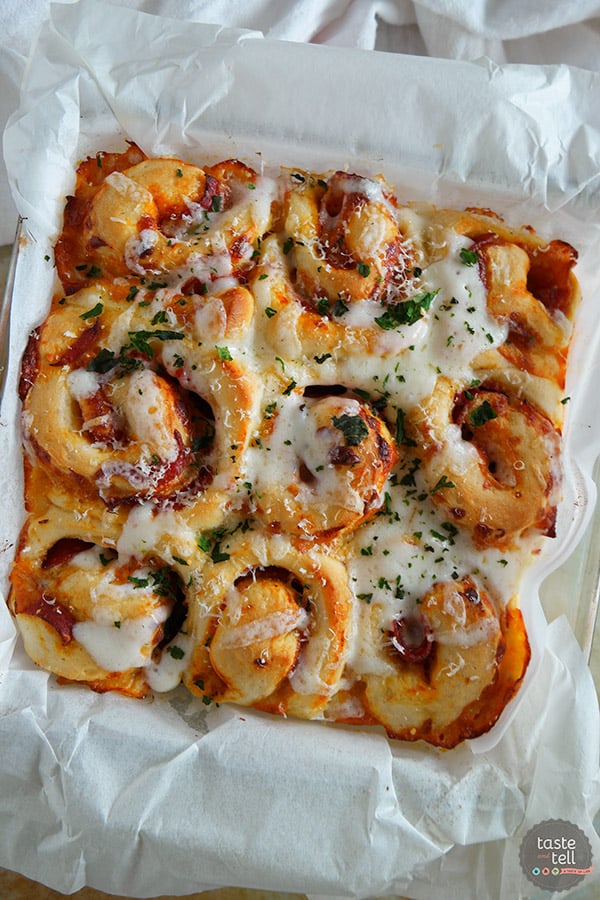 Especially when they resemble pizza. I have talked about pizza so much here on this blog that you all are probably so tired of hearing about how much we love it. Well, I decided to make a pizza starter to eat before we had our pizza. (Too much pizza??? Never!!)
I know that pizza rolls are nothing new, but believe it or not, I had never made them before this pizza roll recipe. And now I'm mourning all of those years lost without these carby, cheesy, flavorful rolls. 🙂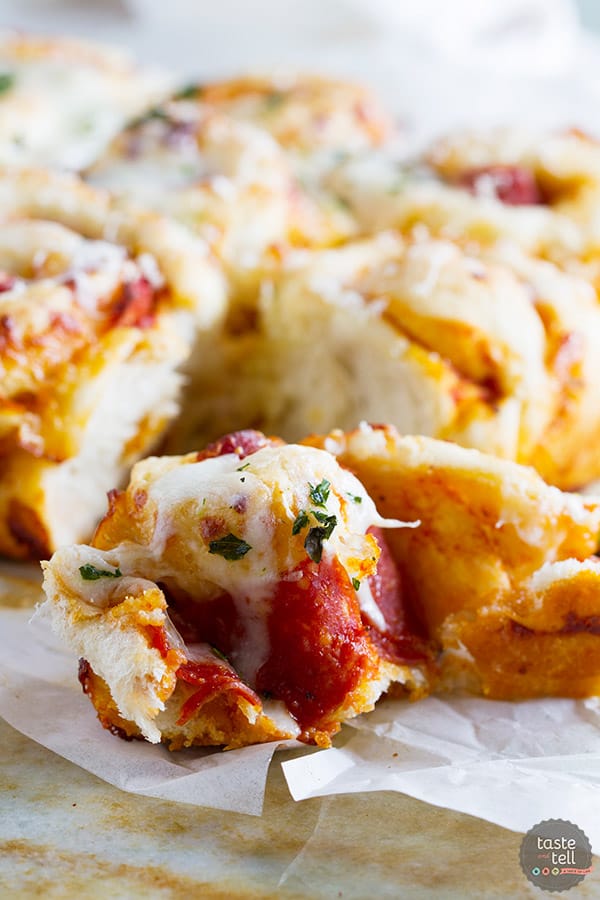 And happy day, it doesn't get much easier than this Homemade Pizza Roll Recipe. It's perfect for pizza night because it starts out with my favorite pizza dough. (The pizza dough recipe makes a ton of dough, so this is a great thing to do with some of that excess dough if you don't want to make a million pizzas!) Spread on some pizza sauce, pepperoni, and cheese, roll it up and cut it into rolls. Bake them with even more cheese on top. Ooey, gooey, carb perfection.
Not only is this a great starter for pizza night, but they are perfect for after school snacks, and especially perfect for game day. I can pretty much guarantee that these babies will disappear.
You are welcome.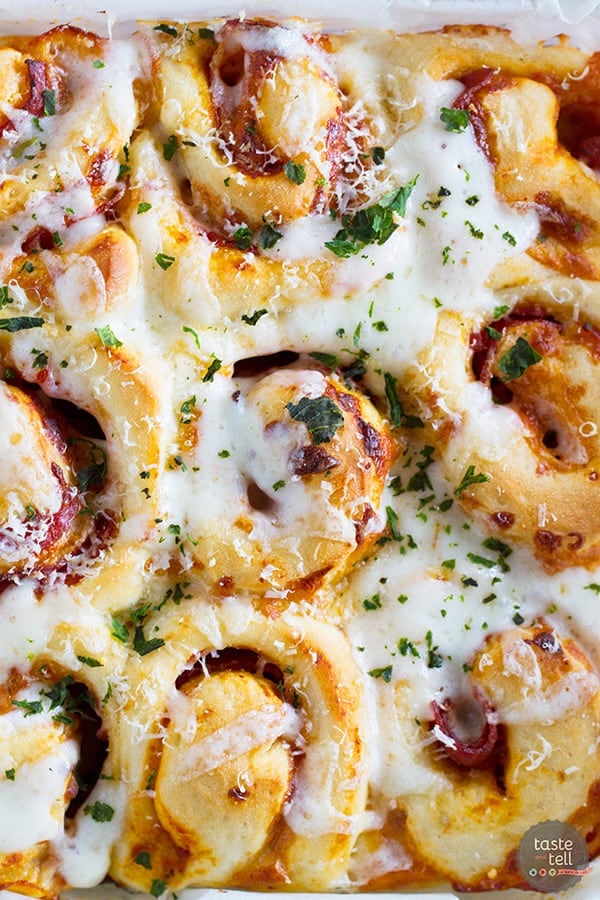 Like what you see here? Make sure you are following Taste and Tell for more recipes and ideas!
Facebook | Pinterest | Instagram | Twitter | Google+ | Weekly Newsletter | Feedly | Bloglovin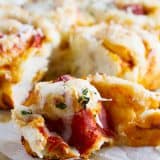 Homemade Pizza Roll Recipe
---
Author:
Prep Time: 10 minutes
Cook Time: 43 minutes
Total Time: 73 minutes
Yield: 9 roll 1x
Category: Main Course
Description
Take your pizza and give it a roll! This Homemade Pizza Roll Recipe is perfect for after-school snacks, game day, or just a different way to serve pizza!
---
Scale
Ingredients
1 lb pizza dough
1/2 cup marinara or pizza sauce
3 oz sliced pepperoni
2 cups shredded Mozzarella cheese
1 tablespoon grated Parmesan cheese
basil (for serving)
---
Instructions
Line a 9×9" baking dish with parchment paper. Set aside.
Lightly flour a work surface and roll the dough into an 8×12" rectangle. Spread the pizza sauce over the dough to the edges. Top with the pepperoni, then 1 3/4 cups of the mozzarella cheese. Starting on the long side, roll the dough up to form a log. Trim the edges if uneven, then cut the dough into 9 equal slices. Place the slices, cut side down, in the prepared baking dish, making 3 rows of 3 rolls each. Cover the dish with foil and let it sit to rise for 20 minutes.
Meanwhile, preheat the oven to 375ºF. Place the rolls in the oven, still covered, and bake for 20 minutes. Remove the foil and return the pan to the oven and bake for an additional 20 minutes. The rolls should be browned and the cheese melted. Sprinkle the remaining 1/4 cup of mozzarella and the 1 tablespoon of parmesan over the top of the rolls, then return to the oven until the cheese is melted, about 3 minutes.
Let the rolls cool slightly in the pan, then top with the basil and serve.
SHOP THIS POST:
More Twists on the Pizza: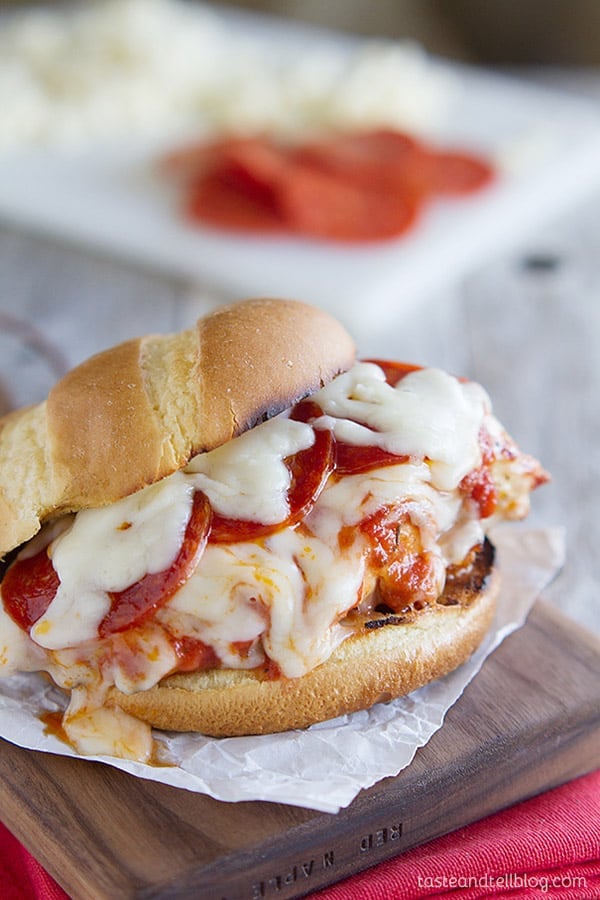 Pizza Topped Grilled Chicken Sandwich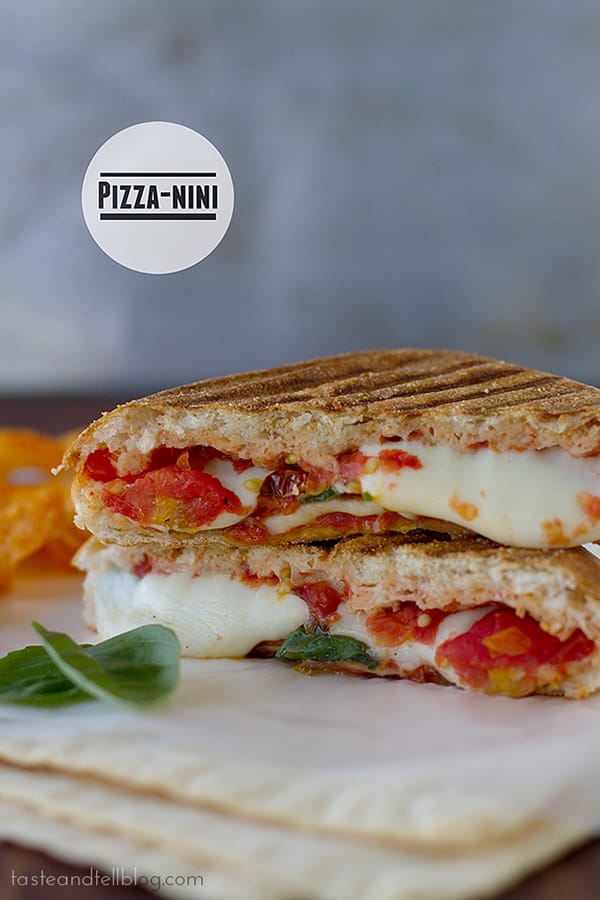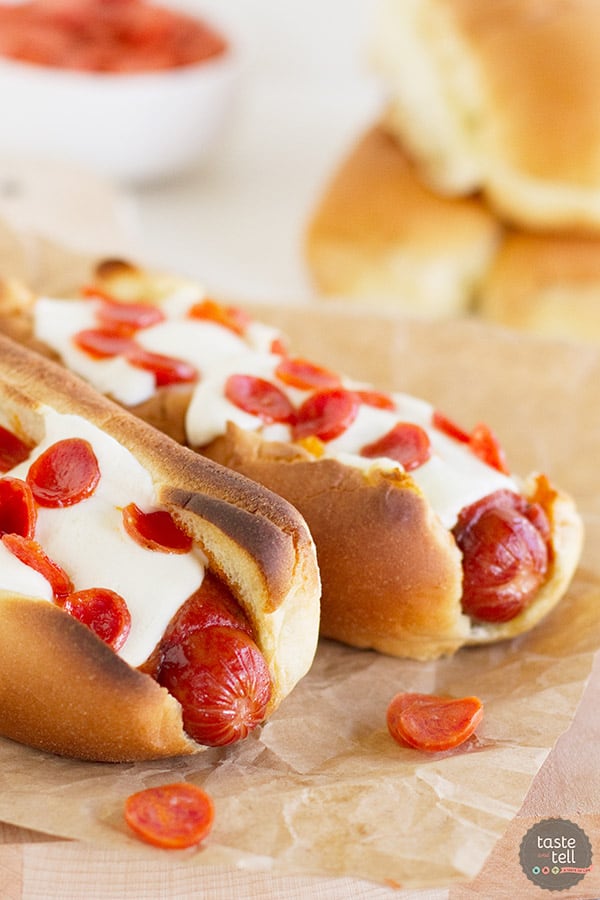 Around the Web:
Zucchini Pizza Bites from Closet Cooking
Pepperoni Pizza Pot Pie from Hip Foodie Mom
Texas Toast Garlic Bread Pizza from Recipe Diaries
Don't miss a thing! Follow me on Pinterest to see what I'm pinning!
Visit Taste and Tell's profile on Pinterest.