Cookbook of the Month Recipe – Roasted Chicken and Vegetables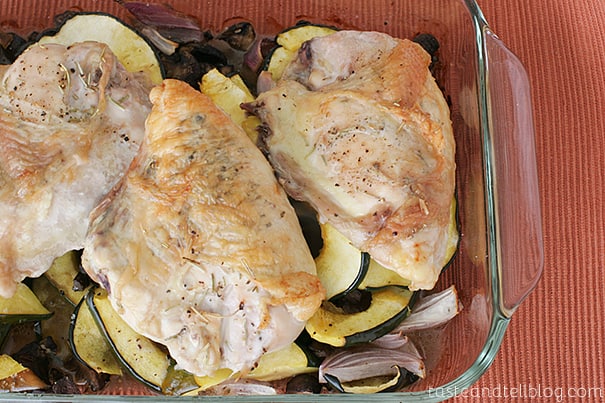 I have a serious case of spring fever. We have been teased with nice weather here, only to have snow dumped on us days later. But today was one of those spring-like days, and I took advantage of it by going on a walk with the baby and the dog. It was so great to get out and breath the fresh air, but it only left me wanting more.
Spring and fall are my favorite seasons. I look forward to them every year, and I can't believe that spring is already right around the corner. But I do have to admit, I love the comfort foods of winter. And although these days, most produce can be found in your local grocery store year round, it almost seems silly to be eating a winter squash in the middle of spring. So I decided, with this week's Cookbook of the Month recipe – to give one last hurrah to winter by making this dish. And even though it screams winter to me, it also is a great dish for this time of year since it is so healthy. And I know everyone starts to eat healthier this time of year since the layers of clothes are starting to come off.
I realized as I was typing up this recipe that I totally spaced the garlic. And it's funny, too, because as I was eating, I was thinking that it could use some garlic! But either way, it was delicious. In fact, my husband gave it a 4.5 out of 5, and didn't even douse his chicken in bbq sauce! I gave it a 4, so we'll average it at 4.25, but either way, this is worthy of making again!
Recipe Rating: 4.25 out of 5
Roasted Chicken and Vegetables
from Everyday Food: Great Food Fast
Serves 4
1 acorn squash, halved lengthwise, seeded, and sliced
1/2-inch thick 1 pound cremini mushrooms, trimmed and halved
1 large red onion, cut into 1/2-inch wedges
8 garlic cloves, crushed
1 tablespoon olive oil
Coarse salt and fresh ground pepper
4 bone-in chicken breast halves
1 tablespoon dried rosemary, crumbled
Preheat oven to 375 degrees. Combine the squash, mushrooms, onion, garlic, and oil in a roasting pan; season with salt and pepper, and toss to coat. Roast until the squash is beginning to soften and all the vegetables are heated through, about 15 minutes.
Meanwhile, lift up the skin from the chicken breasts; rub the flesh with rosemary and some salt and pepper. Replace the skin; season the chicken all over with more salt.
Remove the roasting pan from the oven, and place the chicken, skin side up, on top of the vegetables. Return to the oven; continue roasting until the chicken is cooked through and the vegetables are tender, about 35 minutes.
**Win a copy of Everyday Food: Great Food Fast!!**
This month, I have decided to do a cookbook giveaway and will be giving away a copy of this month's book. You'll have 4 chances to enter. All you have to do is comment on the Cookbook of the Month's posts – and even though I am just starting now, you can still go back and comment on last week's post. Every Friday, a new Cookbook of the Month post is posted, so make sure to comment on each post for more chances to win! The contest ends at 11:59pm MDT on Monday, March 30th and the winner will be announced on Tuesday, March 31st.