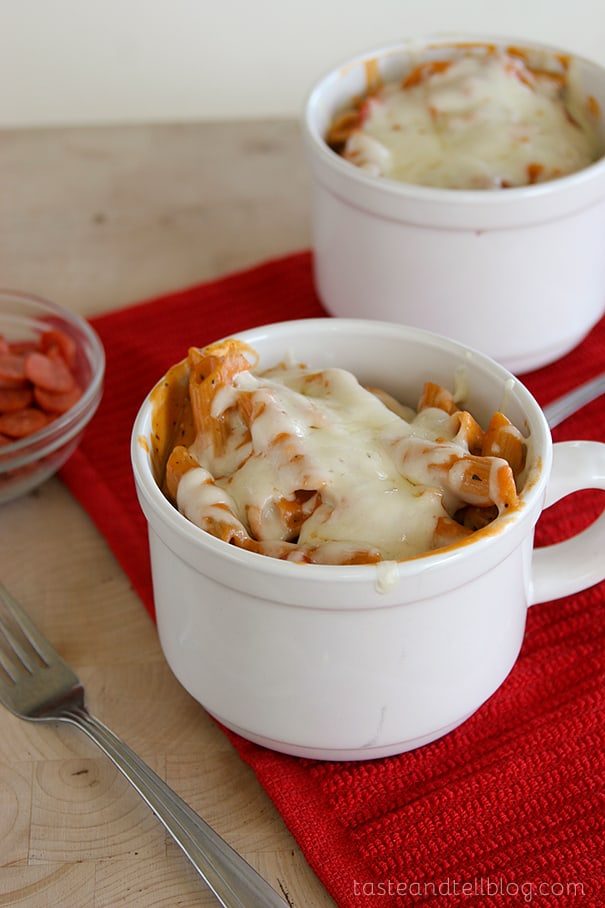 Last week, I mentioned that I had the opportunity to take part in Wisconsin Milk Marketing Board's 30 Days, 30 Ways with Macaroni and Cheese. You all know that I've been on a bit of a macaroni and cheese kick lately, so when I heard about this, I knew I wanted to take part!! I love mac and cheese – any way. I wanted to get a little creative, and I was so happy with the recipe that I came up with!!
When I first decided to do a mac and cheese with a pepperoni pizza twist, Abbi was on a pizza kick.  All she wanted was pizza.  We rarely order pizza, but she loves the flavors so much that she'll be happy with a piece of bread with some pizza sauce, pepperoni and cheese, all toasted in the toaster oven.  She would honestly want that every single day.  That, or mac and cheese.  Since all I had on the brain was pizza and mac and cheese, it was only natural to me to combine the two!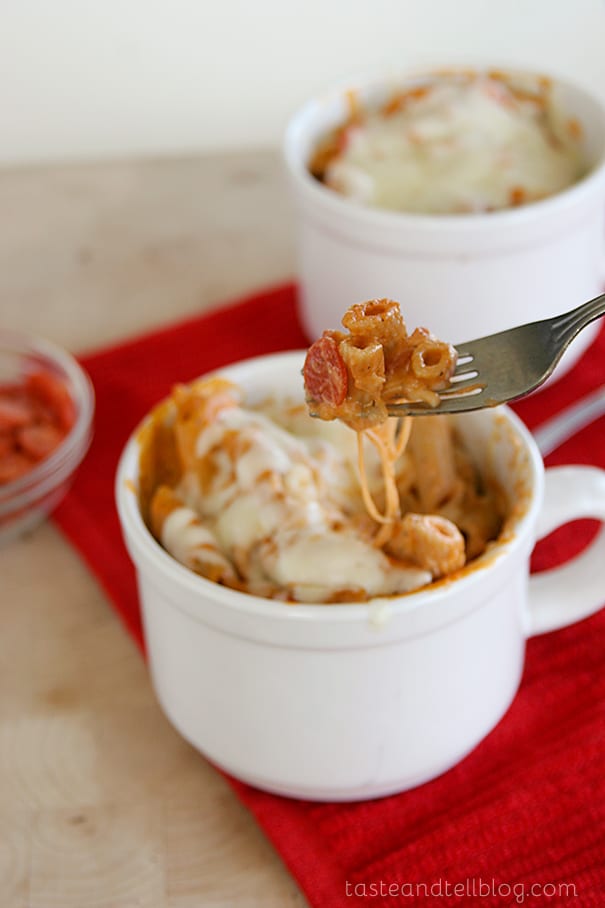 This turned out so delicious, that I couldn't even stop eating it!  And another beautiful part about it is that it can be done in under half an hour.  Kid friendly and quick – that's my idea of a perfect meal!  I found these little mini pepperonis that went perfect in this meal, since Abbi also loves anything small (kid sized!), and they were a real hit.  In fact after they were gone, she was quite sad, because all she wanted were the mini pepperoni. If you can't find the mini pepperoni, feel free to use regular pepperoni and just chop it into smaller pieces.  This meal was a real hit – for kids and adults alike!
There are tons more mac and cheese ideas on the 30 Days, 30 Ways with Mac and Cheese blog.  They are just over half way through, so make sure you head over and check out all of the recipes – you don't want to miss out on some of these!!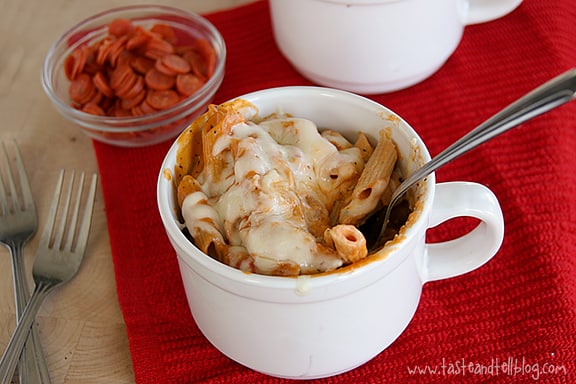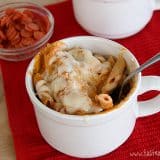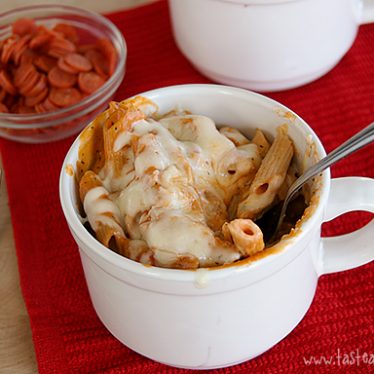 Pepperoni Pizza Mac and Cheese
---
Prep Time: 5 minutes
Cook Time: 20 minutes
Total Time: 30 minutes
Yield: 4 servings 1x
Description
It doesn't get more kid-friendly than 2 childhood favorites combined into one – mac and cheese with a pepperoni pizza twist!
---
Scale
Ingredients
1 pound whole wheat penne pasta
4 tablespoons butter
1 small onion, diced
3 cloves garlic, minced
3 tablespoons flour
2 cups milk
2 teaspoons Italian seasoning
2 1/2 cups (10 ounces) shredded Wisconsin Mozzarella Cheese
1 (16-ounce) can tomato sauce
5 ounces mini pepperoni, or chopped pepperoni
---
Instructions
Preheat the broiler.
Bring a large pot of water to boil. Salt and add the pasta. Cook until al dente; drain and set aside.
In a pan, melt the butter. Add the onion and cook until translucent, about 5 minutes. Add the garlic and cook until fragrant, about another minute. Whisk in the flour and cook for 1 more minute. Slowly whisk in the milk, whisking out any clumps. Cook until thickened. Stir in the Italian seasoning.
Working in 3 batches, whisk in the Mozzarella, making sure all of the cheese is melted in between additions. Add in the tomato sauce and pepperoni and heat until warmed through. Stir in the reserved pasta.
Transfer the mixture to an oven safe baking dish, or individual baking dishes, and top with additional cheese. Put under the broiler and cook until the cheese is melted.
*This is a sponsored post, but all opinions are my own.*