These Worcestershire Burgers are spiked with worcestershire sauce and are topped with gouda cheese, sauteed mushrooms and homemade ranch dressing.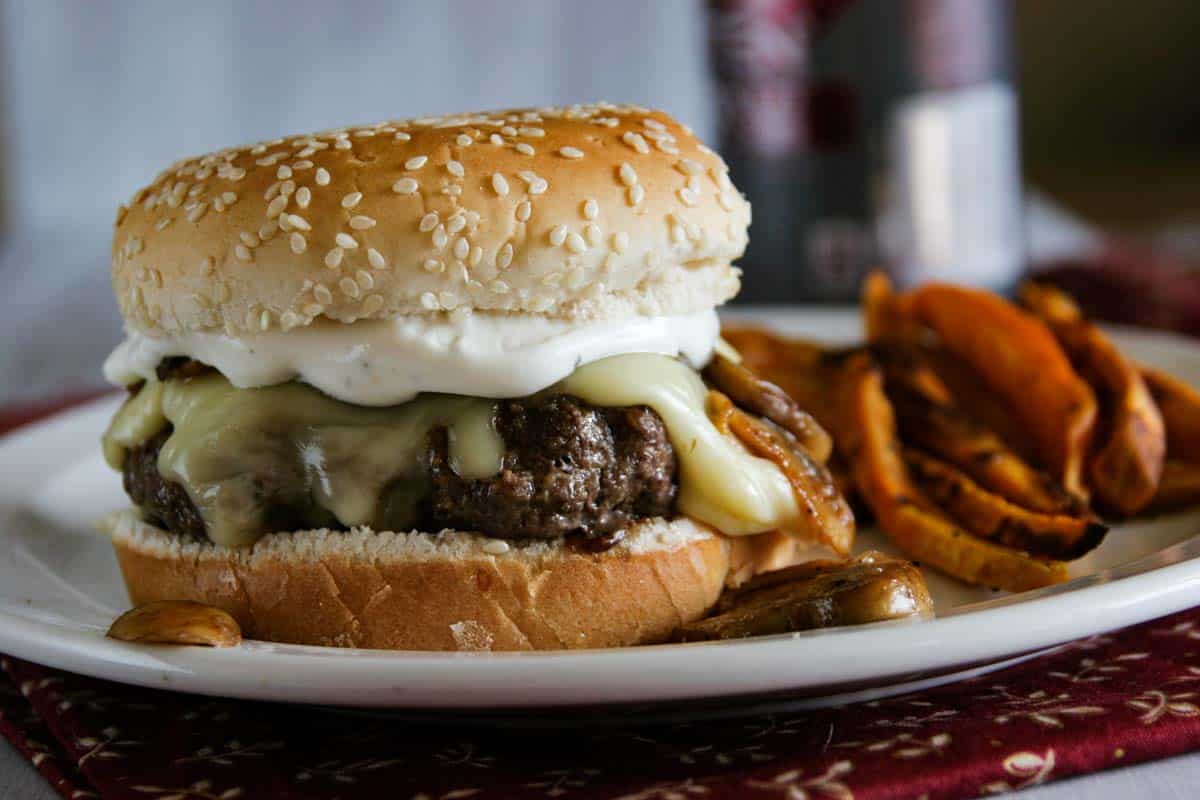 Every month, Rachael Ray has a burger recipe in her magazine.  And every time I make one of her burger recipes, I wonder to myself why I don't make them very often. She is the self-proclaimed "Queen of Burgers", and in all honesty, I think she deserves that title.
I have loved every single burger recipe of hers that I have made. Like these Club Burger Sliders, these Bacon Lettuce and Fried Green Tomato Sliders, Satay Sliders, and Poblano Pepper Slider Burgers.
And this one is no exception.  With Memorial Day on Monday, I thought it would be the perfect time to showcase this burger. I know that you probably already have your Memorial Day grill-out menu all planned out, (in fact, most of you might already be heading outside for the weekend!), but the good news is that you have the whole summer to try this burger.
And you are going to want to try this. As long as you like worcestershire sauce. The burger itself definitely takes on a lot of the taste. On top of the burger, you melt gouda cheese, which just might be new new favorite cheese for burgers. And as if that wasn't enough, you add on sauteed mushrooms and a homemade ranch dressing. You can always use bottled ranch dressing if you want to, or you can use powdered ranch with the sour cream and buttermilk. I love to use the fresh herbs when I have lots of them on hand during the summer, though.
The only thing that would have made these better would have been if I would have taken the time to make homemade buns.  Next time!
I was seriously in heaven with these burgers. And now I need to make sure I don't wait as long to have burgers again!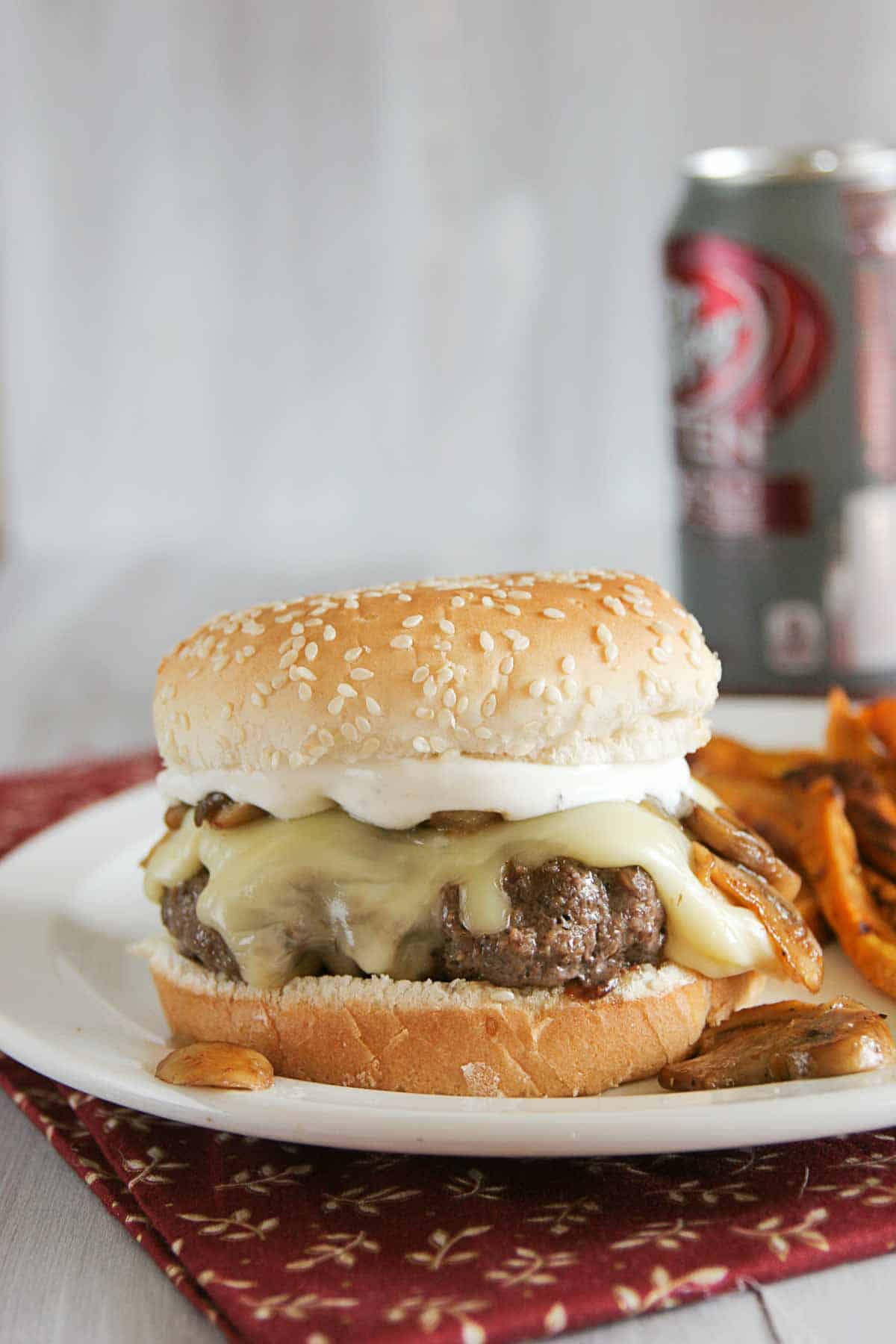 More Burger Recipes:
Blue Cheese Burgers
Brie Burger with Sun Dried Tomato and Artichoke Spread
Triple Pork Burgers
Tex-Mex Bacon Cheeseburgers
Taco Burgers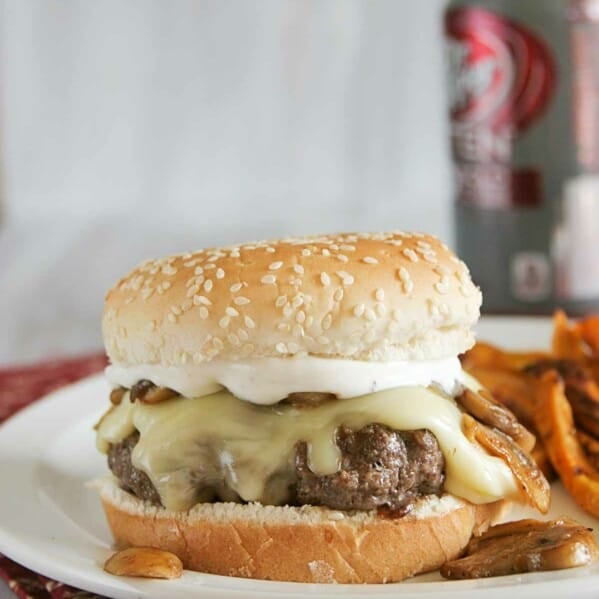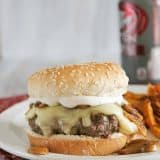 Worcestershire Burgers with Gouda, Mushrooms and Ranch Dressing
---
Author:
Prep Time: 15 minutes
Cook Time: 15 minutes
Total Time: 30 minutes
Yield: 4 servings 1x
Category: Main Dish
Method: Stove Top
Cuisine: American
Description
These Worcestershire Burgers are spiked with worcestershire sauce and are topped with gouda cheese, sauteed mushrooms and homemade ranch dressing.
---
Scale
Ingredients
1 1/2 pounds ground beef chuck
1/4 cup worcestershire sauce
3 tablespoons grated onion
1 tablespoon vegetable oil
4 slices Gouda
3 tablespoons butter
1 pound white mushrooms, sliced
1/4 cup chopped onion
1/3 beef broth
1/2 cup sour cream
2–3 tablespoons buttermilk
1/8 cup finely chopped dill, parsley, chives and thyme, or 1 1/2 teaspoons ranch seasoning
1/2 tablespoon fresh lemon juice
1/2 teaspoon hot sauce
1 clove garlic, grated
4 hamburger rolls
---
Instructions
Preheat a cast-iron skillet or griddle pan over medium-high heat.
In a bowl, combine the beef, worcestershire sauce, grated onion, salt and lots of black pepper. Form into 4 patties.
Add the vegetable oil to the hot pan, then add the patties. Cook, turning once, for 8-10 minutes for medium. Top the patties with the cheese during the last 2 minutes.
Meanwhile, melt the butter in a large skillet. Add the mushrooms and cook until browned, about 12 minutes. Add the onion, season with salt and pepper, and cook an additional 2 minutues. Deglaze the pan with the beef broth. Remove from the heat.
In a small bowl, stir together the sour cream, buttermilk, herbs (or ranch dressing mix), lemon juice, hot sauce and garlic. Season to taste with salt and pepper.
Put the cheeseburgers on the the roll bottoms, top with mushrooms and ranch dressing. Top with the top bun.
Keywords: worcestershire burger