A slider recipe given a Southern twist by adding fried green tomatoes.
I had my first fried green tomato just last year.  I know – where have I been?  But after that first bite, I was hooked.  If you've never had fried green tomatoes, do yourself a favor and at least make some while you can still get green tomatoes.  But if you want to take it up a level (or three), stack those fried green tomatoes on top of a slider! I remember seeing this episode of the Rachael Ray Show last year.  I wrote the recipe name down in my trusty notebook, and it has been staring at me ever since.  Every time I go into that notebook while menu planning, this recipe – at the top of the list – always begs to be made.  So I promised myself that I would make these as soon as I could get my hands on some green tomatoes!! This recipe is definitely worth making.
I will warn you up front that it takes a lot of multi-tasking, and that is quite difficult with 2 kids begging for attention, but I managed to get through the recipe.  The bacon may have been extra crisp from being in the oven too long, but at least the sliders got finished!!  And let me say, these were worth waiting a year to make.  The burger itself is packed with flavor, but combined with the bacon, the fried green tomato and that sauce – wow.  That sauce, despite being such a simple list of ingredients, was amazing.  I may have dipped a tomato or two in it before the burgers were done.  In fact, I almost didn't want a burger – I just wanted the fried green tomatoes and the sauce!!  But everything combines and makes for the perfect, filling slider.  They may be sliders, but one was more than enough for me – they are packed full of all kinds of good stuff!!
And hey – since it is Labor Day on Monday – if you don't already have a menu planned out, these would be perfect for the holiday!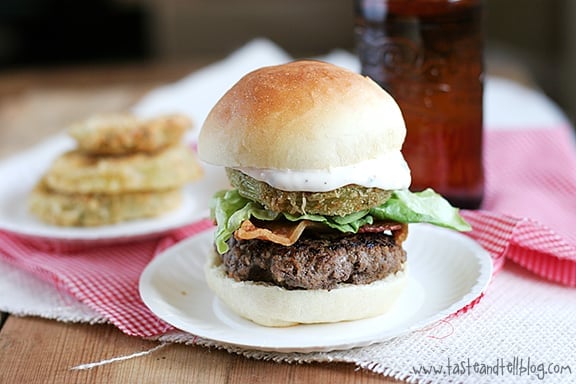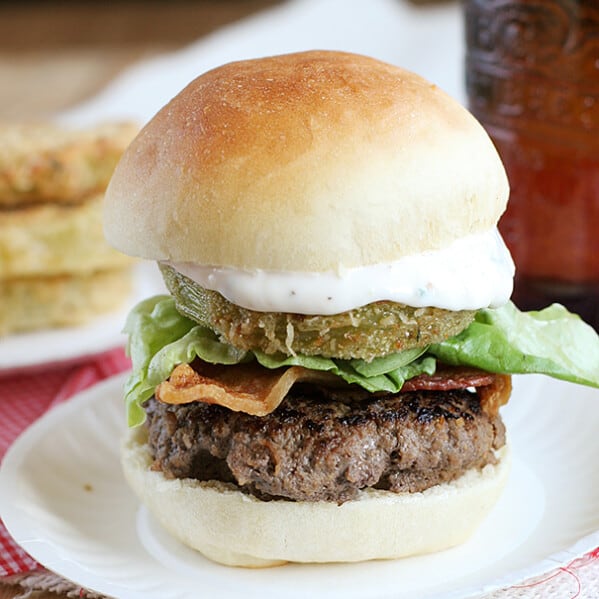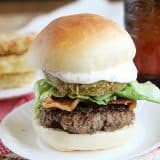 Bacon, Lettuce and Fried Green Tomato Sliders
---
Author:
Total Time: 40 minutes
Yield: 8 sliders 1x
Scale
Ingredients
8 slices bacon
2 green or very under-ripe, firm tomatoes
salt
pepper
flour, for dredging
2 eggs or egg whites, beaten
1/2 cup breadcrumbs
1/3 cup corn meal
1/3 cup grated Parmesan cheese
a handful of flat-leaf parsley, finely chopped
canola oil, for shallow frying
1 1/2 pounds ground beef
3 to 4 tablespoons grated onion and it's juice
2 tablespoons hot sauce, such as Frank's Red Hot
2 tablespoons Worcestershire sauce
1 cup sour cream
1 cove garlic, grated or pasted
a few tablespoons minced fresh chives
juice of 1/2 lemon
8 slider rolls
1 head Bibb or butter lettuce
---
Instructions
Preheat the oven to 375F. Lay the bacon on a slotted pan and bake in the oven until crisp – 15 to 18 minutes.
Trim the tops and the bottoms off of the tomatoes. Slice each tomato into 4 rounds, no more than 1/2-inch thick. Put the tomatoes on doubled paper towels and sprinkle with salt. Allow to sit for a few minutes to let the excess moisture drain. Season with pepper.
Set up 3 shallow bowls. In the first, put the flour. Put the eggs in the second and mix the cornmeal, breadcrumbs, Parmesan and parsley in the third.
Heat the oil in a large skillet over medium to medium-high heat. Dredge the tomatoes in the flour, then dip them in the egg, then into the breadcrumb mixture. Cook in the heated oil for a few minutes on each side, until crisp. Cool on a cooling rack.
In a large bowl, combine the meat with the grated onion, hot sauce, Worcestershire sauce and season with salt and pepper. Form into 8 equal patties. Heat a large griddle or non-stick skillet and cook the patties a few minutes on each side.
In a small bowl, combine the sour cream, chives and lemon juice. Season with salt and pepper. Add in a dash or 2 two of hot sauce, if desired.
Assemble the burgers: Place the burger on the bun bottom. Top with bacon, lettuce, a slice of fried green tomato and some sour cream sauce. Top with the bun top and serve!