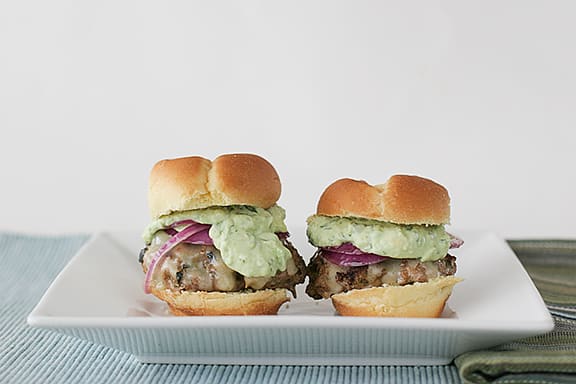 There are some foods that you associate with different seasons or different times of the year, but then there are those dishes that I deem worthy of year round praise.  Burgers are one of those meals that I think can – and should! – be eaten year round.  3 feet of snow outside so you can't get to your grill?  That's what a grill pan is for!!
If you watch Rachael Ray at all, you will know that she is the self-proclaimed queen of burgers.  And I completely believe that she deserves that title.  Of all of her burger recipes that I've tried, I think that I've loved them all!  And every time I make one of them, I wonder why I don't try her burgers more often.
This burger – made slider size – is no exception.  These babies are packed with flavor.  They are in the November issue of her magazine, and she also made them on her talk show.  The original recipe uses poblano peppers, but pasilla peppers were the closest I could find.  And she compares these to jalepeno poppers – but in burger form – and I kind of have to disagree with that.  They didn't really resemble jalepeno poppers to me at all – but nonetheless, they were extremely delicious!!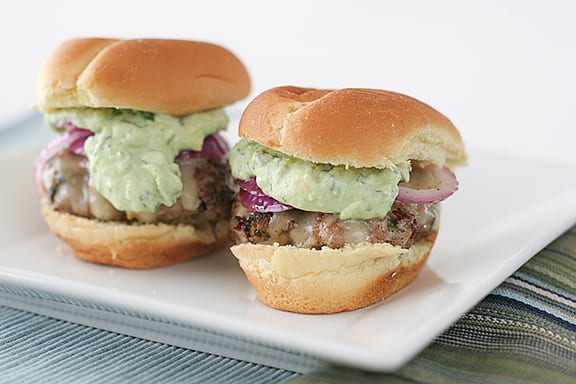 Pasilla Pepper Sliders
adapted from Every Day with Rachael Ray Nov 2010
serves 4 (2 sliders each)
2 large pasilla peppers
1 small red onion, thinly sliced into rings
juice of 2 limes
salt and pepper
extra virgin olive oil
1 small ripe avocado
1/2 cup sour cream
handful of fresh cilantro, finely chopped
1 fresno or jalepeno pepper, seeded and finely chopped
3/4 pound ground beef
3/4 pound ground pork
1/2 palmful each ground cumin, ground coriander and sweet smoked paprika (about 1 1/2 teaspoons each)
pinch of ground cinnamon
1/3 cup chicken stock
2 tablespoons Worcestershire sauce
sliced pepper jack, hot-pepper cheddar or sharp cheddar cheese, cut to top burgers
8 slider buns
Preheat broiler to high. Broil the pasilla peppers with the oven door ajar to allow steam to escape to char them all over. Place chilies in a bowl, cover and let cool. Peel and seed, and purée in a food processor or finely chop.
Meanwhile, season the red onion rings with half of the lime juice, salt, pepper and a little olive oil to coat. In a second bowl, mash together the avocado, sour cream, cilantro, Fresno chili and remaining lime juice. Season to taste with salt.
In a large bowl, combine the beef, pork, puréed Poblano, cumin, coriander, paprika, cinnamon, salt and lots of pepper. Mix in the beer and Worcestershire. Form the mixture into eight 3-inch patties (a little thinner in the center and thicker at the edges).
Drizzle a little olive oil in a large skillet or nonstick griddle over medium-high heat. Add the burgers and cook, turning once, for about 7 minutes for medium-rare. Top with the cheese and tent loosely with foil during the last minute or so of cooking.
Place the burgers on the roll bottoms. Top with the onions and sauce and set the roll tops in place.
———————————-
Saturdays with Rachael Ray rules:
* You can link any blog post, present or past, as long as it is a Rachael Ray recipe.
* Your blog post must link back to this post, mentioning Saturdays with Rachael Ray.
That's it!! Simple, simple. Just make sure the recipe is a Rachael Ray recipe – it doesn't matter if it comes from her talk show, 30-Minute Meals, her magazine, or one of her cookbooks. But it must be from Rachael Ray. Any posts that don't follow these two rules will be deleted from the Mr. Linky.
I can't wait to see what you've made!
&nbsp