The ultimate hamburger! Pork lovers will go crazy for these Triple Pork Burgers – beef and pork patties topped with ham, bacon, and lots of caramelized onions. It's a flavor explosion!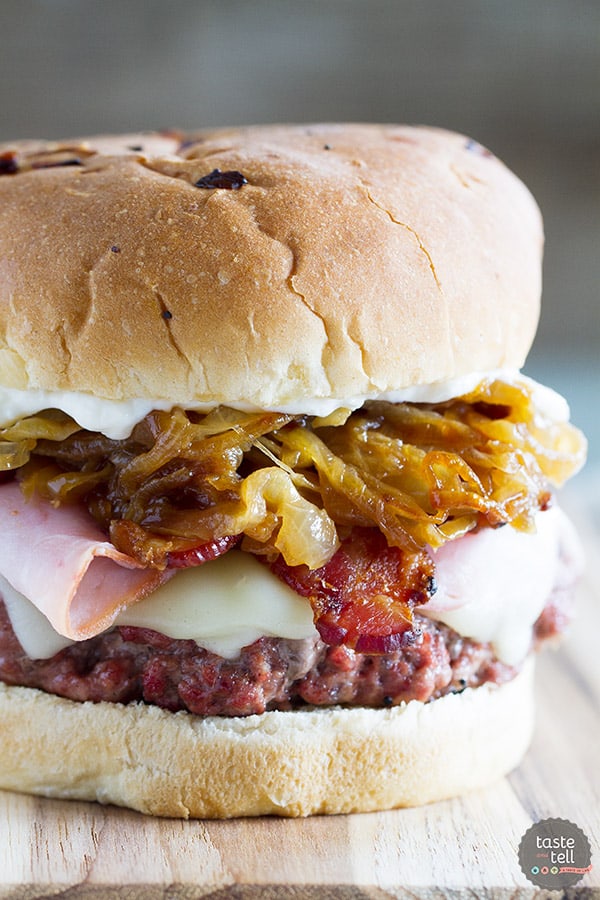 Compensation for this post was provided by Cobblestone Bread Co.™ and Big Green Egg® via AOL Media. The opinions expressed herein are those of the author and are not indicative of the opinions or positions of Cobblestone Bread Co.™, Big Green Egg®, or AOL.
I am officially grill obsessed. For the past month, either my husband or I have been out at the grill a couple of times a week. Rain or shine. We have both been dreaming of a backyard with a built in outdoor kitchen, grill included.
I think we are officially in summer mode. And wishing that the summer will never end.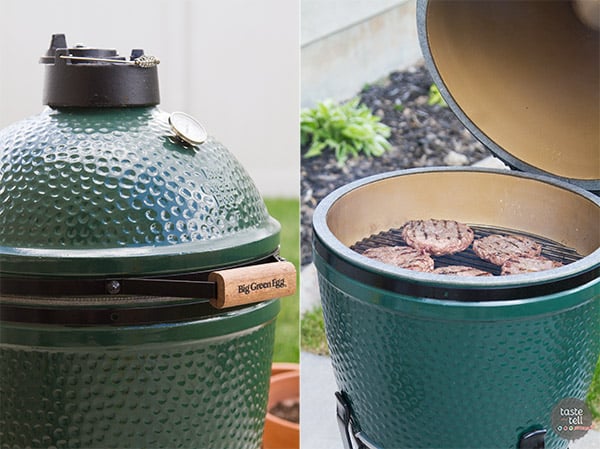 I think part of this obsession is due to this pretty little green thing above. Who ever knew you could be so obsessed with a grill? We have actually been through a few grills in our almost 12 years together. The first summer we were dating, I actually remember going to the store with my then boyfriend and buying a cheap charcoal grill. He made burgers that night and I was able to experience his grilling skills for the first time. That may have been the moment I realized I needed him in my life forever. 😉
But that grill was definitely not meant to last. But Big Green Egg®? I didn't know it was possible to love a grill so much. Everything about it makes it the perfect grilling tool. And you would not believe the smoky flavor you get from this baby. Obsessed doesn't even cover it.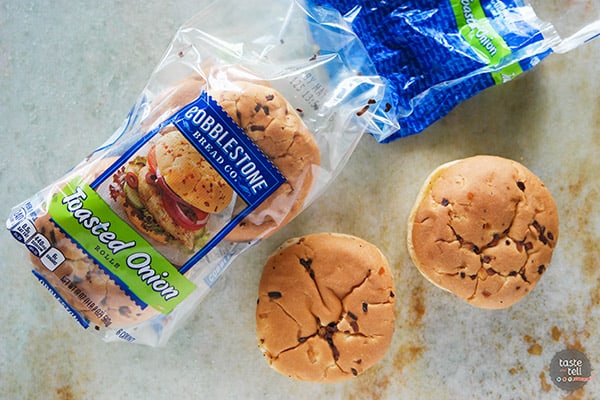 I mentioned last month that I have become burger obsessed. While my husband usually mans the grill when it comes to steak, I am becoming the burger queen. Weekly burgers are becoming the norm at our house, replacing our normal pizza night. I am turning this into the summer of burgers!!
As important as the ingredients inside the burger are, the biggest thing that will make or break your burger is the bun. If you've ever had a burger with a not-so-great bun, you'll know exactly what I'm talking about. Which is what has led me to another obsession – Cobblestone Bread Co.™ buns. These aren't your wimpy buns, ya'll. If you are looking to step up your burger game, or your whole summer grilling game, you need to find the Cobblestone Bread Co.™ buns on your grocery store shelves. Burgers, grilled chicken sandwiches, and don't forget their Sausage Rolls for the perfect hot dog or brat. These buns will take your grilling game to a new level all summer long!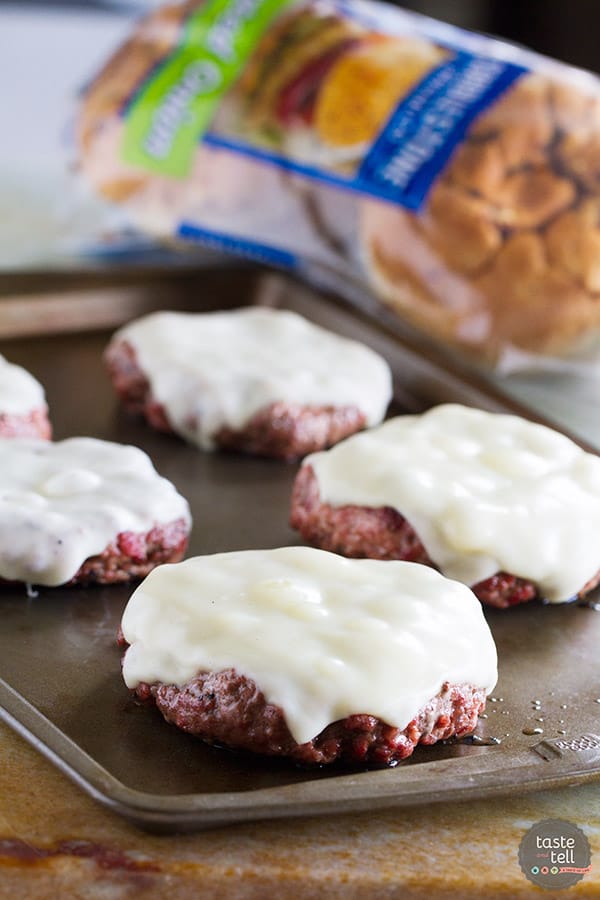 Now, can we talk about these Triple Pork Burgers? I don't even remember how my mind cooked these up, but who wouldn't love pork on pork on pork? Bacon on a burger is one of my favorite things, so I thought I'd take it to a new level with these Triple Pork Burgers. The patty is pretty simple – a mixture of ground beef and ground pork, simply seasoned with salt and pepper and then grilled on a hot Big Green Egg®. I cooked them hot and fast, and these were so juicy and delicious. You've gotta have cheese, so some melted Provolone goes on top of the burger. And then the pork. I didn't want to stop with just bacon, so a few slices of ham get added along with that bacon. Then, because I'm also onion obsessed, (I have a lot of obsessions, don't I?), you pile on some sweet, caramelized onions. Seriously. This is one fantastic burger.
Because the bun is just as important as the burger, I went with the Toasted Onion Rolls from Cobblestone Bread Co.™ because I thought they'd go perfectly with the caramelized onions. And I was right. These Triple Pork Burgers were perfect. I'm so glad that there is still lots of summer left – my grilling game is only getting stronger with Cobblestone Bread Co.™ and my Big Green Egg®!
Like what you see here? Make sure you are following Taste and Tell for more recipes and ideas!
Facebook | Pinterest | Instagram | Twitter | Google+ | Weekly Newsletter | Feedly | Bloglovin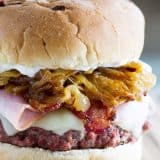 Triple Pork Burgers
---
Author:
Prep Time: 15 mins
Cook Time: 1 hour 15 mins
Total Time: 1 hour 30 mins
Yield: 4 servings 1x
Description
The ultimate hamburger! Pork lovers will go crazy for these Triple Pork Burgers – beef and pork patties topped with ham, bacon, and lots of caramelized onions. It's a flavor explosion!
---
Scale
Ingredients
3 medium onions
2 tablespoons butter
1 tablespoon olive oil
1/4 cup chicken broth
salt
24 oz. ground beef
8 oz. ground pork
8 slices thick cut bacon
8 slices Provolone cheese
4 oz deli sliced ham
mayonnaise
4 Cobblestone Bread Co.™ Toasted Onion Rolls
---
Instructions
Trim the tip off of the onions, then slice in half. Remove the skins and slice into thin half-moons. Heat the butter and the oil in a large skillet over medium heat, then add the onions. Stir to coat the onions with the butter mixture. Cook, stirring every 5 to 10 minutes, until the onions are caramelized and sweet. This will take anywhere from 40 minutes to an hour, depending on the size of the onion slices and the type of onions. When they have reached your desired level of caramelization, stir in the chicken broth, making sure to scrape up any browned bits from the bottom of the pan. Season to taste with salt. Set aside.
Meanwhile, combine the ground beef and ground pork in a bowl and mix just until combined. Divide the mixture into 4 equal pieces and form into patties slightly larger than the rolls. Season both sides with salt and pepper. Refrigerate until needed.
Preheat the oven to 400ºF. Place the bacon in a single layer on a foil lined baking sheet. Bake the bacon until crisp, 15 to 20 minutes. Keep an eye on it to make sure it doesn't get too crispy. Remove to a paper towel lined plate.
Heat a Big Green Egg® to high heat, about 500ºF. Place the burger patties (straight from the fridge) onto the grill and cook with the grill closed for 3 minutes. Flip the burgers and cook an additional 3 minutes. Close all of the vents and let the burgers sit in the grill for another 5 minutes. Add 2 pieces of cheese to the top of each patty, close the grill, and let the patties sit another minute to melt the cheese.
To assemble the burgers, put one patty on the bottom half of each of the Cobblestone Bread Co.™ Toasted Onion Rolls. Top each patty with 1 oz of ham, then 2 slices of bacon. Place 1/4 of the caramelized onions on top. Spread mayonnaise on the top half of the bun, then place on top of the burger.
Serve immediately.
Recipe Notes:
The caramelized onions can be made ahead of time for quicker assembly when it's time to eat.
Don't miss a thing! Follow me on Pinterest to see what I'm pinning!
Visit Taste and Tell's profile on Pinterest.



This post has been sponsored by Cobblestone Bread Co.™ and Big Green Egg® via AOL Media. I'm so glad to be able to work with companies and organizations that I truly believe in. Thank you for supporting them, too.