These Club Burger Sliders are slider sized turkey burgers topped with bacon, lettuce, tomatoes and an avocado-ranch dressing.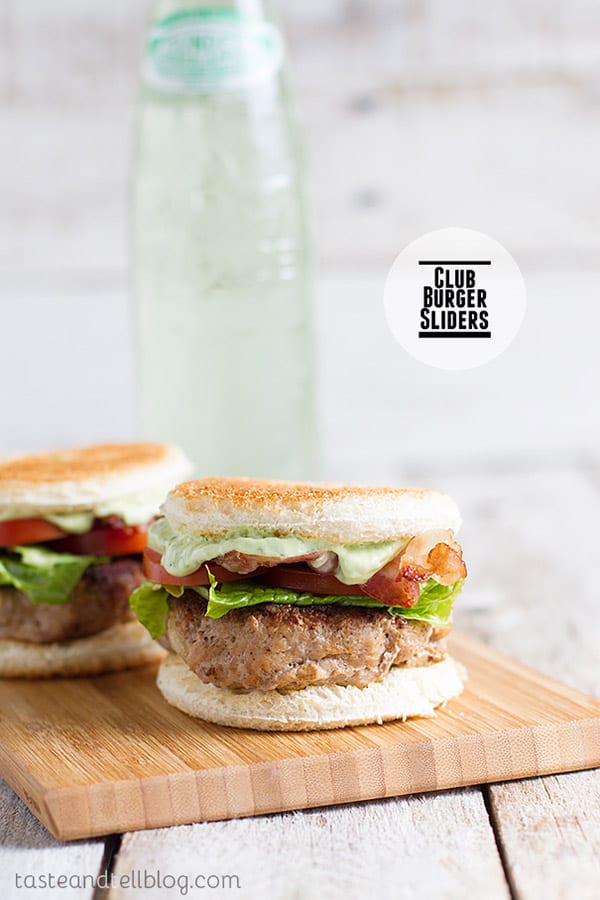 Photos Updated May 2014



Originally Posted June 12, 2010 – Since we are at the beginning of grilling season, I thought I'd bring out another burger from the archives. This one is full of so many of my favorite flavors, and you can never go wrong with sliders!! I did a few updates on this recipe, that included putting the bacon on top of the burger instead of in the meat and using a good bread. These definitely need to be added to your summer grilling plans!
Having a 16-month old is so much fun. I swear she gets smarter every day. Right now, her vocabulary is growing so much. But for the last month or so, our favorite word – by far – that Abbi says is "hamburger". The funny thing is that she hasn't really had a whole lot of hamburgers before, but it's one of those words she started saying and now she says it all the time because she knows that it will make us laugh. There is just something about it that makes me giggle every time she says it.

You can't tell me that isn't the cutest thing you've ever heard!!
So in honor of Abbi and her love of hamburgers, I decided to make mini hamburgers. Because everything is better when it's mini, right? This Club Burger Slider is like a club sandwich turned burger. If you love club sandwiches, and you love burgers, I'll guarantee you'll love these!
Recipe Notes: (see updates above as well. 🙂 )
the recipe calls for "good-quality" bread. I would definitely follow that. That was my biggest mistake on this recipe – using cheap bread. I don't normally buy the cheapest store brand bread, but for some reason, for this recipe I did. It totally fell apart when we ate these little burgers. I'm sure it would have been a lot less messy if I would have spent the extra 50 cents to upgrade the bread!
this recipe makes way more of the dressing than you will need. But it is great as a veggie dip or chip dip. It wasn't bad to have extra, in my opinion!!
Both my husband and I thought that the flavor of the bacon was a bit lost inside of the burger. Next time, I'd just fry it up and serve it on top instead of in the burger.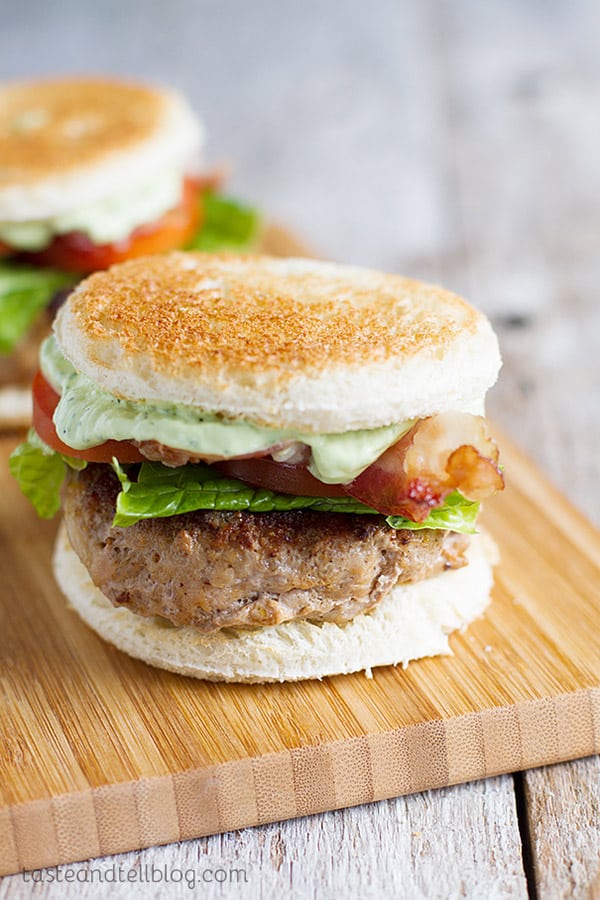 Like what you see here? Make sure you are following Taste and Tell for more great recipes and ideas!!

Facebook ** Pinterest ** Twitter ** Instagram ** Google+
or you can subscribe to my newsletter or Feedly or Bloglovin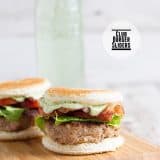 Club Burger Sliders with Avocado-Ranch Dressing
---
Prep Time: 20 mins
Cook Time: 10 mins
Total Time: 30 mins
Yield: 4 servings 1x
Description
These Club Burger Sliders are slider sized turkey burgers topped with bacon, lettuce, tomatoes and an avocado-ranch dressing.
---
Scale
Ingredients
2 pounds ground turkey
3–4 tablespoons grated onion
1 tablespoon hot sauce
2 tablespoons poultry seasoning
salt and pepper
extra virgin olive oil
1 avocado
1 cup sour cream
juice of 1 lemon
1 clove garlic, grated or finely chopped
a small handful of fresh chives, finely chopped
a small handful of fresh dill, finely chopped
a small handful of flat-leaf parsley, finely chopped
16 slices good-quality white or whole wheat bread
8 slices cooked bacon
lettuce leaves, for serving
2 plum or vine-ripened tomatoes, thinly sliced
---
Instructions
Preheat an outdoor grill or grill pan to medium high.
Place the turkey in a large bowl. Add the grated onion, hot sauce, and poultry seasoning. Season with salt and pepper. Divide the mixture into 8 and form into patties, about 2 1/2 to 3 inches wide. Drizzle with olive oil.
Cook the patties on the grill pan or grill, turning once, until cooked through, about 8-10 minutes.
While the sliders are cooking, preheat the broiler.
Place the avocado, sour cream, lemon juice, garlic, chives, dill and parsley in a food processor. Season with salt and pepper. Process until you have a smooth, thick sauce.
Use a 3-inch cookie cutter to cut out rounds of bread. Discard the crusts, or save to make breadcrumbs for another use. Arrange the bread on a baking sheet and toast under the broiler until browned.
Serve the sliders with the lettuce, tomatoes and bacon and top with the avocado-ranch sauce.
Don't miss a thing! Follow me on Pinterest to see what I'm pinning!
Visit Taste and Tell's profile on Pinterest.