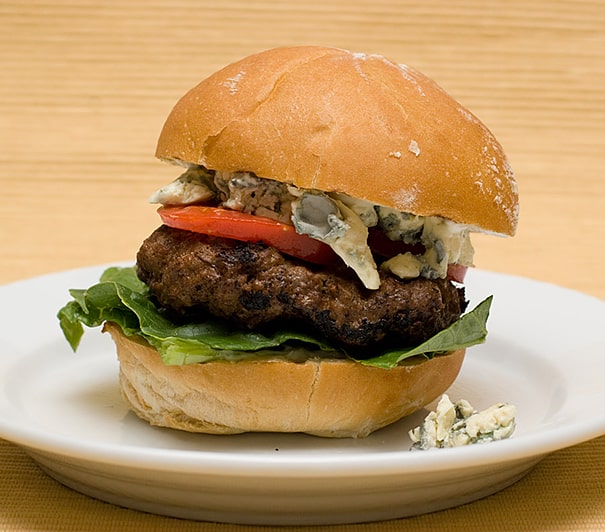 Ok, let's first talk about this cheese. Because it really does deserve some attention. I love blue cheese. And I've had my fair share of it. But I tend to find myself crossing my fingers when I try a new brand, not knowing how strong or how good it will be. Well, the folks at Ile de France haven't let me down yet, and this time was no exception. I do believe this is the best blue cheese I have ever had. So good that I kept finding myself eating little bites of it as I prepared these burgers. Although it has a strong taste like most blue cheeses, it is super creamy and smooth. SO DELICIOUS!! If you are a blue cheese fan, this is definitely one you want to try.
Onto the burgers – this is a recipe I've wanted to try for a long time – ever since I got my copy of Barefoot Contessa at Home. There is something simple yet alluring about this burger. No bells and whistles. Just pure, simple flavor. I did doubt them for a minute when I had them on the grill. Because of the egg yolks, the patties were not really firm, and I was afraid they would fall apart on the grill. But they came out perfectly. This is one burger – especially combined with this cheese – that I will make over and over again!
Blue Cheese Burgers
adapted from Barefoot Contessa at Home
makes 4 burgers
1 pound ground chuck
1/2 pound ground sirloin
2 tablespoons steak sauce
3 large egg yolks
3/4 teaspoon kosher salt
1/2 teaspoon freshly ground pepper
4 hamburger buns
4 ounces blue cheese
lettuce, for serving
tomatoes, for serving
In a large bowl, carefully combine the meats, steak sauce, egg yolks, salt and pepper. Be careful not to overwork the meat. Lightly form hamburger patties and press lightly into shape.
Prepare a grill and cook the hamburgers for 4 minutes on one side, turn and cook for 3 minutes on the other side for medium-rare. Remove to a plate and cover with aluminum foil. Allow the patties to rest for 5 minutes. In the meantime, grill the buns until toasted. Place a hamburger and slice of blue cheese on each bun, plus lettuce and tomato. Serve hot.