Nothing beats a juicy burger – especially when it's topped with blue cheese! These Blue Cheese Burgers are simple yet filled with flavor.
I love a good burger! If you love this Blue Cheese Burger, you should also check out a few of my other favorites – these Poblano Pepper Slider Burgers, Tex-Mex Bacon Cheeseburgers, or these Taco Burgers.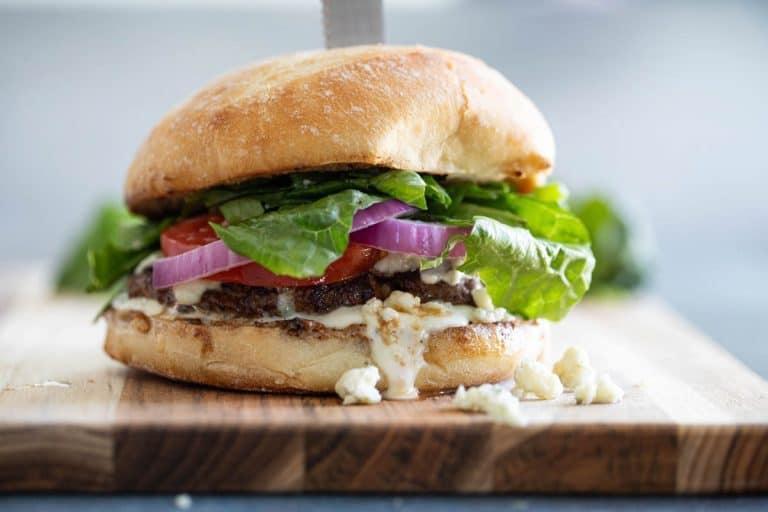 In some ways, I'm a traditionalist. I love my steak just seasoned with salt and pepper and cooked a perfect medium rare. No steak sauce or bbq sauce for me.
I love a good traditional burger. Melted cheese on top, with ketchup and mustard, pickles, onions, lettuce and tomatoes. And a squishy bun.
But every once in awhile, you've got to get a little fancy. And when I'm feeling fancy, it's time to make these Blue Cheese Burgers.
The secret here is that these are so, so easy that you can have them made and on the table in less than 30 minutes.
And maybe my kids don't love the blue cheese, but you can easily leave the blue cheese off of the kids patties if you need to. It's a winner for everyone!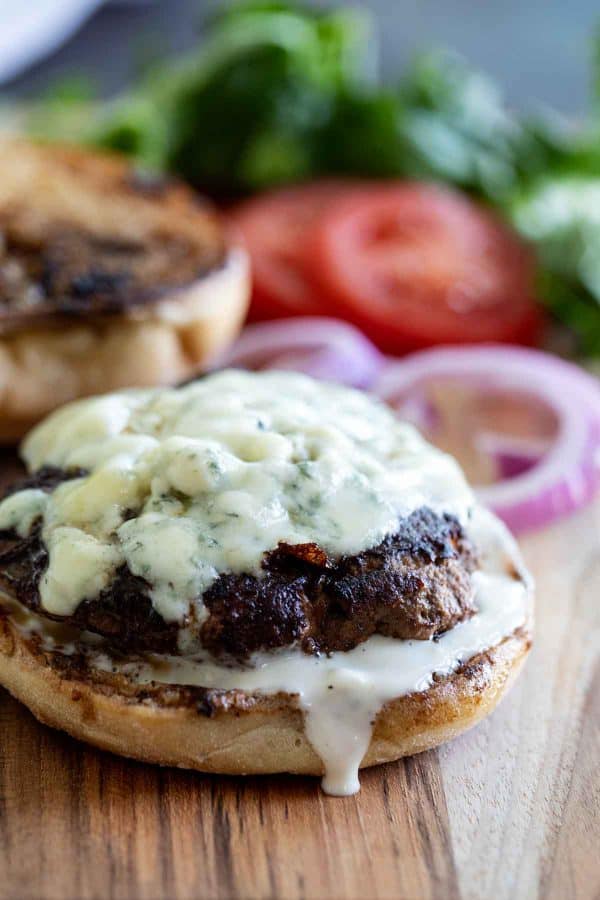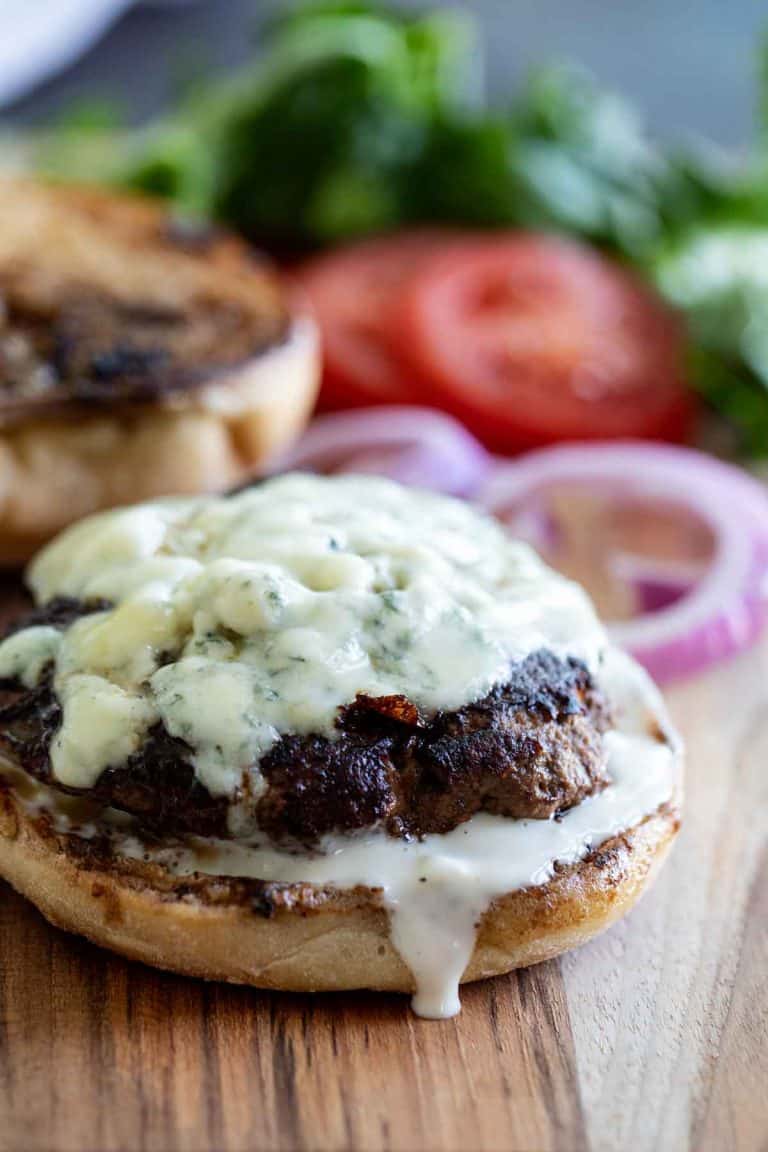 What is Blue Cheese
My kids lovingly refer to it as "stinky cheese", although I have definitely smelled cheese that was much stinkier. Blue cheese is a classification of cheese that has the mold Penicillium injected into it, creating pockets of blue mold that have a very distinct smell.
The veins and spots can appear blue, gray, green or black.
While we usually assume mold is bad or dangerous, the mold in cheese does not produce the toxins that are dangerous to our bodies.
The mold in blue cheese breaks down the proteins, which gives it its creamy texture, as well as the fats, which give it its tangy, strong flavor.
How to Cook Blue Cheese Burgers on the Grill
To cook these burgers on the grill, preheat the grill to medium-high. Once the grill is hot, place the patties on and cook for 4 minutes. Flip the patties, and cook for another 3 minutes before adding the blue cheese to the tops of the patties. It's best to close the grill at this point so that the cheese can melt. Cook for one more minute, then remove the patties from grill. Let them sit, covered lightly with foil, while you toast the buns.
How to Cook Them on the Stove
Cooking the burgers on the stove top is much the same as on the grill. I like to use a cast iron skillet the best because the heat is even and hot. Preheat the skillet over medium-high heat, then add the patties. Cook for 4 minutes, flip, and cook for another 3 minutes. Top the patties with the blue cheese, and cook for an additional minute before removing and covering loosely while you toast the buns in the skillet.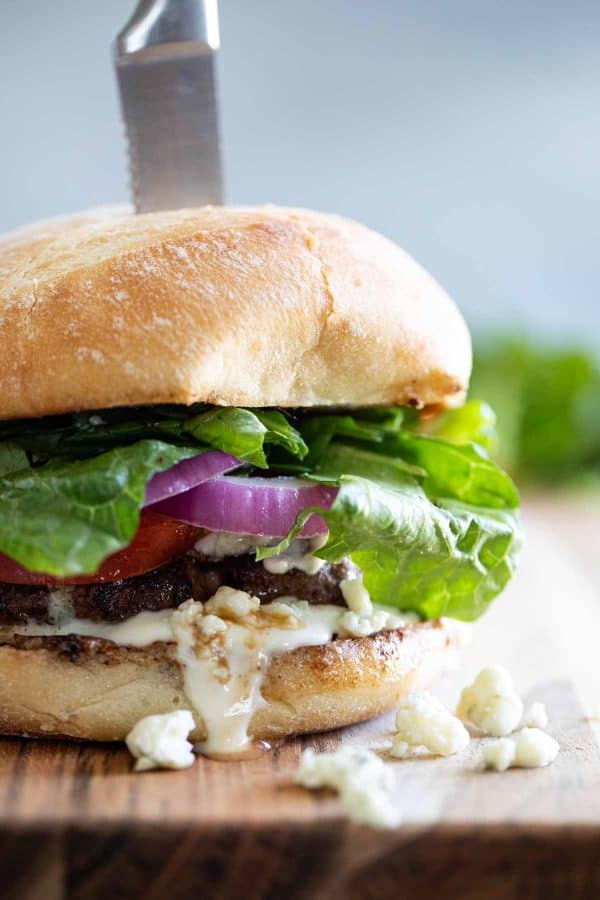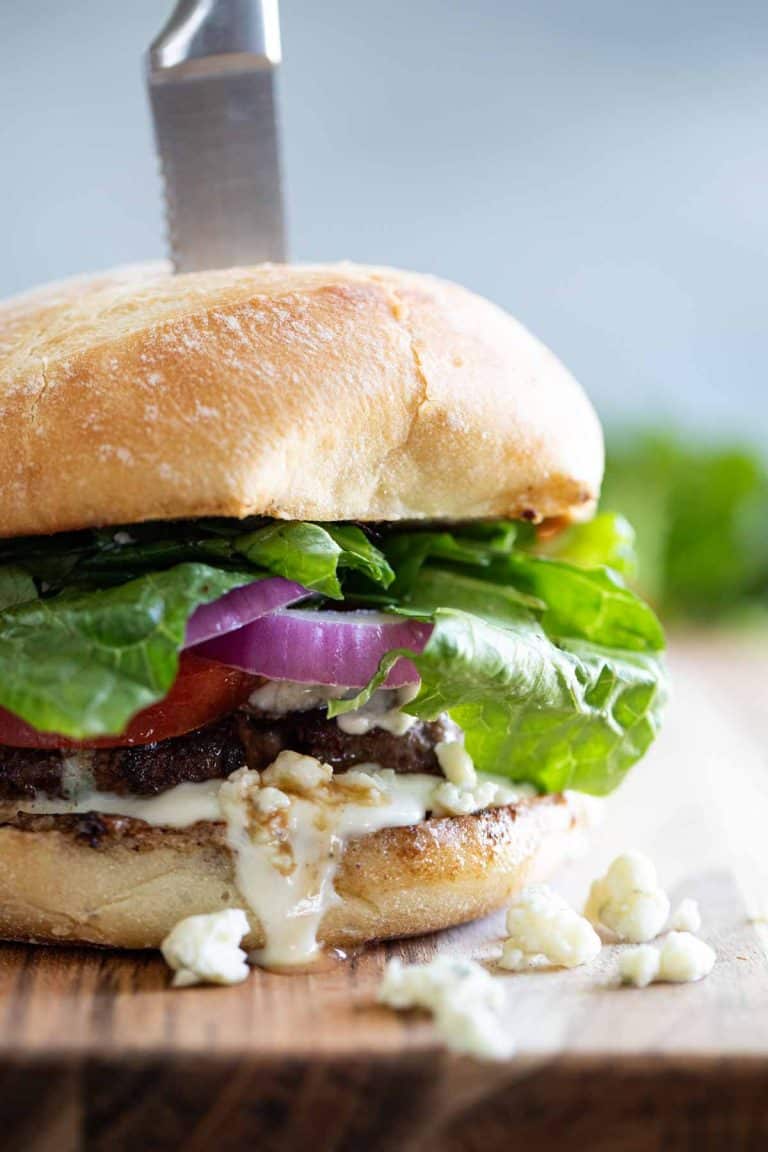 Other Burger Topping Ideas
I think these burgers are pretty perfect as is, but a slice or two of bacon might actually make them even better. If you want to get even more creative, here are a few things that you might want to try:
Caramelized Onions
Onion Rings
Garlic Mayonnaise
BBQ Sauce
Avocado Slices or Guacamole
More Recipes with Blue Cheese
Bacon Blue Cheese Coleslaw
Blue Cheese and Bacon Pizza
Beef and Blue Cheese Baked Spaghetti
Blue Cheese and Walnut Mashed Potatoes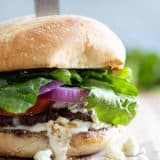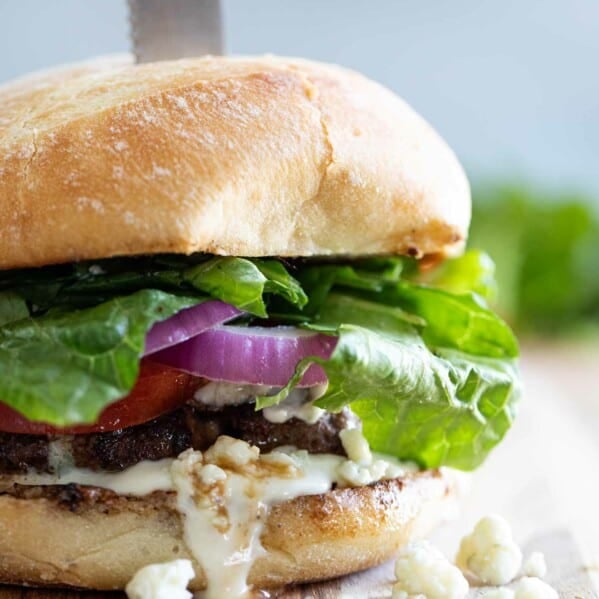 Blue Cheese Burgers
---
Author:
Prep Time: 10 mins
Cook Time: 10 mins
Total Time: 20 minutes
Yield: 4 servings 1x
Category: Main Dish
Method: Grill
Cuisine: American
Description
Nothing beats a juicy burger – especially when it's topped with blue cheese! These Blue Cheese Burgers are simple yet filled with flavor.
---
Scale
Ingredients
1 pound ground chuck (80-85% lean)
1/2 pound ground sirloin (90% lean)
2 tablespoons steak sauce
3 large egg yolks
3/4 teaspoon salt
1/2 teaspoon pepper
4 oz crumbled blue cheese
4 hamburger buns
4 tablespoons blue cheese dressing
Lettuce, sliced tomatoes and sliced onions
---
Instructions
In a large bowl, carefully combine the meats, steak sauce, egg yolks, salt and pepper, being careful not to overwork the mixture. Form into 4 patties, slightly wider than the buns.
Preheat a grill over medium-high heat, or heat a cast iron skillet over medium-high heat.
Cook the patties for 4 minutes on one side, then flip over and cook for an additional 3-4 minutes (for medium doneness). When there is a minute left, add 1 tablespoon of blue cheese to the top of each patty. When done, remove to a plate and cover loosely with foil.
Place the buns on the grill or in the skillet and cook until the cut sides are toasted.
To assemble, spread 1 tablespoon of blue cheese dressing on the bottom bun halves, then place the patty on top. Top with lettuce, tomatoes, onions and the top bun and serve.
Recipe Notes:
Adapted from Barefoot Contessa at Home
Nutrition information provided as an estimate only. Various brands and products can change the counts. Any nutritional information should only be used as a general guideline.
Nutrition
Serving Size: 1 burger
Calories: 654
Sugar: 5 g
Sodium: 992 mg
Fat: 40 g
Saturated Fat: 16 g
Unsaturated Fat: 4 g
Trans Fat: 0 g
Carbohydrates: 26 g
Fiber: 1 g
Protein: 40 g
Cholesterol: 274 mg
Keywords: blue cheese burger