Burgers go gourmet with this Brie Burger with Sun-Dried Tomato and Artichoke Spread. A flavorful burger patty is topped with melty brie cheese, and the sun-dried tomato and artichoke spread gives this burger a wow factor!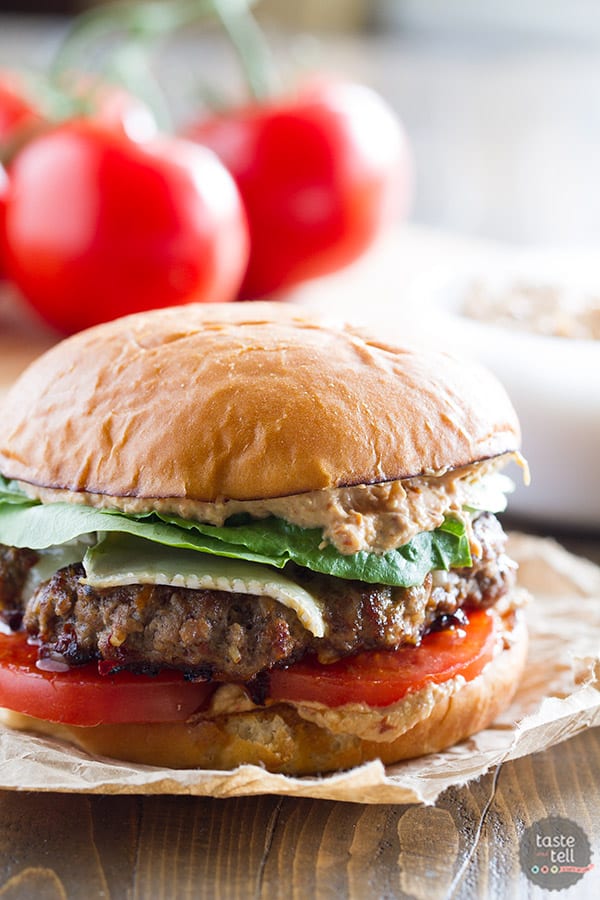 Yum


Every time I look at my cookbooks sitting on the shelf, I say to myself that I'm not going to buy any new cookbooks because I own so many that I want to/need to cook from. But it never fails – I walk by the books at Costco or I get sucked into Amazon, and I just can't resist a new one. A new cookbook just excites me. I literally have more recipes in my living room than I could probably cook in 10 lifetimes. Yet that doesn't stop me from adding a new book to my collection.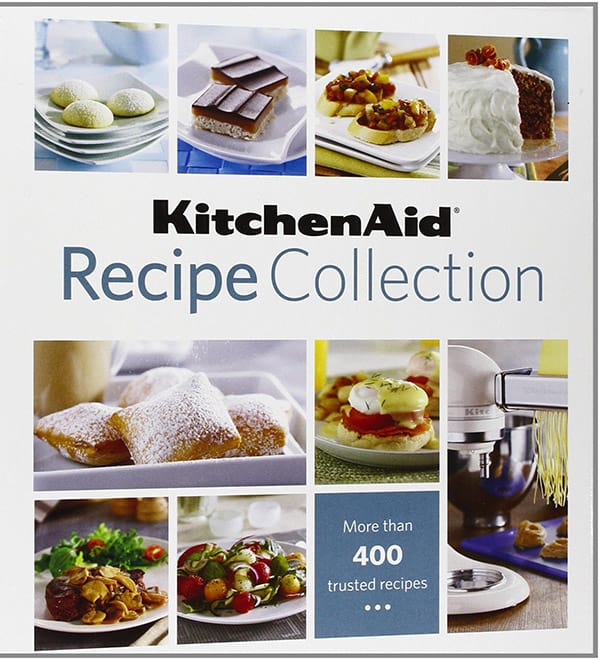 Today's book – the KitchenAid Recipe Collection – is one of those Costco finds. It was one that I just couldn't resist! First of all, I love cookbooks that are spiral bound because they are so easy to cook from in the kitchen, but I loved the variety of recipes that I saw on first glance.
I do have to mention that not all of the recipes use a KitchenAid appliance. Once I got home with my book, I read the reviews on Amazon, and some people complained because they thought the book was going to be full of recipes using their KitchenAid mixer. While many recipes do use a KA appliance (mixer, food processor, ice cream or pasta attachment, etc), not all of them do. In fact, I would say most of them don't.
Here are the details:
Number of Photos: Lots. There are full color photos of every recipe.
Difficulty Level of Recipes: Easy to Medium. I think there is a good mix of recipes in this cookbook. Some super simple, and some a little more sophisticated.
Availability of Ingredients: Easy to Medium. There are a lot of recipes that have easy, simple recipes, but there are recipes that call for specialty cheeses or meats. If you shop at a well stocked grocery store with a cheese counter and a butcher, you should be able to find everything, though.
Other recipes I want to try:
Egg Pasta Dough
Lemon Crepes with Fresh Raspberries and Cream
Spring Greens with Blueberries, Walnuts and Feta Cheese
Mediterranean Macaroni with Chicken and Asparagus
Jalapeno Lime Chicken
Salmon Cakes with Red Pepper Relish
Loaded Banana Bread
Chewy Peanut Butter Brownies
Pomegrante Orange Sherbet
Buy the KitchenAid Recipe Collection on Amazon.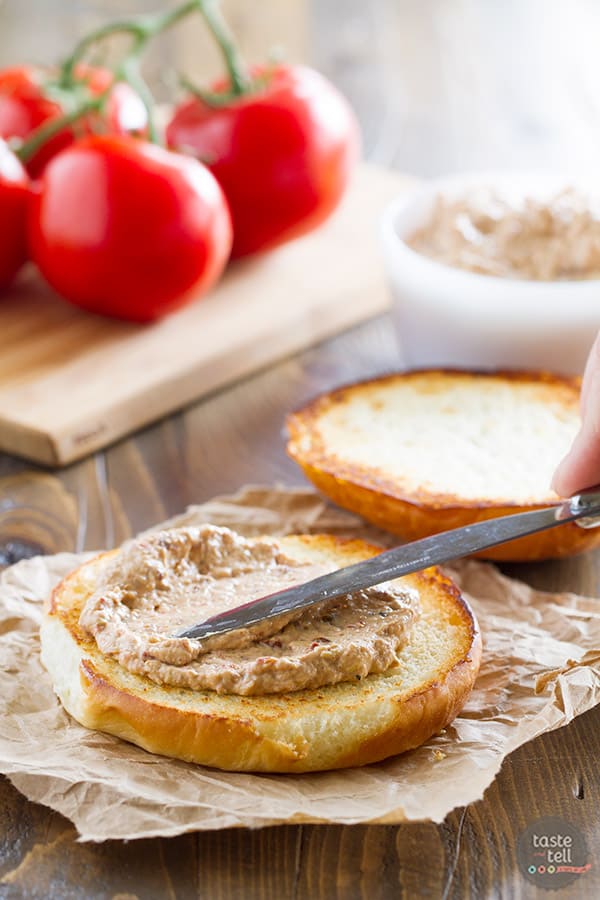 So…burgers… I have always said that I'm not a food snob. But lately, I've been so disappointed when I've gone out for burgers. I took my daughter on a mommy-daughter date a few weeks ago, and we went to a restaurant for dinner. I ordered a burger that I had heard really good things about, but I was just…eh. It was fine. But not something I was dying over or would want to go back and get again.
But I'm such a big burger fan. And so I have been taking it into my own hands and working on perfecting the art of the burger at home. I actually made a burger for dinner last night that was right up there (can't wait to share it next month!) but overall, I have decided that burgers at home are just so much better than when you go out. This Brie Burger with Sun-Dried Tomato and Artichoke Spread included.
This Brie Burger actually has a few things going for it. A lightly seasoned patty, cooked to perfection in a cast iron skillet. Melted brie. A tangy, salty, sweet spread made from sun-dried tomatoes and artichokes. This is really an equation for success. The burger and the brie are definitely delicious, but the real star is that sun-dried tomato and artichoke spread. I loved it so much that I put it on the top bun and the bottom bun of my burger!!
I'm so glad that this Brie Burger with Sun-Dried Tomato and Artichoke Spread was the recipe that jumped out to me from this cookbook. Burger perfection!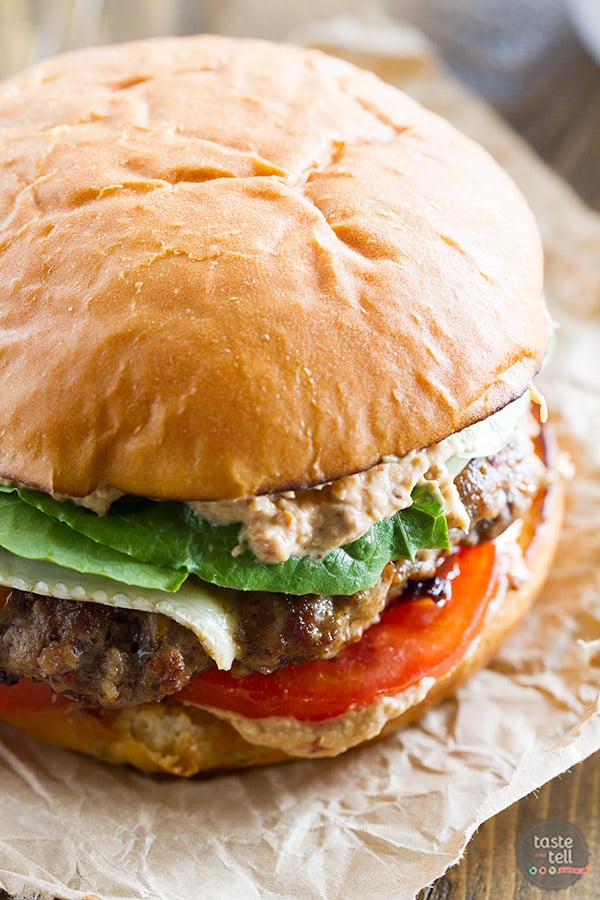 Like what you see here? Make sure you are following Taste and Tell for more recipes and ideas!
Facebook | Pinterest | Instagram | Twitter | Google+ | Weekly Newsletter | Feedly | Bloglovin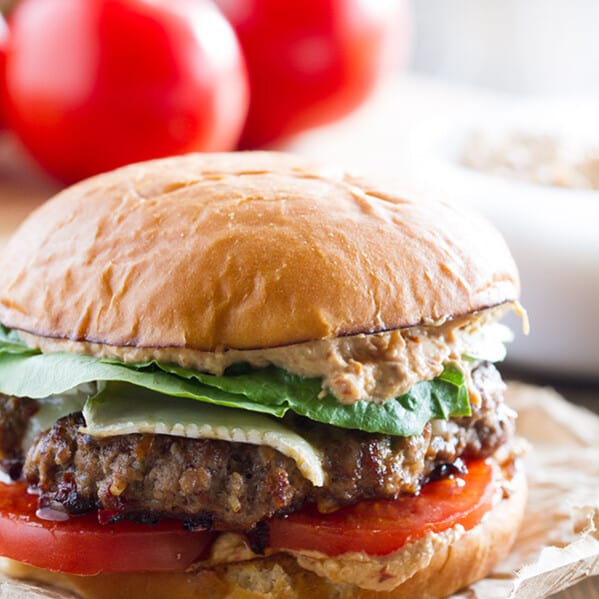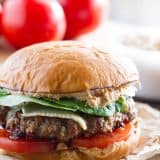 Brie Burger with Sun Dried Tomato and Artichoke Spread
---
Author:
Prep Time: 15 mins
Cook Time: 8 mins
Total Time: 23 mins
Yield: 4 servings 1x
Description
Burgers go gourmet with this Brie Burger with Sun-Dried Tomato and Artichoke Spread. A flavorful burger patty is topped with melty brie cheese, and the sun-dried tomato and artichoke spread gives this burger a wow factor!
---
Scale
Ingredients
1 cup canned quartered artichokes
1/2 cup oil-packed sun-dried tomatoes, drained and chopped, divided
1/4 cup mayonnaise
1 tablespoon plus 1 teaspoon minced garlic, divided
1 1/2 lbs ground beef
1/4 cup chopped shallots
1 tablespoon extra virgin olive oil
1/4 lb Brie cheese, sliced
2 tablespoons butter, softened
4 hamburger buns*
sliced tomatoes
lettuce leaves
---
Instructions
In a blender or food processor, combine the artichokes, 1/4 cup of the sun-dried tomatoes, mayonnaise and 1 teaspoon of garlic. Pulse to chop roughly and combine. Season to taste with salt and pepper. Cover and refrigerate until needed.
In a large bowl, combine the ground beef, the remaining 1/4 cup sun-dried tomatoes, the remaining 1 tablespoon garlic and the chopped shallots. Season with salt and pepper, then mix lightly. Divide the mixture into 4 portions and shape into patties.
Heat a large cast iron skillet over medium to medium-high heat. Add the olive oil and heat. Place the patties in the skillet, cover and cook until browned on both sides and cooked through (160ºF), about 5-6 minutes, flipping once. Top each patty with the cheese when about 2 minutes remain.
Spread the butter on the cut sides of the buns. Toast lightly in a dry skillet.
Spread some of the sun-dried tomato and artichoke spread on the bottom bun. Top with tomatoes, then a patty and lettuce. Spread more of the spread on the top bun, then top the burger with the bun.
Recipe Notes:
*I used some Hawaiian buns, and I think they would have held up better on a heartier bun. I would suggest a kaiser roll or something a little sturdier.
Slightly adapted from KitchenAid Recipe Collection
Useful Products:
Favorite Burger Recipes: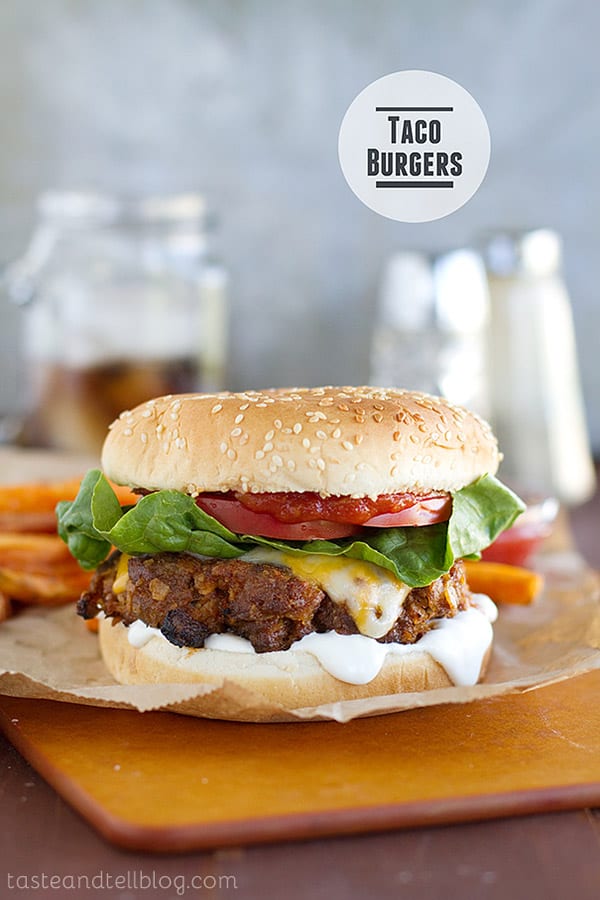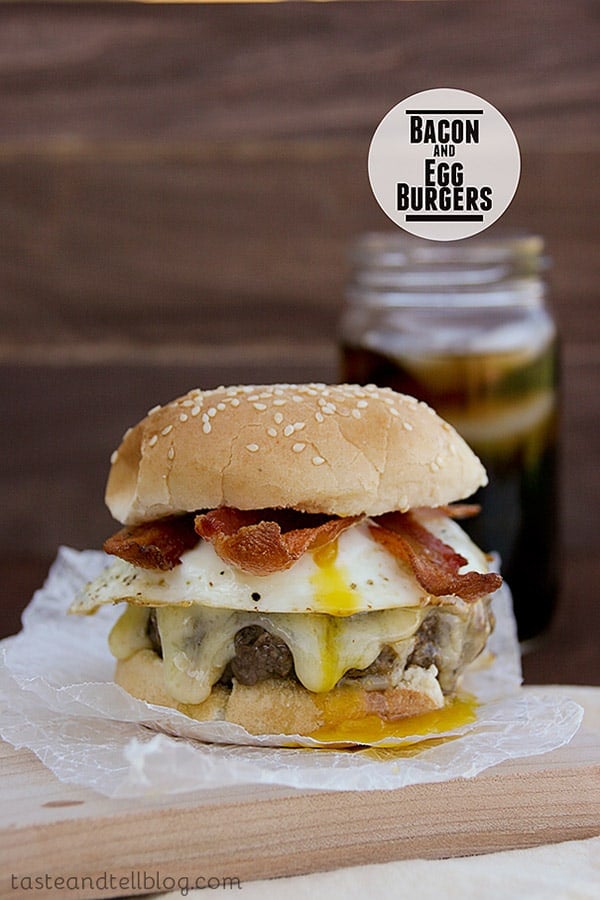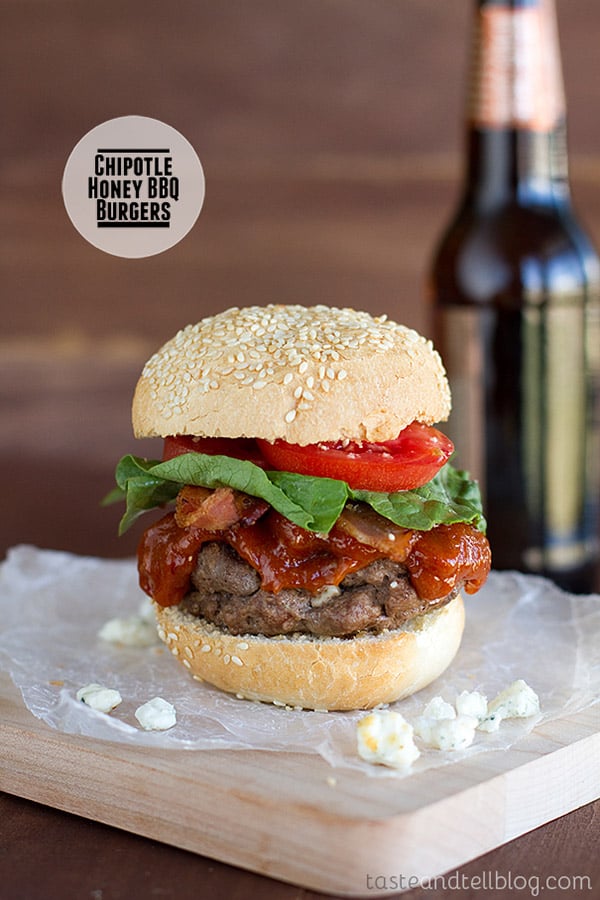 Around the Web:
Grilled Pineapple Teriyaki Turkey Burgers from Catz in the Kitchen
Brown Sugar Caramelized Onion Bacon Cheeseburgers from Dinners, Dishes and Desserts
Italian Cheeseburger with Sun Dried Tomato, Arugula, and Basil Pesto Aioli from Joyful Healthy Eats
Don't miss a thing! Follow me on Pinterest to see what I'm pinning!
Visit Taste and Tell's profile on Pinterest.


**This post contains affiliate links. If you purchase an item from Amazon from the link Taste and Tell receives a small commission. Thank you for supporting Taste and Tell through your purchases!**