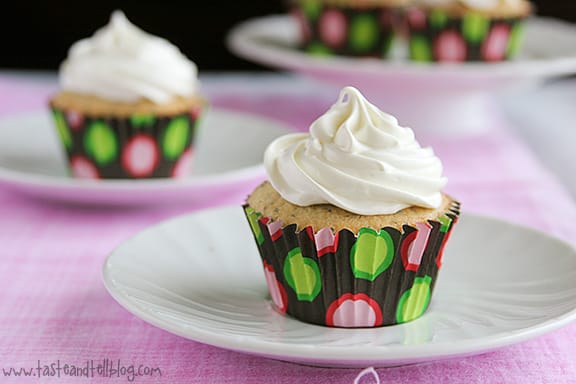 I seem to be addicted to cupcakes lately.  I, for one, am hoping that the cupcake trend sticks around for a long, long time!!

When I was asked by the folks at Reynolds® to create a spring themed cupcake, of course my mind went immediately to lemon.  (Surprise, surprise, right??)  But instead of going with something bold – like lemon curd, which has been my recent addiction – I went with something a little more subtle.  This lemon frosting is a twist on my all-time favorite frosting.  My mom's marshmallow frosting.  A bit of lemon extract brings on a whole new flavor profile that compliments the simplicity of the vanilla poppyseed cupcakes.
I have always been a fan of Reynolds®, but their new line of Baked For You® StayBrite® Baking Cups are awesome.  Not only can you find them at your regular grocery store, but they come in super cute designs that are designed to not fade during baking.  There is nothing worse than buying a super cute cupcake wrapper, only to not even be able to see the design after the cupcakes have been baked.  These baking cups worked like a charm, and my cupcakes baked up perfectly in them!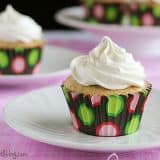 Vanilla Poppyseed Cupcakes with Lemon Marshmallow Frosting
---
Prep Time: 30 minutes
Cook Time: 15 minutes
Total Time: 2 hours
Yield: 24 cupcakes 1x
Description
Vanilla poppyseed cupcakes are topped with a lightly lemon flavored marshmallow frosting.
---
Scale
Ingredients
Cupcakes
2 1/2 cups all-purpose flour
1/2 teaspoon baking powder
1/2 teaspoon baking soda
1/2 teaspoon salt
1 cup milk
1 tablespoon pure vanilla extract
1 1/2 sticks butter, at room temperature
1 1/2 cups sugar
3 eggs
2 tablespoons poppy seeds
Frosting
4 egg whites
1 cup sugar
2/3 cup light corn syrup
1 teaspoon lemon extract
Zest from 1 lemon
Yellow food coloring, optional
---
Instructions
Preheat the oven to 350°F. Line 24 muffin tins with Reynolds cupcake liners.
In a large bowl, whisk together the flour, baking powder, baking soda and salt. Set aside.
In another bowl, mix together the milk and the vanilla.
In the bowl of a stand mixer, cream together the butter and the sugar until light and fluffy. Add in the eggs, one at a time, mixing well between each addition. Add in one-third of the flour mixture and beat just until combined. Add half of the milk mixture, then another third of the flour mixture, mixing between additions. Add in the remaining milk mixture, followed by the remaining flour mixture. Mix just until combined. Fold in the poppyseeds.
Fill the cupcake liners 2/3 full. Bake in the preheated oven until a toothpick inserted in the center comes out clean, 13-15 minutes. Let cool completely on a wire rack.
When the cupcakes are cool, make the frosting:
In the bowl of a stand mixer, beat the egg whites until stiff peaks have formed.
While the eggs are beating, combine the sugar and corn syrup in a small saucepan. Cook over medium heat. Once the mixture comes to a boil, remove from the heat and add the lemon extract and lemon zest.
While the mixer is running, stream in the hot sugar mixture. Let the mixture beat until it forms a shiny, smooth marshmallow frosting, about 7-10 minutes. Do not scrape the sides, as sugar crystals will form. Beat in the food coloring, if desired.
Add the frosting to a piping bag and pipe the frosting on top of the cooled cupcakes.

**This is a sponsored post by Reynolds®, but all opinions are my own – as always!!**