There are some days when I think that I might cut out posting on Saturdays – which would mean getting rid of Saturdays with Rachael Ray. I worry that you all get tired of hearing from me 6 days a week – or even 7 days like it's going to be this week!! But then I try a recipe like this one, and realize that there is no way I want to give up my Rachael Ray day!!
These little sliders are so packed with flavor. I'm a huge fan of peanut butter based sauces, and I couldn't get this recipe out of my head after I first saw it. Knowing that my husband isn't a big fan of peanut butter in savory dishes, I had to wait until a night when I knew he wouldn't be eating dinner, but it was so worth the wait. The burgers are perfectly spiced, then you have lots of crunch and a bit of heat from the toppings, and then the sauce – that is a might fine way to top a burger.
I do have to give a bit of a warning – the original recipe said to use 1 tablespoon of Asian chile sauce or sriracha. Ok, I understand the 1 tablespoon of the Asian chile sauce. But 1 tablespoon of sriracha? Does Rachael Ray have a tongue of steel? I was going to be using sriracha, and I knew that 1 tablespoon would have made this inedible for me. So I cut it down to about 1 teaspoon. And it was still H-O-T. Almost too hot to eat, but not quite. I would suggest starting off with 1/2 teaspoon, and if you want more heat, you can always add some more in.
Yes, Rachael Ray – I can't give up my Saturday posts of your recipes, because they are just too darn good!!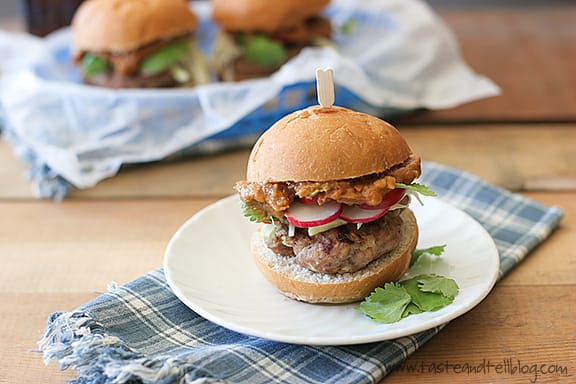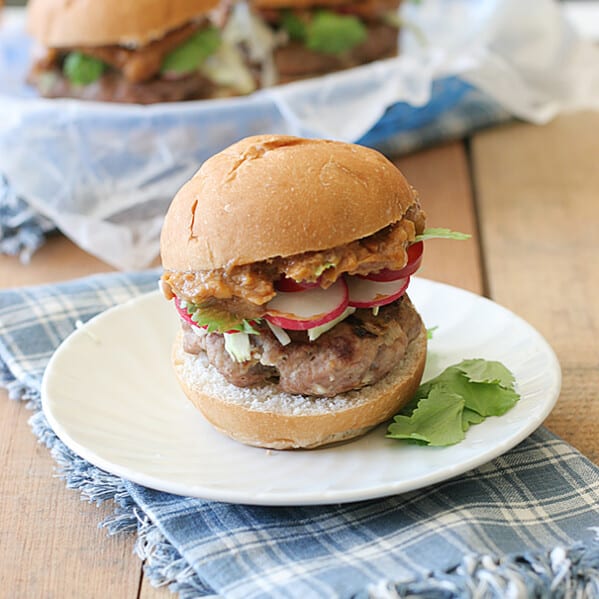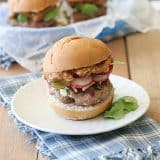 Satay Sliders
---
Prep Time: 12 minutes
Cook Time: 8 minutes
Total Time: 20 minutes
Yield: 8 sliders 1x
Description
A Rachael Ray recipe for chicken or turkey sliders, topped with a peanut butter satay sauce
---
Scale
Ingredients
sauce
1/2 cup chunky peanut butter
1/4 cup apple juice, apple cider or pineapple juice
3 teaspoons tamari
1 tablespoon Asian chili sauce, or 1/2 teaspoon sriracha
sliders
1 1/2 pounds ground chicken or turkey
2 scallions, finely chopped
2 cloves garlic, grated or finely chopped
1 piece (1 1/2 inches) fresh ginger, grated or finely chopped
salt and pepper
vegetable oil, for coating
8 slider sized soft rolls
toppings
shredded cabbage or iceberg lettuce
sliced chile peppers, such as fresnos
thinly sliced radishes
mint or cilantro leaves
---
Instructions
Preheat an outdoor grill or a grill pan to medium-high.
Mix the meat with the green onion, garlic and ginger. Season with salt and pepper. Divide the meat and portion into 8 patties. Coat each with a small amount of vegetable oil. Grill, turning once, until cooked through – 6 to 8 minutes.
In the meantime, heat the peanut butter in the microwave to soften, or in a small pot over medium heat. Stir in the juice, tamari and Asian garlic sauce or sriacha.
When the burgers are cooked through, serve them on the buns with a generous amount of satay sauce and your desired toppings.
———————-
Recipe adapted from Every Day with Rachael Ray August 2011