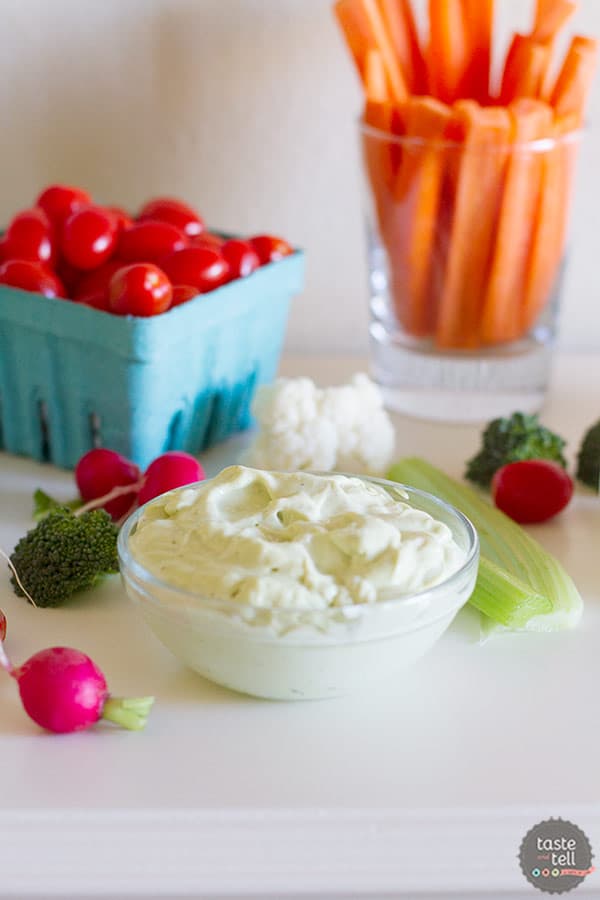 You all know how I go crazy over all of the different food holidays, right? Well, happy day – today is one of my new favorite food holidays. Happy National Ranch Dressing Day!
I've mentioned this several times before, but even though I've always been a ranch dressing fan, my love was really solidified when I was pregnant with all three of my kids. I didn't have all kinds of crazy cravings, but I craved salads like crazy. And not just any salad – it had to be a salad with ranch dressing. No other dressing would do.
Well, I think my kids came out of the womb wanting ranch dressing, because it's one thing that all three of them love. Anything dip-able needs ranch dressing. My 4-year old currently eats his weight in carrots and ranch dressing!!
So of course, when I found out that it is National Ranch Day today, I just had to do something to celebrate!!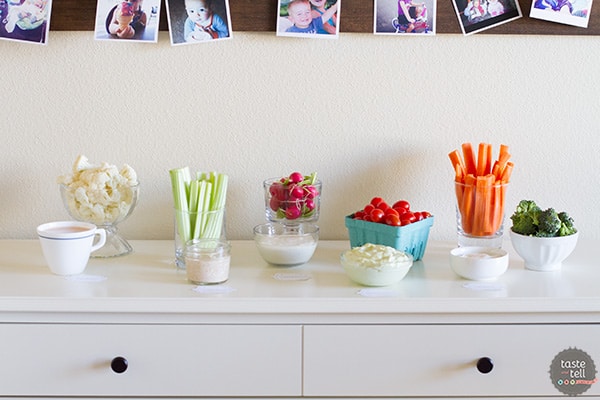 I don't do a lot of entertaining. Not because I don't like to – I actually really love any excuse to hang out with family and friends!! But my life tends to get so busy that I get easily overwhelmed when it comes to hosting. So I do what I'm good at – simplifying!!
Whether it's National Ranch Dressing Day or any other day or occasion, one way to easily entertain is with a Ranch Dressing Dip Bar. Not only is it super easy, but who doesn't love to dip their veggies in ranch dressing?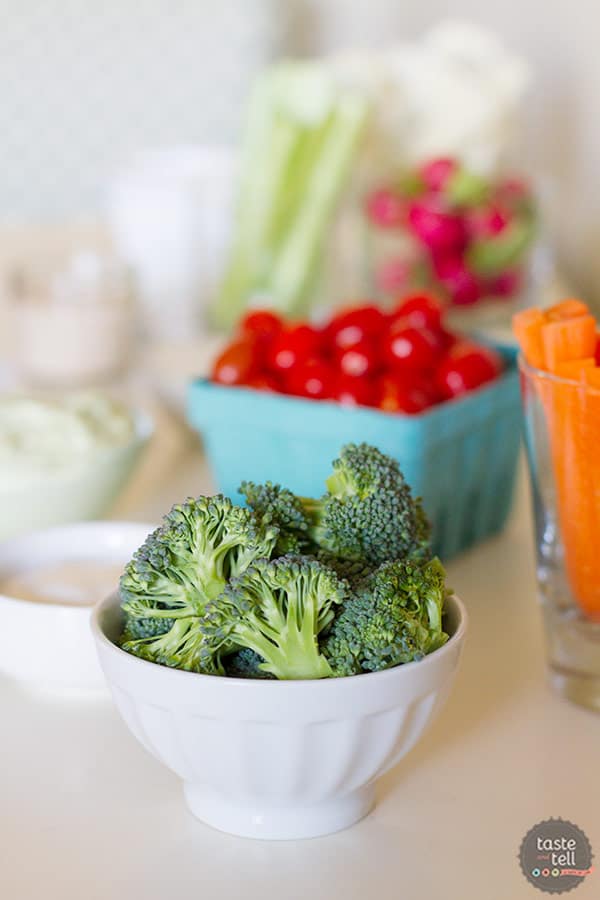 I start by cutting my favorite dipping veggies into bite-sized pieces. You don't want to make them too big to avoid any double dipping. 😉 Some of my favorites are carrot sticks, broccoli, cauliflower, celery, radishes and grape or cherry tomatoes. You could also do pepper strips, cucumbers, zucchini, asparagus or sugar snap peas. My biggest word of advice is to not have your heart too set on any one veggie, but as you are at the store, choose out what is in season and what looks the best at your market.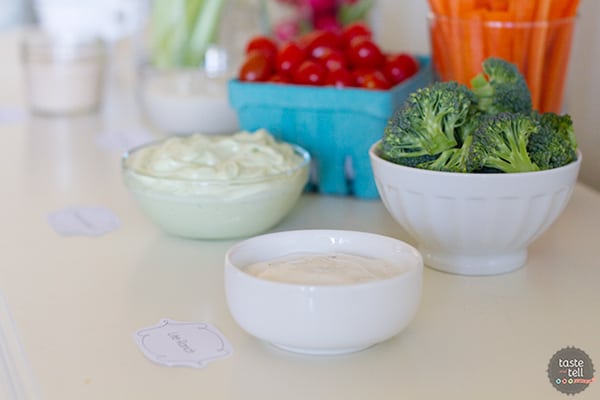 Next up – and most important – is the dip!! I like to make several different varieties, depending on how many people I expect. And I keep it super simple!!
I start with my favorite ranch dressing – Hidden Valley Ranch. I'm all for taking shortcuts when I can with different brands at the grocery store, but this is one instance where you don't want anything but the best. Not too long ago, we ended up with a huge container of ranch dressing from Costco that was not Hidden Valley. And let's just say that I heard complaints from my kids and my husband until that container was gone. We were never so glad to go back to our Hidden Valley Ranch!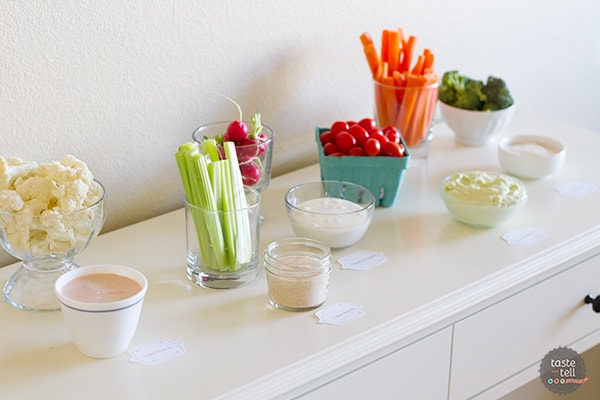 When I say I like to keep the dips simple, I really mean it. No recipes, just mixing until it tastes perfect. 🙂 Here are a few ideas of ways to change up the dip:
Salsa Ranch: stir together equal parts of ranch dressing and salsa
Cajun Ranch: season the ranch dressing with some Cajun or Creole seasoning
Avocado Ranch: (my favorite!) blend together ranch dressing with avocado
Chipotle Ranch: stir some chopped chipotle pepper in adobo into some ranch
Cilantro Lime Ranch: Combine ranch dressing, cilantro and lime juice in a food processor and process until smooth
And don't forget to put out Original Hidden Valley Ranch and Hidden Valley Ranch Light.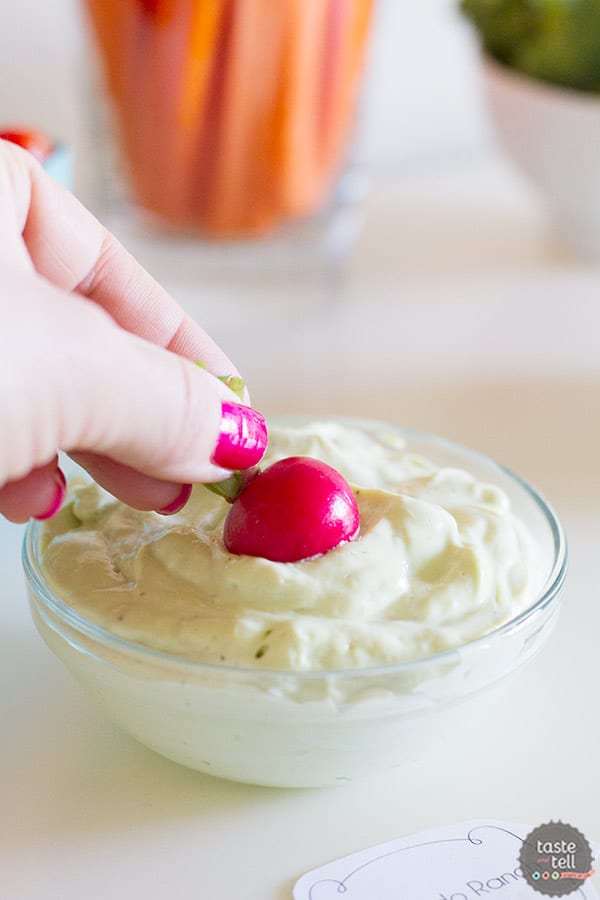 —-GIVEAWAY—-
To celebrate National Ranch Dressing Day today, my friends at Hidden Valley have put together a few awesome prize packs for 5 of my lucky readers so that you can throw your own party to celebrate all things ranch. The pack includes:
*$75 Target gift card for party decorations and ingredients
*One set of six Green Glass Mason Jars
*One set of six Green Stripped Paper Straws
*One #LOVEYOURVEGGIES branded tote bag
*Hidden Valley product— one bottle of Hidden Valley Original Ranch Dressing, one pack of Hidden Valley Original Ranch Salad Dress & Seasoning Mix, and one pack of Hidden Valley Original Ranch Dips Mix
Enter using the widget below. And make sure you are following Hidden Valley on Instagram, Twitter, Facebook and Pinterest!
This post has been sponsored by Hidden Valley Ranch. I'm so glad to be able to work with companies and organizations that I truly believe in. Thank you for supporting them, too.