These Cream Cheese Chicken Enchiladas are a family favorite – filled with a creamy chicken and corn filling, and topped with salsa and cheese.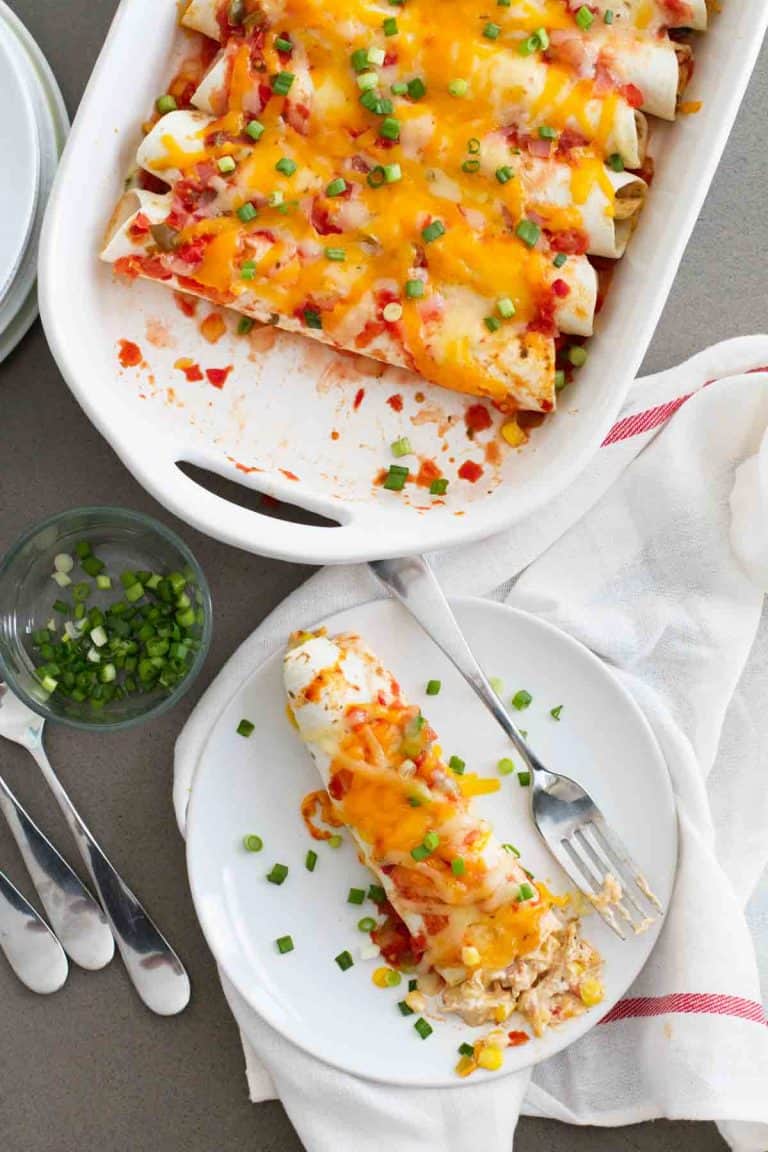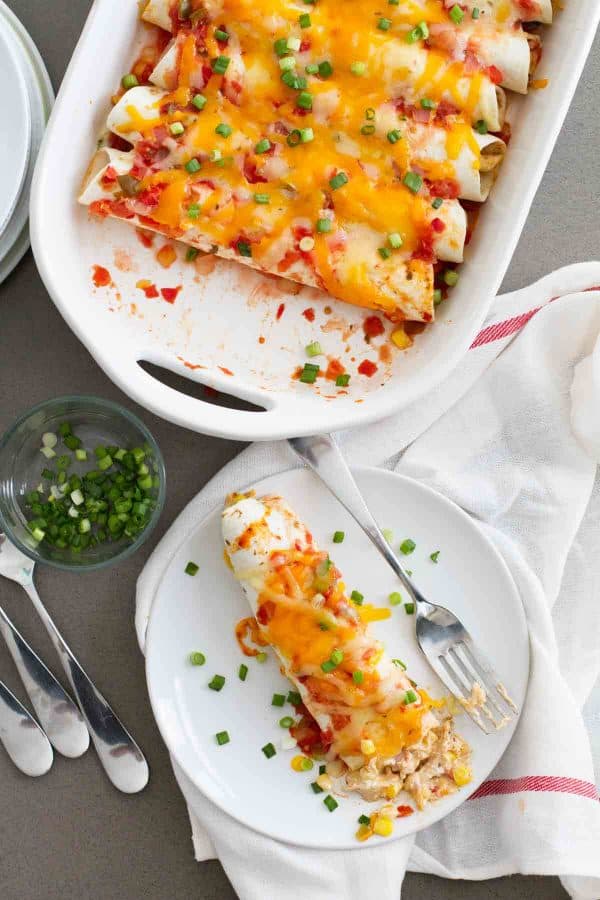 Originally published August 12, 2010 – you know when a recipe is really good (or when you have just been blogging for a long time!) when you are already on the second time of updating the photos. These Cream Cheese Chicken Enchiladas have seriously been a favorite since I first made them back in 2010. I updated the photos in 2012, but they still needed a new update, so the last time I made these, I decided to photograph them and also include a little video of how to make them. Just a quick note on these enchiladas – I know that 5 ounces of cream cheese is kind of a random amount. I've tried it with both 4 oz and 8 oz, just so that it makes more sense from a brick of cream cheese, but 5 oz really is the magic number. Feel free to add less or more, but I really do think that 5 ounces is the perfect amount.
The original post from 2010 follows: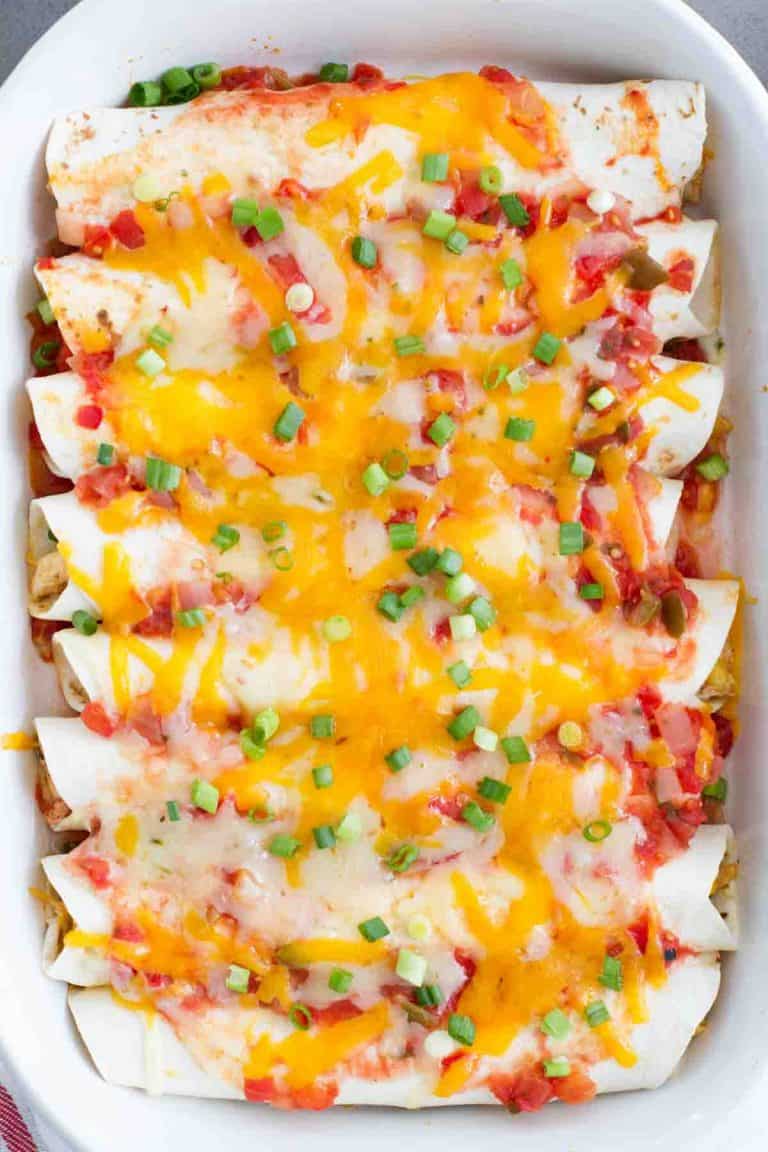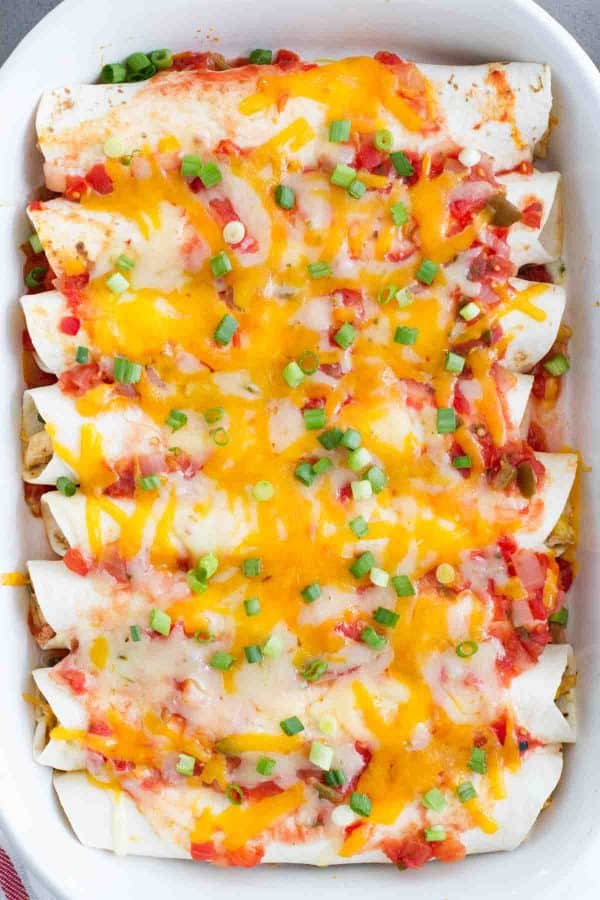 I have been writing this blog for nearly 3 1/2 years now. I could go back and count how many recipes are on here, but that might take me awhile. 3 1/2 years worth of recipes is a lot of recipes. But do you know what?? I still get nervous when someone says they have tried one or are going to try one of the recipes I've posted. I'm afraid other people won't like them. I guess I need a little self confidence – because really – I don't even write my own recipes. If someone doesn't like it, it's not really my fault, is it?? I guess it is, though, because I recommended the recipe. Regardless, I still get nervous sometimes.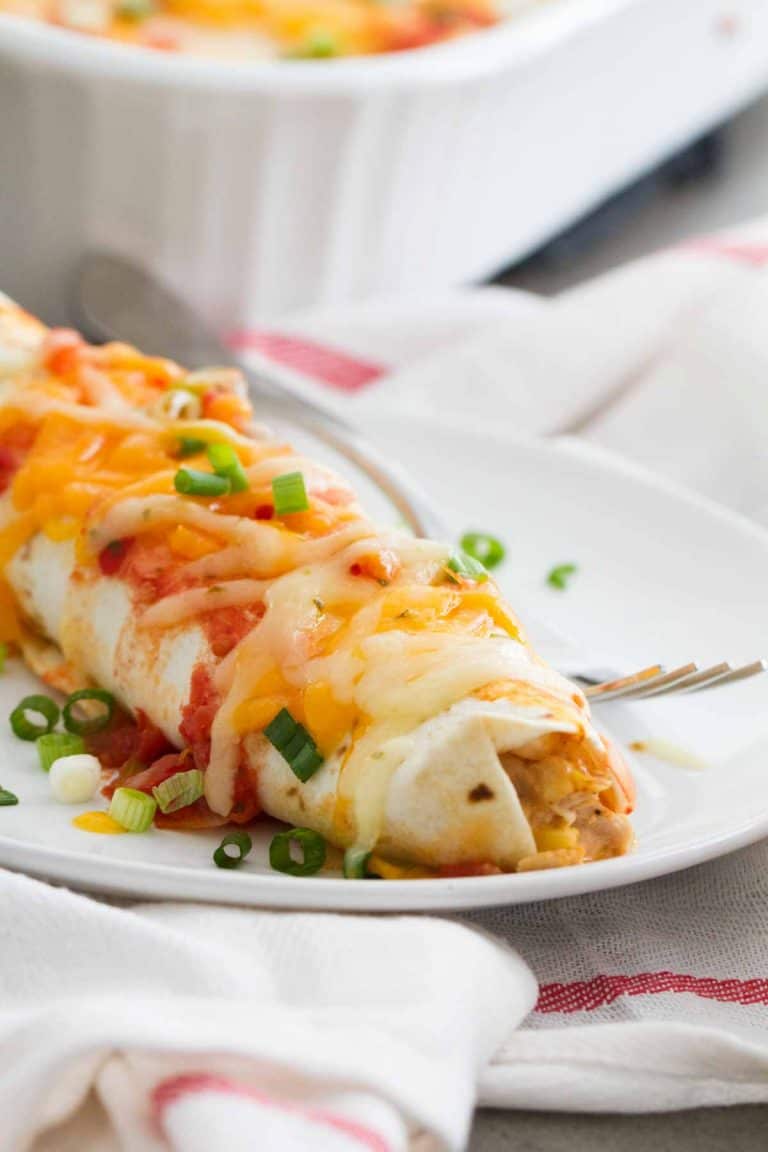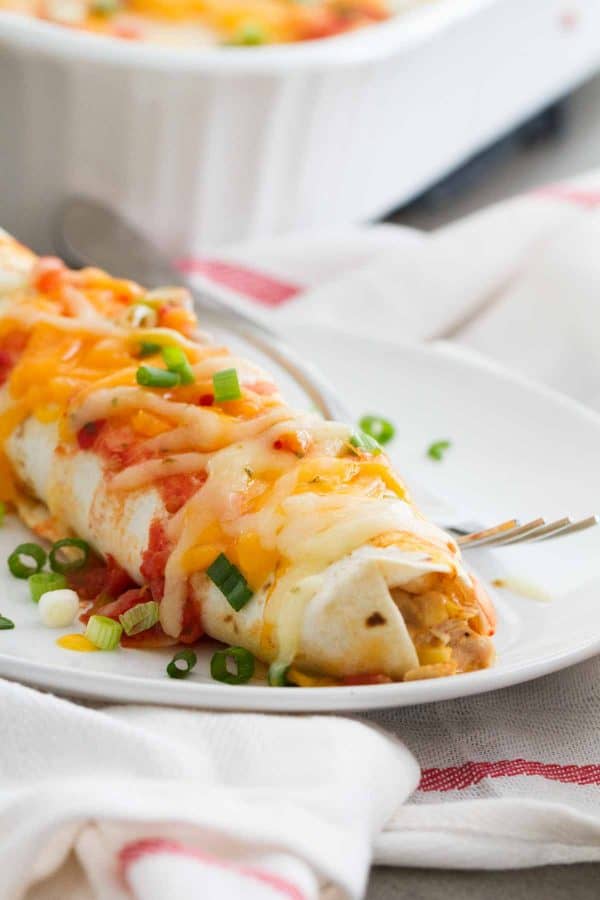 But then there are blogs like Cassie Craves. I've been reading her blog for awhile now, and it's kind of funny how many of the same recipes we have tried. I'll get on to read her blog and I'll have to smile when I see some of the same recipes I've made – I'm pretty sure we'd get along great in real life because we have such a similar taste in food! Hers is a blog I can go to and I know I will find something that I will love – like these enchiladas. When I saw her post these, I thought to myself that it had been awhile since I had made enchiladas, and then that's all I wanted. I finally got around to making this recipe, and I'm happy to say that Cassie did not let me down! I actually have an enchilada recipe kind of similar to this that I used to make quite often, but I loved how this one had corn in it. We all know I've been on a corn kick lately!! I'm always happy to find a blog that I know I can trust and who's recipes will always turn out wonderful!
See how to make these Cream Cheese Chicken Enchiladas here: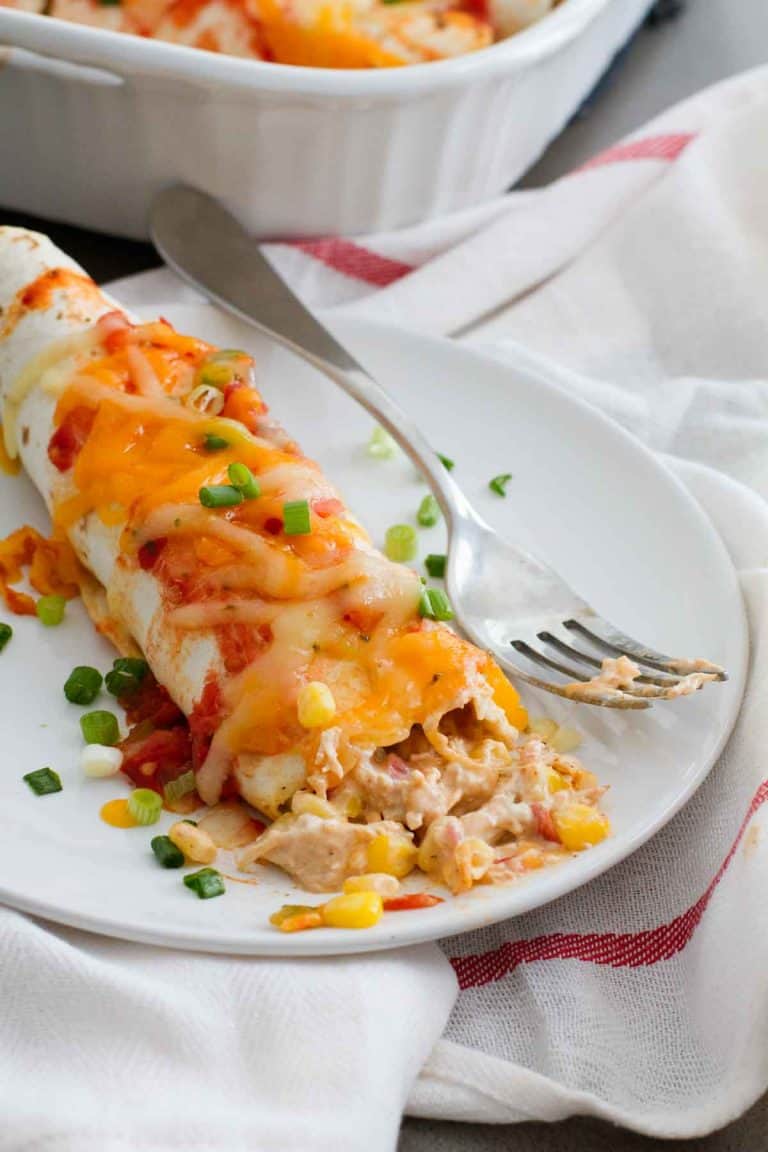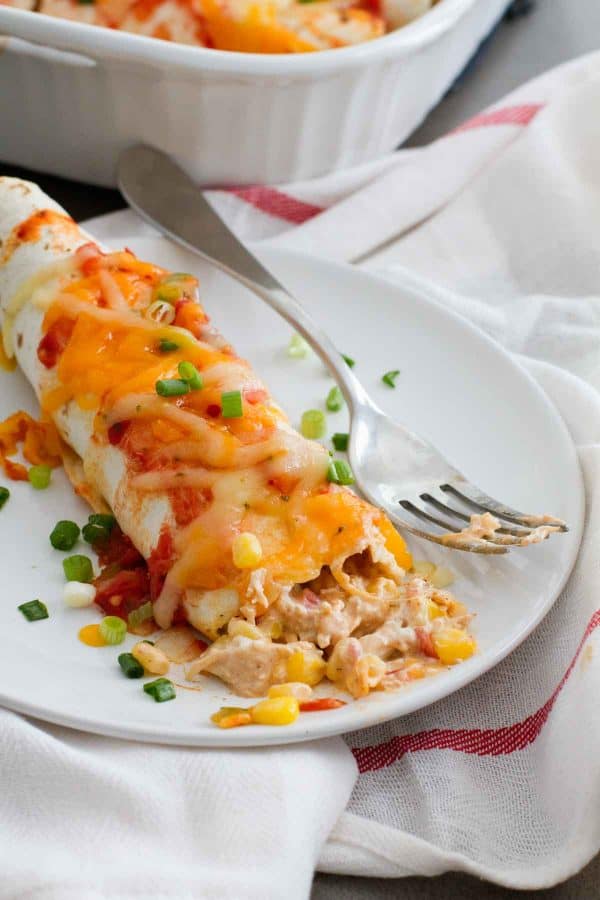 What to serve with these Cream Cheese Chicken Enchiladas:
Tomato and Herb Salad
Tomato and Black Bean Quinoa Salad
Slow Cooker Black Beans
Refried Beans
Avocado and Tomato Salad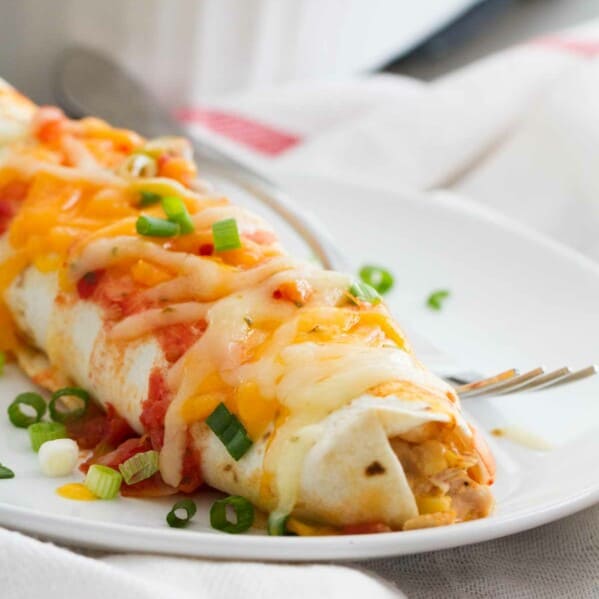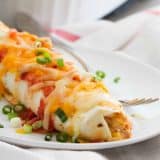 Cream Cheese Chicken Enchiladas
---
Prep Time: 15 minutes
Cook Time: 25 minutes
Total Time: 40 minutes
Yield: 4 servings 1x
Category: Main Dish
Description
A creamy enchilada recipe with shredded chicken, cream cheese and corn.
---
Scale
Ingredients
5 oz cream cheese, softened
1/4 cup sour cream
1 (16 oz) jar prepared salsa
1 cup shredded cheddar cheese, divided
1 cup shredded pepper jack cheese, divided
1/2 teaspoon chili powder
1/2 teaspoon cumin
2 cups cooked, shredded chicken
1 cup frozen corn kernels, thawed
4 green onions, thinly sliced, divided
8 (8-inch) flour tortillas
---
Instructions
Preheat the oven to 325ºF.  Spray a 9×13-inch baking dish with nonstick cooking spray. Set aside.
In a medium bowl, mix together the cream cheese and sour cream. Stir in 1/2 cup of the salsa, along with 1/2 cup of the cheddar cheese, 1/2 cup of the pepper jack cheese, and the chili powder and cumin. Stir to combine, then add in the chicken, corn, and half of the green onions, stirring one more time.
Spread 1/2 cup of the salsa in the bottom of the prepared dish.
Place about 1/2 cup of the chicken mixture down the center of one of the tortillas. Roll up and place in the baking dish, seam side down. Repeat with the remaining tortillas and filling.
Pour the remaining salsa over the top of the enchiladas. Top with the remaining cheese. Bake in the oven for 20-25 minutes, until the cheese is melted and the enchiladas are heated through.
Sprinkle with the remaining green onions and serve.
Nutrition
Serving Size: 2 enchiladas
Calories: 830
Sugar: 8 g
Sodium: 2082 mg
Fat: 42 g
Saturated Fat: 22 g
Unsaturated Fat: 10 g
Trans Fat: 0 g
Carbohydrates: 62 g
Fiber: 6 g
Protein: 42 g
Cholesterol: 169 mg