Great food doesn't have to be complicated – this Pork Carnitas Recipe is so simple but it will blow your socks off. Serve the carnitas in tacos, burritos, enchiladas, or however your heart desires!
If you love this recipe, you'll probably also want to check out my post for 22 more taco recipes! There is something for everyone!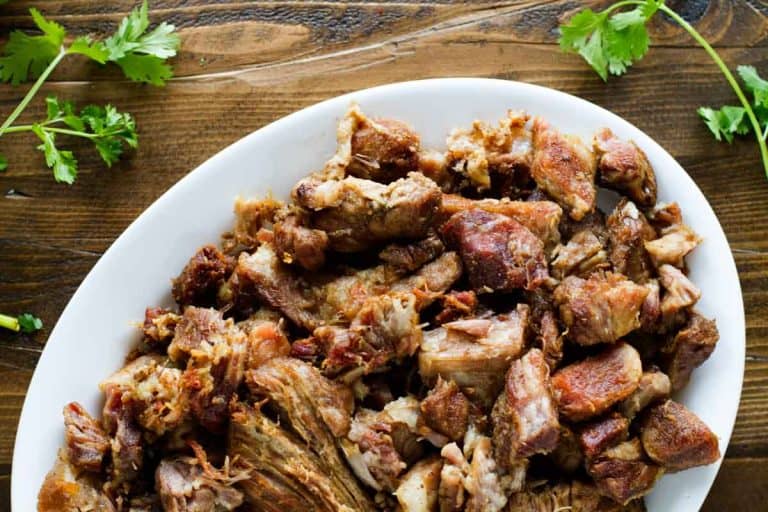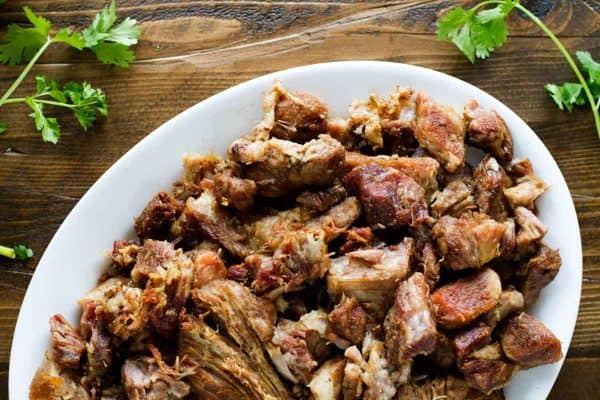 Pork Carnitas
I've said it before, but I think that sometimes as a blogger, or as food bloggers in general, we think that we have to come up with something totally new and out there. Something that is crazy and inventive.
But we forget that sometimes, there is nothing better than going back to the basics. Or to the tried and tested recipes that we know are going to be great.
Several years ago, I was gifted a cookbook. As I read through it, I came across this pork carnitas recipe. And I started reading, and saw that the ingredient list only contained 3 ingredients – one of those being water, and another being salt. I thought for sure there would be more to the recipe after that beginning – but nope. Pork, water, salt. That's it.
I had to try it.
This recipe really is the epitome of simplicity. You take the pork, cover it with water, and cook until the water has evaporated. Then you let the fat render from the meat, which browns and crisps up the edges, forming the most delicious, tender, irresistible pork you will ever place in your mouth. I'm not even kidding you – I ate so much of this before we even had dinner, and I still went back for more.
This recipe is honestly one of my favorite things that I have ever made. Ever. It speaks volumes when such a simple recipe becomes such a favorite!!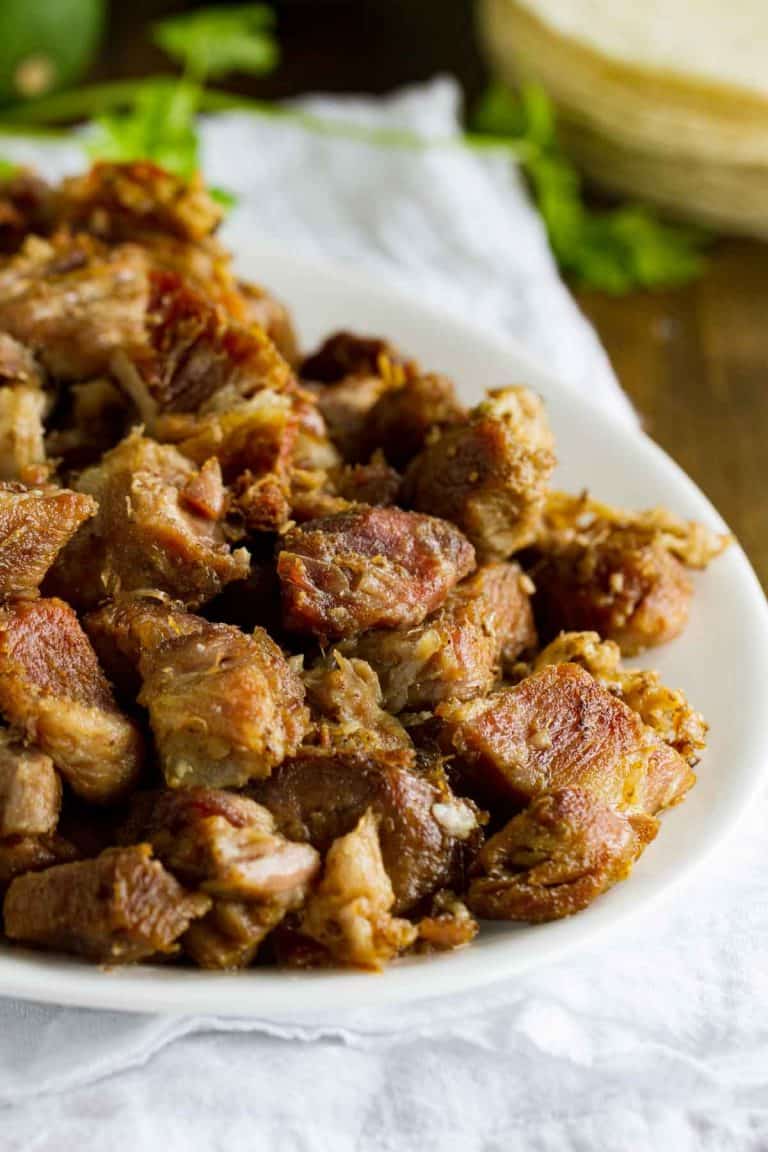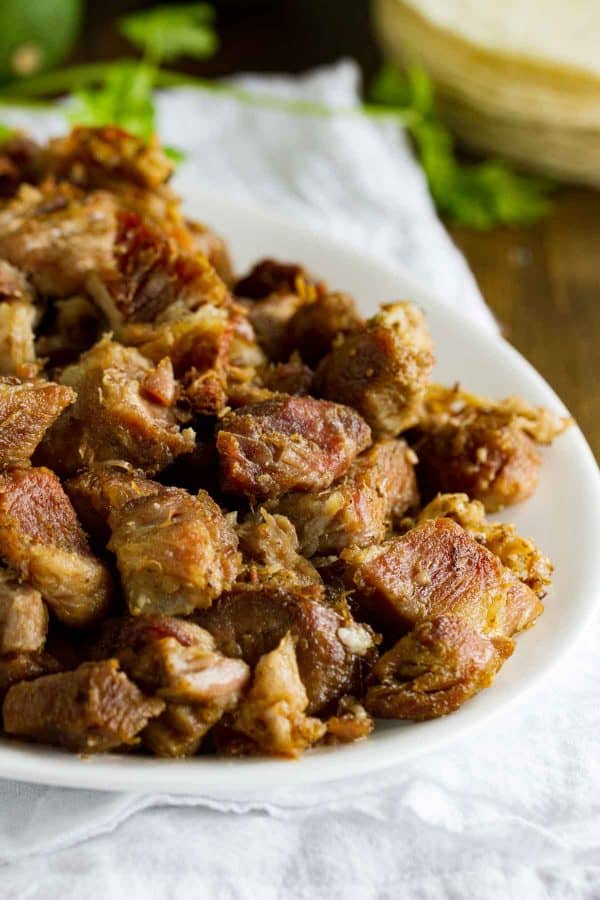 What are Carnitas
If you have been to Mexico, or to that hole in the wall taco joint in your hometown, you've probably had carnitas. Carnitas are sort of the Mexican version of pulled pork. Pork is slowly cooked, then crisped up before serving. It's commonly served in tacos, but is just as great in burritos or enchiladas, or even just by the forkful.
And just like many recipes, it seems like pork carnitas really vary from region to region. I read through so many versions of carnitas. Many of them contained long lists of spices, some with chiles, others with orange juice. I don't think there is really a right or wrong version – I'm guessing different people grew up making it different ways.
There is one thing that is common in the traditional recipe, though. Traditionally, the pork is slow cooked in lard. You can definitely use lard in this recipe (just use it instead of the water), but even though it's possible to find lard, many home cooks don't really want to cook meat in lard all day. That is just one reason I love this recipe so much. You get an insanely delicious end result by only using the pork, water and salt.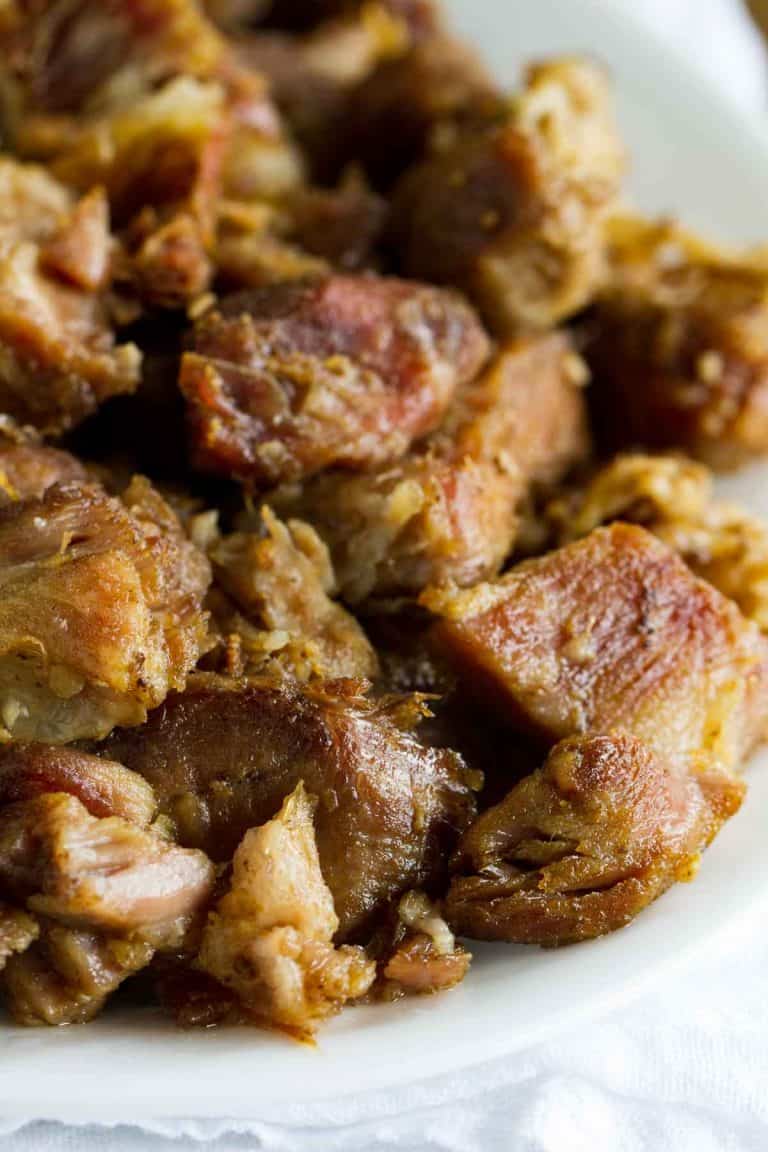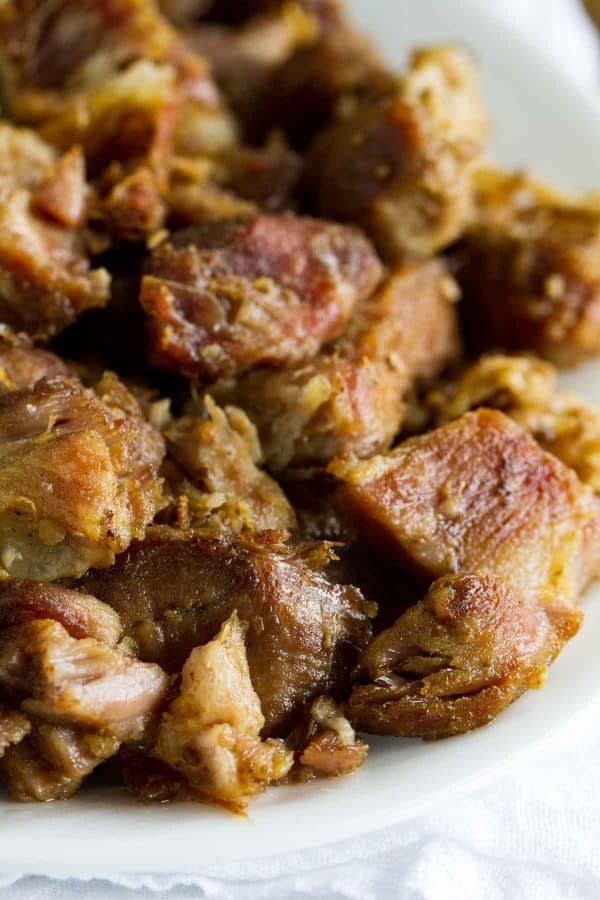 How to Make Pork Carnitas
I know I keep saying how easy this is to make, so here is the outline of how to make this recipe. Make sure to scroll down for the full printable recipe with amounts and times.
Cut the meat in to strips, about 2 inches by 3/4 inch. Place the pork in a large pot.
Add enough water to just barely cover the pork.
Add the salt to the water.
Bring the water to a boil.
Lower the heat until the water is simmering, then cook, uncovered, until the water has evaporated, about 1 1/2 hours.
When the water has evaporated, lower the heat again and continue to cook the pork until the fat has rendered and it browns on all sides, turning the meat as needed. This step should take another hour or more.
That's it! Enjoy your pork in tacos. Or burritos. Or however your heart desires.
Tips and Tricks
The recipe calls for 3 pounds of pork shoulder or pork butt. I've run into this problem before, but I've never been able to find a 3 pound pork shoulder or butt – they are always much bigger. The one I ended up picking up at the grocery store was about double that, and I first intended on just cooking half of it and saving the other half, but then I decided to cook the whole thing. Because really, there is no such thing as too much carnitas.
This recipe says that it's best to use a large, shallow pan, but unfortunately, that doesn't exist in my kitchen – especially since I was doubling the recipe. I ended up using my dutch oven, which ended up being quite full. It did all work out in the end, although I had to almost double my cooking time. So the size of your pot will definitely affect how long it will take to cook. I had no complaints, because it actually ended up being done right at dinner time, and my house smelled amazing all. day. long.
I used this pork carnitas recipe to make tacos the first night, and then used the leftovers for burritos. This pork is so versatile, there are so many ways that you can use it.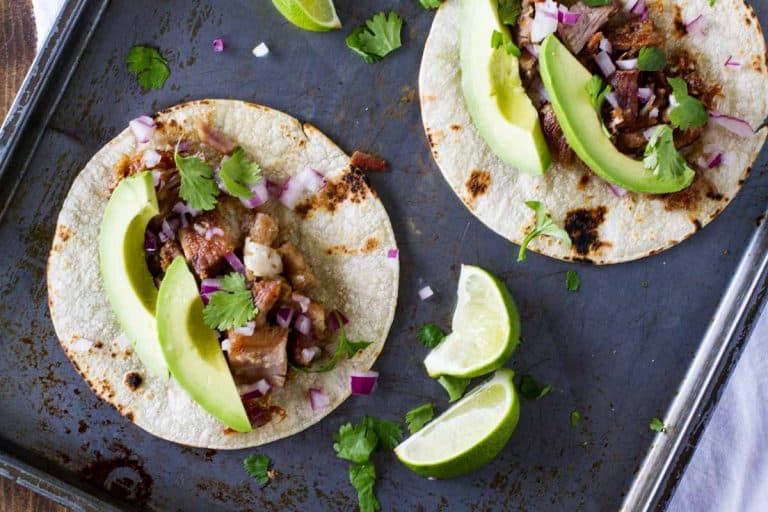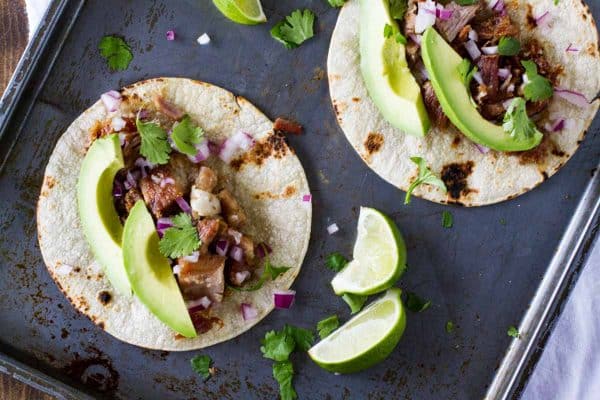 More Favorite Mexican Recipes
Chicken Chimichanga Recipe
Smothered Chicken Burritos
Fried Ice Cream Recipe
Instant Pot Barbacoa Beef
Chicken Chilaquiles
White Chicken Enchiladas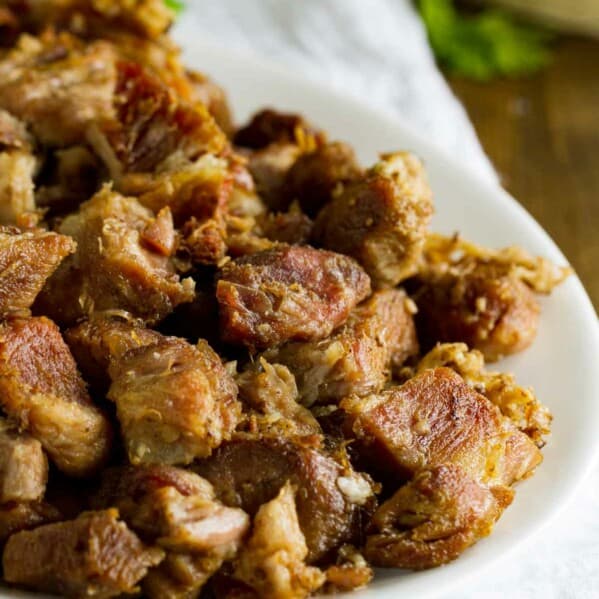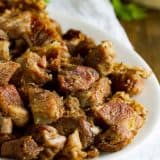 Pork Carnitas Recipe
---
Author:
Prep Time: 10 mins
Cook Time: 2 hours 40 mins
Total Time: 2 hours 50 mins
Yield: 8 servings 1x
Category: Main Dish
Method: Stove Top
Cuisine: Mexican
Description
Great food doesn't have to be complicated – this Pork Carnitas Recipe is so simple but it will blow your socks off. Serve the carnitas in tacos, burritos, enchiladas, or however your heart desires!
---
Scale
Ingredients
3 lbs fatty pork shoulder or butt, skin and bone removed
cold water
2 teaspoons salt
---
Instructions
Cut the meat into strips 2" x 3/4" (make sure you don't remove/discard the fat). Place the meat into a large pot and barely cover with cold water. Add the salt and bring the water to a boil, uncovered.
Lower the heat to bring the water down to a simmer. Let the meat continue to cook until all of the water has evaporated, about 1 1/2 hours, depending on the size/shape of your pan.* The meat should be cooked through at this point, but not falling apart.
Lower the flame a little bit more and continue to cook until all of the fat has rendered from the pork, turning the meat occasionally until all sides are browned, about 1 hour and 10 minutes.
Serve the pork in tacos, enchiladas, burritos, or however you'd like!
Recipe Notes:
*The pork will cook faster and more evenly if your pan is large and shallow. It may take longer to cook if your pan is deeper.
Recipe source: Food52 Genius Recipes
Nutrition information provided as an estimate only. Various brands and products can change the counts. Any nutritional information should only be used as a general guideline.
Nutrition
Serving Size: 1/8 of recipe
Calories: 316
Sugar: 0 g
Sodium: 685 mg
Fat: 21 g
Saturated Fat: 7 g
Unsaturated Fat: 12 g
Trans Fat: 0 g
Carbohydrates: 0 g
Fiber: 0 g
Protein: 30 g
Cholesterol: 106 mg
Keywords: pork carnitas, carnitas recipe