Great food doesn't have to be complicated – this Pork Carnitas Recipe is so simple but it will blow your socks off. Serve the carnitas in tacos, burritos, enchiladas, or however your heart desires!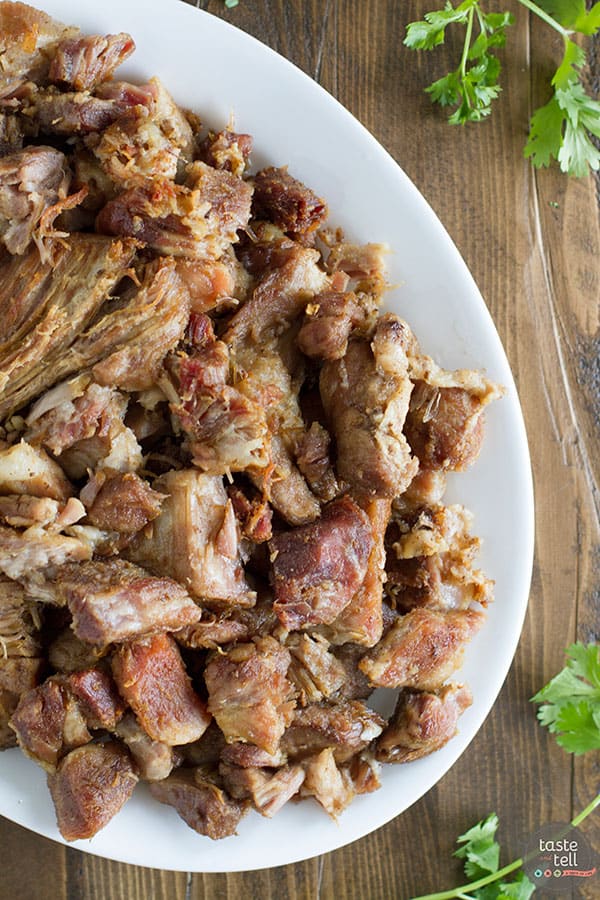 I've said it before, but I think that sometimes as a blogger, or as food bloggers in general, we think that we have to come up with something totally new and out there. Something that is crazy and inventive.
But we forget that sometimes, there is nothing better than going back to the basics. Or to the tried and tested recipes that we know are going to be great.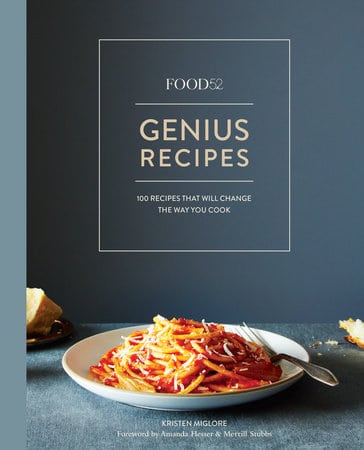 Enter Genius Recipes – a compilation of 100 recipes from some of the best chefs, cookbook authors and bloggers. In this book, you'll get Michael Ruhlman's fried chicken, Nigella Lawson's dense chocolate loaf cake and Deb Perelman's Mushroom Bourguignon. It is full of foolproof recipes that you need in your kitchen. And not only recipes – many of the recipes have a "genius tip" included that will help you understand a cooking technique or ingredient better. There is a lot to be learned from this book.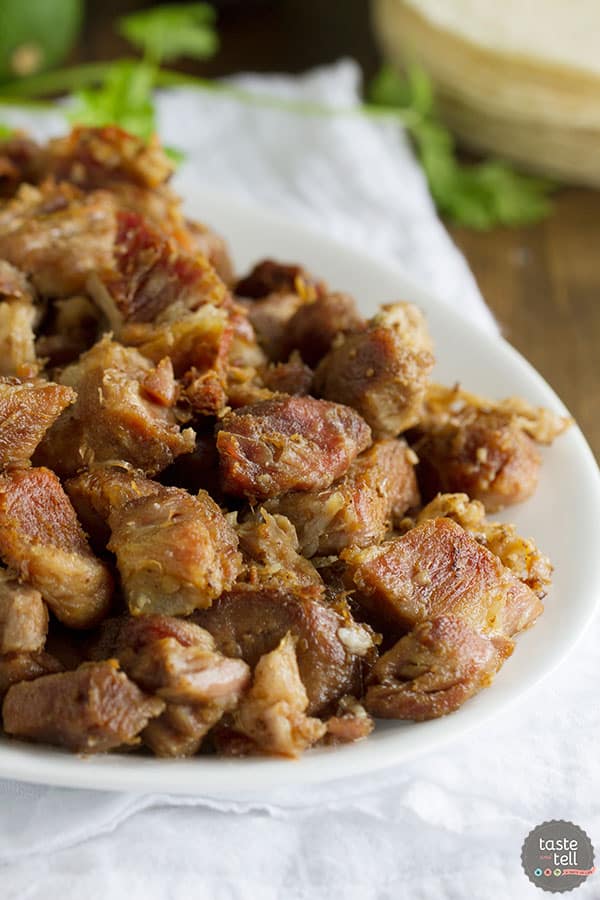 Here are the details:
Number of Photos: Lots! There is at least one photo of every recipe – with some of the recipes having a few step by step recipes. The photos are well done and eye catching.
Difficulty Level of Recipes: Medium I wouldn't call these recipes over all basic (although there are some that are very simple), but you also don't need to be a trained chef to pull these off. If you have some confidence in the kitchen, you shouldn't have any trouble making your way through any of the recipes.
Availability of Ingredients: Easy to Medium You should be able to find the ingredients for these recipes at any well-stocked grocery store.
Overall thoughts:
This is the cookbook that I didn't know that I needed on my shelf until I had it. And now I know that it won't be leaving my shelf, unless it's on my kitchen counter. I love that there are plenty of basics, but then also recipes with a twist or an unexpected ingredient. I could see myself making many, many recipes from this cookbook!
Other recipes I want to try:
Raised Waffles
Basic Hummus
Roasted Carrot & Avocado Salad with Crunchy Seeds
Chicken Thighs with Lemon
Ship's Biscuit
Fried Asparagus with Miso Dressing
Fresh Blueberry Pie
Buy Genius Recipes on Amazon.
Read more here.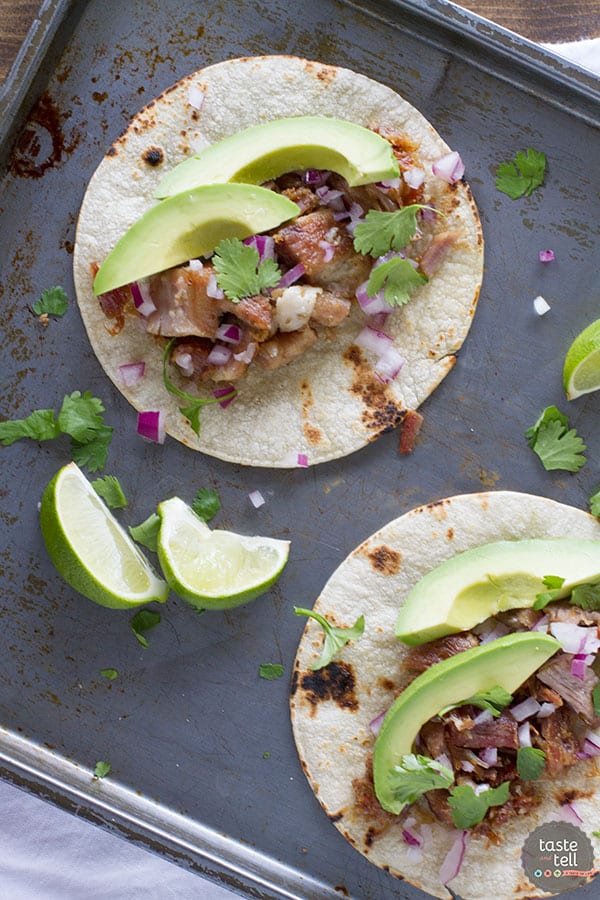 I honestly didn't even know where to start in this book. With the Raised Waffles? The Simplest Roast Chicken? The Fresh Ginger Cake? This truly is a book filled with genius recipes.
I was so close to starting with the waffles, but then I came across this pork carnitas recipe. And I started reading, and saw that the ingredient list only contained 3 ingredients – one of those being water, and another being salt. I thought for sure there would be more to the recipe after that beginning – but nope. Pork, water, salt. That's it.
I had to try it.
The recipe calls for 3 pounds of pork shoulder or pork butt. I've run into this problem before, but I've never been able to find a 3 pound pork shoulder or butt – they are always much bigger. The one I ended up picking up at the grocery store was about double that, and I first intended on just cooking half of it and saving the other half, but then I decided to cook the whole thing. Because really, there is no such thing as too much carnitas.
This recipe really is the epitome of simplicity. You take the pork, cover it with water, and cook until the water has evaporated. Then you let the fat render from the meat, which browns and crisps up the edges, forming the most delicious, tender, irresistible pork you will ever place in your mouth. I'm not even kidding you – I ate so much of this before we even had dinner, and I still went back for more.
This recipe says that it's best to use a large, shallow pan, but unfortunately, that doesn't exist in my kitchen – especially since I was doubling the recipe. I ended up using my dutch oven, which ended up being quite full. It did all work out in the end, although I had to almost double my cooking time. So the size of your pot will definitely affect how long it will take to cook. I had no complaints, because it actually ended up being done right at dinner time, and my house smelled amazing all. day. long.
I used this pork carnitas recipe to make tacos the first night, and then used the leftovers for burritos. This pork is so versatile, there are so many ways that you can use it.
This recipe is honestly one of my favorite things that I have ever made. Ever. It speaks volumes when such a simple recipe becomes such a favorite!!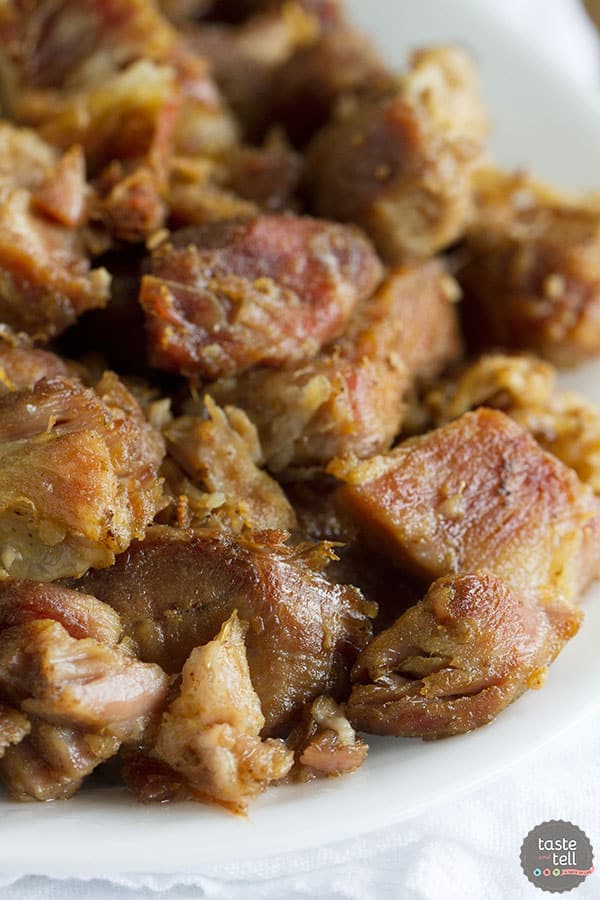 Like what you see here? Make sure you are following Taste and Tell for more recipes and ideas!
Facebook | Pinterest | Instagram | Twitter | Google+ | Weekly Newsletter | Feedly | Bloglovin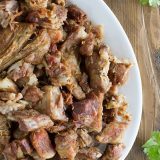 Pork Carnitas Recipe
---
Prep Time: 10 mins
Cook Time: 2 hours 40 mins
Total Time: 2 hours 50 mins
Yield: 4-6 servings 1x
Description
Great food doesn't have to be complicated – this Pork Carnitas Recipe is so simple but it will blow your socks off. Serve the carnitas in tacos, burritos, enchiladas, or however your heart desires!
---
Scale
Ingredients
3 lbs fatty pork shoulder or butt, skin and bone removed
cold water
2 teaspoons salt
---
Instructions
Cut the meat into strips 2" x 3/4" (make sure you don't remove/discard the fat). Place the meat into a large pot and barely cover with cold water. Add the salt and bring the water to a boil, uncovered.
Lower the heat to bring the water down to a simmer. Let the meat continue to cook until all of the water has evaporated, about 1 1/2 hours, depending on the size/shape of your pan.* The meat should be cooked through at this point, but not falling apart.
Lower the flame a little bit more and continue to cook until all of the fat has rendered from the pork, turning the meat occasionally until all sides are browned, about 1 hour and 10 minutes.
Serve the pork in tacos, enchiladas, burritos, or however you'd like!
Recipe Notes:
*The pork will cook faster and more evenly if your pan is large and shallow. It may take longer to cook if your pan is deeper.
Recipe source: Food52 Genius Recipes
Don't miss a thing! Follow me on Pinterest to see what I'm pinning!
Visit Taste and Tell's profile on Pinterest.




I received this book from Blogging for Books for this review, but all opinions are my own. This post contains affiliate links. If you purchase an item from Amazon from the link Taste and Tell receives a small commission. Thank you for supporting Taste and Tell through your purchases!