Move aside bakeries – this is the perfect Red Velvet Cupcake. They are easy to make at home and topped with the most delicious Marshmallow Cream Cheese Frosting.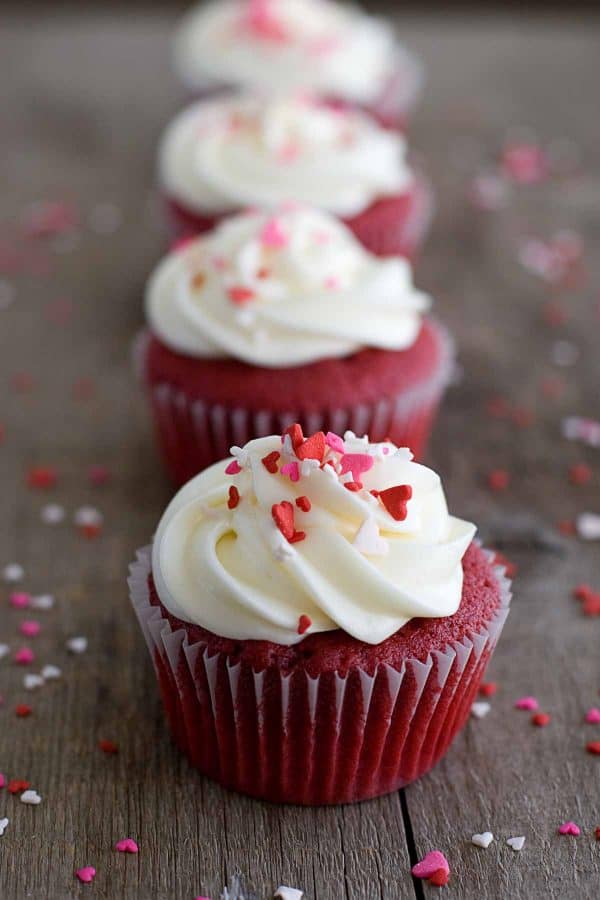 Back in January, my family was having a get together for my brother's birthday. If you are a reader of my blog, you have already heard me mention that for birthdays in my family and my husband's family this year, I am making a little cupcake box. I have already featured many of these recipes that I have made so far. Well, when my sister heard what I was doing, she requested red velvet for her birthday. I was totally up for the challenge – really excited actually. I had never made red velvet before, and although I've eaten it before, it's been so long that I wouldn't have even been able to describe the taste.
So when all of the red velvet cakes and cupcakes started to pop up on blogs around Valentine's Day, I started to get really excited. I hadn't decided on a recipe yet, but I had plenty picked out to choose from. Then, a couple days before the birthday, I decided to check out my cookbooks – since I am trying to use them more often. I was really surprised to learn that only one of my cookbooks had a recipe for red velvet cake!! And I wasn't really feeling that one recipe. (Go figure that one of my new cookbooks – that arrived a couple days after the cupcakes were made – had a recipe that sounds wonderful!) So what's a girl to do when she can't decide which recipe to use? Trust the queen of all things Southern – Paula Deen. I went to the Food Network website, and after a quick search, I found that she had 2 recipes listed. After going over both, I decided on Grandmother Paul's Red Velvet Cake. Both recipes were similar, but this one had a little more cocoa, and the frosting really intrigued me.
Although the recipe is for a cake, it translated into cupcakes pretty well. The didn't get much of a domed top, but with the frosting, it didn't really matter. The recipe called for 2 oz. of red food coloring. Most bottles you can find are one ounce. That's a lot of red!! The store I normally shop at was out of red food coloring, so I stopped at another. Their prices were extremely higher, so I only ended up buying one bottle. And I'm so glad I didn't add 2 – as you can tell, these babies were plenty red!!
The frosting is a little different, as it has you adding in melted marshmallows to the normal cream cheese, butter, powdered sugar mixture. It also has shredded coconut and chopped pecans, but I chose to leave those out. When I read through the reviews, many people said to use marshmallow fluff or marshmallow creme instead of the melted marshmallows, because it is too messy to melt marshmallows. Call me crazy, but I think the taste of regular marshmallows and marshmallow creme is not the same, so I stuck with the melted marshmallows. When I first tasted the frosting, I was expecting a marshmallow-y flavor, but it wasn't there. At first I was disappointed because it just tasted like regular cream cheese frosting, but once I got over the disappointment, I realized that it did actually add something different to the frosting. Nothing that I can really describe, but when it was all over and done, I liked this more than any cream cheese frosting I have made.
These cupcakes were everything I expected and more. The full recipe made 30 cupcakes, and I could have very easily eaten them all myself. In fact, after I gave my sister hers, I had to save aside only a few to take pictures, and the rest I took to work to get rid of, because the temptation was just way too much for me to handle! They had the perfect amount of cocoa, and the perfect amount of tang from the buttermilk. And the frosting just pulled everything together. Definitely a make again recipe!!
Oh yeah – I also want to mention that I used to think that red velvet was a seasonal cake/cupcake – reserved for holidays like Valentines Day. But I'm wrong. After watching Cupcake Week on Martha Stewart, I think just about every bakery featured has a red velvet cupcake on their menu full time!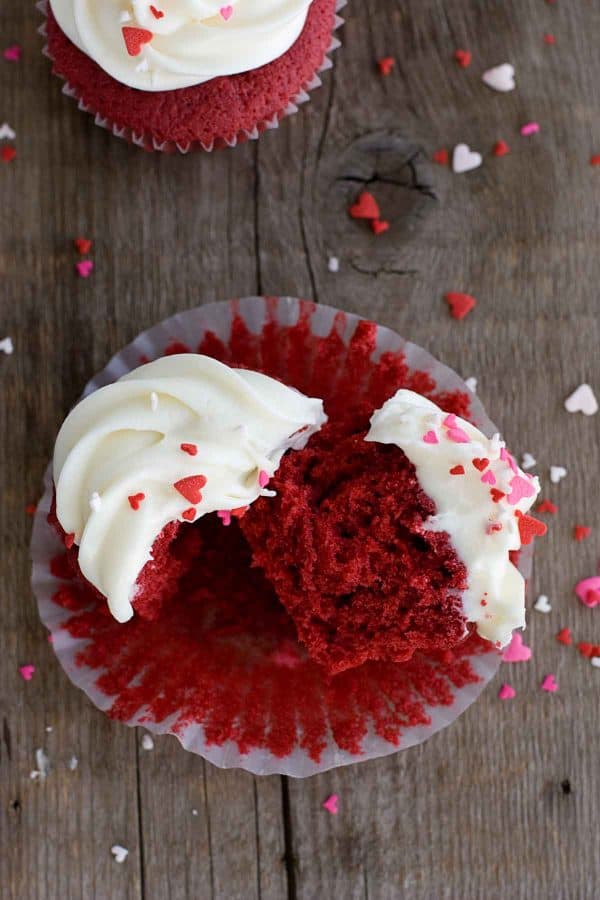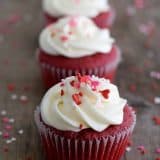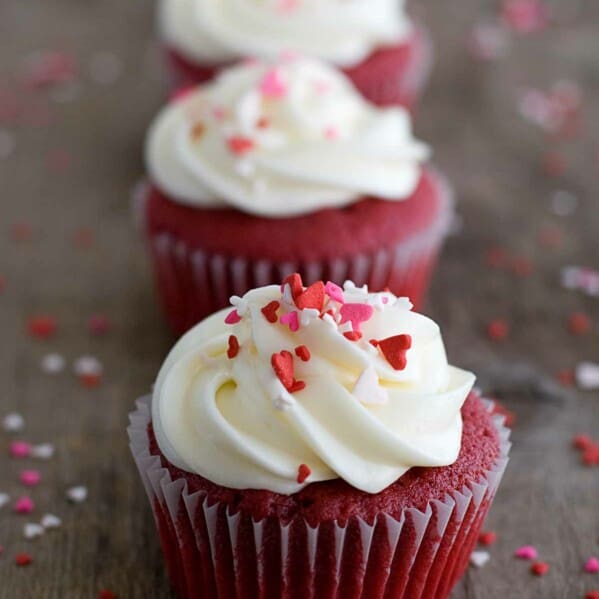 Red Velvet Cupcakes
---
Prep Time: 20 minutes
Cook Time: 20 minutes
Total Time: 1 hour
Yield: 30 cupcakes 1x
Category: Dessert
Method: Bake
Cuisine: American
Description
Move aside bakeries – this is the perfect Red Velvet Cupcake. They are easy to make at home and topped with the most delicious Marshmallow Cream Cheese Frosting.
---
Scale
Ingredients
Cupcakes
2 cups sugar
1/2 pound (2 sticks) butter, at room temperature
2 eggs
2 tablespoons cocoa powder
1 ounce red food coloring
2 1/2 cups cake flour
1 teaspoon salt
1 cup buttermilk
1 teaspoon vanilla extract
1/2 teaspoon baking soda
1 tablespoon vinegar
Frosting
1 (8-ounce) package cream cheese
1 stick butter, softened
2 cups mini marshmallows, melted
3–4 cups powdered sugar
---
Instructions
Cupcakes:
Preheat oven to 350 degrees F.
In a mixing bowl, cream the sugar and butter, beat until light and fluffy. Add the eggs one at a time and mix well after each addition.
Mix cocoa and food coloring together and then add to sugar mixture; mix well.
Sift together flour and salt. Add flour mixture to the creamed mixture alternately with buttermilk. Blend in vanilla.
In a small bowl, combine baking soda and vinegar and add to mixture.
Pour batter into prepared cupcake pans. Bake for 15 to 20 minutes, or until a toothpick inserted into the center comes out clean. Remove from heat and cool completely before frosting.
Frosting:
Blend cream cheese and butter together in a mixing bowl. Add melted marshmallows and sugar and blend. Spread frosting on cooled cupcakes.
Recipe Notes:
adapted from Paula Deen
Nutrition information provided as an estimate only. Various brands and products can change the counts. Any nutritional information should only be used as a general guideline.
Nutrition
Serving Size: 1 cupcake
Calories: 271
Sugar: 31 g
Sodium: 126 g
Fat: 12 g
Saturated Fat: 7 g
Unsaturated Fat: 3 g
Trans Fat: 0 g
Carbohydrates: 39 g
Fiber: 0 g
Protein: 2 g
Cholesterol: 45 mg
Keywords: red velvet cupcake