The perfect pumpkin cupcakes, filled with warm fall spices and topped with a creamy cream cheese frosting.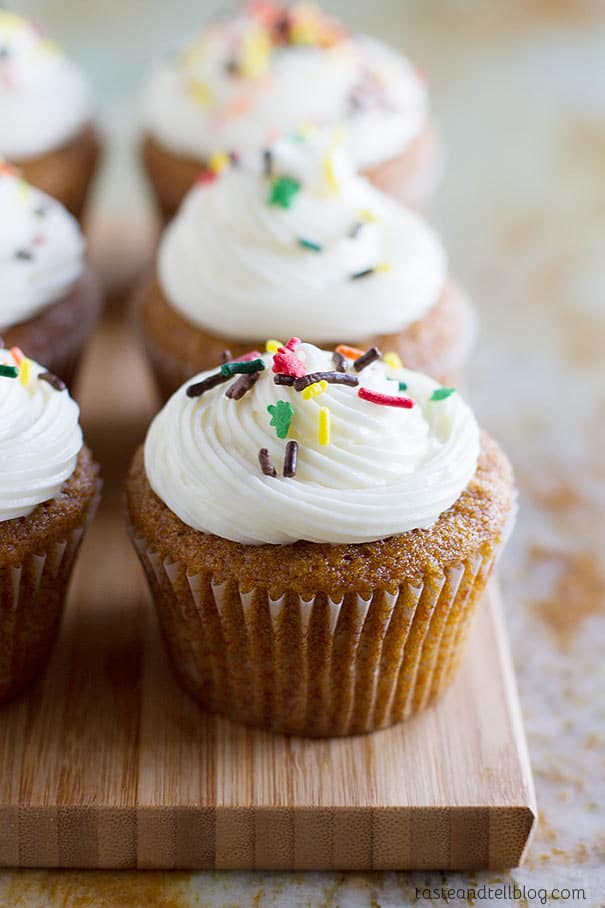 Photos Updated October 2014
It's that time of year when it's about all things pumpkin. It may just be where I am, but now that the pumpkin shortage is over, all I can find are the big cans of pumpkin, not the smaller cans. At first I was kind of annoyed, because on usually only need what is in a small can, not the big can. But now I'm loving it because it just means that I have to make even more pumpkin treats! So definitely look forward to more pumpkin goodness coming.
I may already have several pumpkin cupcake recipes on my blog, but that didn't stop me from trying a new one! I actually wanted to do a photo tutorial on how to make the swirled frosting with 2 different colors, but things were just not going my way that day. First of all, I forgot that I had lost the tip that I love to the garbage disposal awhile ago. I went to the store to buy a new one, but they didn't have any. It was Abbi's nap time, so I couldn't go traipsing all over town looking for one. Then when I got home and went to frost the cupcakes, I realized that I was out of the disposable piping bags. I will always use a large ziptop bag if I need to, but all I had were freezer bags that were 2 layers thick, so those weren't so great for picture taking. Needless to say, everything was kind of a mess, so no tutorial today. **The photos on this post were updated in October of 2014, and I didn't do the swirled frosting on the new cupcakes. But they are just as delicious!**
But if you are looking for the perfect pumpkin cupcakes, look no further. Ina Garten rarely lets me down, and this recipe is no exception! It's a perfect, moist cupcake. I may have just found my go-to pumpkin cupcake recipe!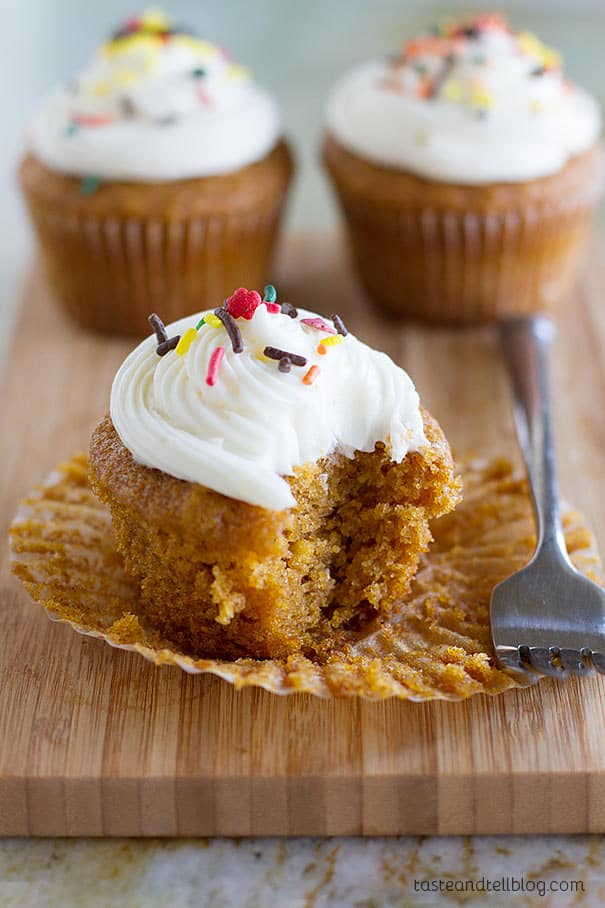 Like what you see here? Make sure you are following Taste and Tell for more great recipes and ideas!!

Facebook ** Pinterest ** Twitter ** Instagram ** Google+
or you can subscribe to my newsletter or Feedly or Bloglovin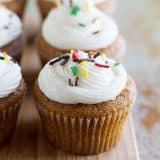 Pumpkin Cupcakes with Cream Cheese Frosting
---
Author:
Prep Time: 15 mins
Cook Time: 25 mins
Total Time: 40 mins
Yield: 12 servings 1x
Description
The perfect pumpkin cupcakes, filled with warm fall spices and topped with a creamy cream cheese frosting.
---
Scale
Ingredients
Cupcakes
1 cup all-purpose flour
1 teaspoon baking powder
1 teaspoon ground cinnamon
1/2 teaspoon baking soda
1/2 teaspoon salt
1/2 teaspoon ground ginger
1/2 teaspoon ground nutmeg
2 large eggs, at room temperature
1 cup canned pumpkin puree (8 oz)
1/2 cup granulated sugar
1/2 cup light brown sugar, lightly packed
1/2 cup vegetable oil
Cream Cheese Frosting
8 oz. cream cheese, softened
1/4 cup butter, softened
3–4 cups powdered sugar
---
Instructions
For the Cupcakes:
Preheat oven to 350ºF. Line 12 muffin tins with cupcake liners.
In a bowl, whisk together the flour, baking powder, cinnamon, baking soda, salt, ginger, and nutmeg. In another bowl, whisk together the eggs, pumpkin, granulated sugar, brown sugar and vegetable oil.
Add the dry ingredients to the wet ingredients and stir just until combined. Divide the mixture evenly between the 12 prepared cups.
Bake for 20-15 minutes, or until a toothpick inserted in the center comes out clean.
Cool completely on a cooling rack.
For the frosting:
Cream together the cream cheese and butter until light and fluffy. Gradually add in the powdered sugar until you reach your desired consistency and sweetness. Pipe onto the cooled cupcakes.
Recipe Notes:
This makes enough cream cheese frosting to generously frost each cupcake. If you don't like a lot of frosting, you can easily halve the frosting recipe.
Slightly adapted from Ina Garten via House Beautiful