Red velvet goes frozen in this rich and creamy Red Velvet Ice Cream with Marshmallow Swirl. This ice cream recipe is super easy and perfect for anyone who loves homemade ice cream!
Red velvet lovers – make sure to check out all of my other red velvet recipes, like these Red Velvet Waffles or Red Velvet Cupcakes.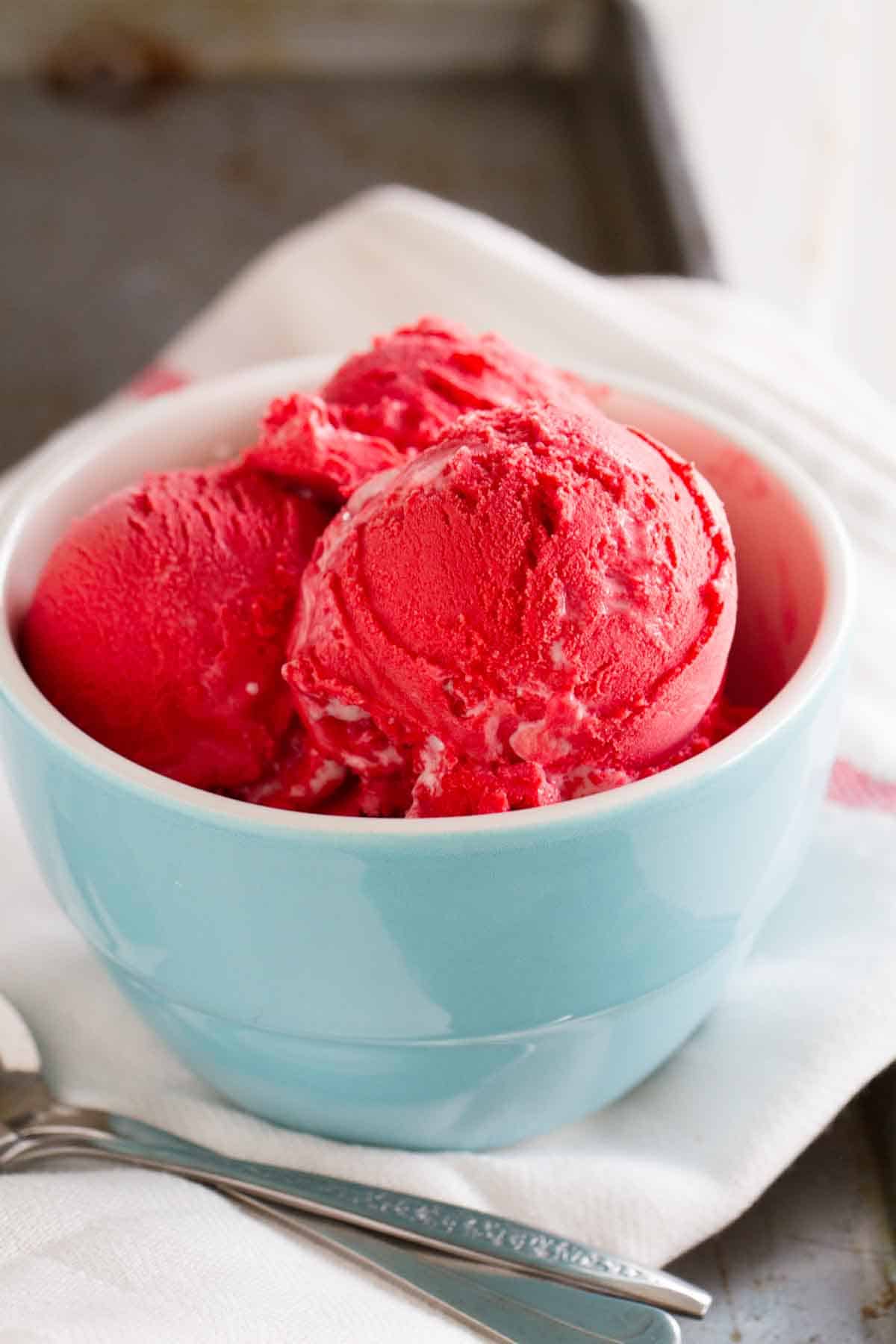 If you know me, you know I love red velvet. I even wrote a cookbook about it – the Red Velvet Lover's Cookbook – back several years ago.
I used to think that red velvet was mostly for holidays. Valentine's Day, Christmas – anytime you need red, red velvet is there for you.
Thank goodness I've seen the errors of my ways and am happy as can be to be eating Red Velvet Ice Cream in the middle of July. Or January. Because really, it's good any time of year.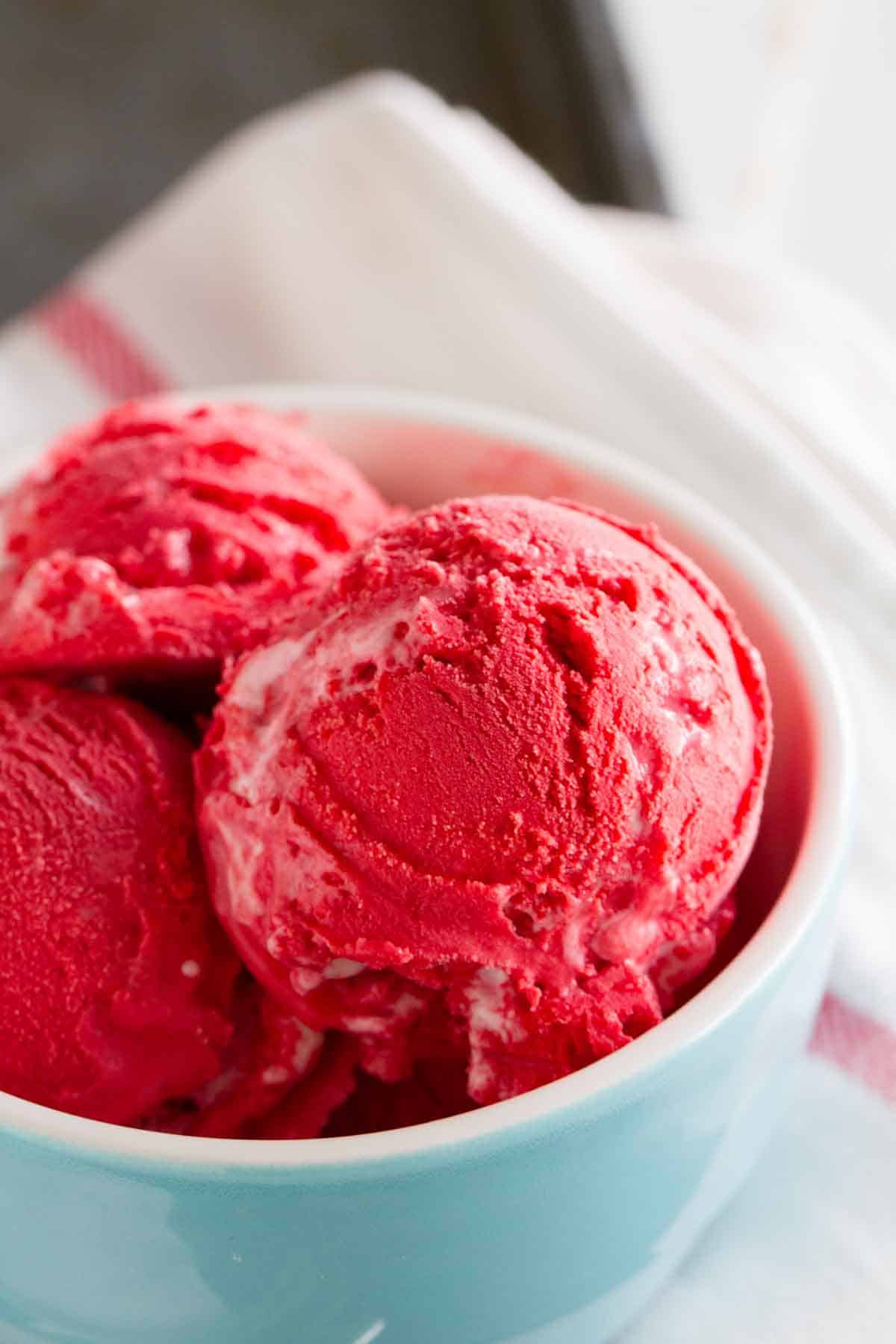 What You'll Need
Tools For Making this Ice Cream
I usually try to steer clear of recipes that require you to have specific kitchen appliances, but I'm afraid this Red Velvet Ice Cream is an exception. Here is what you'll need:
A blender: You want your ice cream to be smooth, and a blender is really the only way to get this there. Mostly because of the addition of the cream cheese. If you are mixing by hand, it will be very hard to get it really smooth. You could use a food processor in place of a blender, though.
An ice cream maker: This is not a no-churn ice cream recipe, so you'll need an actual ice cream maker. You can use anything from an old style crank machine to an ice cream maker that requires rock salt to one of today's more popular tabletop versions. I have a fairly affordable Cuisinart model. (Not sponsored, but this is an affiliate link.)
Red Velvet Ice Cream Ingredients
To get the familiar red velvet flavor, here is what I use:
Cream Cheese: I know that traditional red velvet cake is not made with cream cheese icing, but I think that red velvet and cream cheese is a very popular combination. Plus, the cream cheese helps to keep the ice cream creamy.
Milk, Heavy Cream, and Buttermilk: This may seem a bit crazy to have all three, but really, it is what works the best. The combination of the milk and cream gives it the texture and richness that is perfect. And the buttermilk adds in some of that familiar red velvet tang.
Sugar: Because you have to have sugar!
Red Food Coloring: I am a believer that the red food coloring actually brings in some of that familiar flavor. You can definitely leave it out if you don't care if you ice cream is red, but I do think that it adds to the well-known red velvet flavor.
Cocoa Powder: Many people think that red velvet is just chocolate colored red, but that is not true. The buttermilk flavor is more prominent, with just a hint of cocoa. That's why you only need 2 teaspoons here.
Salt: Salt will always help to bring out all of the flavors and make everything balanced.
Marshmallow Ice Cream Topping: So I used the topping that is thinner and that comes in a jar, versus marshmallow creme or marshmallow fluff. I'm sure either would work to some extent, but the ice cream topping stayed the perfect texture and didn't freeze into a hard ribbon of marshmallow. And it never hurts to save some extra to serve on top!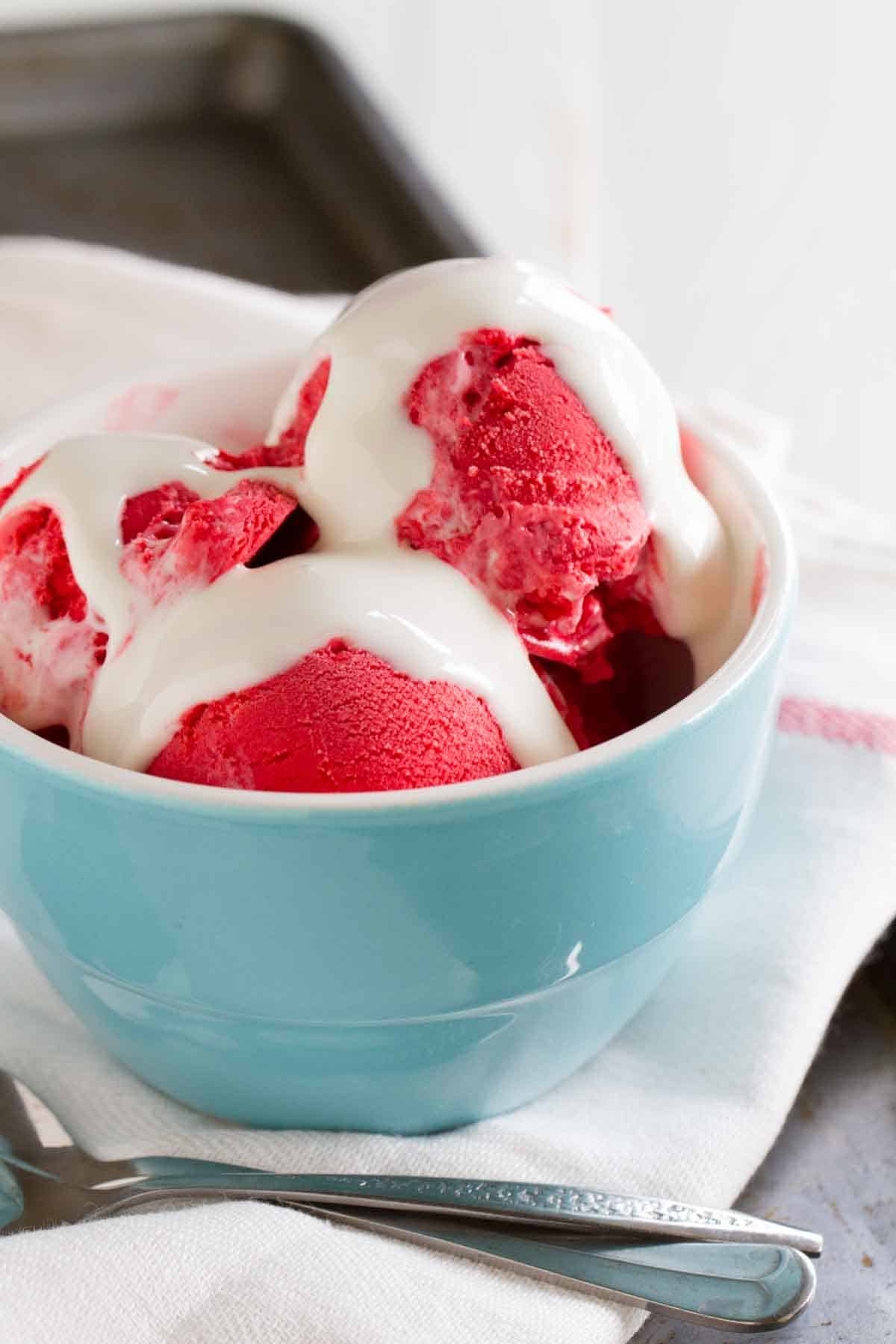 How to Make It
This ice cream is seriously easy to make. It does take some time, but very, very little hands on time.
Start by mixing all of your ingredients except the marshmallow topping in a blender until smooth.
Refrigerate until cold.
Freeze the mixture in your ice cream maker.
Transfer to a freezer safe container, spooning in marshmallow topping as you go.
Freeze again until fully frozen.
Enjoy!
More Ice Cream Recipes
Toasted Coconut Ice Cream
Homemade Vanilla Ice Cream
Salted Caramel Ice Cream with Fudge and Toasted Coconut
Pumpkin Toffee Ice Cream
Sweet Corn Ice Cream with Salted Caramel Sauce
Mango Sorbet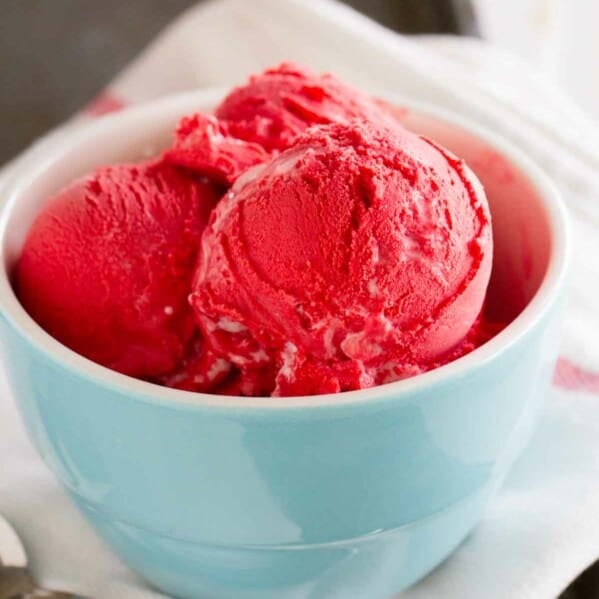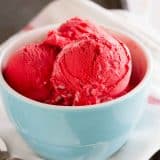 Red Velvet Ice Cream with Marshmallow Swirl
---
Author:
Prep Time: 20 mins
Total Time: 24 hours
Yield: 8 servings 1x
Category: Dessert
Method: Frozen
Cuisine: American
Description
Red velvet goes frozen in this rich and creamy Red Velvet Ice Cream with Marshmallow Swirl. This ice cream recipe is super easy and perfect for anyone who loves homemade ice cream!
---
Scale
Ingredients
1 8–oz package cream cheese, softened
3/4 cup milk
3/4 cup heavy cream
3/4 cups sugar
1/2 cup buttermilk
1 tablespoon plus 1 teaspoon red food coloring
2 teaspoons cocoa powder
1/8 teaspoon salt
1/2 cup marshmallow ice cream topping
---
Instructions
Combine the cream cheese, milk, cream, sugar, buttermilk, food coloring, cocoa powder and salt in a blender and process until smooth. Cover and chill for at least 2 hours, but preferably overnight.
Pour the mixture into an ice cream maker and freeze according to manufacturer's directions.
Spoon some of the ice cream into a freezer safe container, followed by some of the marshmallow topping. Continue to do this until all of the ice cream and topping are added to the container.
Freeze until the ice cream has hardened, overnight if possible. Serve with additional marshmallow topping, if desired.
Recipe Notes:
ice cream base adapted from MyRecipes.com
Nutrition information provided as an estimate only. Various brands and products can change the counts. Any nutritional information should be used as a general guideline.
Nutrition
Serving Size: 1/8 of recipe
Calories: 321
Sugar: 34 g
Sodium: 162 mg
Fat: 19 g
Saturated Fat: 11 g
Unsaturated Fat: 3 g
Trans Fat: 0 g
Carbohydrates: 37 g
Fiber: 0 g
Protein: 3 g
Cholesterol: 61 mg
Keywords: red velvet ice cream