Red velvet goes frozen in this rich and creamy Red Velvet Ice Cream with Marshmallow Swirl. This ice cream recipe is super easy and perfect for anyone who loves homemade ice cream!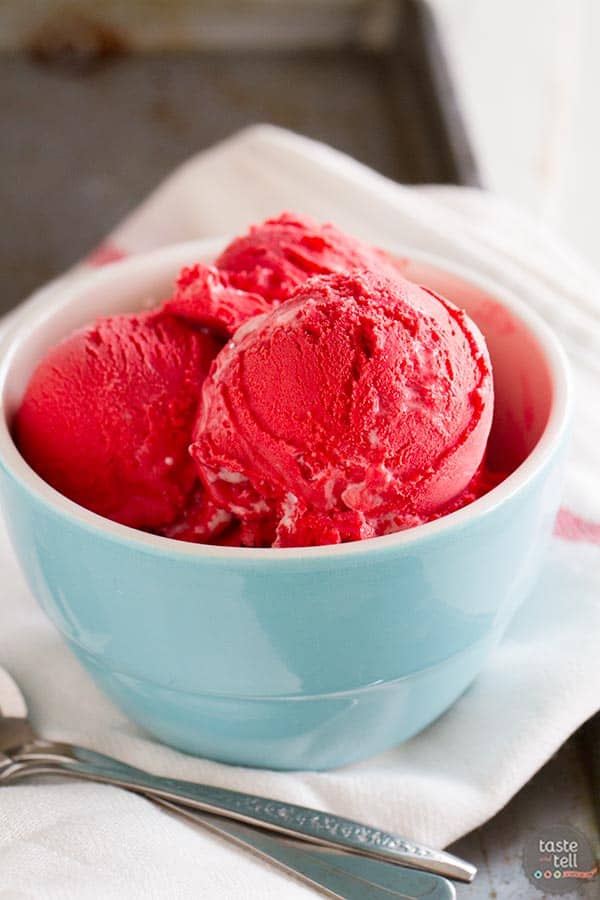 Is anyone else seeing red everywhere they look yet? Just me???
I can't believe we have come to the end of Red Velvet Week 2015. The 5th annual Red Velvet Week. I don't think anyone can question my love of red velvet. (Ahem – have you bought my cookbook yet?? wink, wink) It's always bittersweet when I come to the end of the red velvet treats, but the anticipation can already start building for next year. Because I'm already thinking about it!!
I'm hoping that I've brought you a recipe or two (or 5) that you'll want to make for your Valentine sweetie. Or for a Thursday night. 😉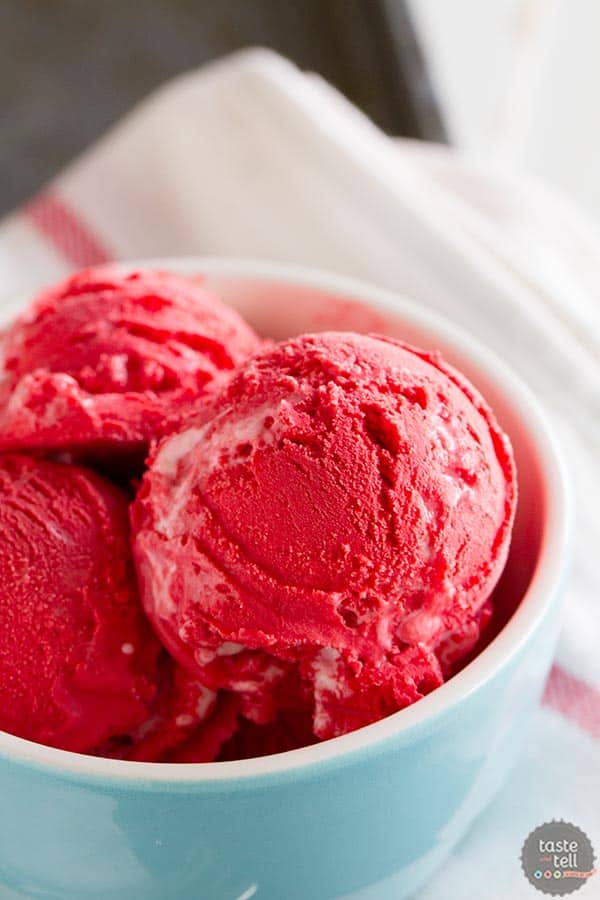 I love ice cream. And I love making ice cream. But the ice cream recipes certainly are lacking here on Taste and Tell. I blame it on a cheapo ice cream maker. I've had one for years, but I really don't get it out to use it that often, simply because it didn't work all that well.
But then one day, I got lucky. I just happened to get on my neighborhood Facebook page minutes after a neighbor listed a Cuisinart Ice Cream maker for sale. Brand new, still in the box. I jumped right on that without even thinking twice about it.
And then I was bad. I put the bowls in the freezer (yay for a second bowl!!) and then didn't do anything. No ice cream. I have no excuses, because really, there are no excuses for not making ice cream.
Well, luckily the mood struck when I was planning for Red Velvet Week. And there, this Red Velvet Ice Cream with Marshmallow Swirl was born.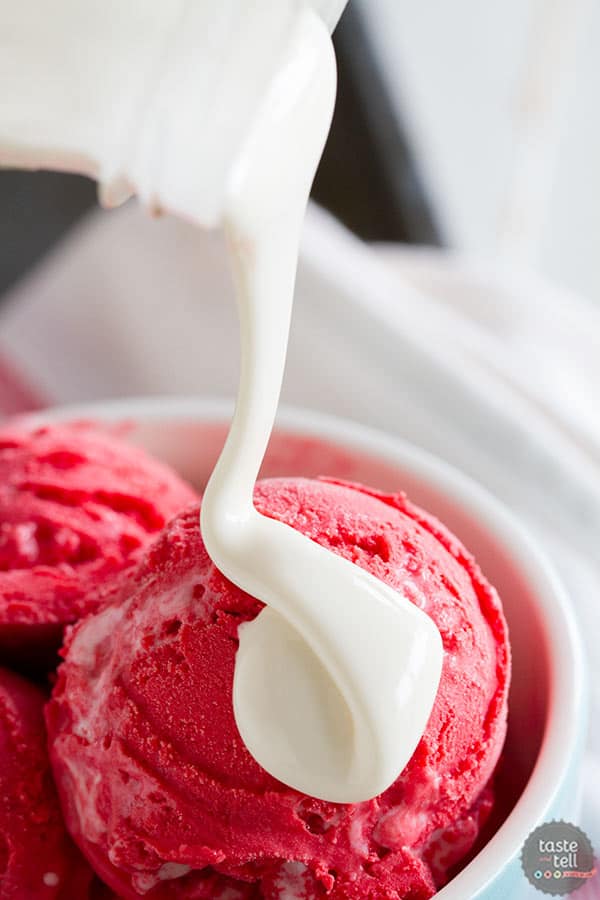 I'm not going to lie – my first thought was to make red velvet ice cream and add crushed Oreos. What can I say – I'm on a bit of a kick right now. But then, while trying to clear out my food storage, I came across some marshmallow ice cream topping. And the plans for that red velvet ice cream changed.
If you are ever worried about making homemade ice cream because it is too hard or takes too much effort, this recipe is for you. You basically throw all of the ingredients in a blender and process. Then chill the mixture, then freeze it in the ice cream maker. Just a little more time in the freezer, and you are good to go. It does sound like a lot, but I promise you – it doesn't take much time at all.
And yes – it's all totally worth it. I love that the ice cream has both cream cheese and buttermilk – really bringing you those well-known red velvet flavors. And the marshmallow swirl?? Yum!! I was worried that the ice cream topping wouldn't work, but I thought that marshmallow creme would get too hard. I'm glad I went with the ice cream topping. It is thinner, and it doesn't freeze hard. It completely compliments the red velvet instead of taking over.
I'm thinking this was the perfect way to end red velvet week!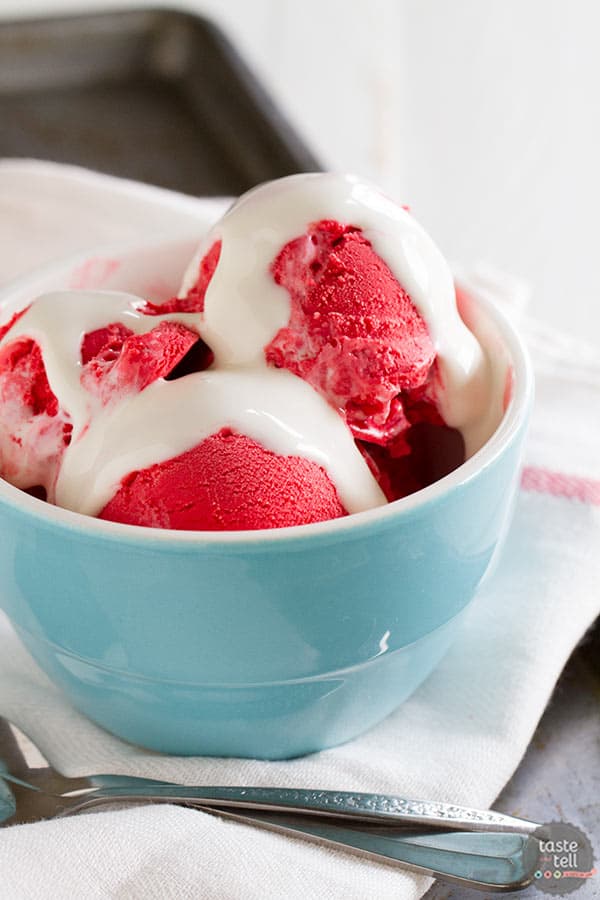 Like what you see here? Make sure you are following Taste and Tell for more great recipes and ideas!!

Facebook ** Pinterest ** Twitter ** Instagram ** Google+
or you can subscribe to my newsletter or Feedly or Bloglovin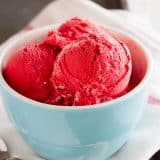 Red Velvet Ice Cream with Marshmallow Swirl
---
Prep Time: 20 mins
Total Time: 20 mins
Yield: 8 servings 1x
Description
Red velvet goes frozen in this rich and creamy Red Velvet Ice Cream with Marshmallow Swirl. This ice cream recipe is super easy and perfect for anyone who loves homemade ice cream!
---
Scale
Ingredients
1 8-oz package cream cheese, softened
3/4 cup milk
3/4 cup heavy cream
3/4 cups sugar
1/2 cup buttermilk
1 tablespoon plus 1 teaspoon red food coloring
2 teaspoons cocoa powder
1/8 teaspoon salt
1/2 cup marshmallow ice cream topping
---
Instructions
Combine the cream cheese, half and half, sugar, buttermilk, food coloring, cocoa powder and salt in a blender and process until smooth. Cover and chill for at least 2 hours, but preferably overnight.
Pour the mixture into an ice cream maker and freeze according to manufacturers directions.
Spoon some of the ice cream into a freezer safe container, followed by some of the marshmallow topping. Continue to do this until all of the ice cream and topping are added to the container.
Freeze until the ice cream has hardened, overnight if possible. Serve with additional marshmallow topping, if desired.
For more than 50 Red Velvet Recipes, check out my book – The Red Velvet Lover's Cookbook.
Don't miss a thing! Follow me on Pinterest to see what I'm pinning!
Visit Taste and Tell's profile on Pinterest.