Layers of red velvet cake and an easy no-churn cheesecake ice cream are layered in this impressive Red Velvet Ice Cream Cake recipe.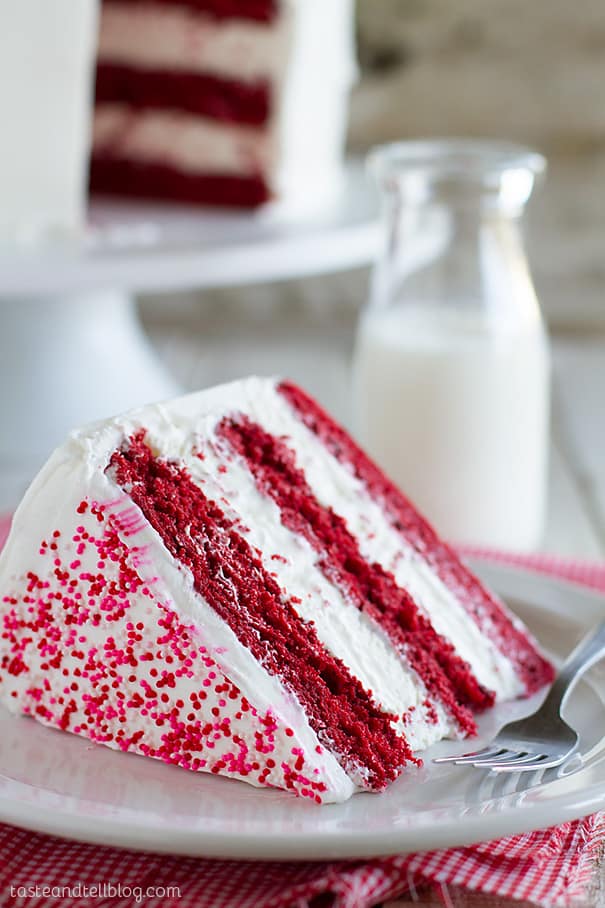 You had to see this one coming. 🙂
I have become a bit obsessed with ice cream cakes over the past year. It started with the Root Beer Float Ice Cream Cake, and then there was the Strawberry Milkshake Ice Cream Cake, and of course – I had to make an ice cream cake recipe with a red velvet twist.
And I wish I would have made this one sooner, because it very well just may be my favorite!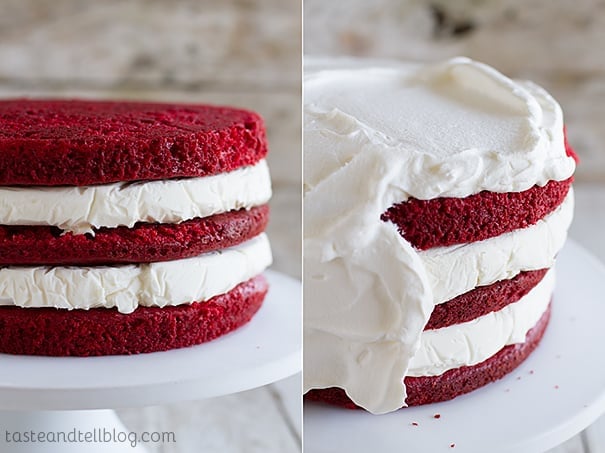 It's pretty simple, although it looks quite impressive. 3 layers of my favorite red velvet cake recipe, with 2 layers of homemade cheesecake ice cream sandwiched between the layers. My ice cream maker recently went to broken appliance heaven, so I just bought a new one, but at the last minute, I decided to keep this simple and make a no-churn ice cream for the layers. So even if you don't have an ice cream maker you can pull this one off!! (Although I was thinking that it would be delicious with layers of the Cheesecake and Red Velvet Cake Ice Cream from my book – page 97. I've got to try that next time!)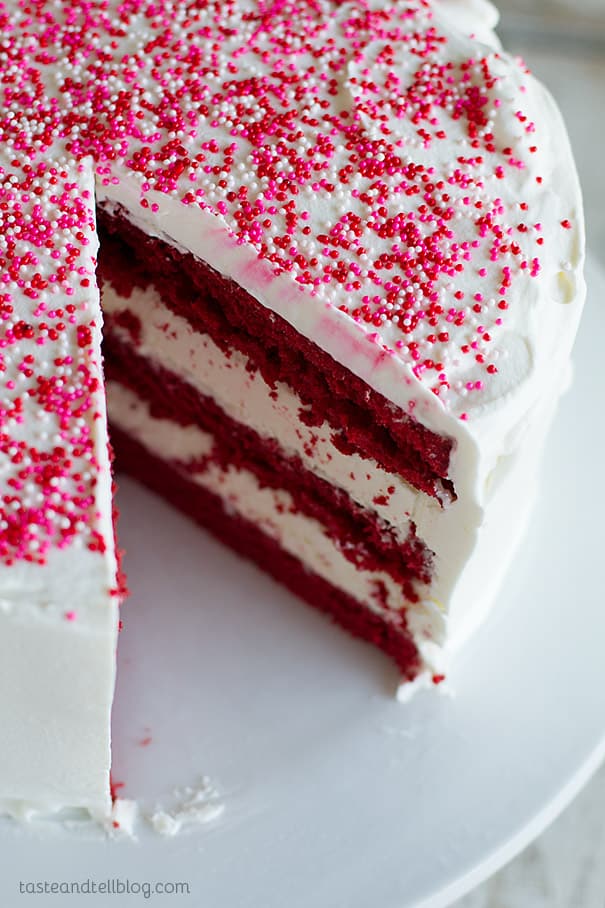 This is a great ice cream cake recipe to have on hand for birthdays, or even any of the holidays coming up. I know that my daughter is a die hard strawberry fan and loved the Strawberry Milkshake Ice Cream Cake, but I think I'd choose this one for my birthday!
Ice cream cakes will freeze pretty solid after they have been in the freezer for a few hours, so make sure you take it out about 30 minutes before you are ready to serve it to let it soften up just a little bit. Use a sharp knife that you run under hot water for easier slicing. And if you aren't going to eat it right away, make sure and cover it while it's in the freezer. I have a cake carrier that works well and keeps the cake covered.
And make sure to enter below to win a copy of The Red Velvet Lover's Cookbook for more than 50 other red velvet recipes!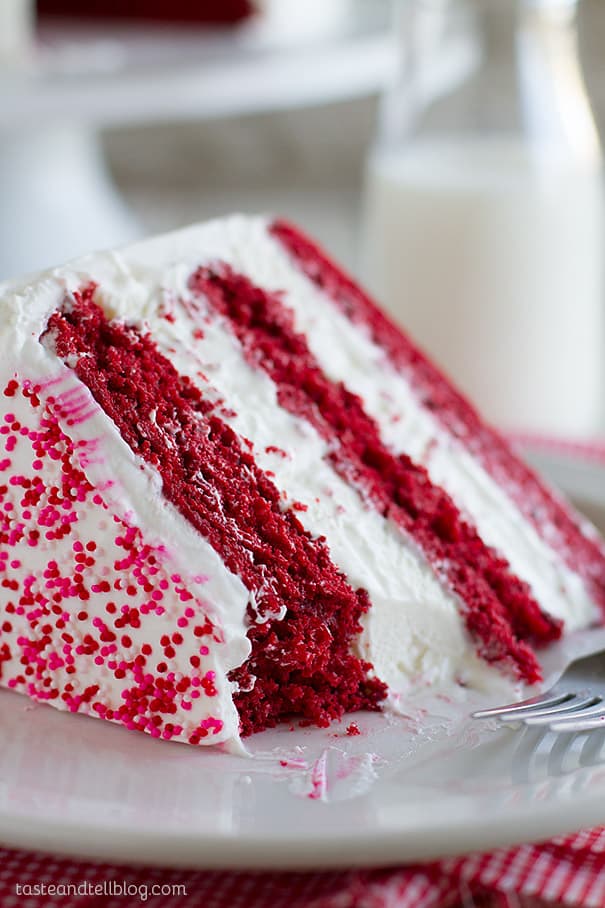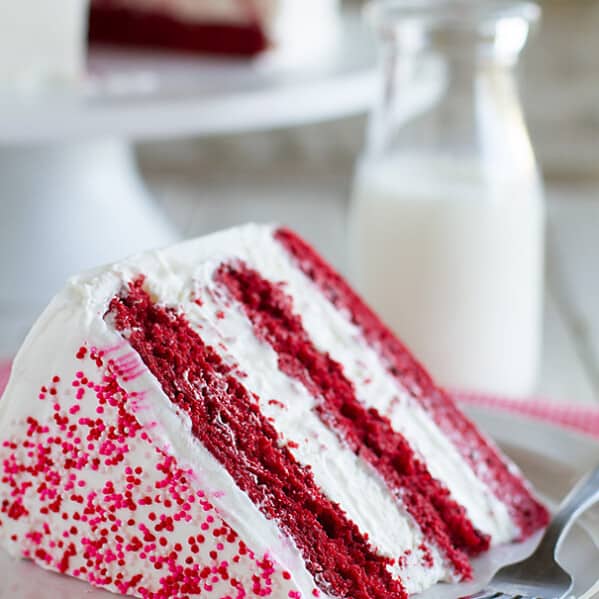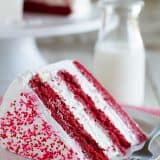 Red Velvet Ice Cream Cake Recipe
---
Author:
Prep Time: 30 minutes
Freeze Time: 8 hours
Cook Time: 20 minutes
Total Time: 9 hours
Yield: 12–16 servings 1x
Category: Dessert
Description
Layers of red velvet cake and an easy no-churn cheesecake ice cream are layered in this impressive ice cream cake recipe.
---
Scale
Ingredients
Cheesecake Ice Cream
4 oz cream cheese, softened
1 can (14 oz) sweetened condensed milk
2 cups heavy whipping cream
Cake
2 1/4 cups all-purpose flour
2 tablespoons cocoa powder
1 teaspoon salt
1/2 cup butter, at room temperature
1 1/2 cups sugar
2 large eggs
1 cup buttermilk
3 tablespoons red food coloring
1 teaspoon vanilla extract
1 teaspoon distilled white vinegar
1 teaspoon baking soda
Frosting
2 cups heavy whipping cream
1/2 cup powdered sugar
---
Instructions
Make the ice cream
In a large bowl, beat together the cream cheese and the sweetened condensed milk. In a separate bowl, beat the cream until it has stiff peaks. Gently fold the cream into the cream cheese mixture.
Line 2 9-inch baking pans with plastic wrap. Divide the ice cream mixture evenly between the two pans, smoothing out the tops. Cover the tops with plastic wrap and freeze until solid, at least 6 hours.
Make the cake layers
Line three 9-inch cake pans with parchment paper, then spray with nonstick cooking spray. Preheat the oven to 350ºF.
In a bowl, whisk together the flour, cocoa powder and salt.
In another bowl, or the bowl of a stand mixer, beat together the butter and sugar until light and fluffy, about 5 minutes. Add the eggs, one at a time, beating for 30 seconds after each addition. Add in 1/3 of the flour mixture, followed by half of the buttermilk, another 1/3 of the flour, the remaining buttermilk and then the remaining flour, beating just until combined after each addition. Mix in the red food coloring and the vanilla.
In a small bowl, combine the vinegar and the baking soda. (The mixture will bubble up.) Fold into the cake batter.
Divide the batter evenly between the 3 pans. Bake until the cakes spring back when lightly touched, about 20 minutes. Let the cakes cool for 10 minutes in the pans, then turn out onto a cooling rack to cool completely.
Make the frosting
In a large bowl, beat the cream until it has soft peaks. Slowly add the powdered sugar and continue to beat until it has stiff peaks.
To assemble the cake
If needed, level the cake layers. Place one cake layer on a cake stand or cake plate. Remove the plastic wrap from the ice cream layers and place one layer on top of the cake. Add another cake layer, followed by the second ice cream layer, then add the last cake layer to the top. Frost the cake with the whipped cream. Decorate, if desired. Freeze the cake until ready to serve.