Red velvet crepes are made from scratch and then filled with a simple cheesecake filling. A chocolate drizzle finishes it for a decadent finish.
Love red velvet for breakfast? Also try these Red Velvet Waffles or Red Velvet Pancakes.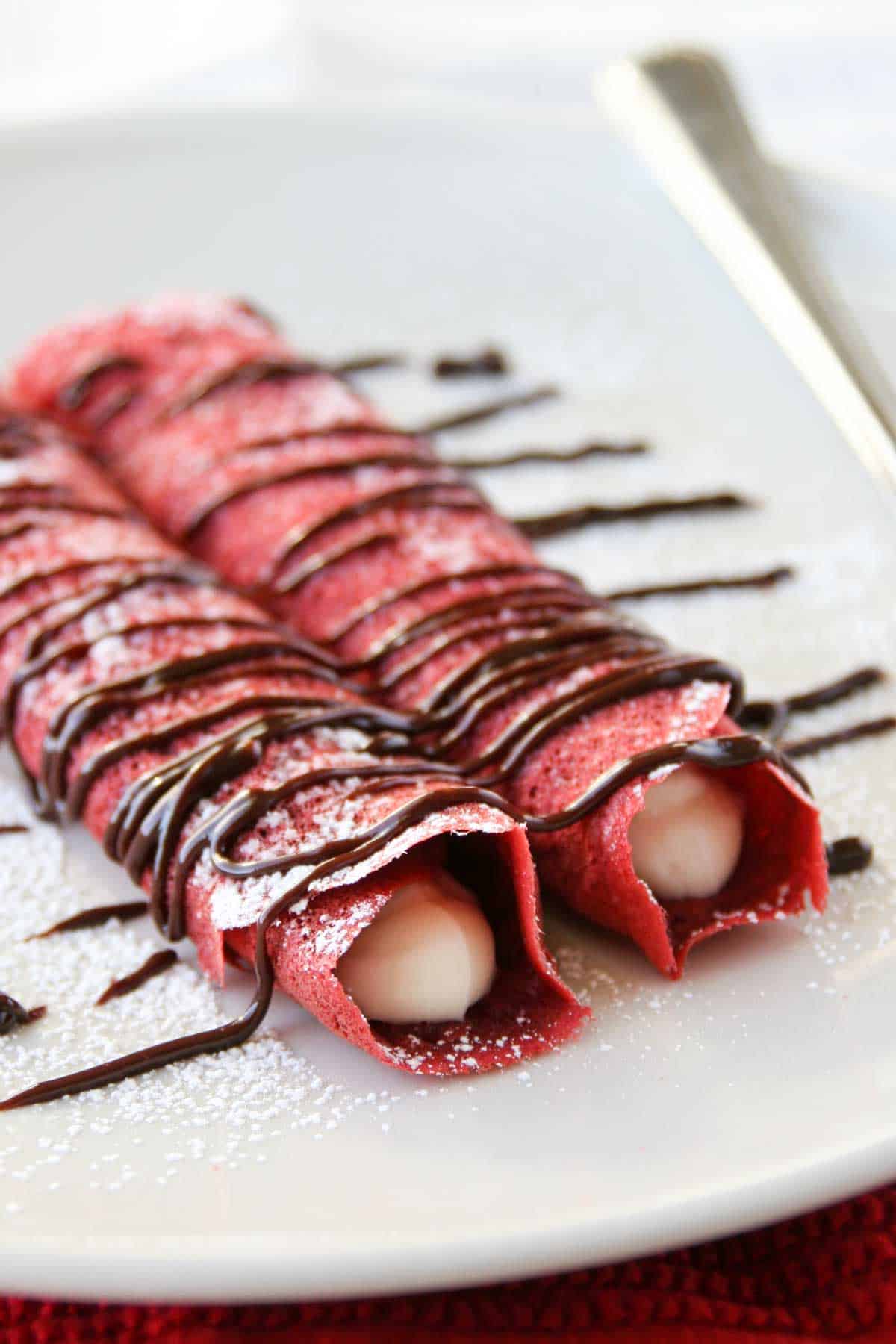 I think these red velvet crepes would be perfect for any special morning.
If you've never made crepes before, you'll find out that crepes aren't as hard as you think. The trick is to not use very much batter – you want crepes that are really thin.
These red velvet crepes aren't super sweet on their own, but once you fill them with the cream cheese filling and top them with a chocolate drizzle, they have the perfect amount of sweetness.
No I know what I want for breakfast on Valentine's Day!
Ingredients and Substitutions
Flour: I use all-purpose flour.
Baking Powder & Baking Soda: You'll need both the baking powder and the baking soda for the crepes.
Salt: The salt helps to balance the flavors.
Cocoa Powder: I use a regular, unsweetened cocoa powder. I have not tested this recipe with Dutch processed cocoa, but it should work as well.
Buttermilk: If you don't have buttermilk on hand, you can make your own buttermilk substitute.
Milk: I use 2% milk, but whole milk will work, as well.
Egg: You'll need just one large egg.
Vanilla: A good vanilla extract will give you good flavor.
Sugar: The crepes aren't very sweet, so you don't need a lot of sugar.
Food Coloring: The red food coloring is what gives the crepes their bright red color. I use a liquid food coloring – if you are using gel, you can cut the amount back.
Butter: The butter incorporates the best if it is melted and cooled slightly. I use unsalted butter.
Cream Cheese: I have only used regular cream cheese, but reduced fat should work, as well.
Powdered Sugar: You can add more or less powdered sugar to taste – you want a thick consistency, though. Add more or less milk to get your desired consistency.
Chocolate Chips: I use semi sweet chocolate chips, but you can also use milk chocolate or dark chocolate, depending on what you like the best.
Cream: The cream helps the chocolate melt into the perfect drizzling consistency.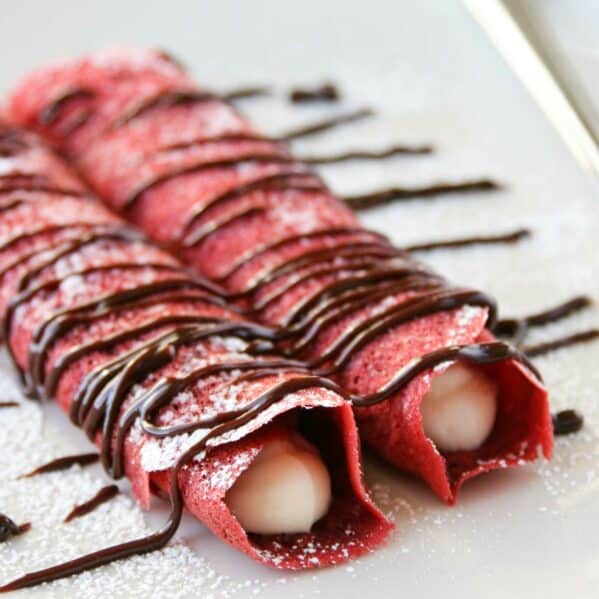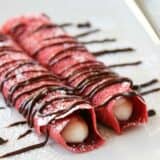 Red Velvet Crepes
---
Author:
Prep Time: 15 minutes
Cook Time: 30 minutes
Total Time: 45 minutes
Yield: 6 servings 1x
Category: Breakfast
Method: Stove Top
Cuisine: American
Description
Red velvet crepes are made from scratch and then filled with a simple cheesecake filling. A chocolate drizzle finishes it for a decadent finish.
---
Scale
Ingredients
Crepes:
1 1/2 cups flour
1 teaspoon baking powder
1/2 teaspoon baking soda
1/4 teaspoon salt
1 1/2 tablespoons sifted cocoa powder
2 cups buttermilk
1 1/4 cups milk
1 large egg
1 teaspoon vanilla extract
3 tablespoons sugar
2 tablespoons red food coloring
2 tablespoons butter, melted
Cream Cheese Filling:
8 ounces cream cheese, at room temperature
1/4 cup powdered sugar
1 tablespoon milk
Chocolate Drizzle:
2 ounces chocolate chips
2 1/2 tablespoons cream
---
Instructions
Make the crepes:
In a large bowl, combine the flour, baking powder, baking soda, salt and cocoa powder. Mix well; set aside.
In another large bowl, combine the buttermilk, milk, egg, vanilla, sugar, red food coloring and melted butter. Whisk until smooth.
Combine the dry ingredients with the wet ingredients. Stir until smooth.
Heat an 8-inch nonstick skillet over medium heat. When the skillet is hot, ladle a small amount of the batter into the pan. I found for my pan, the perfect amount was just under 1/4 cup of batter. Lifting the pan off of the heat, swirl the batter around the bottom of the pan, coating the whole bottom of the pan. You want it to be as thin as possible, while coating the whole pan. Return to the heat and cook until the batter has lost it's shine, then flip and cook on the opposite side.
Remove from the pan and keep warm in an oven set to 200°F. Repeat with the remaining batter.
Make the cream cheese filling:
In a bowl, beat the cream cheese until smooth. Beat in the powdered sugar and the milk.
Make the chocolate drizzle:
Place the chocolate chips in a bowl. In a separate bowl, heat the cream in the microwave until boiling. Pour over the chocolate chips and let sit for a couple of mintues. Stir together until the chocolate is completely melted and smooth.
Assemble the crepes:
Fill each crepe with a bit of the cream cheese mixture. Roll up, sift powdered sugar on top, and then drizzle on chocolate. Enjoy!
Recipe Notes:
crepe recipe adapted from duhlicious
Keywords: red velvet crepes