Black Bottom Cupcakes go red velvet in this fun twist on a classic – Red Velvet Cheesecake Cupcakes.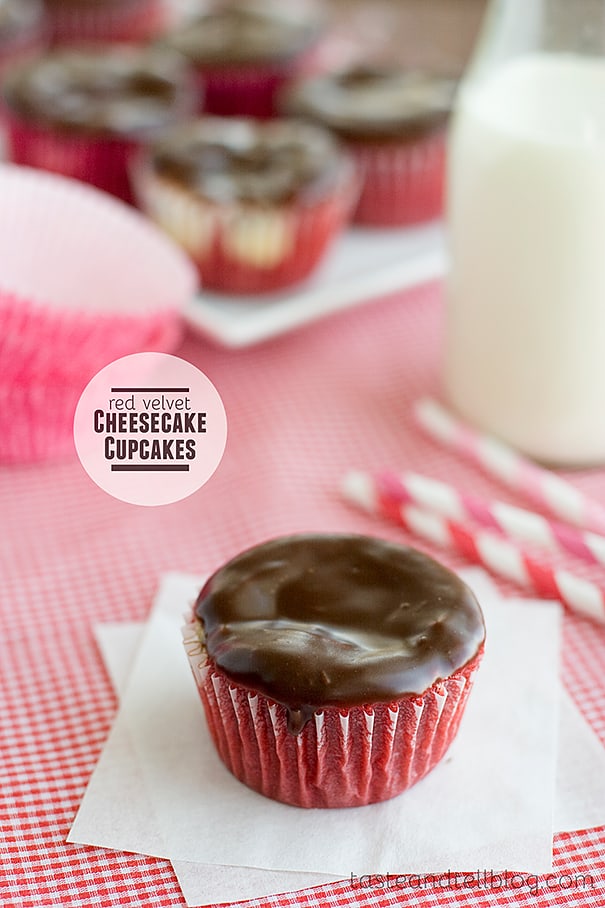 Growing up, Sundays were always the same. We'd start the day with church. Then it would be lunch – always soup and sandwiches. My parents cherished their Sunday naps, and then we had Sunday dinner.
But Sunday nights were special. Every Sunday night, we'd go over to my grandma and grandpa's house. My mom, dad and grandma would play Scrabble. My grandpa would be in his recliner, watching westerns. There were lots of options for us kids. We would watch the Sunday night movie on tv. We would play pool. There were endless games played in the basement – including hide and seek in the dark. In our older years, we would most likely be found doing homework.
But one of the highlights of Sunday night was always dessert. My mom is a great cook. And a great baker. She didn't bake a lot during the week, though, but there was always a treat for grandma and grandpa's house on Sunday nights. It was anything from cake roll to white cake with chocolate frosting to my favorite – Chocolate Cheesecake Cupcakes.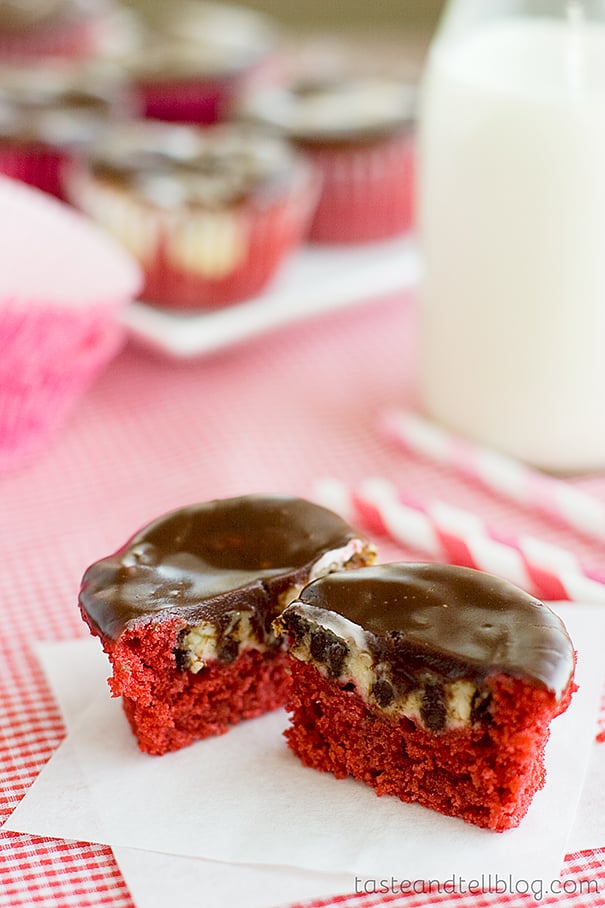 These cupcakes – which I later learned (from food blogging) are widely called Black Bottom Cupcakes – were one dessert that I'd always look forward to. Chocolate cupcakes with a cheesecake and chocolate chip center? Count me in!! And I always loved them when they were cold – straight from the fridge. They were very simple, but I think I'm a simple girl, and that's why they were a favorite.
So this year, I got this idea to try turning those favorite cupcakes into a red velvet treat. The chocolate cupcake was replaced with red velvet. And since I've done it before, I decided to add on a chocolate ganache.
This was an experiment that I wish I would have tried many years ago. As much as I love my mom's original, these might rank up there pretty close!! Of course I love the red velvet, and the ganache makes them look a little more special, and gives that extra punch of chocolate.
This is definitely a treat worthy of Valentine's Day – and of a Sunday night at grandma and grandpa's house!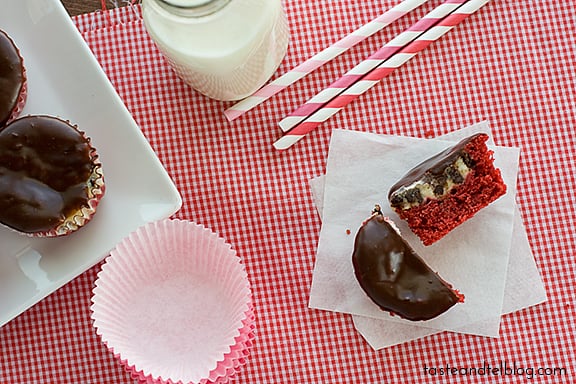 Like what you see here? Make sure you are following Taste and Tell for more great recipes and ideas!!

Facebook ** Pinterest ** Twitter ** Instagram ** Google+
or you can subscribe to my newsletter or Feedly or Bloglovin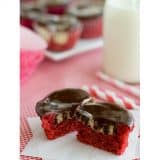 Red Velvet Cheesecake Cupcakes
---
Prep Time: 20 minutes
Cook Time: 20 minutes
Total Time: 1 hour 30 minutes
Yield: about 30 cupcakes 1x
Description
Black Bottom Cupcakes go red velvet in this fun twist on a classic.
---
Scale
Ingredients
Cupcakes
2 cups sugar
1/2 pound (2 sticks) butter, at room temperature
2 eggs
2 tablespoons cocoa powder
1 ounce red food coloring
2 1/2 cups cake flour
1 teaspoon salt
1 cup buttermilk
1 teaspoon vanilla extract
1/2 teaspoon baking soda
1 tablespoon vinegar
Filling
1 (8 oz) package cream cheese, softened
1/2 cup powdered sugar
1 egg
pinch of salt
3/4 cup mini chocolate chips
Chocolate Ganache
4 oz semi-sweet chocolate chips
1/3 cup unsalted butter, cut into pieces
1/8 cup light corn syrup
1/2 teaspoon vanilla
---
Instructions
Preheat oven to 350 degrees F.
In a mixing bowl, cream the sugar and butter, beat until light and fluffy. Add the eggs one at a time and mix well after each addition.
Mix cocoa and food coloring together and then add to sugar mixture; mix well.
Sift together flour and salt. Add flour mixture to the creamed mixture alternately with buttermilk. Blend in vanilla.
In a small bowl, combine baking soda and vinegar and add to mixture.
Pour batter into prepared cupcake pans. Set aside.
In a bowl, combine the cream cheese and powdered sugar. Mix until combined and smooth. Add in the egg and salt and mix. Stir in the chocolate chips.
Drop a heaping tablespoonful of the filling on top of each filled cupcake cup.
Bake the cupcakes for 15-20 minutes, or until baked through. Remove and allow to cool completely.
To make the ganache, combine the chocolate chips, butter and corn syrup in a small bowl. Microwave on high for 1 minute and then stir until the chocolate has completely melted and the mixture is smooth. Stir in the vanilla.
Dip the top of each cupcake into the chocolate ganache. Return to a cooling rack to allow the ganache to set up.
———————–
cupcake recipe adapted from Paula Deen
Filling and ganache adapted from Sticky, Chewy, Messy, Gooey