Red velvet brownies are layered with a cream cheese filling in these layered Oreo Cream Cheese Stuffed Red Velvet Brownies that are perfect for any red velvet lover.
Life with a toddler is interesting. To say the least.
Camden turned 2 a few months ago, but he has been go-go-go pretty much since the day he was born. And he always keeps me on my toes. He's independent and strong willed and wants to grow up way too fast.
Sometimes, getting my kids to help with the chores is like pulling teeth, but there are a few things that they always want to help with. One of those things is the laundry. Camden can't do much on his own (hello – only 2 years old!) but he does like to help take clothes out of the washer and put them in the dryer.
But then, one day I made a fatal mistake. I showed him how to turn the dryer on by pushing a button. And now my laundry is never safe.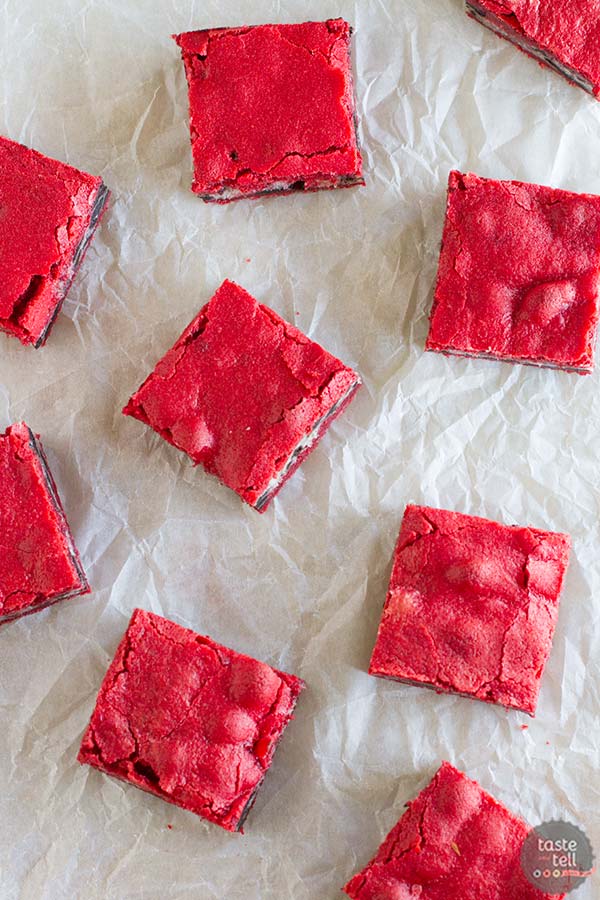 He has some blankets that are his favorites. He pretty much has to have one (or more) with him at all times. They get gross and dirty so I'm always trying to steal them to wash them. But now, he thinks it is fun to go and put his blankets in the dryer and turn it on. The first time I actually discovered him doing this was after he had taken his blankets out and brought them to me, saying "clean, momma, clean!" He was so excited that he had actually "cleaned" the blankets himself, and I laughed if off, thinking he was being cute.
Well, it's turned into so much more than that, now. Not too long ago, I had turned the dryer back on for a few more minutes to get wrinkles out of the laundry I had left in the dryer too long (don't even try to tell me that you don't do that too) when I heard clunking sounds coming from the dryer. I opened it up to find about 10 toy cars in the dryer.
And then there was the time when I went to get the clothes out of the dryer and discovered the pile of dirty laundry that was on the floor had been added to the dryer. So I got to re-wash all of those since I now didn't know what was clean and what was dirty.
The laundry room is open, so it's not like I can lock the door. So I have to just pray that this phase will pass quickly.
And eat lots of brownies. Brownies always help!!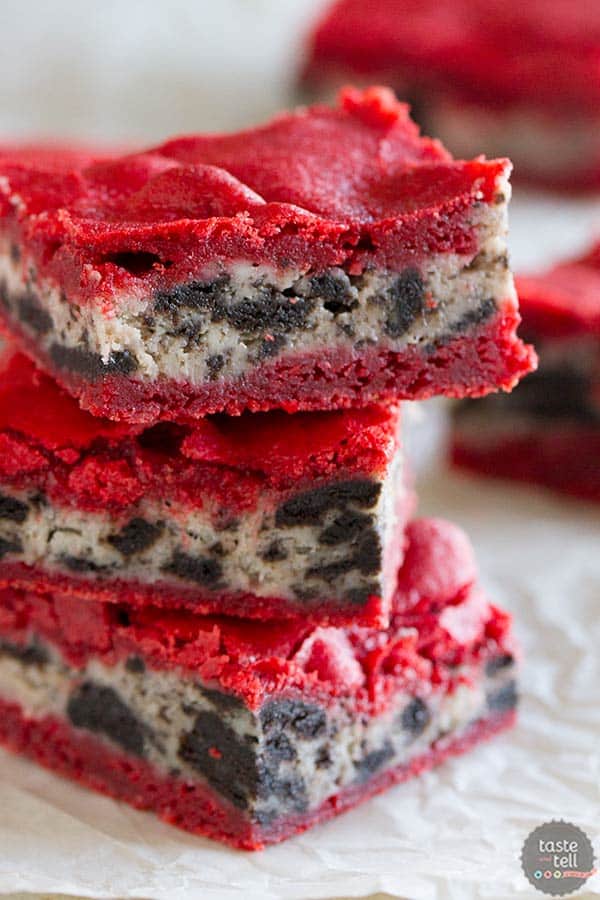 These Oreo Cream Cheese Stuffed Red Velvet Brownies bring in both of those elements that I told you yesterday were going to make an appearance more than once this week – cream cheese and Oreos. I started with my favorite red velvet brownie recipe. I use the recipe in my book for Brownie Cups, but it is a great recipe that translates over to regular brownies as well.
But these aren't just brownies. Half of the batter goes into the pan, then you get a thick layer of Oreo infused cream cheese. The center of these red velvet brownies is pretty much heaven. Then the rest of the brownie batter goes on the top and then they are baked to gooey perfection. These are definitely more on the gooey side versus the cakey side.
A few hints to making these red velvet brownies – an offset spatula was my best friend. The first layer of of the dough is a little bit difficult to layer into the bottom of the pan. It helps first of all if you drop dollops of the dough over the surface of the pan instead of just dumping the batter into the center. Take your offset spatula and spray it with nonstick cooking spray. Use that to spread the batter evenly over the bottom of the pan.
Then you'll want to repeat that procedure with both the cream cheese layer and the top brownie layer.
I know they sound a little fussy, but they really aren't. And they are totally worth it, anyway!!
These Oreo Cream Cheese Stuffed Brownies are rich and sweet and filled with all kinds of goodness – they are a red velvet dream come true!!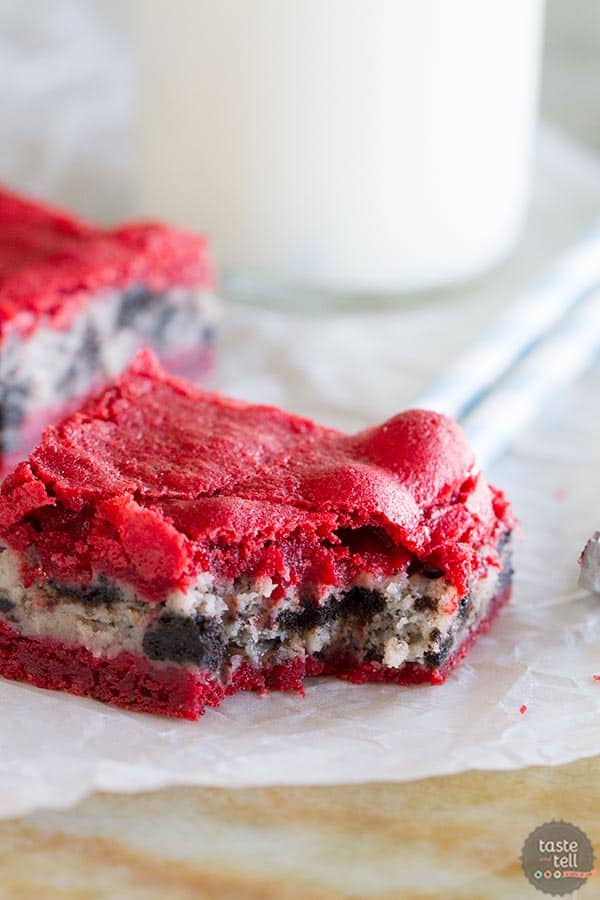 Like what you see here? Make sure you are following Taste and Tell for more great recipes and ideas!!

Facebook ** Pinterest ** Twitter ** Instagram ** Google+
or you can subscribe to my newsletter or Feedly or Bloglovin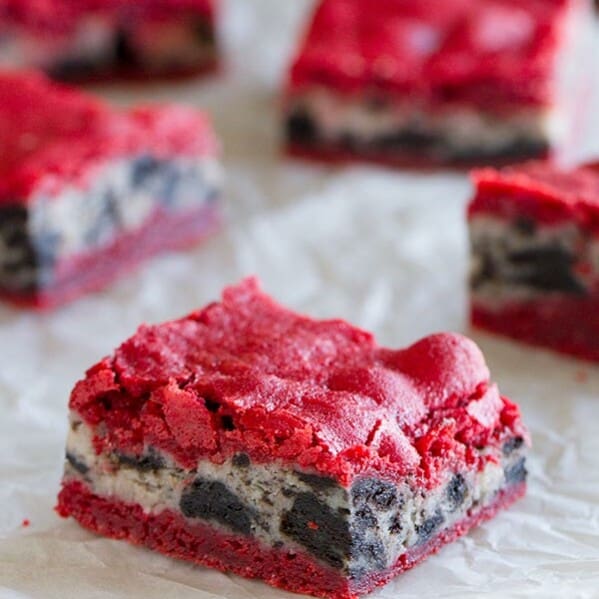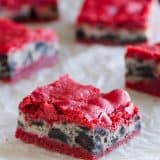 Oreo Cream Cheese Stuffed Red Velvet Brownies
---
Author:
Prep Time: 20 mins
Cook Time: 30 mins
Total Time: 50 mins
Yield: 16 servings 1x
Description
Red velvet brownies are layered with a cream cheese filling in these layered Oreo Cream Cheese Stuffed Red Velvet Brownies that are perfect for any red velvet lover.
---
Scale
Ingredients
Brownies
1 cup all-purpose flour
1 1/2 teaspoons baking powder
1/2 teaspoon salt
1 teaspoon cocoa powder
1/3 cup butter, melted
1 cup packed brown sugar
1 egg
2 teaspoons red food coloring
1 teaspoons vanilla extract
Filling
8 oz cream cheese, softened
1/2 cup sugar
1 teaspoon vanilla extract
12 Oreos, roughly crushed (about 5 oz)
---
Instructions
Preheat the oven to 350ºF. Line an 8×8-inch baking dish with foil or parchment paper, then spray with nonstick cooking spray.
Whisk together the flour, baking powder, salt and cocoa powder.
In another bowl, mix together the butter and brown sugar. Add in the egg, food coloring and vanilla. Stir in the dry ingredients and set aside.
In another bowl, beat together the cream cheese and sugar until smooth. Beat in the vanilla. Stir in the Oreos until evenly combined.
Pour half of the red velvet brownie batter into the prepared pan. Smooth with a knife, spoon or offset spatula. Carefully spread the cream cheese mixture over the top of the red velvet batter. Drop the remaining red velvet batter over the top and carefully spread evenly over the top.
Bake in the preheated oven until a tester comes out with only a few red velvet crumbs on it, about 30 minutes. Cool completely before removing from the pan and cutting into squares.
Recipe Notes:
*it's easiest if you drop dollops of the batter over the whole bottom of the pan versus dumping it all in the center. Then use an offset spatula that has been sprayed with nonstick cooking spray to spread the batter evenly across the whole dish. Repeat with the cream cheese layer and the top brownie layer.
*I wanted bigger chunks of Oreos, so I just put my cookies in a ziptop bag (cream and all!) and used a meat mallet to roughly break them up.
For more than 50 Red Velvet Recipes, check out my book – The Red Velvet Lover's Cookbook.