The perfect cookie for 2 – this XL Red Velvet Cookie Recipe is what you need when that craving hits for a cookie!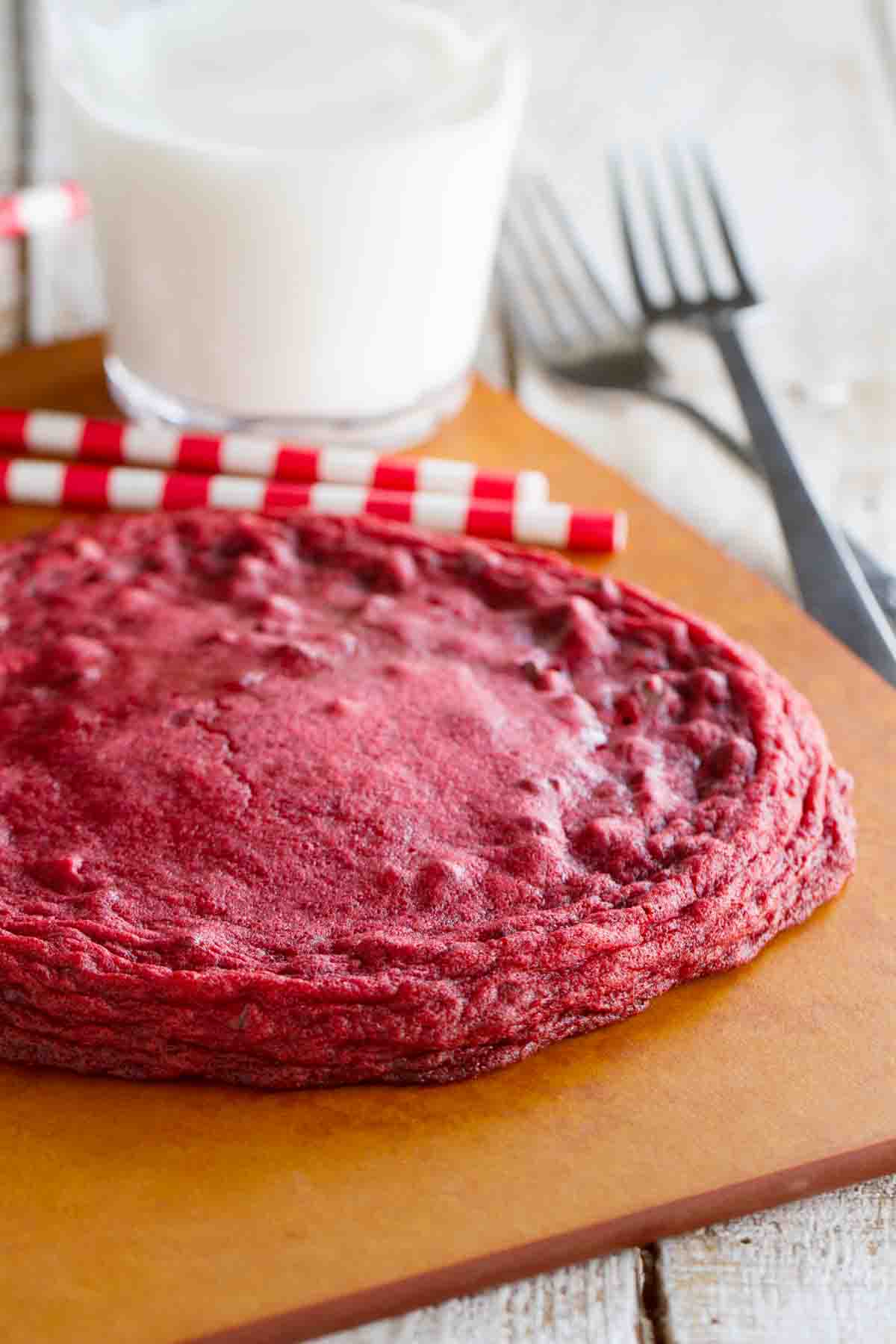 You guys – I have the perfect Valentine's Day dessert recipe for you. Perfect because it's just what you need, regardless if you are single or attached.
Perfect if you are attached, because it's the perfect size for 2 people. When I first envisioned this red velvet cookie recipe, I was thinking it would be a great single serving cookie. But it's pretty big!! But this is the perfect size to whip up at home at night for when you are going to be spending some time at home watching a movie together.
And yes – perfect if you are single, as well. Because I spent many a day without a significant other on Valentine's Day, I know it can get wearing to hear all of the love stories and gushing. So yes – sometimes, you just need an xl cookie all to yourself, and this XL Red Velvet Cookie Recipe will definitely hit the spot.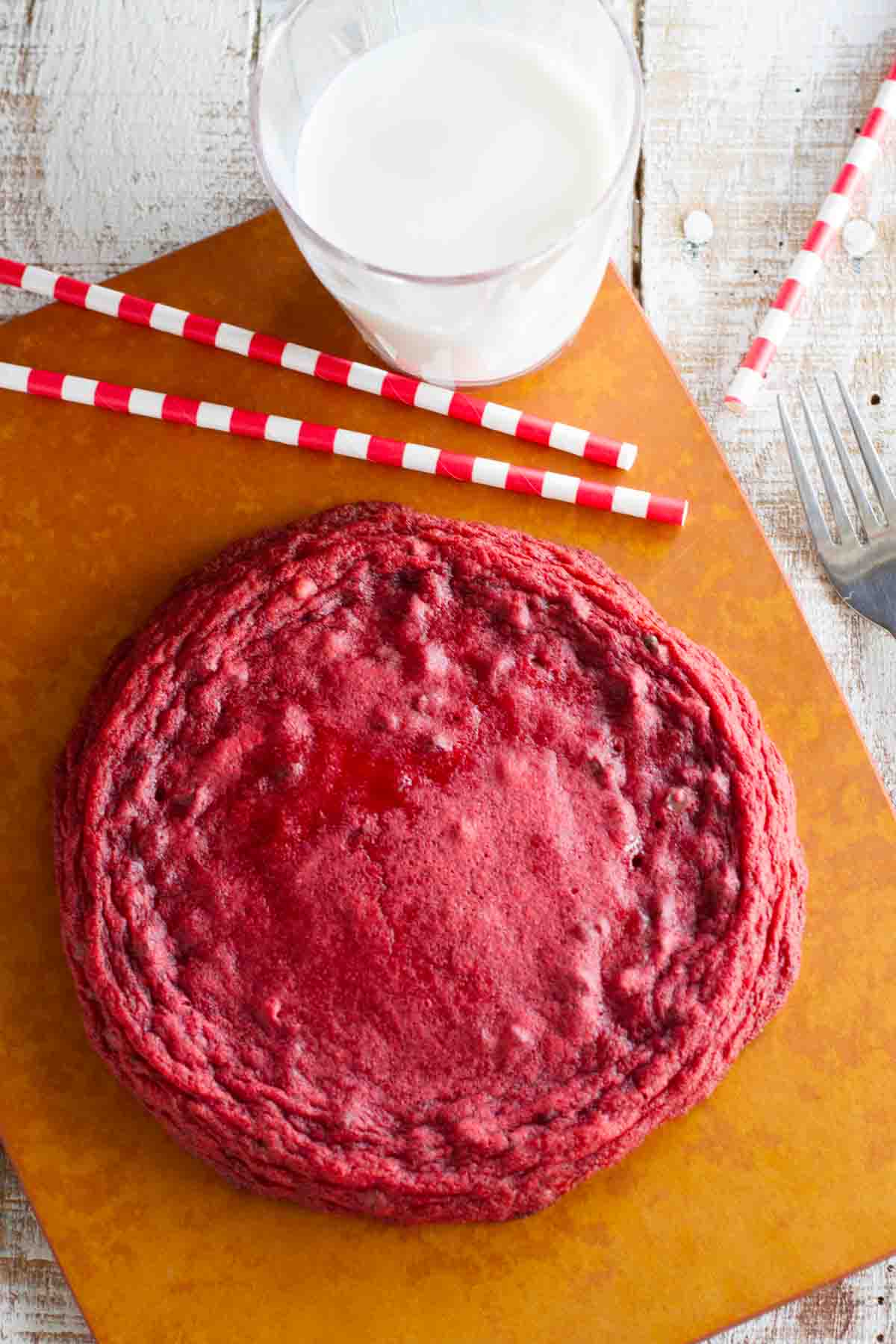 This recipe wasn't even on my list of red velvet recipes this year. But after a day of trying to perfect another red velvet recipe, and feeling very frustrated that I hadn't quite nailed it, I sat down and suddenly just wanted a cookie.
#emotionaleater
So the thought came to me to make one, giant cookie – instead of having to bake up a whole batch of cookies. I may be an emotional eater, but I also lack self control, and I don't always need a whole batch of cookies. 🙂
The original plan was to make this with white chocolate chips, but lo and behold, I couldn't find a single one in my stash. So I turned to mini chocolate chips, which I actually ended up loving.
I am a fan of ooey, gooey cookies, so my cookie was definitely on the gooier side. I baked mine right at the 12 minute mark, so if you want your cookie a little bit more well done, bake it up to 15 minutes.
I know I said this is the perfect Valentine's Day recipe, but I think I'll be using this XL Red Velvet Cookie Recipe year round!!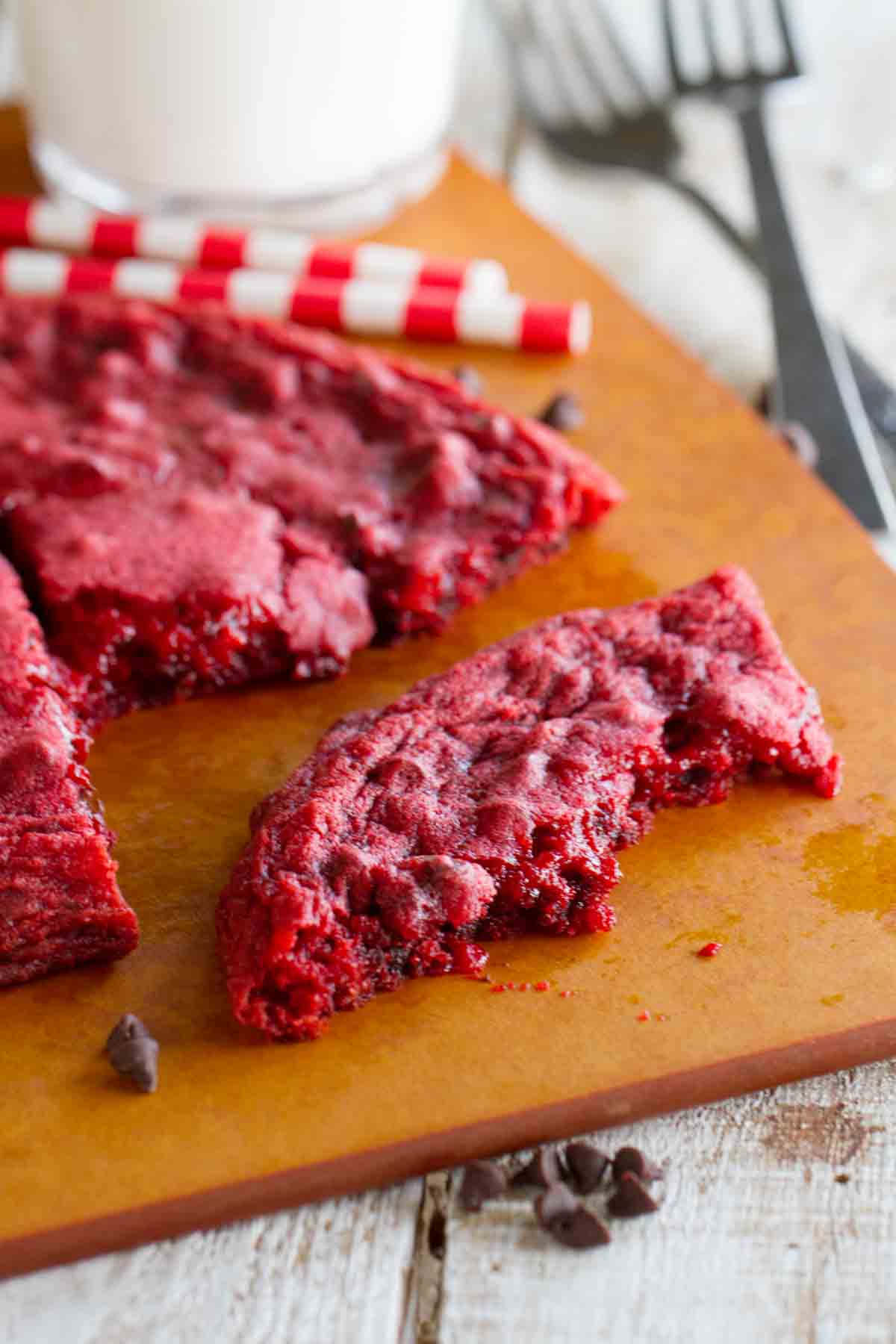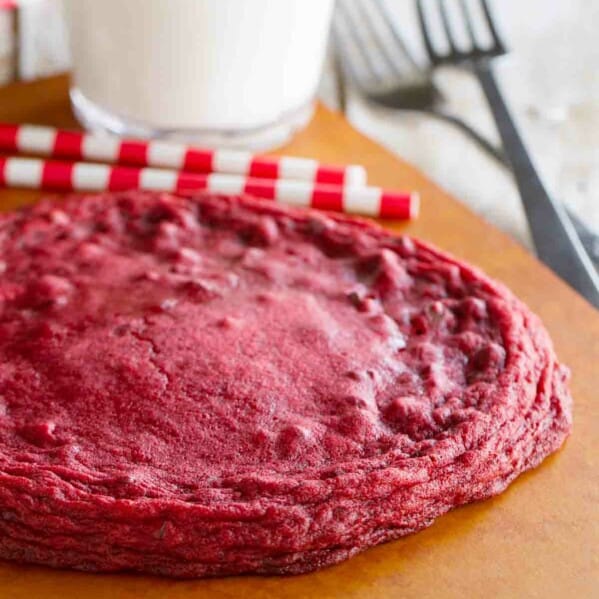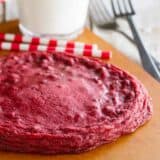 XL Red Velvet Cookie Recipe
---
Author:
Prep Time: 5 minutes
Cook Time: 15 minutes
Total Time: 20 minutes
Yield: 1 XL cookie 1x
Category: Dessert
Method: Baked
Cuisine: American
Description
The perfect cookie for 2 – this XL Red Velvet Cookie Recipe is what you need when that craving hits for a cookie!
---
Scale
Ingredients
2 tablespoons butter, at room temperature
2 tablespoons granulated sugar
2 tablespoons brown sugar
2 tablespoons beaten egg*
1 teaspoon red food coloring
1/2 teaspoon vanilla extract
1/2 cup plus 2 tablespoons all-purpose flour
2 tablespoons vanilla pudding mix
1/2 teaspoon unsweetened cocoa powder
1/2 teaspoon baking soda
1/4 teaspoon salt
1/4 cup mini chocolate chips
---
Instructions
Preheat the oven to 350ºF. Line a baking sheet with parchment paper or a silpat liner.
In a bowl, mix together the butter, granulated sugar and brown sugar until completely combined. Mix in the egg. Add the food coloring and vanilla and mix to combine.
In another bowl, whisk together the flour, pudding mix, cocoa powder, baking soda and salt. Add the dry ingredients to the wet ingredients and stir to combine. Stir in the chocolate chips. The mixture will be pretty sticky.
Pour the dough onto the center of the baking sheet. Form into a ball the best you can.
Bake the cookie until just set in the center, 12-15 minutes. Allow the cookie to cool at least 10 minutes before removing from the baking sheet.
Recipe Notes:
*to measure the egg, crack a egg into a small bowl or cup. Use a fork to lightly whisk the egg, then measure out the 2 tablespoons.
**I like my cookies to be slightly under baked in the center so I took mine out at 12 minutes. If you want to make sure it is cooked the entire way through, keep the cookie in the oven the full 15 minutes.
Keywords: red velvet cookie