Call it breakfast, or call it dessert – these red velvet waffles with strawberries, raspberries and a cream cheese drizzle will make your taste buds happy!
Happy Valentine's Day!!
I couldn't let the holiday pass without one last red velvet recipe. I'm a little obsessed! 🙂  Actually, I had this crazy idea pop into my head, and I decided to go with it.  I'm thinking I'm actually pretty crazy at this point, but we'll see how this goes and how I am doing at the end of this week! 🙂
You see, last year around this time on Rachael Ray's talk show, she had waffle week.  I remember watching, and remember wanting to make every single recipe.  But then time went by, and I didn't try a single one of those waffle recipes.  So imagine my surprise – and excitement! – when I saw that waffle week is back.  And when I saw that the first recipe she was doing was red velvet waffles, I had this idea come to me.  Of course I wanted to make the red velvet waffles, (obsessed), but what if I basically cooked along with Rachael during waffle week?  What if I made all of those waffle recipes the same day that she makes them, and then post them the next day?  Yeah, crazy, right?
Well, I'm doing it.  I've bought all of the ingredients, although I don't have the recipes yet, since they aren't posted on the website until after the show airs.  So I'm really flying by the seat of my pants here.  It's exciting, though – and I'm super excited to make every single one of these waffle recipes this week!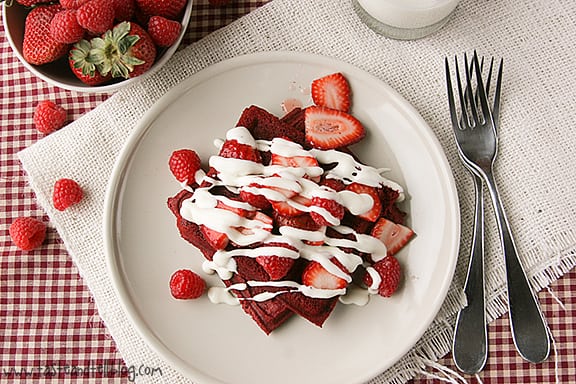 Up first, Red Velvet.  Perfect, considering today is Valentine's Day.  I know it's a little to late for you to whip these up for your valentine for breakfast, but believe me – these would be delicious any day of the year.  And not just for breakfast.  My husband and I ate these up so fast – there were no words while we were eating.  And we both basically licked our plates clean.  And then both declared that we'd eat that cream cheese drizzle on regular waffles.  Or pancakes.  Or straight from the bowl.  Seriously – SO good.
My hints for this one – make sure you don't over-fill your waffle maker.  I made quite a mess, and spent a good part of the afternoon scrubbing off red batter from every nook of my waffle maker.  On the show, Rachael mixed her berries with liquor, but I simply sugared mine.  And I couldn't find a pomegrante, so we just went with strawberries and raspberries.
I'm so excited to see how the week turns out – if this first recipe is any indication, we are all in for a big treat this week!!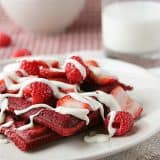 Red Velvet Waffles with Cream Cheese Icing Drizzle
---
Prep Time: 15 minutes
Cook Time: 15 minutes
Total Time: 30 minutes
Yield: 4 servings 1x
Description
Easy red velvet waffles are topped with red berries and a cream cheese drizzle for this decadent waffles, perfect for a special occasion or holiday.
---
Scale
Ingredients
1 box red velvet cake mix, plus the ingredients listed on the box
4 ounces cream cheese, softened
3/4 cup powdered sugar
1/2 teaspoon vanilla extract
pinch of salt
3/4 cup warm milk
2 1/2 cups mixed berries
1 tablespoon sugar
---
Instructions
Preheat a waffle iron.
Prepare the cake mix according to the box directions. Spray the waffle iron with nonstick cooking spray, then pour some of the batter on the hot waffle iron, being careful to not overfill the iron. Cook according to the manufacturer's instructions.
To make the cream cheese drizzle, mix together the cream cheese, powdered sugar, vanilla and salt. Whisk in the milk.
Mix the berries together with the sugar. Top each waffle with some of the berries and drizzle the cream cheese mixture over the top.