Red velvet and cream cheese come together to form tender Red Velvet Muffins. This is the perfect breakfast for red velvet lovers!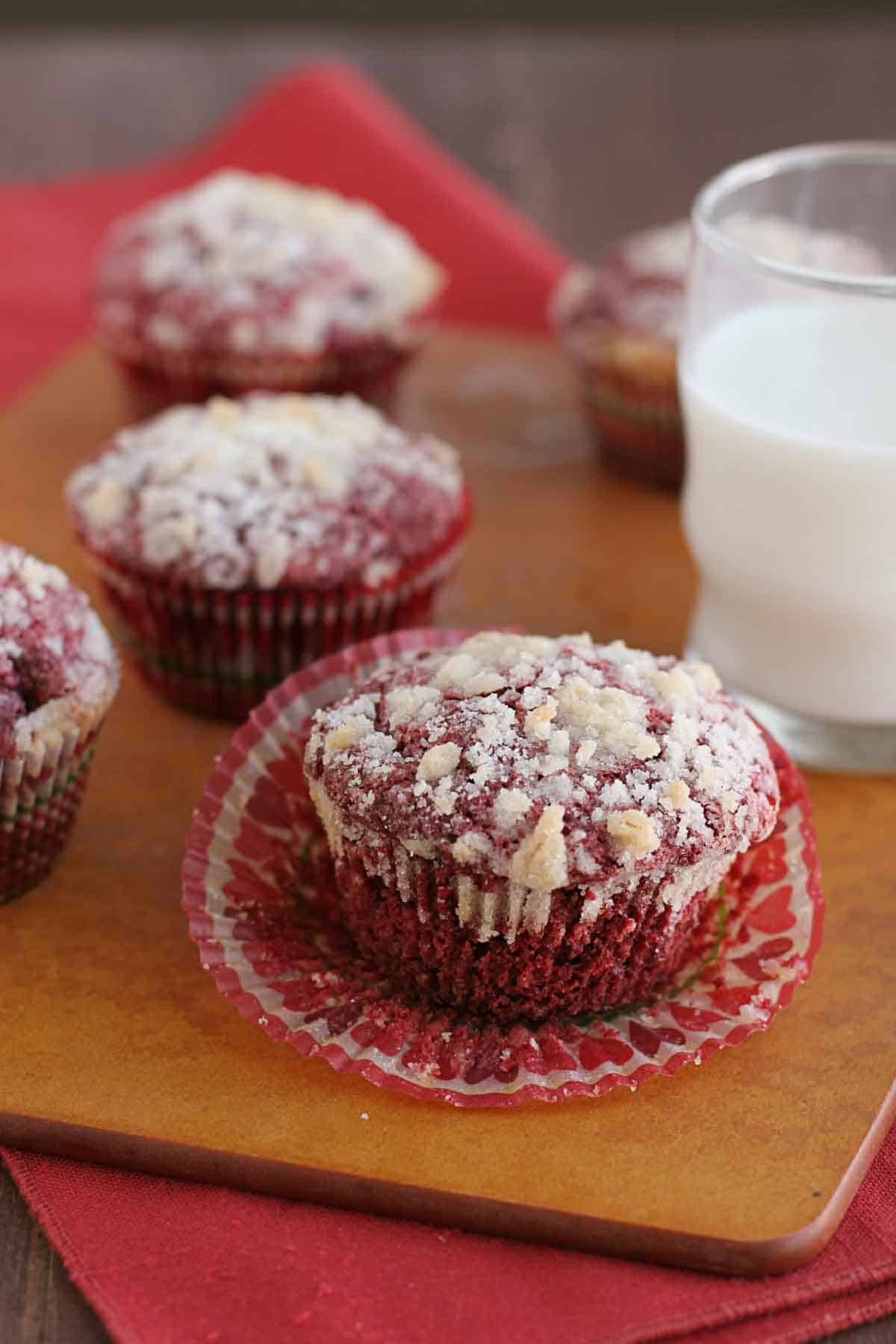 Do you know how most people have that "moment" after Thanksgiving and Christmas, where they have eaten so many sweets and treats that they are just ready to start that New Year's diet? Well, that moment doesn't happen for me at the end of the year. Or at the beginning of the year. That moment happens for me after red velvet week.
Yep – it's that time again. Time for Taste and Tell's 3rd annual Red Velvet Week.
I have been busy baking and eating and staining my fingers red. And let me tell you – going on year 3, and with the popularity of red velvet, it sure is hard to come up with new ideas. I have been actually thinking about it since the end of Red Velvet Week last year. Some of this year's ideas have been tested and re-tested. And I had a couple that still need more tweaking. (So maybe they'll be ready for next year??) But I sure do hope you will all love the 5 recipes that I am bringing to you this year. It sure has been fun, and thank goodness I still love red velvet just as much as when I began!
I thought I'd start the week off with breakfast, because if I've learned anything, it's that red velvet is not just for dessert. I've done Red Velvet Pancakes. I've done Red Velvet Waffles. I've done Red Velvet Crepes.
And this year – I'm doing muffins.
I can't believe I didn't think of doing muffins before. Especially considering how much I love muffins. But I have the good ol' Target to thank for this one. I was shopping a little while back, and while walking through the bakery section, I noticed red velvet muffins. And then I had one of those "duh" moments.
I didn't try their muffins, and I decided to change it up a little bit. Theirs had white chocolate chips in them, but I knew that I had to somehow incorporate cream cheese. I didn't want to do an icing – that's too cupcake-y. And that's when the idea of doing cream cheese muffins popped into my head.
These muffins worked out just how I wanted them to. They definitely have a muffin texture (vs. a cupcake texture). They aren't too sweet, but are perfect for a breakfast splurge. We enjoyed snacking on them for breakfast for several days. (Which is probably one reason I'm ready to make best friends with Jillian Michaels again!!)
I can't wait to share all of the red velvet treats with you this week – so make sure to come back for more!!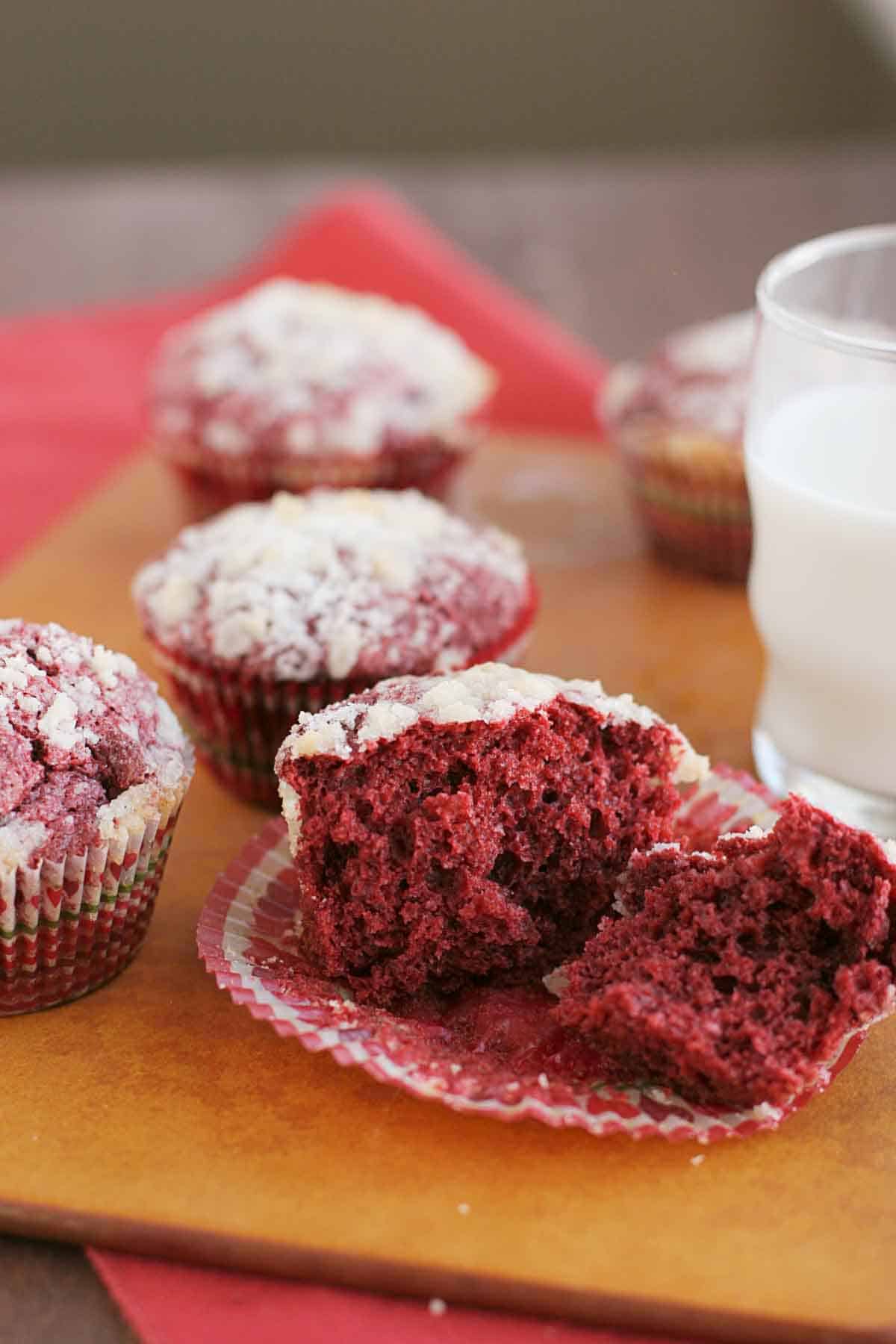 More Red Velvet Recipes
Red Velvet Tres Leches Cake
Red Velvet Cupcakes
Red Velvet Ice Cream with Marshmallow Swirl
Oreo Cream Cheese Stuffed Red Velvet Brownies
Red Velvet Quick Bread with Cream Cheese Filling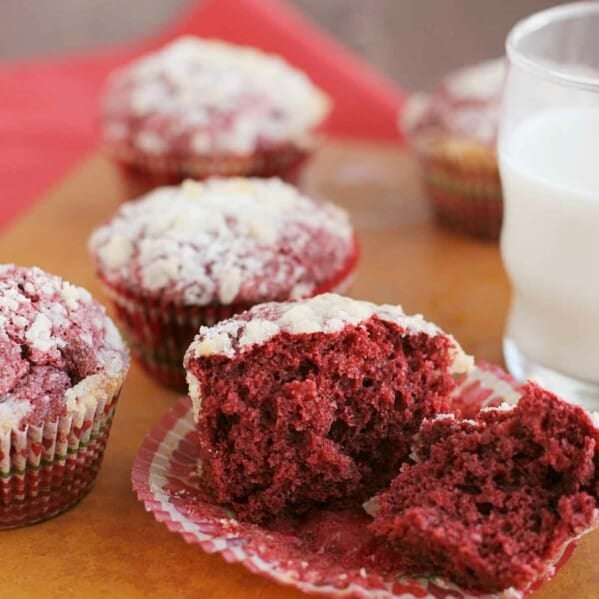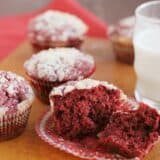 Red Velvet Muffins
---
Author:
Prep Time: 15 minutes
Cook Time: 20 minutes
Total Time: 35 minutes
Yield: 24 muffins 1x
Category: Breakfast
Method: Baked
Cuisine: American
Description
Red velvet and cream cheese come together to form tender Red Velvet Muffins. This is the perfect breakfast for red velvet lovers!
---
Scale
Ingredients
Muffins
2 1/2 cups all-purpose flour
1 1/2 cups granulated sugar, divided
4 teaspoons baking powder
1 teaspoon salt
2/3 cup buttermilk
1/2 cup unsweetened cocoa powder
1 tablespoon red food coloring
1 cup vegetable oil
2 eggs, slightly beaten
8 oz cream cheese, softened
Topping
1/2 cup all-purpose flour
1 cup granulated sugar
1/4 cup butter, cut into cubes
---
Instructions
Preheat oven to 375F. Line 24 muffin tins with paper liners or spray with nonstick cooking spray.
In a large bowl, mix together the flour, 1 cup of the sugar, baking powder and salt. In another bowl, mix together the buttermilk, cocoa, food coloring, oil and eggs. Combine the wet and dry ingredients and mix just until moistened.
In a small bowl, beat together the cream cheese and remaining 1/2 cup of sugar. Fold into the muffin batter, being careful to not overmix. Fill the muffin tins about 2/3 full with the batter.
In another small bowl, mix together the flour and sugar. Cut in the butter until it resembles coarse crumbs. Sprinkle the crumb mixture evenly over the muffins.
Bake until a toothpick inserted comes out clean, about 17-20 minutes.
Keywords: red velvet muffins