Simple and perfect – this red velvet sheet cake recipe makes a cake that is dense and moist and is topped with a decadent cookies and cream frosting. This cake proves that simple can be amazing!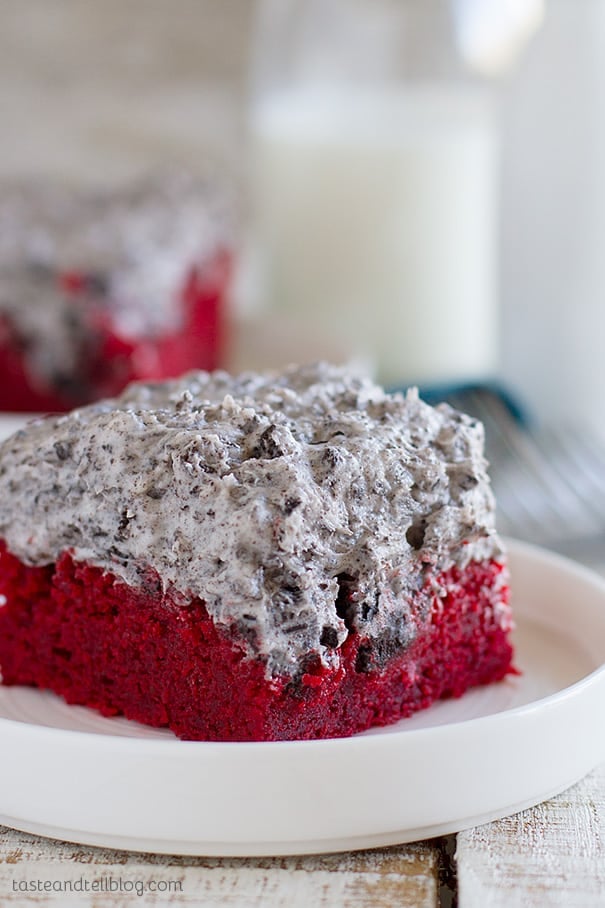 It's a pretty exciting time here on Taste and Tell. What started as a fun feature – a yearly Red Velvet Week – back in 2011, turned into a whole cookbook, dedicated to all things red velvet.
I'm still pinching myself and wondering if this is real life.
The original release date of the book was supposed to be today, so I had planned on doing my 2014 Red Velvet Week this week. Well, as luck would have it, the book was released a week early, so I'm not technically starting Red Velvet Week the day that the book was released. But now it's time to party!!
So this week is going to be a fun one. 5 all new red velvet recipes, not included in the book, plus a chance to win a copy of the book every day. When I told my mom I was going to do this, she asked how I was able to come up with another 5 ideas. Truth be told, I had more than 5 ideas, so I've got some saved up now for Red Velvet Week 2015! 🙂

I didn't realize how different writing for the blog and writing a cookbook would be. There is a lot less pressure on the blog – if photos are bad, I can go back in and re-do them. If an ingredient is forgotten (I hate it when that happens), it's not hard to fix. But with a book? It's permanent. No going back. What is printed will be in print for the rest of forever. So yeah, just a little bit of pressure!
While I love every single recipe in the book, and I don't have any regrets at all, I do have to admit that I wish I would have come up with this sheet cake recipe for the book. Because I am going to go ahead and say it – this is the perfect red velvet cake.
I was inspired by the recipe I made from Christy's cookbook – The Girl Who Ate Everything. The sheet cake recipe I made from her cookbook had the most amazing texture, and I knew I had to try to red velvetize it. It took a few tries before I found that it was the best in a 9×13-inch pan, and it needed buttermilk to give it that recognizable red velvet flavor. I was totally smitten with the final product. It's not a light and fluffy cake, but red velvet cake shouldn't be. It's definitely more of a dense cake, it's super moist and has a true velvet crumb. If you think you don't like red velvet, you should try this sheet cake recipe!
This is a simple looking cake – it's no 4 layer cake like I have in the book. But I think part of the charm of this sheet cake recipe is it's simplicity. I have found that although I love a showstopper, the simple cakes like this one are the ones that get made the most. This is a cake that you could whip up on Sunday night to share with your family.
My original plan was to just make a cream cheese frosting to top the cake, but last minute, I decided to throw in some crushed cookies. I loved the little something extra the frosting gave the cake – it was a perfect companion!
Make sure to check back in all week for some fun new red velvet recipes. And a chance to win a copy of my book every day this week. Or if you want to just buy it, (you know you want to!) ;), you can buy it on Amazon.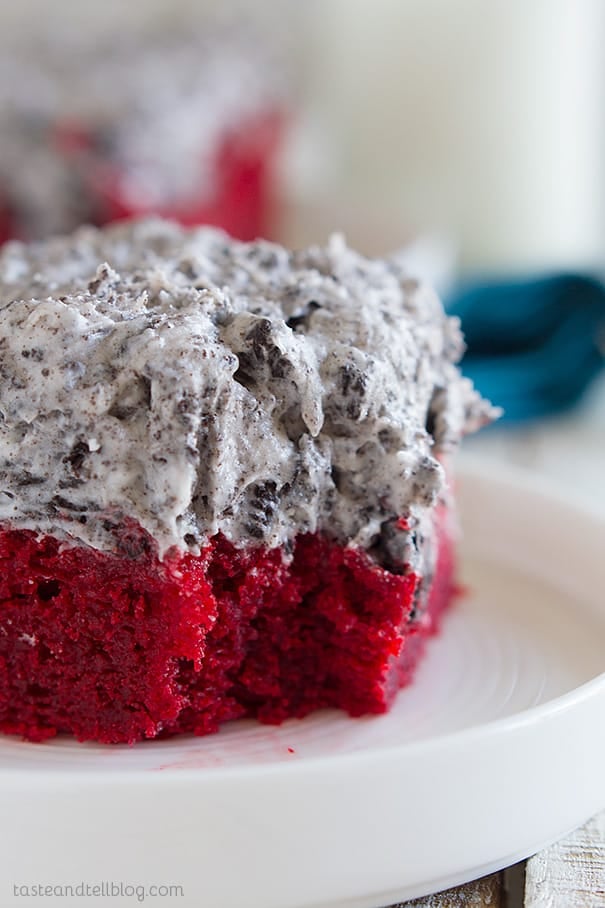 Like what you see here? Make sure you are following Taste and Tell for more great recipes and ideas!!

Facebook ** Pinterest ** Twitter ** Instagram ** Google+
or you can subscribe to my newsletter or Feedly or Bloglovin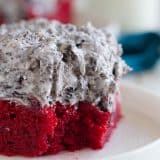 Red Velvet Sheet Cake Recipe with Cookies and Cream Frosting
---
Prep Time: 15 minutes
Cook Time: 28 minutes
Total Time: 1 hour 15 minutes
Yield: 24 servings 1x
Description
Simple and perfect – this red velvet sheet cake recipe makes a cake that is dense and moist and is topped with a decadent cookies and cream frosting. This cake proves that simple can be amazing!
---
Scale
Ingredients
Cake
1 cup butter
1 cup buttermilk
2 cups flour
1 tablespoon unsweetened cocoa
2 cups sugar
2 eggs, lightly beaten
1/2 cup sour cream
2 tablespoons red food coloring
1 teaspoon vanilla
1 teaspoon baking soda
1 teaspoon salt
Frosting
8 oz cream cheese
4 oz butter
2 1/2 cups powdered sugar
24 Chocolate Sandwich Cookies (Oreos) – about 2/3 package
---
Instructions
Preheat the oven to 375ºF. Grease a 9×13-inch baking pan.
In a saucepan, combine the butter and the buttermilk and bring to a boil. Meanwhile, in a large bowl, combine the flour and cocoa. Stir in the sugar. Add in the eggs, sour cream, red food coloring, vanilla, baking soda and salt. Mix to combine.
Pour the boiling butter/buttermilk mixture into the flour mixture, a little at a time, stirring constantly. The batter will be very thin. Pour the batter into the prepared pan.
Bake the cake for 25-28 minutes, or until a tester inserted in the center comes out clean.
To make the frosting, beat together the cream cheese and butter until fluffy. Add in the powdered sugar a little at a time. Beat for 2-3 minutes.
Put the cookies in a large zip top bag and use a mallet to crush and break them up. Stir the cookie pieces into the frosting and frost the cake. Cut into slices to serve.
Past Red Velvet Recipes: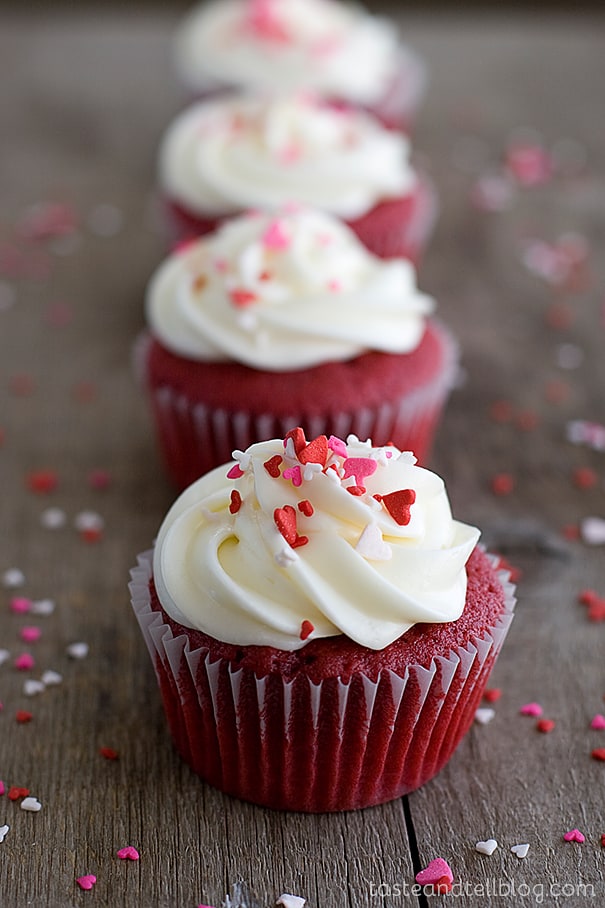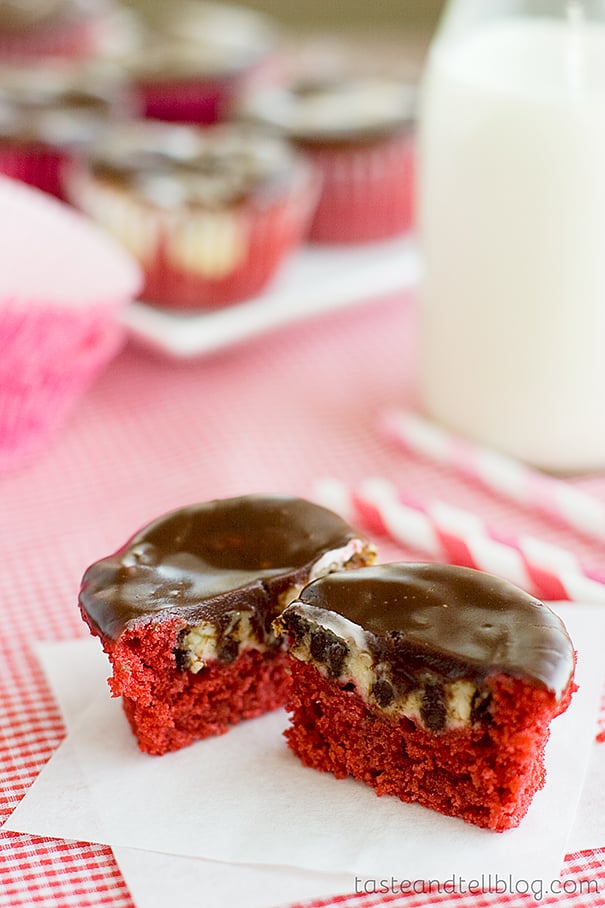 Red Velvet Cheesecake Cupcakes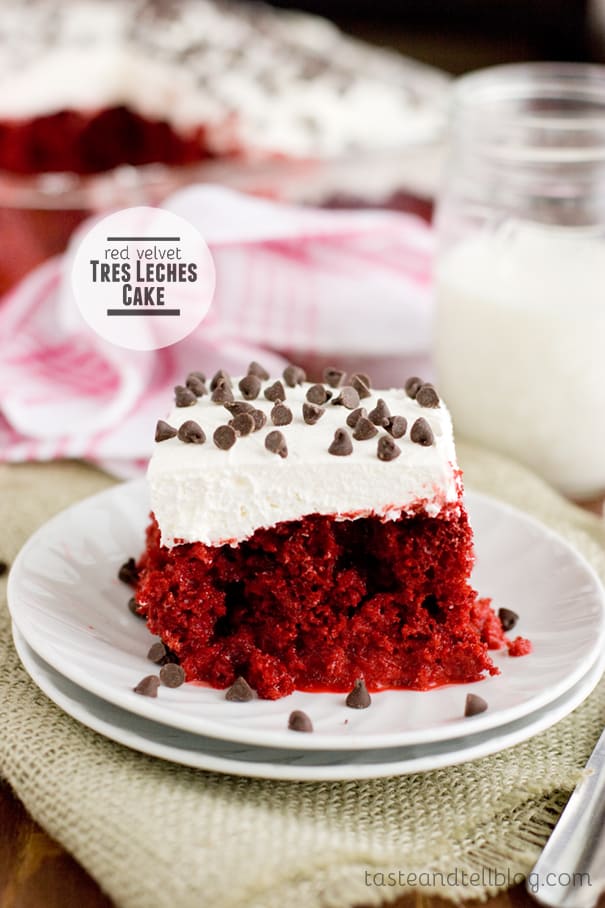 Around the Web:
Red Velvet Cheesecake Swirl Brownies from Sally's Baking Addiction
Whoopie Pie Cupcakes with Red Velvet Frosting from Cookies and Cups
Red Velvet Truffle Bark from Something Swanky