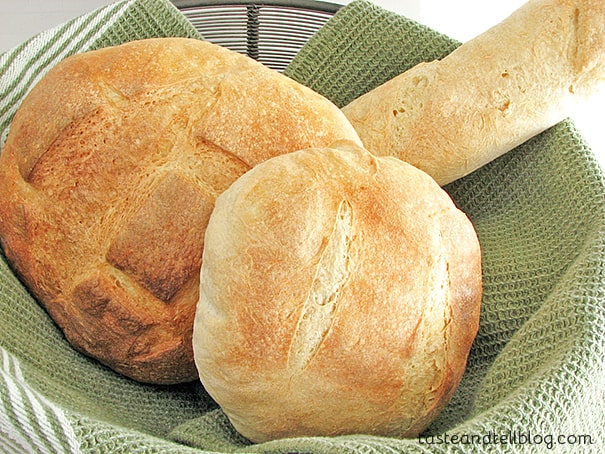 I, Deborah of Taste and Tell, promise to make the next Daring Baker's challenge earlier in the month.
Yep, I procrastinated again. Not quite as bad this month – I wasn't just finishing up last night or anything, but I just did it this past Saturday. I'm sure that if it wasn't such a lengthy process, I would have procrastinated even later! But here's what happened…I kept making excuses all month long of why I couldn't do it on the weekends. I finally decided that I would do it on Saturday the 24th, but then so many things came up, and what a thought would be a whole day at home ended up being a very busy Saturday. I thought about sitting this one out, but I haven't missed one yet (and this is already my 8th challenge!!) and I didn't want to miss this one since I love to make bread. So I set my alarm to get up at 3am. That's got to show that I am dedicated!!
I'm sure everyone already knows, but this month's challenge is Julia Child's French Bread, brought to us by Mary at Breadchick and Sara at I Love to Cook. Let me start off by saying that these girls rock! I really think they should get together and write a bread cookbook, because even though the recipe is extremely long, it was so easy to follow, especially with Mary and Sara's comments. So, thank you Mary and Sara – for helping me to make my first Julia Child recipe!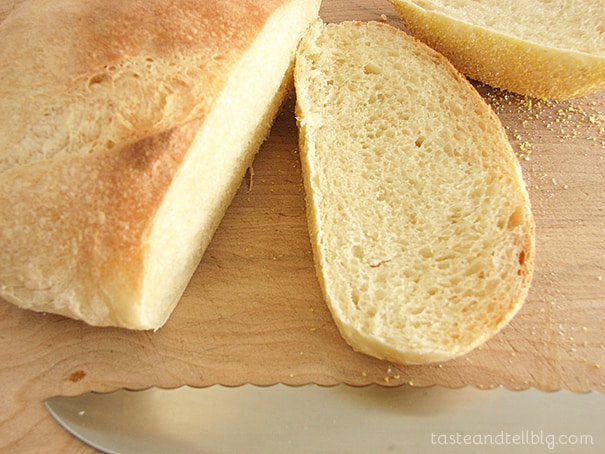 I'm gonna keep this short since everyone out there in blog land seems to be writing about French bread today. Like I said above, Mary and Sara, along with Julia Child, made some very clear and concise directions in my opinion. I still really need to learn how to shape bread – that seems to be the biggest problem for me when I am making it. I've made French bread before, but none of it has even compared to this recipe. I absolutely loved it!! In fact, I ate the small round all by myself later in the afternoon after I made the bread!! And I think I'm lucky and must live in the perfect climate, because my bread took the perfect amount of time to rise – no less and no longer. I do have to proof it in the oven because at this time of year, it would take a lot of extra work from my furnace to make my house 70F.
I will be making this recipe again one day when I am going to be around the house a bit. It takes very little hands on time, and the result is totally worth it!
Be sure to check out the other results at the Daring Baker's Blogroll. And the recipe (don't be intimidated by the size of it!) can be found on Mary's blog here.