Full of flavor with a nice chew, this Polenta Bread is an easy bread recipe that pairs well with soup or pasta. It makes a great sandwich, too!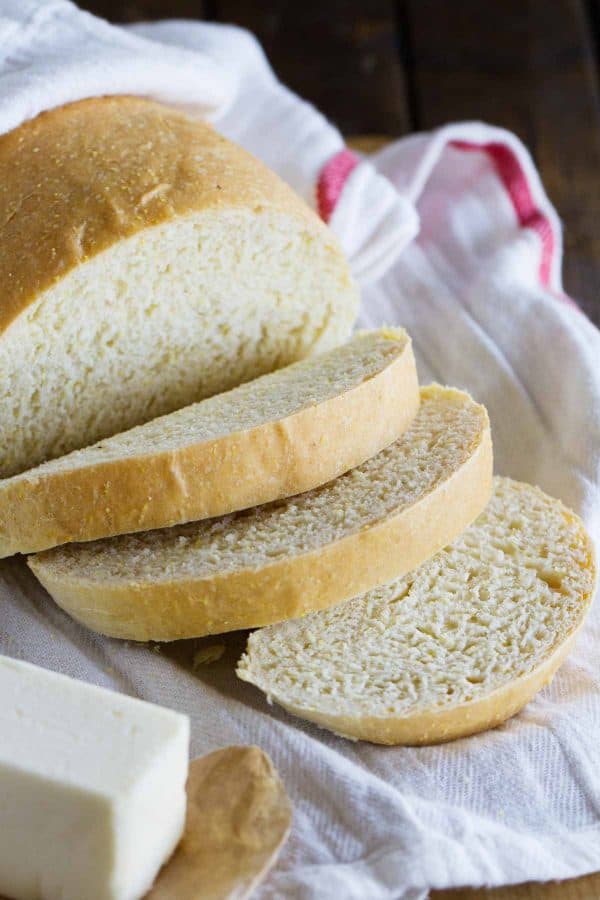 This recipe was originally posted June 29, 2009
Bread is my downfall – my love language. It would definitely make an appearance at my last meal, if I were able to choose that.
Because I'm such a lover, that also turns me into a bit of a critic. This Polenta Bread right here? It passes my test with flying colors. It is one of my favorites that has been made over and over the last few years, and I'm not finished with it yet! This recipe does make 3 loaves, but I also know that none of it will go to waste because I will eat every single slice myself if I'm not careful!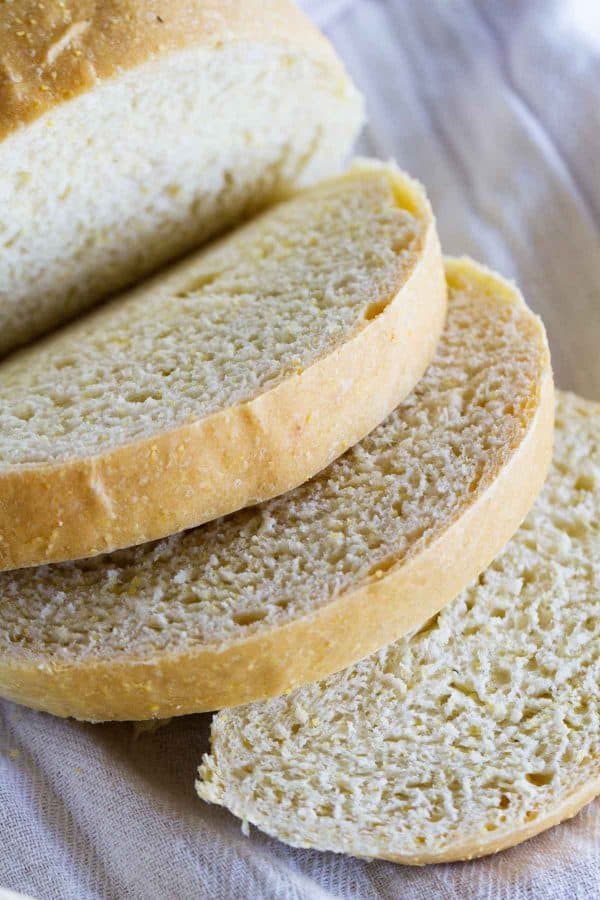 What is the difference between polenta and cornmeal?
I will admit that for a very long time, I always thought that polenta and cornmeal were one in the same. In fact, I'm sure there has been more than one instance where I have substituted one for the other. But technically, they are actually different. Not a lot, but there is a difference.
Cornmeal
Cornmeal is a very simple product, basically just made from grinding corn. You will often see it in different grinds from fine to coarse. For cornmeal, corn is dried and then ground down to form the product. Pretty simple.
Polenta
So technically, polenta is a dish, not an ingredient. And technically, when we are talking about the cooked dish, it doesn't have to be made from corn – it could be any grain. But here in the US, we like to make things confusing and difficult. 🙂 Most of the time, when you find a bag labeled as polenta, it is made from corn and it just ground very coarsely. I have read sources that have said if you are using real polenta grains to make actual Italian polenta, they are a harder starch than most cornmeal, that make the final dish creamier. But I really think that in most instances here in the grocery store, the bags of polenta are often the same as a coarsely ground cornmeal.
Can I substitute cornmeal for polenta?
The short answer for this recipe is – yes. It's not going to make a big difference. You'll just want to make sure you are using a coarse ground cornmeal, because that is what gives this bread its great texture.
If you are making actual polenta, you can still use them interchangeably, but you'll probably get a creamier texture if you use polenta instead of cornmeal.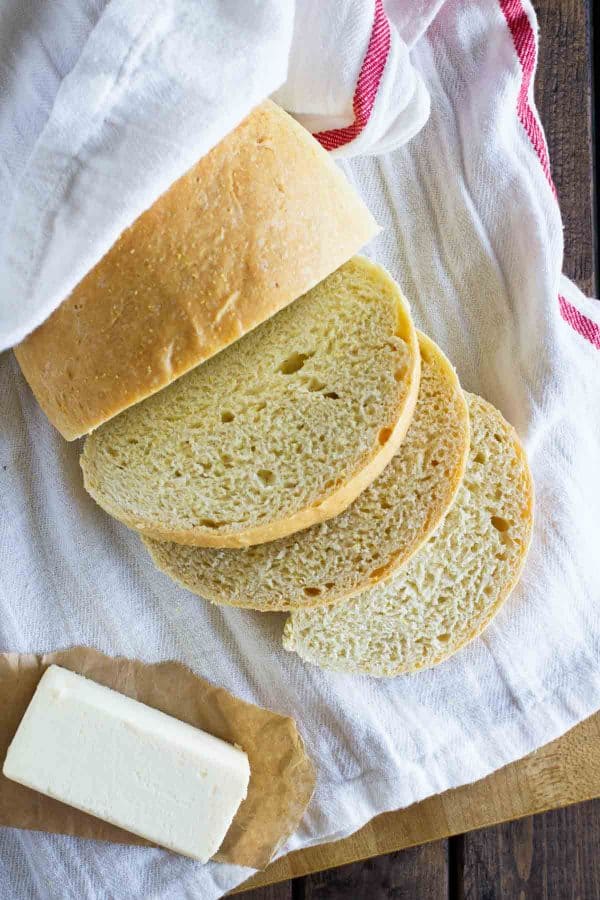 How to make Polenta Bread
This polenta bread recipe is actually quite simple, especially if you are used to making yeast breads. Having a stand mixer will definitely help the process. If you don't have a stand mixer, you can make this by hand, but it will take more work. If you are making it by hand, you might want to start with less flour and add it in as you are kneading, to make sure that you don't add too much flour.
This polenta bread really is mostly about timing, because you will have some rising time and a bit of a baking time to wait out.
What to serve Polenta Bread with
This is the perfect bread to serve with your favorite soup (I recommend this Lasagna Soup Recipe!). But I really do think this bread makes a great sandwich bread, as well. It has a great chew to it and is sturdy enough for sandwiches. But it's also soft at the same time and has some great flavor.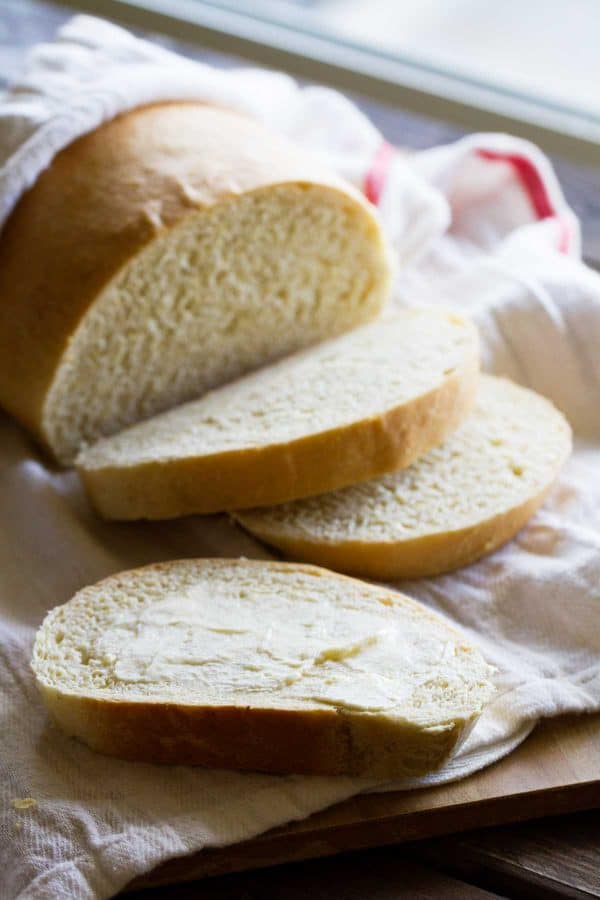 Love polenta like I do? Here are some more polenta recipes:
Polenta Crust Tomato Tart
Italian BBQ Chicken with Polenta
Orange-Balsamic Chicken with Asparagus, Green Beans and Polenta
Roasted Tomatoes with Goat Cheese Polenta from Pinch of Yum
Baked Polenta Fries with Spicy Marinara from Recipe Runner
Like what you see here? Make sure you are following Taste and Tell for more great recipes and ideas!!

Facebook ** Pinterest ** Twitter ** Instagram ** Google+
or you can subscribe to my newsletter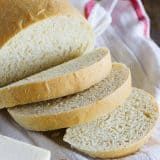 Polenta Bread
---
Author:
Prep Time: 90 mins
Cook Time: 45 mins
Total Time: 2 hours 15 minutes
Yield: 3 loaves, 8 slices each 1x
Category: Bread
Method: baking
Description
Full of flavor with a nice chew, this Polenta Bread is an easy bread recipe that pairs well with soup or pasta. It makes a great sandwich, too!
---
Scale
Ingredients
2 cups warm water
1/2 cup sugar
2 teaspoons yeast
1/2 cup polenta
2 teaspoons salt
6 1/2 cups bread flour
1/2 cup olive oil
---
Instructions
In a small bowl, combine the water, sugar and yeast and allow to sit for a few minutes until the yeast starts to foam. 
Combine the polenta, salt and bread flour in the bowl of a stand mixer fitted with the dough hook and mix briefly on low to combine.  Add the olive oil and the yeast mixture and mix well.  Knead with the dough hook for 8 to 12 minutes, or until the dough is bubbly and light and not too sticky.  Turn off the mixer and allow the dough to sit in the bowl for 1 minute. 
Divide the dough into thirds and shape into oval loaves.  Place on a silpat lined baking sheet (or a greased baking sheet).  Cover with a clean kitchen towel and allow the dough to rise until doubled in size, about an hour, depending on the temperature. 
Preheat the oven to 300ºF. Bake the loaves for about 45 minutes, until the outsides is browned  and the loaf sounds hollow when you tap on the bottom. 
Remove from the oven and allow to cool.
Recipe Notes:
If desired, brush the loaves lightly with melted butter immediately after removing them from the oven.  This will give you a softer crust.
Nutrition information provided as an estimate only. Various brands and products can change the counts.
Nutrition
Serving Size: 1 slice
Calories: 178
Sugar: 4 g
Sodium: 17 mg
Fat: 5 g
Saturated Fat: 1 g
Unsaturated Fat: 3 g
Trans Fat: 0 g
Carbohydrates: 28 g
Fiber: 0 g
Protein: 4 g
Cholesterol: 0 mg