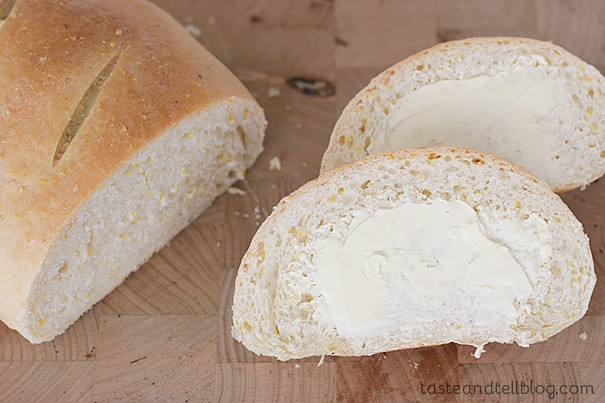 Last week, I shared a recipe for Corn Cake Pancakes, and today it is Polenta Bread. I guess I have a thing for cornmeal lately!!
Back when I was engaged, I was doing all of the research that a bride-to-be does. I was looking at flowers, venues for the reception, and of course – food. I came across a company here in Utah and I was blown away by the food creations they came up with. Unfortunately, I ended up having my reception in a venue that required that they do the catering. This catering company that I drooled over was out of my price range, anyway, but I still like to look at the pictures and imagine how good the food tastes.
While I was doing my research, I noticed there was a place on their website where I could sign up for recipes. And, since I'm a collector of recipes, of course I signed up! I've been getting a recipe a month for almost 4 years now. And sadly, this is the first one I have tried. But after the results, I'll be trying the recipes more often!
This bread was delicious. Probably one of the best that I have tried. Not only does it have a wonderful soft inside, but the polenta really adds to the texture of the bread. This one will definitely be made again!
Polenta Bread
from Culinary Crafts
2 cups warm water
2 teaspoons yeast
1/2 cup sugar
1/2 cup olive oil
1/2 cup polenta (or cornmeal)
2 teaspoons salt
6 1/2 cups bread flour
In a small bowl, dissolve the yeast and sugar in warm water.
While waiting for the yeast to bubble and foam, get your electric stand mixer set up with a large bowl and dough hook accessory. Combine polenta, salt and bread flour in mixer bowl. Add olive oil and yeast mixture and mix well. Knead dough with dough hook for 8 to 12 minutes (the temperature of your kitchen will make the difference in the timing.) Dough will be bubbly and light and not too sticky. Turn off mixer and let dough rest for 1 minute in bowl.
Divide dough into thirds and shape into long loaves (or desired shapes). Place on greased cookie sheets. Allow dough to rise in a warm location until the loaves have doubled in size.
Bake for about 30 minutes at 300F. The outside will have a nice deep brown color. If you like a soft crust, brush lightly with melted butter immediately after removing from the oven. For a crusty outside, save the butter for after it is sliced.