A family favorite, these Cinnamon Muffins are tender and sweet and filled with lots of cinnamon flavor.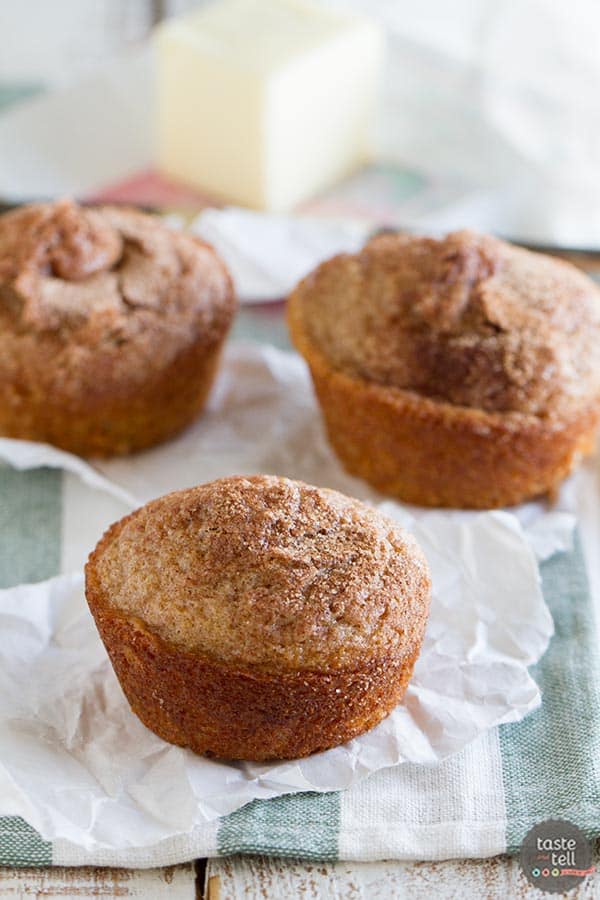 Photos Updated February 2015



I am on a muffin kick lately. In fact, I even thought about doing a "Muffin Week" because I have so many recipes to share, but then I decided against it since I have my Cookbook of the Month and Saturdays with Rachael Ray posts that would just mess everything up. Plus, I don't want to ruin them by giving you too much of a good thing, right? So you may not see a whole week of muffins, but I can guarantee that you'll see lots of muffins here over the next month(s).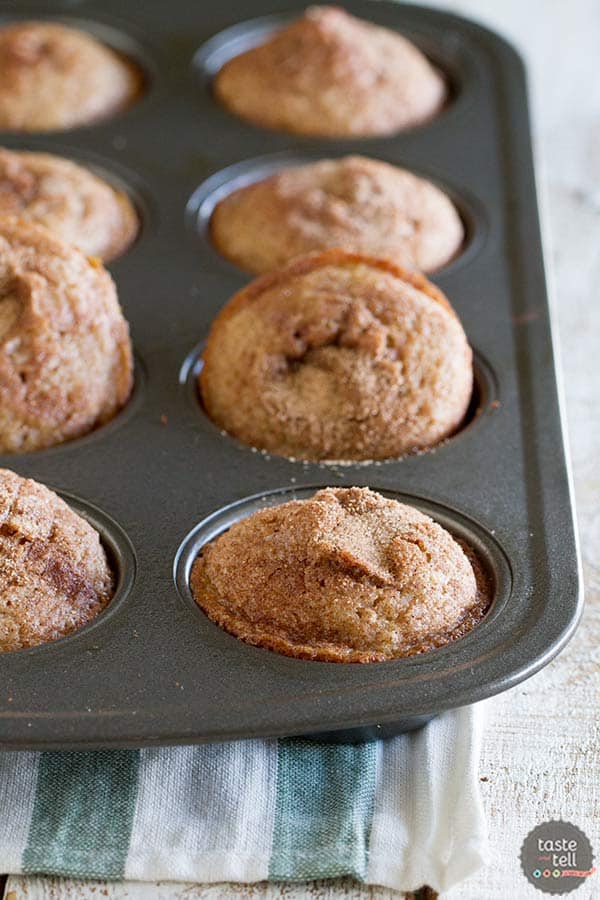 I've always love muffins, but we have discovered that our little girl LOVES muffins. Seriously, I don't think anything else makes her happier. She sees a muffin and you won't hear the end of it until she gets one (or two). And she can really put them down for a 15-month old. And since I love her so much, I make her muffins. (Don't worry – as much as she'd love sugary muffins to be her breakfast every morning, I really only make them about once a week!)
These muffins are exactly what I was hoping for. I'm rarely disappointed when I go to one of my family cookbooks for a recipe, and this one did not dissappoint. I did add the cinnamon sugar to the top – the original recipe didn't have that – but besides that, I didn't need to change a thing. Super easy, super delicious!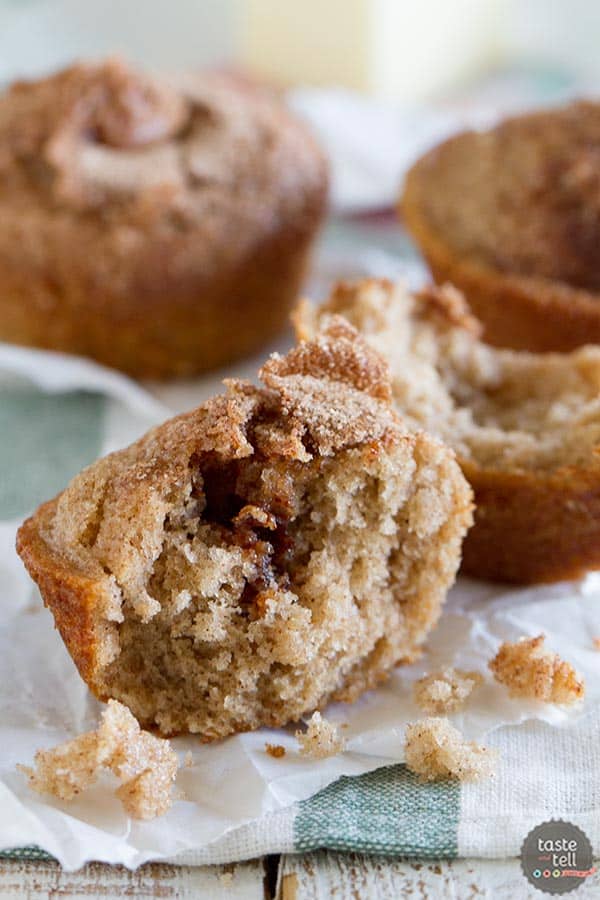 Like what you see here? Make sure you are following Taste and Tell for more recipes and ideas!
Facebook | Pinterest | Instagram | Twitter | Google+ | Weekly Newsletter | Feedly | Bloglovin
Cinnamon Muffins
A family favorite, these Cinnamon Muffins are tender and sweet and filled with lots of cinnamon flavor.
Ingredients
2 cups all-purpose flour
1 cup sugar
4 teaspoons baking powder
1 tablespoon cinnamon
½ teaspoon salt
1 cup milk
½ cup vegetable oil
2 eggs
2 tablespoons sugar
1 teaspoon cinnamon
Instructions
Preheat the oven to 375ºF. Grease 15-18 muffins cups.
In a bowl, combine the flour, sugar, baking powder, cinnamon and salt.
In another bowl, beat together the milk, vegetable oil, and eggs. Make a well in the center of the dry ingredients and add the wet ingredients. Stir just until combined - don't overmix.
Divide the mixture evenly between the prepared muffin cups.
In a small bowl, combine the 2 tablespoons sugar and 1 teaspoon of cinnamon. Sprinkle the cinnamon sugar mixture over the tops of the batter filled cups.
Bake the muffins until a toothpick instead in the center comes out clean, 13-15 minutes.
Notes
recipe source: Ravishing Relative Recipes - a family cookbook
Don't miss a thing! Follow me on Pinterest to see what I'm pinning!
Visit Taste and Tell's profile on Pinterest.