Anything but boring, this Thai Beef Salad is a hearty side dish or easy main dish that you'll want to serve all year long. Juicy, flavorful steak goes on this salad filled with lots of vegetables and Thai flavors.
If you love a good salad, also try this Taco Salad or this Steak Cobb Salad.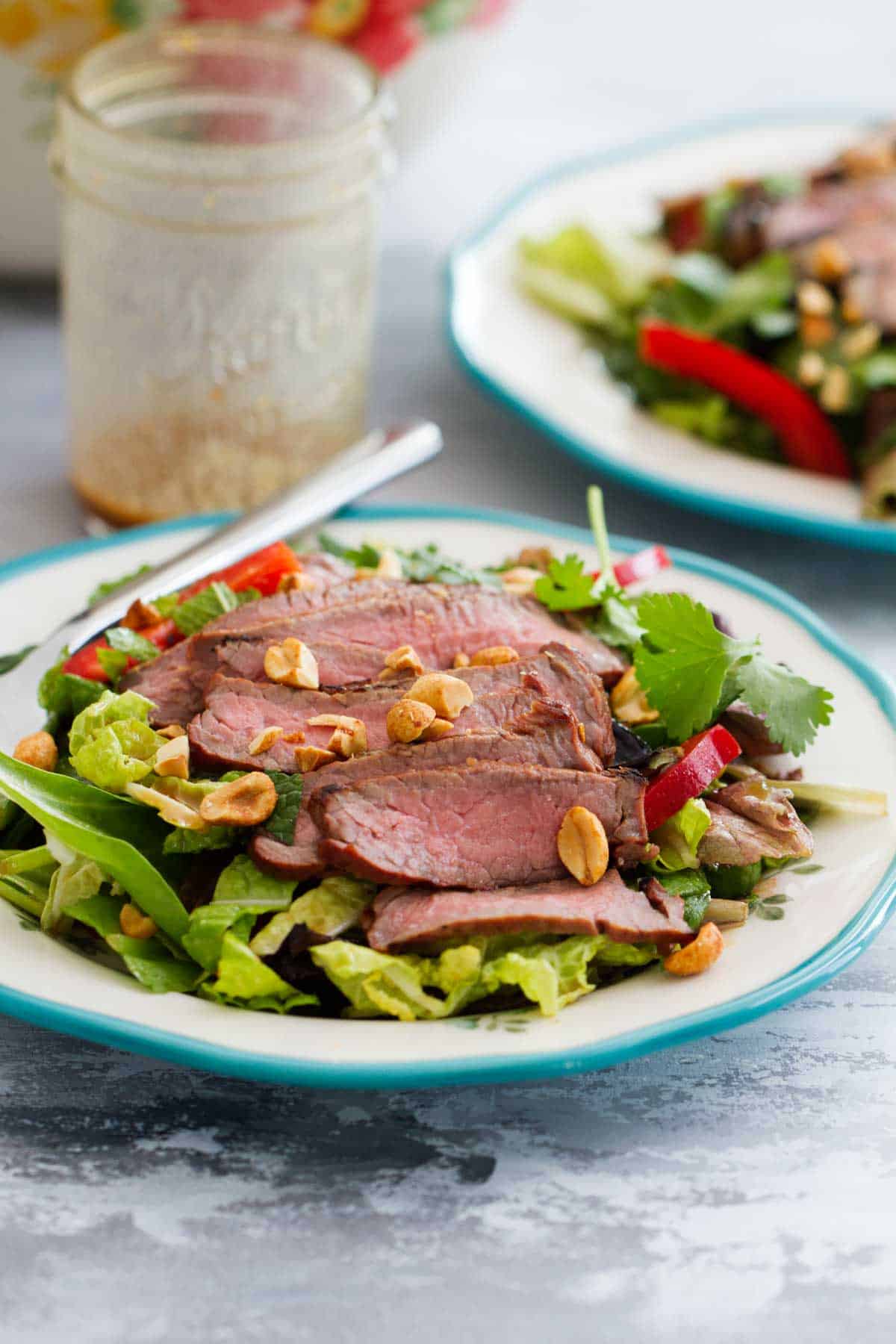 If you love lots of flavor, this Thai Beef Salad is for you.
If you love an easy salad, this Thai Beef Salad is for you.
If you love a salad that can be served as a side or as a main dish, this Thai Beef Salad is for you.
Yes, this salad really is for everyone!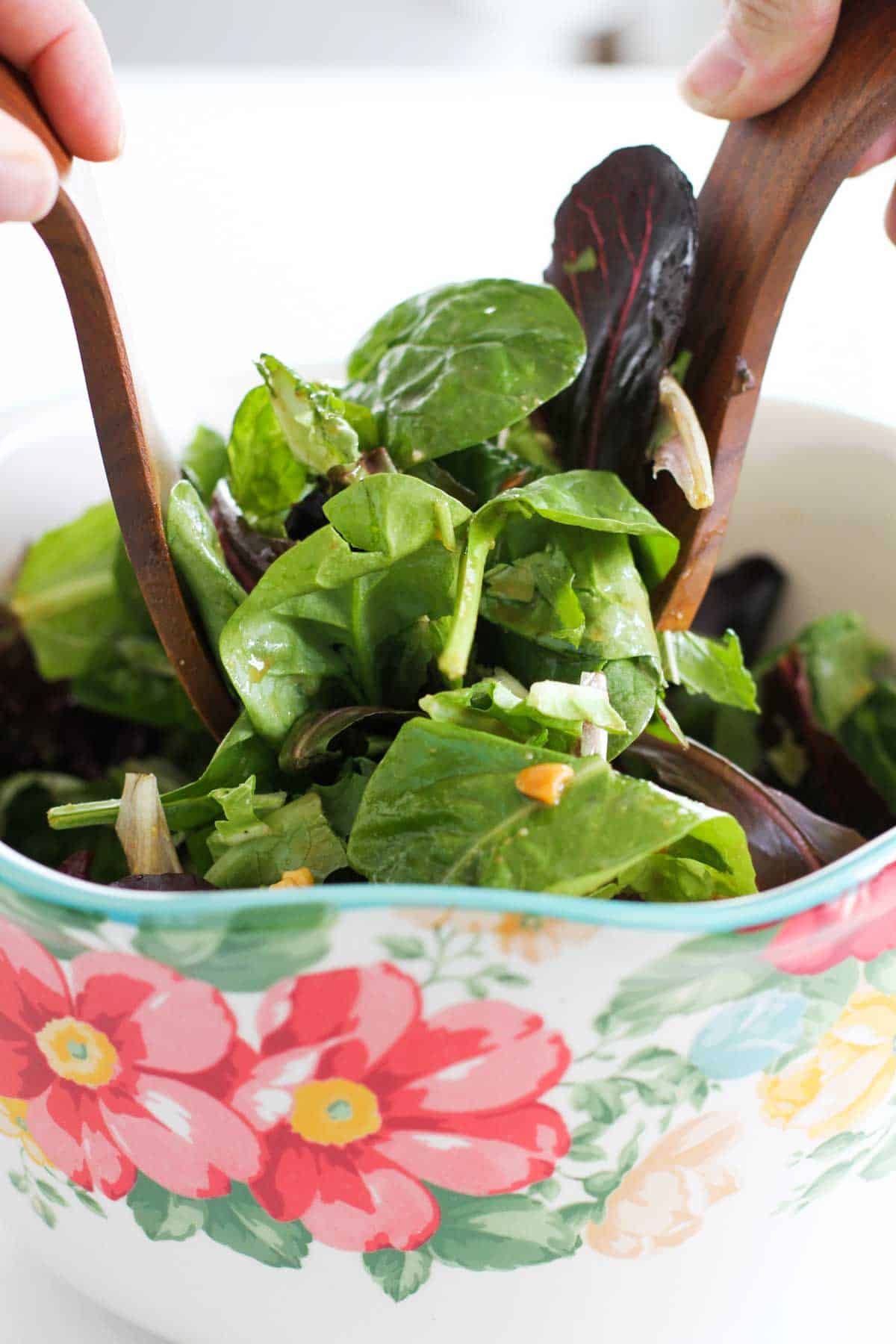 Ingredients
There are 3 components to this salad: the steak and marinade, the dressing, and the actual salad.
The Steak
Pineapple Juice: This provides the acidity the marinade needs. Plus the flavor is amazing!
Soy Sauce: I like to use a low sodium soy sauce.
Lime Juice: Fresh lime juice is by far the best.
Sesame Oil: A little sesame oil goes a long way, so you don't need much!
Steak: I used a strip steak, but really, you could use any cut that you like.
The Dressing
Honey: This will add a bit of sweetness.
Peanut Butter: I like to use an all natural chunky peanut butter. I love those chunks of peanuts! If you use a smooth peanut butter, you can always add in some extra chopped peanuts.
Water: Make sure the water is hot so that it mixes in well.
Olive Oil: I use an extra virgin olive oil.
Soy Sauce: Again, low sodium is best.
Rice Vinegar: I love the flavor of rice vinegar and it works perfectly in this dressing.
Sesame Oil: Just a small amount again!
The Salad
Spring Mix: I prefer the spring mix, but really, any lettuce or mix of lettuces will work.
Red Bell Pepper: I like to cut this into strips, but you can also chop it.
Mint, Basil, and Cilantro: This mix of herbs really brings out the fresh Thai flavors.
Cabbage: I prefer Napa cabbage because it is more tender than regular green cabbage.
Peanuts: These are optional, but I like a good sprinkling of peanuts on my salad for crunch, texture, and flavor.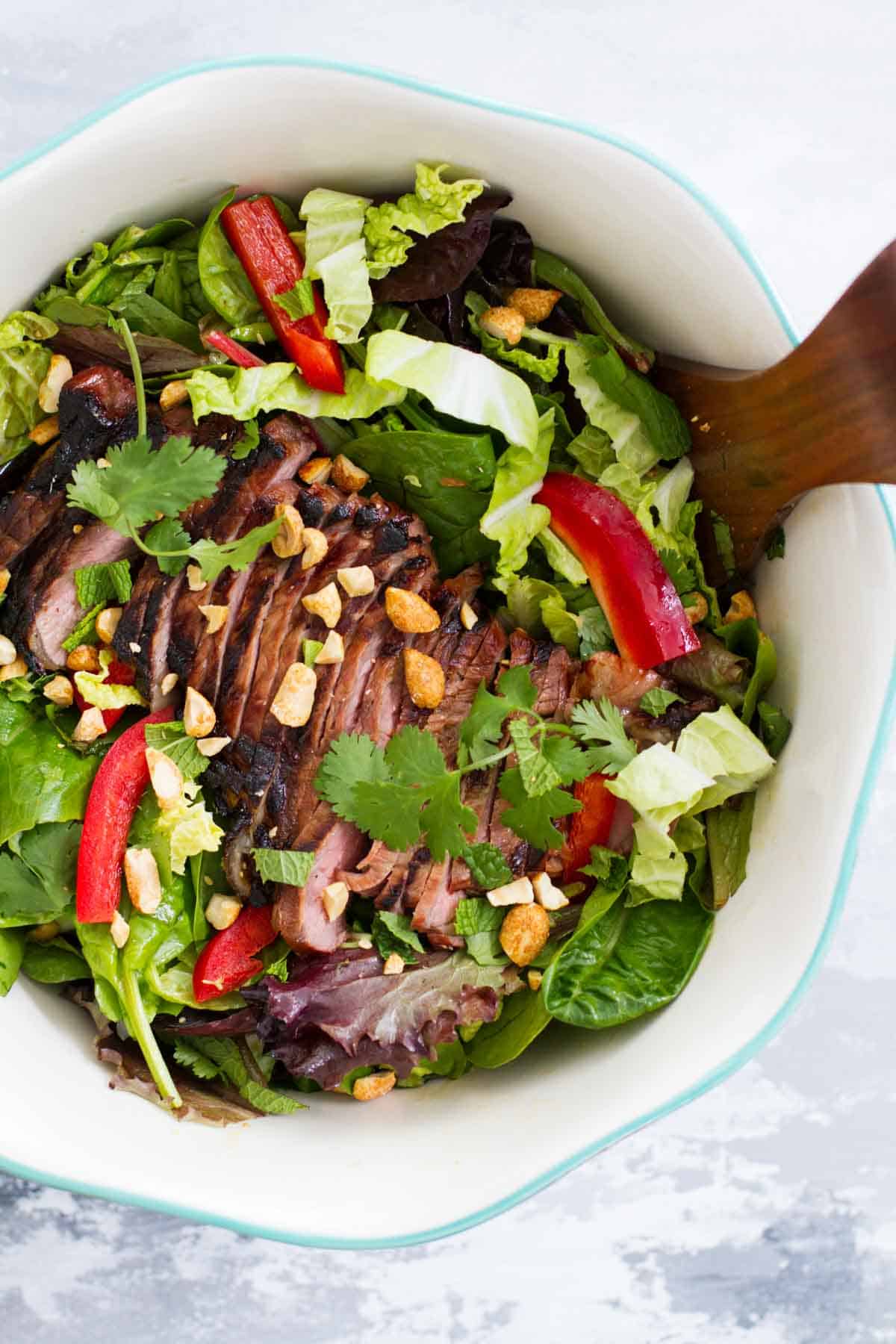 Make Ahead Instructions
This salad is super easy to prepare ahead of time.
The steak can be marinated for up to 4 hours. I wouldn't marinate it longer than that because it may alter the texture of the meat. But the marinade can be made in advance and stored in the refrigerator.
The salad dressing can be made and stored in the refrigerator. This will typically be good for 1-2 weeks if stored properly.
You can also even mix the salad ingredients together a few hours in advance. Just make sure you don't add the dressing until right before serving.
I prefer to serve this with a freshly grilled steak, but it can also be served with cold steak. Simply cook the steak ahead of time and store in the refrigerator until ready to serve.
How to Cook the Steak
I always think a steak tastes the best on the grill, but cooking your steak on the stovetop is definitely a choice as well. One big thing to remember is that cooking time is going to depend on how hot your grill or pan is, how thick your steak is, and how you want your steak done. I like a medium-rare steak, so if you want something cooked through a little more, add on a minute or two. If you get nervous about over or under cooking your steak, it would definitely be a wise idea to invest in an instant read thermometer. I have one and use it all the time!
Grilling a steak on a grill
When it comes to grilling, I prefer a charcoal or wood grill over a gas grill, but these instructions work with either! You want to start with a really hot grill – around 600º hot. Once your grill is heated, add the steak, and then close the lid. Cook for 4-5 minutes, then open the grill and turn the steak over. Cook on the second side for about 4 minutes for medium-rare. Remove the steak to a plate and tent it with foil for about 10 minutes before slicing to serve.
Cooking a steak on the stove
The guidelines for cooking on the stove versus the grill are pretty much the same. You want the pan on super high heat, so I like to use a cast iron skillet. Set the skillet on the stove over high heat to allow the skillet to heat up. Once it is super hot, add about a tablespoon of butter and extra virgin olive oil. Add the steak and cook until it is browned on the first side, about 5 minutes. Flip the steak once and cook until desired doneness. Then you'll want to rest the steak, the same as with a grill.
How to Make a Thai Beef Salad (video)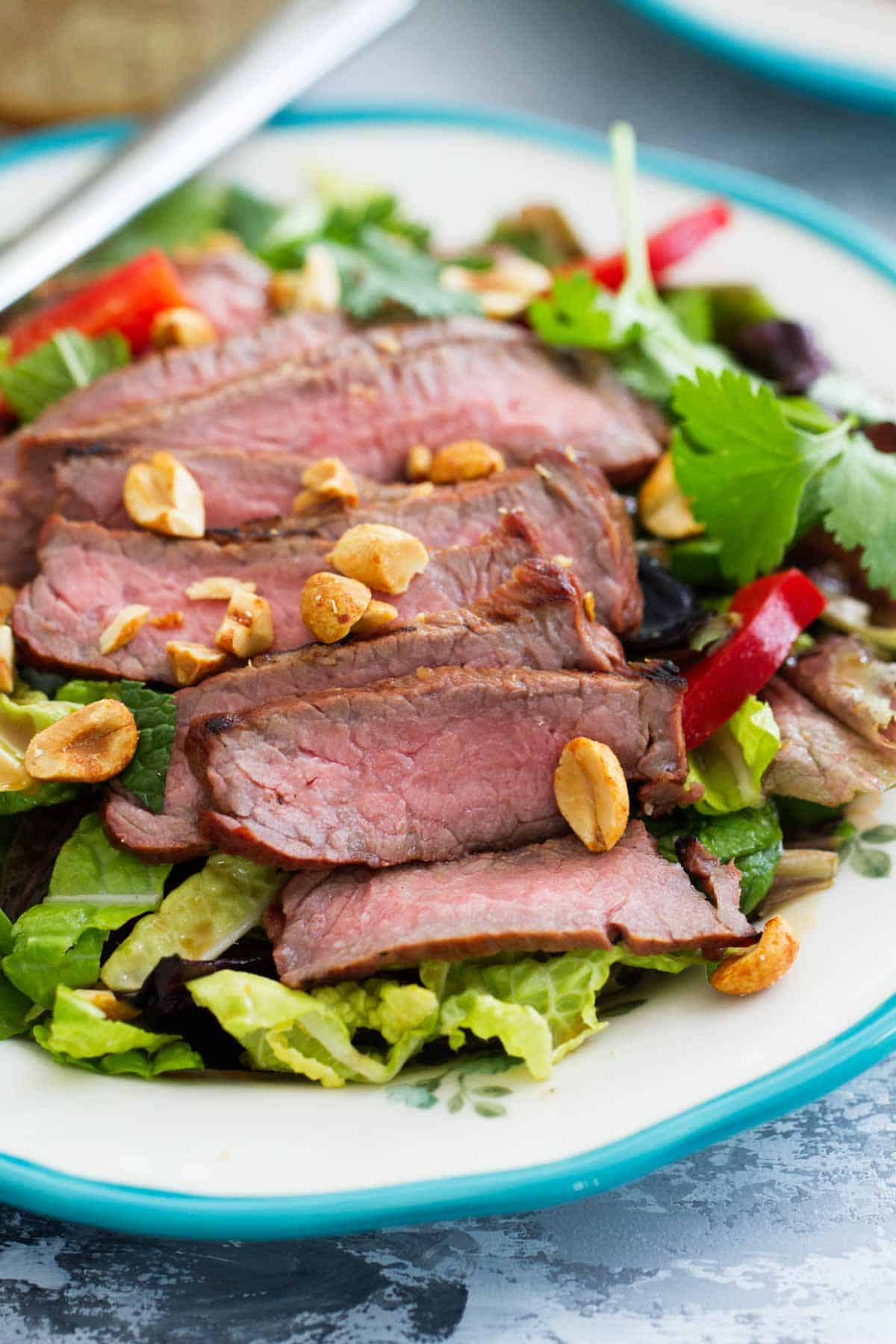 More recipes with Thai flavors:
Thai Peanut Noodles
Sweet Thai Chicken Wings
Curried Butternut Squash Soup
Thai Chicken Wrap with Spicy Peanut Sauce
Thai Style Hot Dogs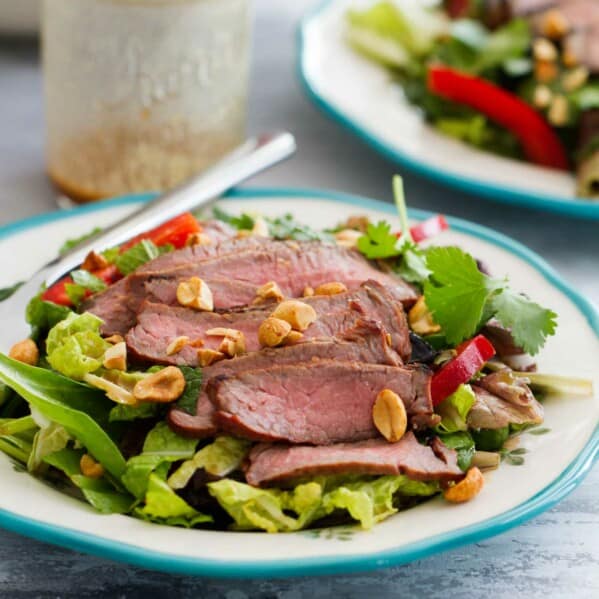 Thai Beef Salad
---
Author:
Prep Time: 15 minutes
Marinating Time: 2 hours
Cook Time: 10 minutes
Total Time: 2 hours 45 minutes
Yield: 4 servings 1x
Category: Salad
Method: Grill
Cuisine: Asian
Description
Anything but boring, this Thai Beef Salad is a hearty side dish or easy main dish that you'll want to serve all summer long. Juicy, flavorful steak goes on this salad filled with lots of vegetables and Thai flavors.
---
Scale
Ingredients
Marinade:
1/4 cup pineapple juice
3 tablespoons low sodium soy sauce
1 tablespoon fresh lime juice
1 teaspoon sesame oil
1 (8 oz) strip steak
Salad Dressing:
3 tablespoon honey
2 tablespoons all natural chunky peanut butter
2 tablespoons hot water
2 tablespoons extra virgin olive oil
1 tablespoon low sodium soy sauce
1 tablespoon rice vinegar
1 teaspoon sesame oil
Salad:
1 (5 oz) bag Spring Mix
1 cup sliced red bell pepper
1/3 cup fresh, chopped mint
1/3 cup fresh, chopped basil
1/3 cup fresh, chopped cilantro
1 1/2 cups shredded Napa Cabbage
chopped, roasted peanuts
---
Instructions
Combine the pineapple juice, soy sauce, lime juice and sesame oil in a ziplock bag.  Add the steak and turn a few times to coat it in the marinade. Seal the bag and refrigerate for 2-4 hours, turning the bag over a few times.
To make the salad dressing, combine the honey, peanut butter, hot water, olive oil, soy sauce, rice vinegar and sesame oil to a small jar with a lid. Shake the lid until the dressing is completely combined. The dressing may separate again upon standing, so make sure to shake it before serving.  Refrigerate until needed.
When the marinating time for the steak is done, remove it from the refrigerator and allow it to come to room temperature.
Heat a grill to high heat. Once the grill is hot, remove the steak from the marinade and place on the grill.  Grill for about 5 minutes, then turn the steak over and cook an additional 4 minutes (for medium-rare). Remove from the grill to a plate and tent with foil. Allow the steak to sit for 10 minutes.
To make the salad, combine the spring mix, bell pepper, mint, basil and cilantro in a large bowl. Mix in the Napa cabbage.
When ready to serve, drizzle the salad dressing over the salad and mix to coat. Only use as much dressing as needed – save the remaining dressing for passing at the table. Slice the steak thinly against the grain, and place it on the salad. Top with chopped roasted peanuts and serve.
Recipe Notes:
To cook the steak in a pan – heat a cast iron skillet or heavy bottomed skillet over high heat.  Add a tablespoon of butter, and when it has melted, add the steak. Cook about 4 minutes per side for medium rare.
Nutrition
Serving Size: 1/4 of recipe
Calories: 358
Sugar: 18 g
Sodium: 690 mg
Fat: 93 g
Saturated Fat: 10 g
Unsaturated Fat: 11 g
Trans Fat: 0 g
Carbohydrates: 23 g
Fiber: 2 g
Protein: 16 g
Cholesterol: 33 mg
Keywords: thai beef salad, steak salad