Anything but boring, this Thai Steak Salad is a hearty side dish or easy main dish that you'll want to serve all summer long. Juicy, flavorful steak goes on this salad filled with lots of vegetables and Thai flavors.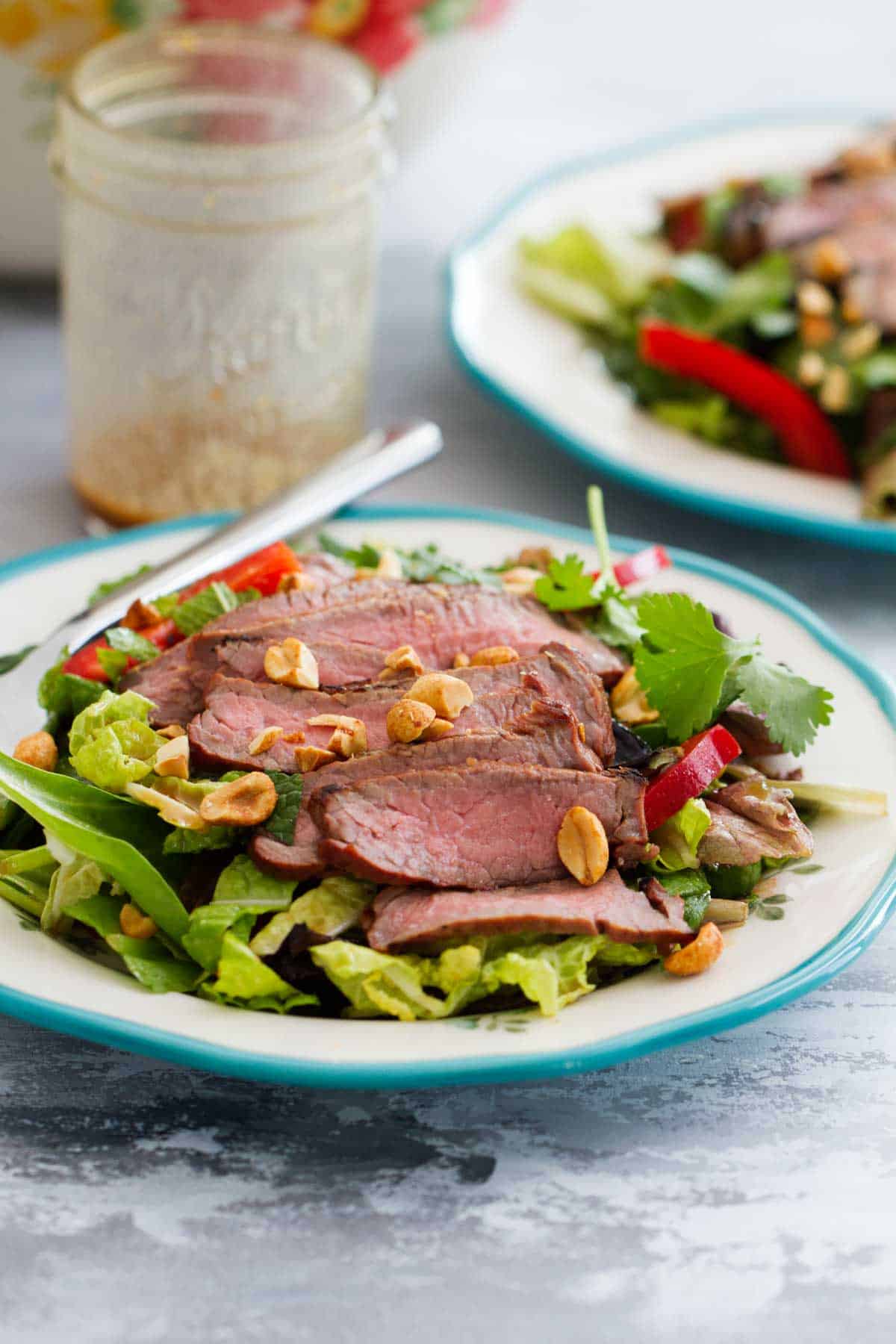 This post has been sponsored by Walmart. All opinions are my own.
We are headed into my favorite time of year – summer!! My kids are out of school in just a few short days, and it will be time for more relaxed schedules, fun summer days, and lots of backyard barbecues.
With several summer holidays, there is sure to be a lot of time spent outside around the grill. It's one of the things that I love about the summer the most. But I always feel so bad when one person is stuck behind the grill, spending the whole night grilling instead of socializing and having fun.
This Thai Steak Salad is the perfect salad for entertaining and even for easy meals all summer long. Flavorful and fast!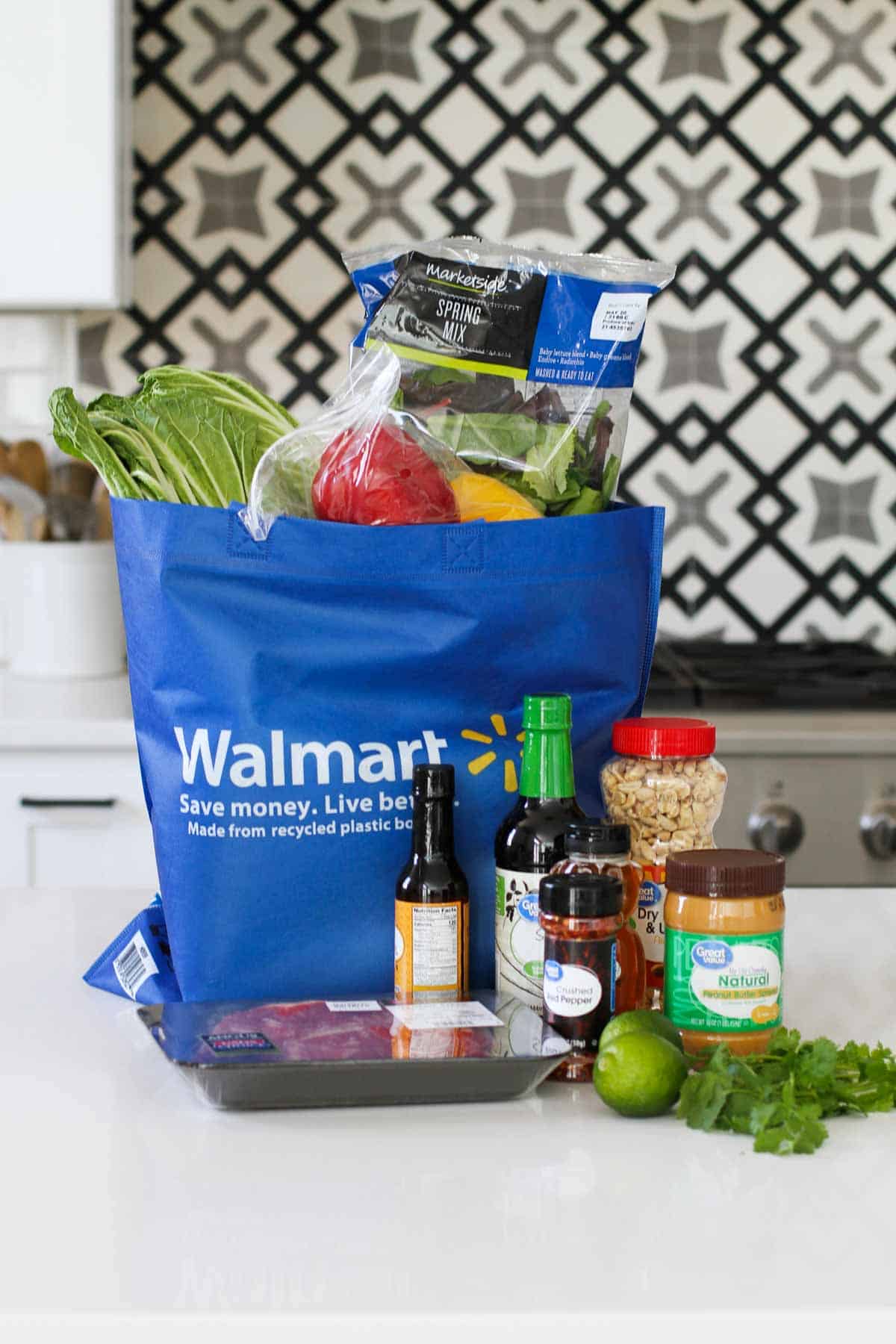 So I'm all about keeping things simple. And this Thai Steak Salad keeps things simple on more than one level!
First of all, everything can be picked up at Walmart, which is perfect for one stop shopping. I mean, have you seen the Pioneer Woman line? You can even pick up a new grill at Walmart! We all know that you can find all of the groceries that you need there, but did you know that they carry Angus Premium Choice Beef? It is 100% natural quality beef that you can get for a great price. Which makes it even more perfect when you are feeding a crowd! And its superior marbling improves flavor and tenderness.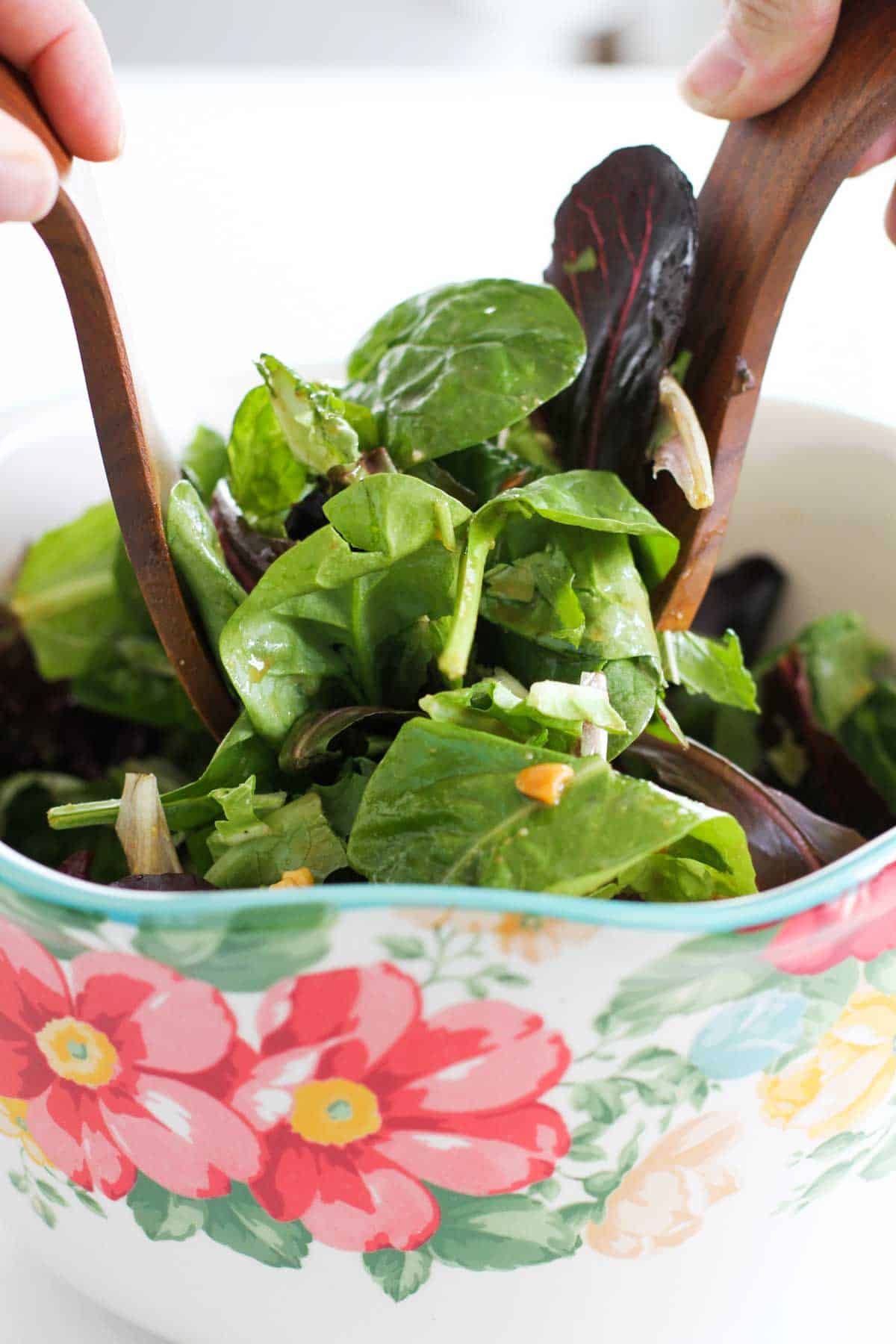 A lot of the time, when we think of summer get togethers, we think burgers on the grill. Don't get me wrong, I love a good burger, but if you are looking for something to serve that gives you less time cooking and more time socializing, this Thai Steak Salad is your answer.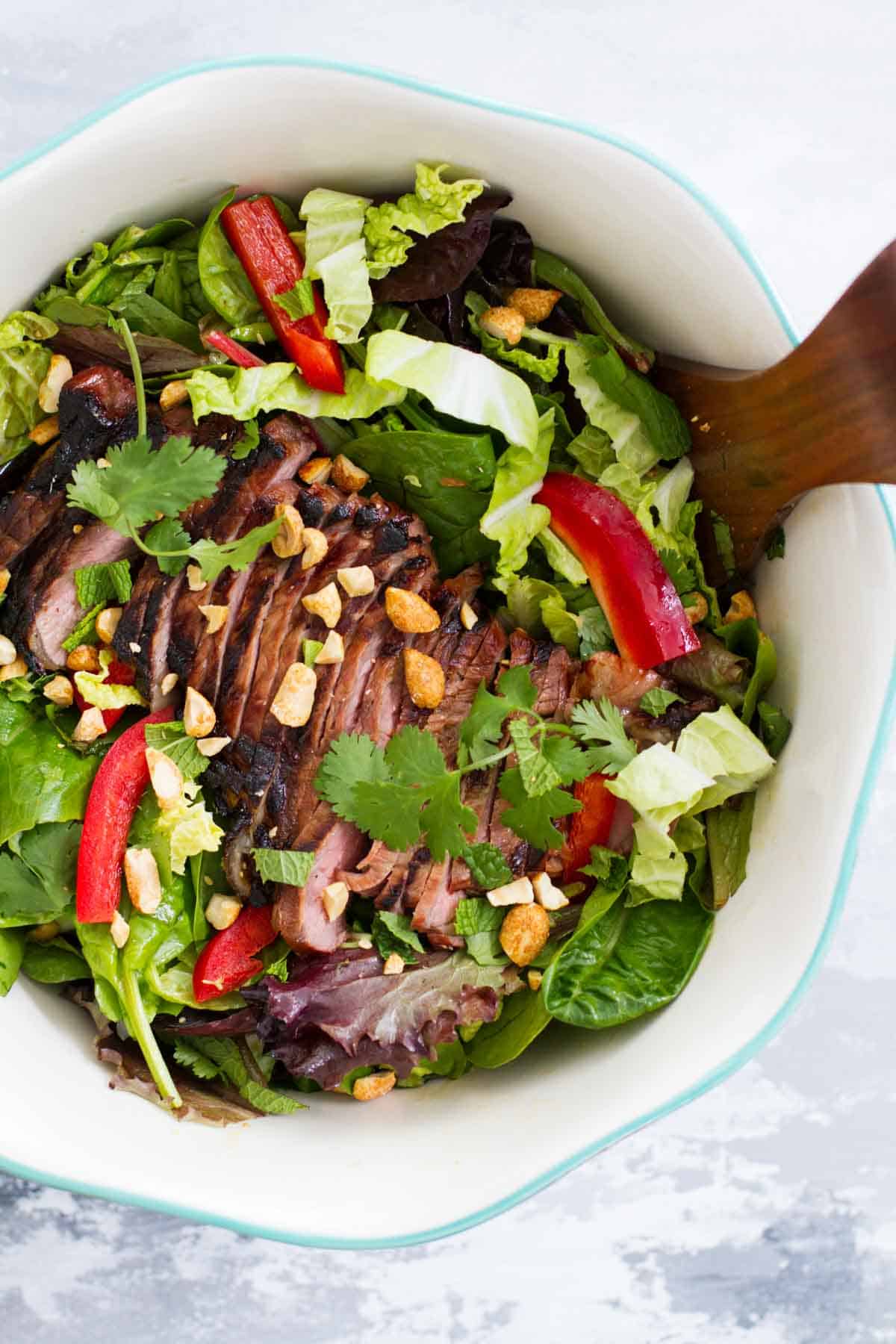 The steak is marinated ahead of time. The salad dressing can be made ahead of time. Even the salad can be made ahead of time. Then, when your guests are there and you are ready to eat, the steak only takes minutes to cook and assembling the salad another few minutes. Which gives you a lot more time with your guests!
How to Cook a steak
We are heading into prime grilling season, which I'm super excited about because I think a steak tastes the best on the grill!! But cooking your steak on the stovetop is definitely a choice as well. One big thing to remember is that cooking time is going to depend on how hot your grill or pan is, how thick your steak is, and how you want your steak done. I like a medium-rare steak, so if you want something cooked through a little more, add on a minute or two. If you get nervous about over or undercooking your steak, it would definitely be a wise idea to invest in an instant read thermometer. I have one and use it all the time!
Grilling a steak on a grill
When it comes to grilling, I prefer a charcoal or wood grill over a gas grill, but these instructions work with either! You want to start with a really hot grill – around 600º hot. Once your grill is heated, add the steak, and then close the lid. Cook for 4-5 minutes, then open the grill and turn the steak over. Cook on the second side for about 4 minutes for medium-rare. Remove the steak to a plate and tent it with foil for about 10 minutes before slicing to serve.
Cooking a steak on the stove
The guidelines for cooking on the stove versus the grill are pretty much the same. You want the pan on super high heat, so I like to use a cast iron skillet. Set the skillet on the stove over high heat to allow the skillet to heat up. Once it is super hot, add about a tablespoon of butter and extra virgin olive oil. Add the steak and cook until it is browned on the first side, about 5 minutes. Flip the steak once and cook until desired doneness. Then you'll want to rest the steak, the same as with a grill.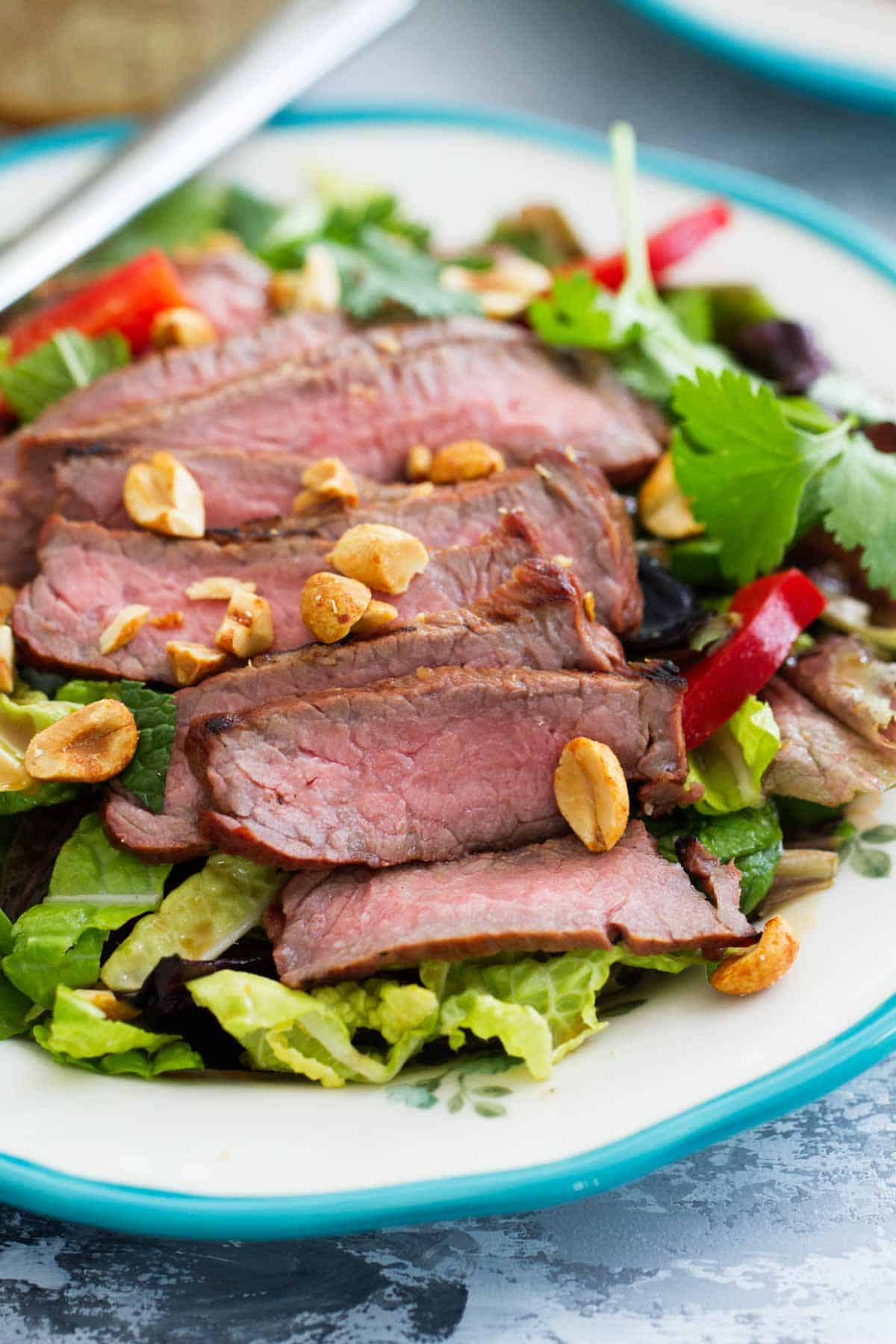 Looking for more summer steak recipes?
Steak and Potato Kabob Recipe
Steak-Swap Cobb Salad
Steaks with Mexican Spices and Chile Con Queso
More recipes with Thai flavors:
Thai Peanut Noodles
Sweet Thai Chicken Wings
Thai Butternut Squash Soup
Thai Chicken Wrap with Spicy Peanut Sauce
Thai Style Hot Dogs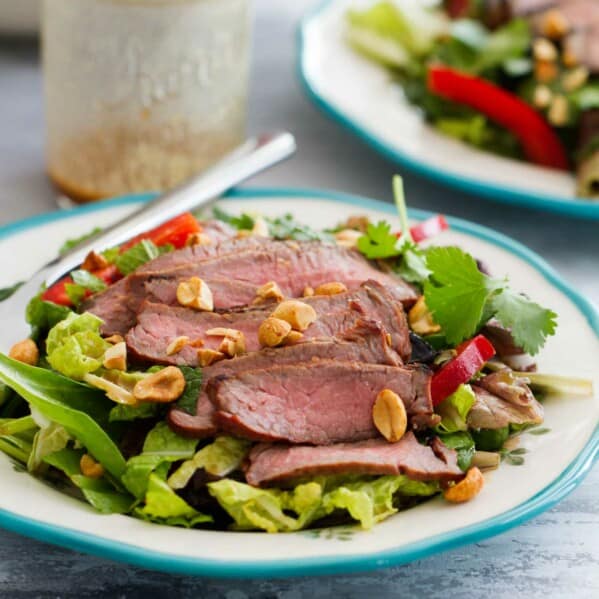 Thai Steak Salad
---
Author:
Prep Time: 15 minutes
Cook Time: 10 minutes
Total Time: 2 hours 45 minutes
Yield: 4 servings 1x
Category: Salad
Method: Grill
Cuisine: Asian
Description
Anything but boring, this Thai Steak Salad is a hearty side dish or easy main dish that you'll want to serve all summer long. Juicy, flavorful steak goes on this salad filled with lots of vegetables and Thai flavors.
---
Scale
Ingredients
Marinade:
1/4 cup pineapple juice
3 tablespoons low sodium soy sauce
1 tablespoon fresh lime juice
1 teaspoon sesame oil
1 (8 oz) Angus NY Strip Steak
Salad Dressing:
3 tablespoon honey
2 tablespoons all natural chunky peanut butter
2 tablespoons hot water
2 tablespoons extra virgin olive oil
1 tablespoon low sodium soy sauce
1 tablespoon rice vinegar
1 teaspoon sesame oil
Salad:
1 (5 oz) bag Marketside Spring Mix
1 cup sliced red bell pepper
1/3 cup fresh, chopped mint
1/3 cup fresh, chopped basil
1/3 cup fresh, chopped cilantro
1 1/2 cups shredded Napa Cabbage
chopped, roasted peanuts
---
Instructions
Combine the pineapple juice, soy sauce, lime juice and sesame oil in a ziplock bag.  Add the steak and turn a few times to coat it in the marinade. Seal the bag and refrigerate for 2-4 hours, turning the bag over a few times.
To make the salad dressing, combine the honey, peanut butter, hot water, olive oil, soy sauce, rice vinegar and sesame oil to a small jar with a lid. Shake the lid until the dressing is completely combined. The dressing may separate again upon standing, so make sure to shake it before serving.  Refrigerate until needed.
When the marinating time for the steak is done, remove it from the refrigerator and allow it to come to room temperature.
Heat a grill to high heat. Once the grill is hot, remove the steak from the marinade and place on the grill.  Grill for about 5 minutes, then turn the steak over and cook an additional 4 minutes (for medium-rare). Remove from the grill to a plate and tent with foil. Allow the steak to sit for 10 minutes.
To make the salad, combine the spring mix, bell pepper, mint, basil and cilantro in a large bowl. Mix in the Napa cabbage.
When ready to serve, drizzle the salad dressing over the salad and mix to coat. Only use as much dressing as needed – save the remaining dressing for passing at the table. Slice the steak thinly against the grain, and place it on the salad. Top with chopped roasted peanuts and serve.
Recipe Notes:
To cook the steak in a pan – heat a cast iron skillet or heavy bottomed skillet over high heat.  Add a tablespoon of butter, and when it has melted, add the steak. Cook about 4 minutes per side for medium rare.
Nutrition
Serving Size: 1/4 of recipe
Calories: 358
Sugar: 18 g
Sodium: 690 mg
Fat: 93 g
Saturated Fat: 10 g
Unsaturated Fat: 11 g
Trans Fat: 0 g
Carbohydrates: 23 g
Fiber: 2 g
Protein: 16 g
Cholesterol: 33 mg
Keywords: thai steak salad
This is a sponsored conversation written by me on behalf of Walmart. The opinions and text are all mine.