This Homemade Pancake Mix makes breakfast in the morning fast and easy. Make up a batch to keep on hand for when that pancake craving hits.
This is a must-have recipe for any pancake lovers! Serve them up with homemade Strawberry Syrup or Homemade Buttermilk Syrup for a real treat!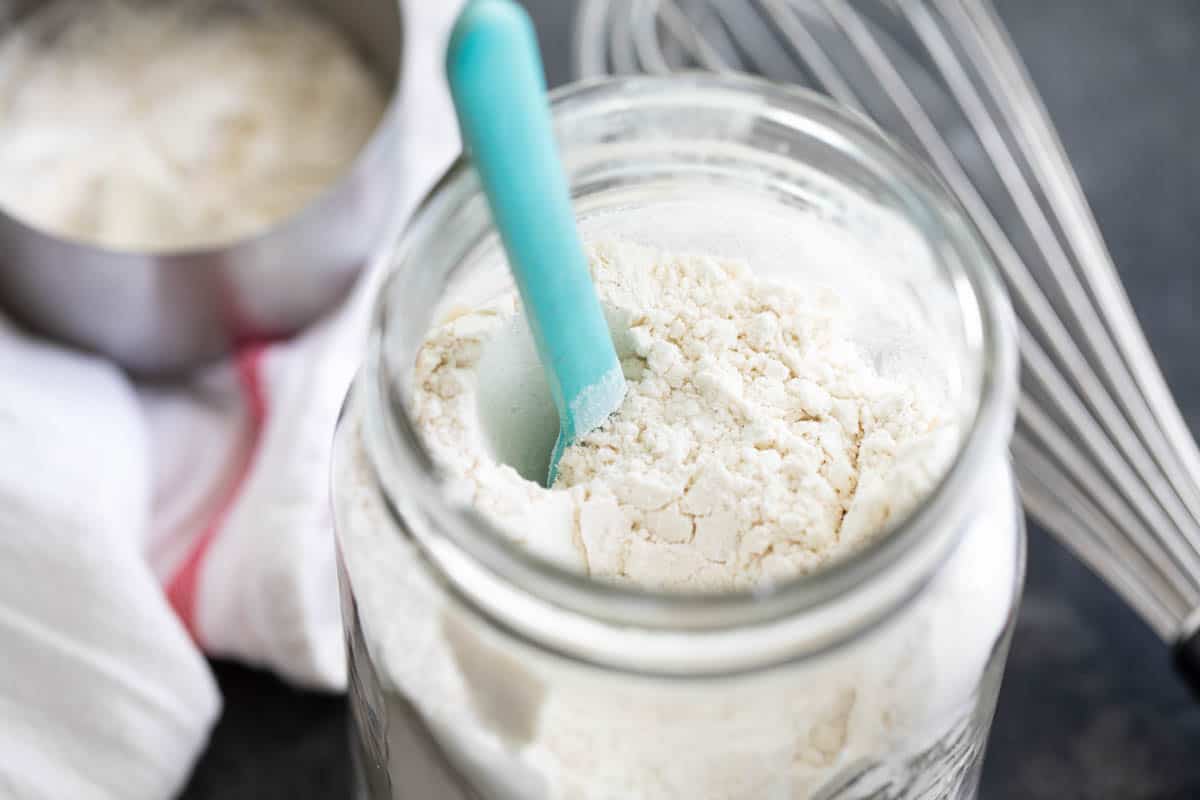 Breakfast is our favorite meal of the day! And while leisurely mornings are great for things like Quiche Lorraine or Coffee Cake, sometimes you want a hot breakfast that is done in a flash.
Enter a pancake recipe that is easy and delicious.
Now, don't get me wrong – my favorite pancake recipe will always be The Best Pancake Recipe. But I very rarely get up early enough to make my kids pancakes before school. And when time is tight and they've got a craving for pancakes, it's always a good idea to have this pancake mix on hand.
The best part about it is that it super easy to mix together and then you can store it to whip up a batch of pancakes in 15 minutes flat. Not too shabby!
What You'll Need
For the pancake mix, you just need a few simple pantry staples!
Flour – I have only tried this recipe using all-purpose flour. But I'm guessing you could use half whole wheat and they'd still be tasty!
Sugar – Just a little for the perfect amount of sweetness.
Salt – Salt will help to balance the flavors.
Baking Powder – This helps to make the pancakes nice and fluffy.
Baking Soda – Also to help with leavening, plus it helps to brown the pancakes.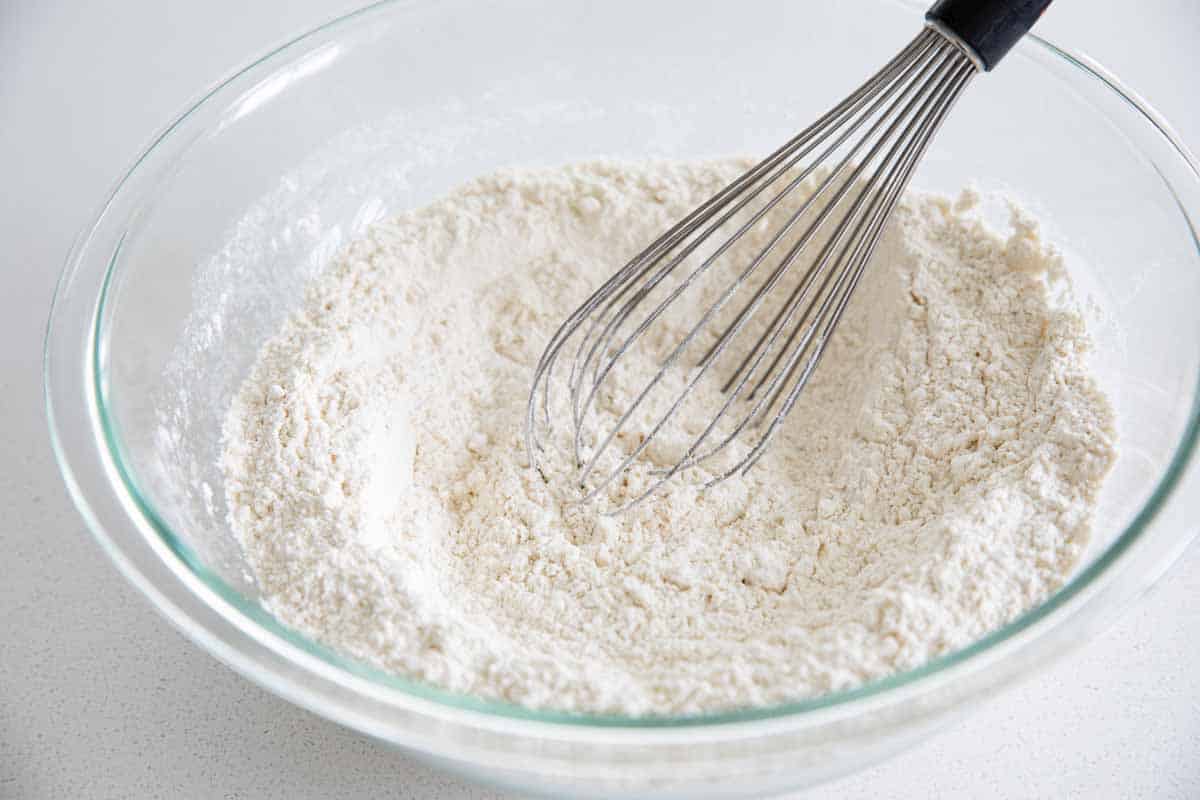 Making and Storing Pancake Mix
It doesn't get easier than this recipe! Simply mix all of the pancake mix ingredients together and store them in a lidded container. I like to use a mason jar – a 1 quart jar holds the recipe with some room to spare.
All of the ingredients are shelf stable, so you can store this in your pantry. I don't like to store it for more than 3 months, because you don't want to risk your baking powder or baking soda going bad, because then your pancakes will not be fluffy like they should be.
This recipe can easily be doubled – especially if you make pancakes often.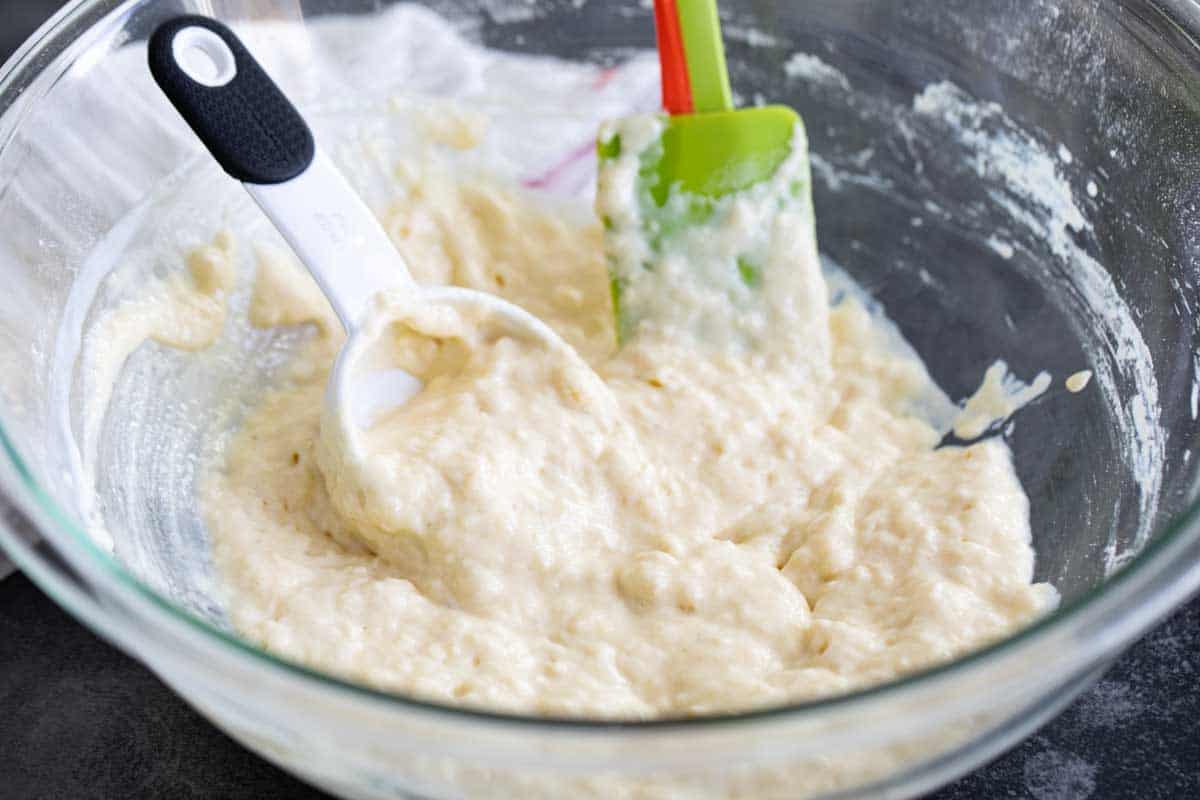 How to Make the Pancakes
When you are ready to make the pancakes, it takes 5 minutes to mix everything together!
Start by combining your buttermilk, and egg, and melted butter in a large bowl. Stir in 1 cup of the pancake mix and mix just until it is combined.
As with most pancake recipes, you won't have a smooth batter – lumps are normal! You don't want to overstir the batter, though.
From here, just make your pancakes as normal on a griddle or in a skillet. I like to use a 1/4 cup measuring cup to pour the batter onto the pan. Cook until they start to bubble, then turn and cook the second side.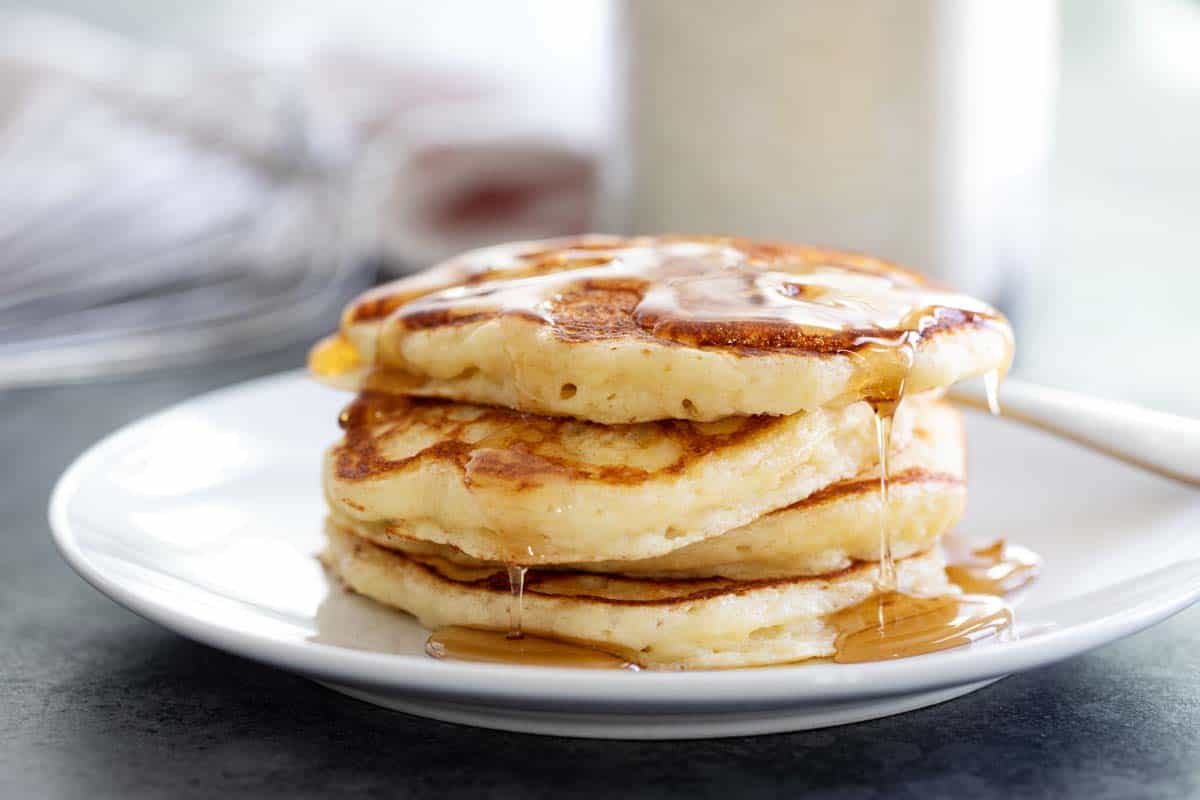 Tips and Tricks
Don't have buttermilk on hand? This recipe will still work with regular milk, but buttermilk will make a fluffier pancake.
Start with just the 1 cup of buttermilk, but be prepared to add in another tablespoon or two. You want the batter to be fairly thick, but still pourable. If you are using regular milk, you will probably not need that additional amount of milk.
Melted butter adds great flavor and helps the pancakes to brown up nicely, but feel free to swap in oil. Sometimes that's easier and faster than melting butter.
Make these your own! Add in a bit of vanilla extract, a dash of cinnamon, or a handful of chocolate chips. My kids are always partial to sprinkles, as well.
If you make too many pancakes, these are super easy to freeze for later. I like to place them on a baking sheet and place that in the freezer, then when they are frozen I'll stack them in a ziplock bag in the freezer. You can reheat them in the microwave or in a toaster.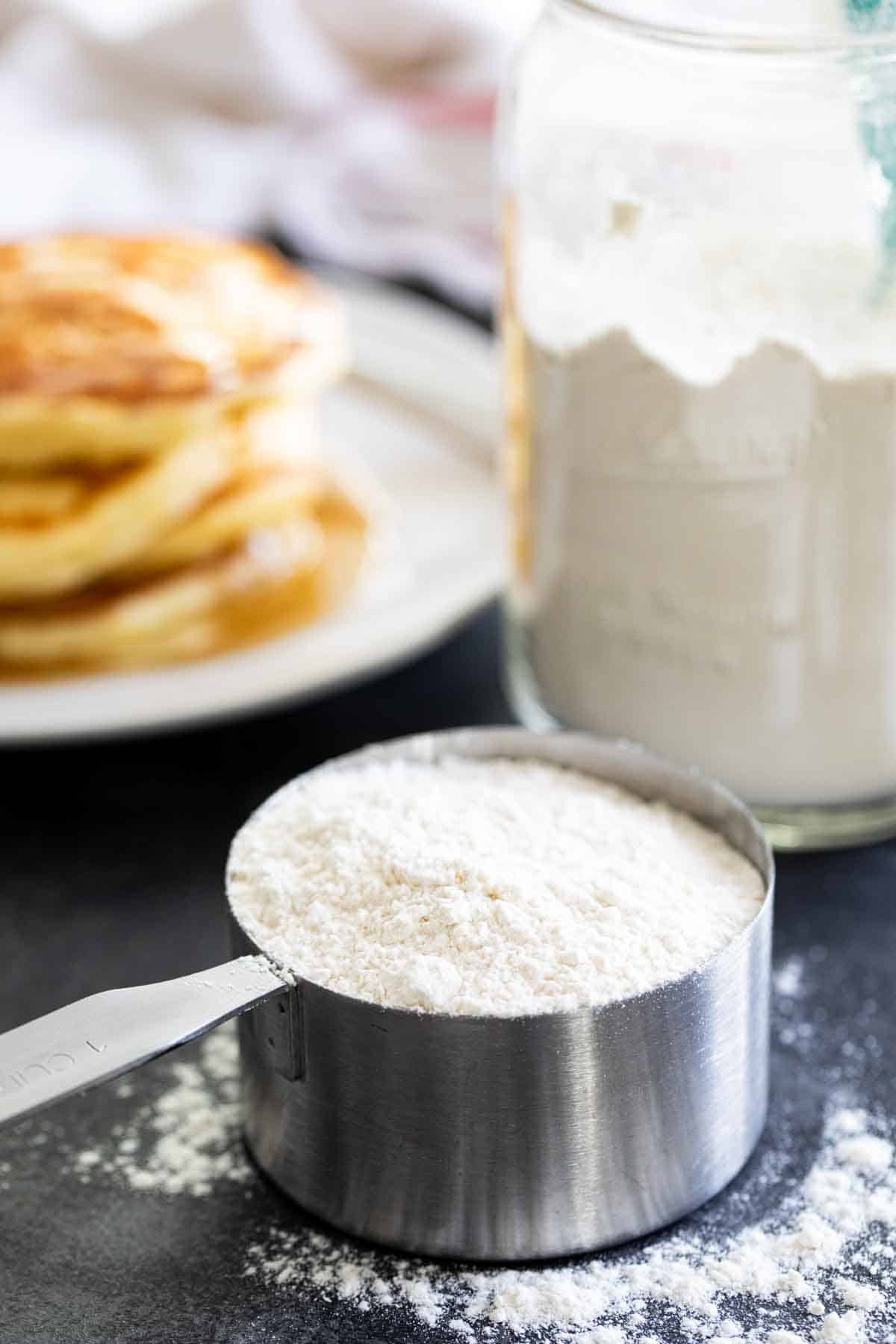 More Pancake Recipes to Try
If you have a birthday in the house, you have to try these Funfetti Pancakes!
You know I'm a red velvet fan, and these Red Velvet Pancakes have a special place in my heart.
For something a little healthier, try these Oatmeal Pancakes with Chocolate Chips.
Lemon is my favorite, and these Lemon Pancakes get two big thumbs up from me!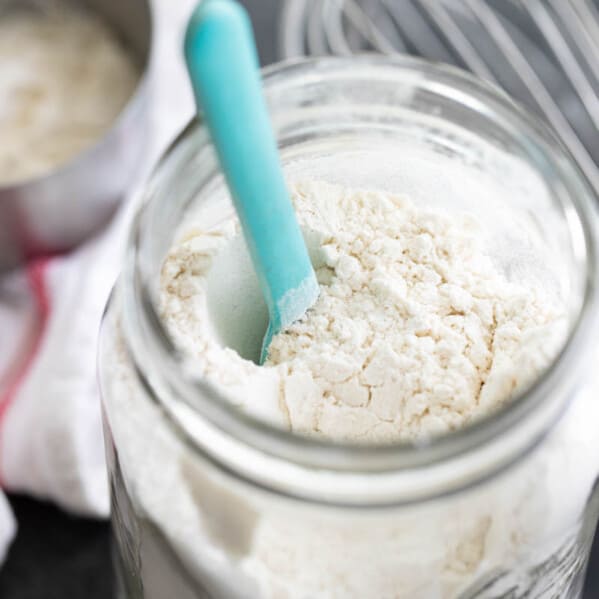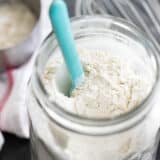 Homemade Pancake Mix
---
Author:
Prep Time: 5 minutes
Cook Time: 10 minutes
Total Time: 15 minutes
Yield: 3 cups of mix 1x
Category: Breakfast
Method: Stovetop
Cuisine: American
Description
This Homemade Pancake Mix makes breakfast in the morning fast and easy. Make up a batch to keep on hand for when that pancake craving hits.
---
Scale
Ingredients
Pancake Mix:
3 cups all-purpose flour
1 tablespoon sugar
1 1/2 teaspoons kosher salt
1 1/2 teaspoons baking powder
3/4 teaspoon baking soda
To Make the Pancakes:
1 cup buttermilk, plus 1-2 tablespoons
1 egg
2 tablespoons melted butter (or oil)
1 cup pancake mix
---
Instructions
To make the pancake mix:
Whisk together all of the pancake mix ingredients. Transfer to a container with a lid. Store for up to 3 months.
To make the pancakes:
In a large bowl, whisk together the buttermilk, egg and melted butter. Add 1 cup of pancake mix and mix just until combined. (The batter will still be lumpy.) Add another tablespoon or two of buttermilk if the batter is too thick.
Heat a griddle or skillet over medium high heat.
Grease with nonstick cooking spray or butter.
Ladle the pancake batter onto the griddle. When bubbles begin to form and the bottom of the pancake is browned, gently flip the pancake. Cook another 2-3 minutes, or until the pancake is set.
Serve immediately.
Recipe Notes:
Each batch of pancakes makes 9-10 pancakes using about 1/4 cup of batter each.
Nutrition information provided as an estimate only. Various brands and products can change the counts. Any nutritional information should be used as a general guide. Nutrition information is for 1 batch of prepared pancakes serving 4 people.
Nutrition
Serving Size: 2.5 prepared pancakes
Calories: 208
Sugar: 3 g
Sodium: 489 mg
Fat: 8 g
Saturated Fat: 4 g
Unsaturated Fat: 2 g
Trans Fat: 0 g
Carbohydrates: 26 g
Fiber: 1 g
Protein: 7 g
Cholesterol: 64 mg
Keywords: Homemade pancake mix, pancake mix, how to make pancake mix, breakfast, easy breakfast