An easy to make mix that makes breakfast in the mornings fast and easy!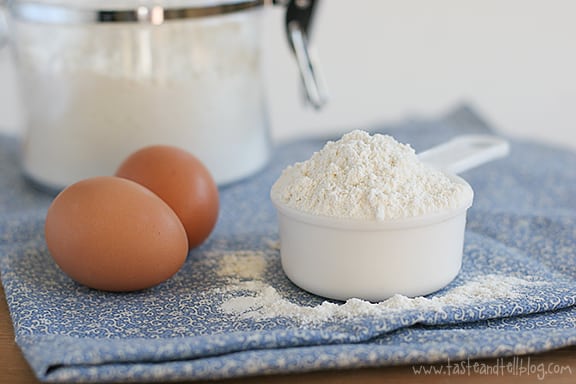 My daughter is a funny eater. One day, she will absolutely love something, but then hate it the next day. You just never know what a certain day is going to bring!! Like last week – she loved grapes so much that I bought 2 bags of them last time I was at the grocery store. And then yesterday, she wouldn't even touch them off of her plate. She's constantly surprising me with what she likes or dislikes on any certain day.
Usually, mornings are a struggle. For the longest time, all she wanted for breakfast was toast. Just toast. I'd make anything else, and it would go uneaten. And then one day, when she woke up and I asked her what she wanted for breakfast, she declared "Pancakes!" I had to ask her twice what she said, simply because I didn't believe her. I had always thought that every kid loved pancakes, but up until this moment, she had never liked pancakes. So, since she is also impatient, I took the easy route for breakfast that morning. I had a box of pancake mix in the cupboard, and used it for her breakfast.
The next morning, she woke up and once again asked for pancakes. And again, I made her breakfast from that boxed mix. Once I decided that it wasn't some crazy fluke that she had become pancake obsessed, I set out to find a way to replace that pancake mix so that I could make pancakes quickly in the morning. And just as I thought, making your own pancake mix is not only way cheaper than buying the boxed kind, but it's so easy! In fact, this would make the perfect Christmas gift to give to neighbors. Just put it in a fun container and attach the instructions to make the pancakes, and you are all set! A fun, (and super cheap), gift idea!!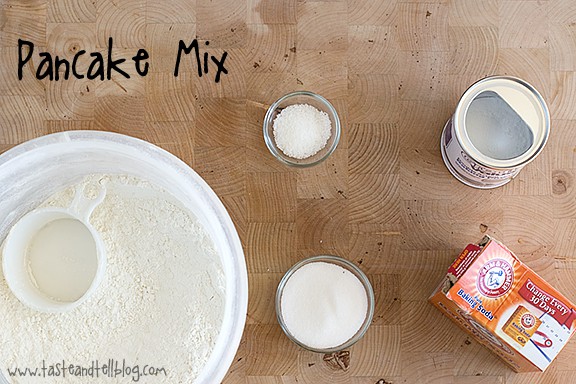 I hesitated to use this particular recipe to share with you at first because the pancakes are made with buttermilk. But I love buttermilk pancakes, and this recipe was a great one that I really wanted to share. I almost always have buttermilk on hand, (my husband loves it in his steel cut oats), but I realize that it's not something that everyone always has on hand. But not to worry!! If you don't have buttermilk, just put 1 tablespoon of lemon juice or vinegar in a measuring cup, and add enough milk to make 1 cup. Let it sit for 5 minutes, and you have a great buttermilk substitute!! Now making from-scratch pancakes in the morning is as easy as can be!!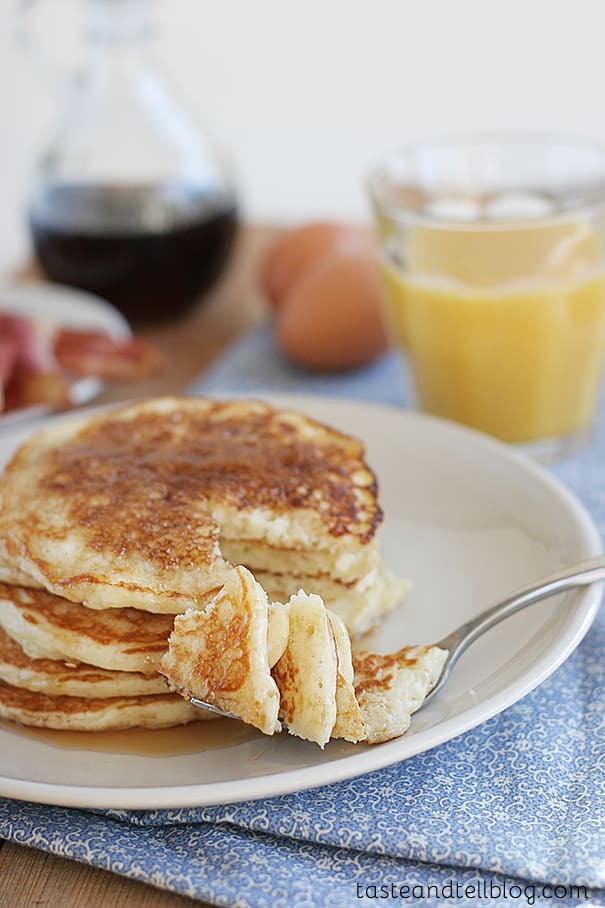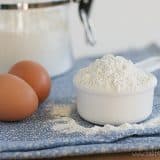 Pancake Mix
---
Prep Time: 10 minutes
Cook Time: 15 minutes
Total Time: 25 minutes
Yield: pancake recipe makes 6 pancakes, pancake mix makes enough for 3 batches
Description
An easy to make mix that makes breakfast in the mornings fast and easy!
---
Scale
Ingredients
Pancake mix
3 cups all-purpose flour
3/4 teaspoon baking soda
1 1/2 teaspoons baking powder
1/2 tablespoon kosher salt
1 tablespoon sugar
to make the pancakes:
1 egg, white and yolk separated
1 cup buttermilk
2 tablespoons melted butter
1 cup pancake mix
---
Instructions
To make the pancake mix:
Combine all pancake mix ingredients in a container with a lid and mix well. Store for up to 3 months.
To make pancakes:
Preheat a griddle.
In a small bowl, whisk together the egg white and the buttermilk. In another small bowl, whisk together the butter and the egg yolk.
Place the pancake mix in a large bowl. Mix together the buttermilk mixture and the butter mixture, then pour over the pancake mix. Mix just until combined.
When the griddle is hot, lightly butter or spray with non-stick spray. Ladle the pancake batter onto the griddle. When bubbles begin to form around the edges of the pancake, gently flip. Cook another 2-3 minutes or until the pancake is set.
Serve immediately.
————————-
Adapted from foodnetwork.com