Sweet, spicy and savory – these Spicy Shrimp Bowls have it all going on! Made with coconut rice, beans, pineapple, mango, avocado and spicy shrimp, these bowls are light yet comforting.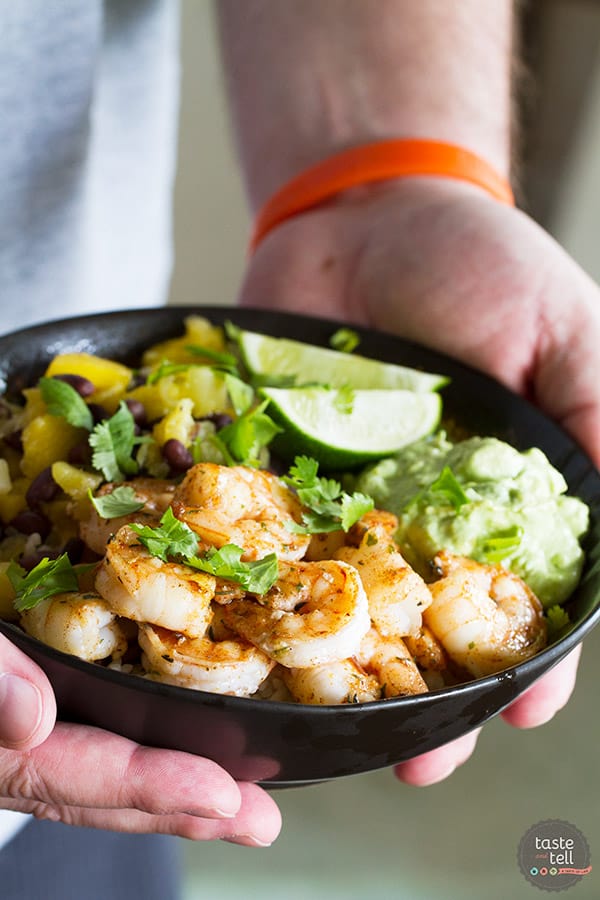 Yum


I am totally jumping in on the whole "bowl" trend. Which is actually quite strange, considering I've always been that girl who doesn't like her food to touch. Growing up, I hated when the bacon got syrup on it from my pancakes, or when the turkey touches the cranberry salad at Thanksgiving. My dad would always put his peas on top of his mashed potatoes when we had Sunday dinner, but me? I never wanted them to touch.
Maybe it's because I'm grown up now. And my tastes have matured. Or maybe it's because by giving it a chance, I've realized some things really do taste better when you put them all together. No matter the reason, though, I'm totally falling for bowls.
I've only made one bowl recipe here on the blog (so far), but I eat them quite often at home. Sometimes it just means arranging leftovers creatively. Sometimes it's because I only have a little bit of this and a little bit of that, so I find a way to make it all fit together somehow.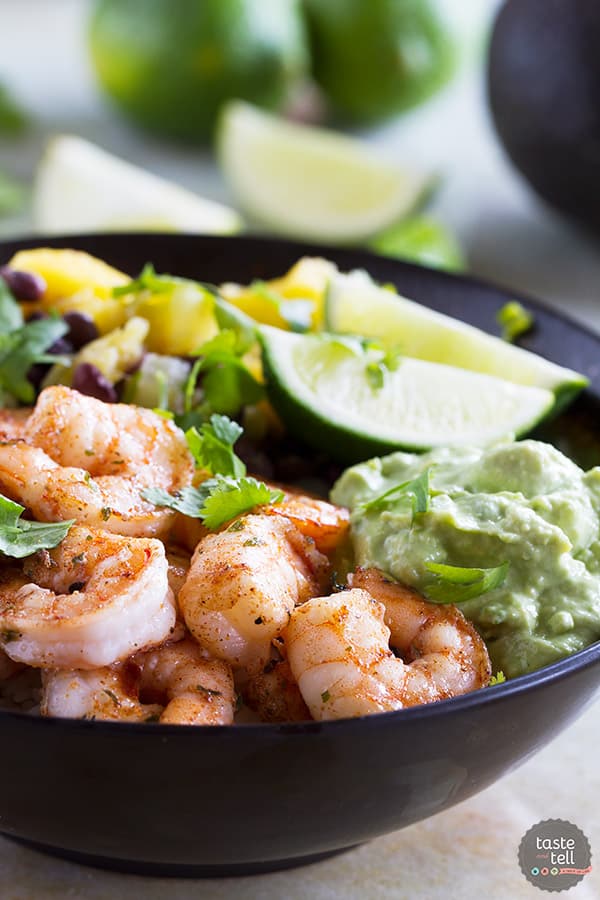 I can't say this Spicy Shrimp Bowl came together from a bunch of random ingredients that I threw together. In fact, it took me several times to get this just right. Originally, I tried just using Old Bay Seasoning on the shrimp. But it wasn't nearly bold enough for these bowls. So that's where Monday's post of the Jamaican Jerk Seasoning Mix came from. And regular rice didn't cut it, either. Much too bland. So I ended up making a coconut rice which was absolutely perfect for this Spicy Shrimp Bowl, full of spicy and sweet flavors.
It was definitely worth making these several times to get it right, though, because the final bowl is something that I could eat on a weekly basis and I'd be happy.
Yep, I'm totally jumping on the bowl bandwagon. 🙂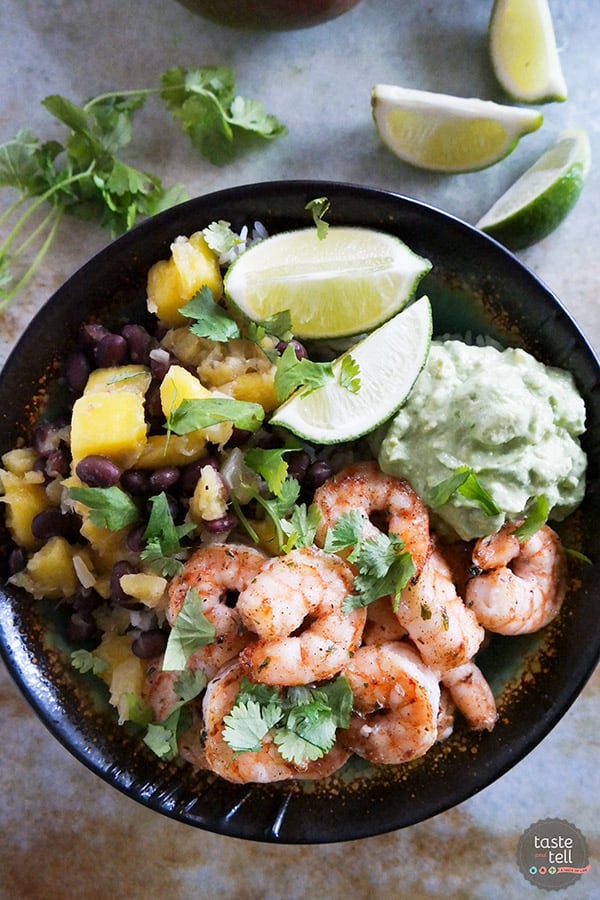 Like what you see here? Make sure you are following Taste and Tell for more recipes and ideas!
Facebook | Pinterest | Instagram | Twitter | Google+ | Weekly Newsletter | Feedly | Bloglovin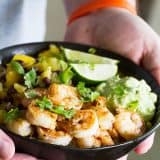 Spicy Shrimp Bowls
---
Author:
Prep Time: 10 mins
Cook Time: 20 mins
Total Time: 30 mins
Yield: 4 servings 1x
Description
Sweet, spicy and savory – these Spicy Shrimp Bowls have it all going on! Made with coconut rice, beans, pineapple, mango, avocado and spicy shrimp, these bowls are light yet comforting.
---
Scale
Ingredients
1 1/2 cups water
1 cup coconut milk
1 teaspoon salt
2 cups long-grain rice
1 3/4 cup black beans, drained
1 can (8 oz) unsweetened crushed pineapple, drained
1 medium mango, peeled and chopped
1 medium avocado, pit removed and peeled
1/3 cup sour cream
1/4 teaspoon salt
1 pound uncooked shrimp (31-40 per pound), peeled and deveined
1–2 teaspoons Jamaican Jerk Seasoning Mix
1 tablespoon vegetable oil
lime wedges
cilantro
---
Instructions
In a medium saucepan, combine the water and coconut milk and bring to a boil. Add the salt, then stir in the rice. Lower the heat to a simmer, then cover the pan and cook just until the rice is tender, about 18 minutes. Leave the pot covered for about 5 minutes, then fluff with a fork.
In another saucepan, combine the black beans, pineapple and mango over medium-low heat. Heat until warmed through, then keep the heat on low to keep warm.
Place the avocado in a bowl and mash with a fork. Stir in the sour cream and the 1/4 teaspoon salt.
Sprinkle the shrimp with the Jamaican Jerk Seasoning Mix. Heat the vegetable oil in a large skillet over medium-high heat. Add the shrimp and cook until opaque and pink, about 2-3 minutes.
To assemble the bowls, place some 1/4 of the rice in a bowl. Top with 1/4 of the bean mixture, 1/4 of the shrimp, and a scoop of the avocado mixture. Top with cilantro and a squeeze of lime juice.
SHOP THIS POST!
MORE FAVORITE SHRIMP RECIPES: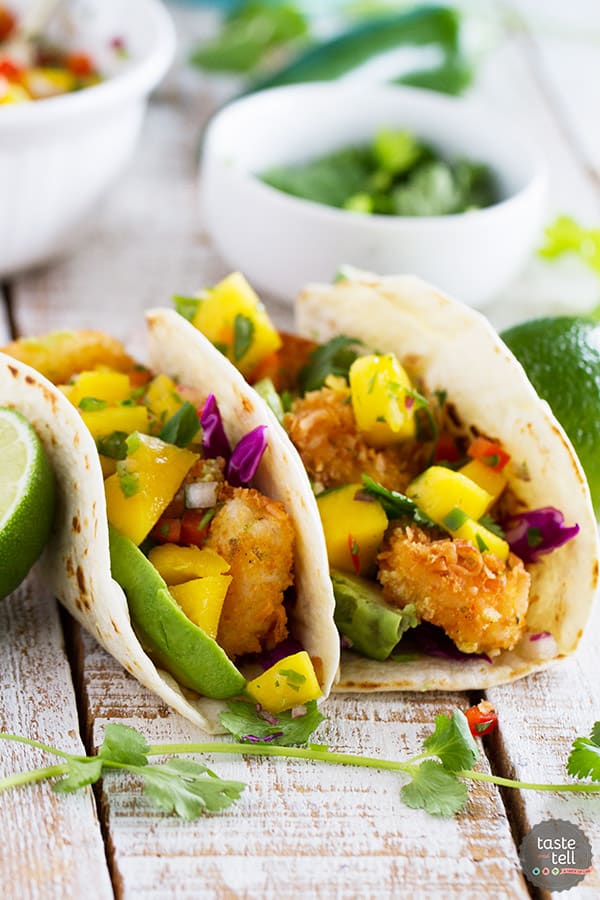 Coconut Shrimp Taco Recipe with Mango Salsa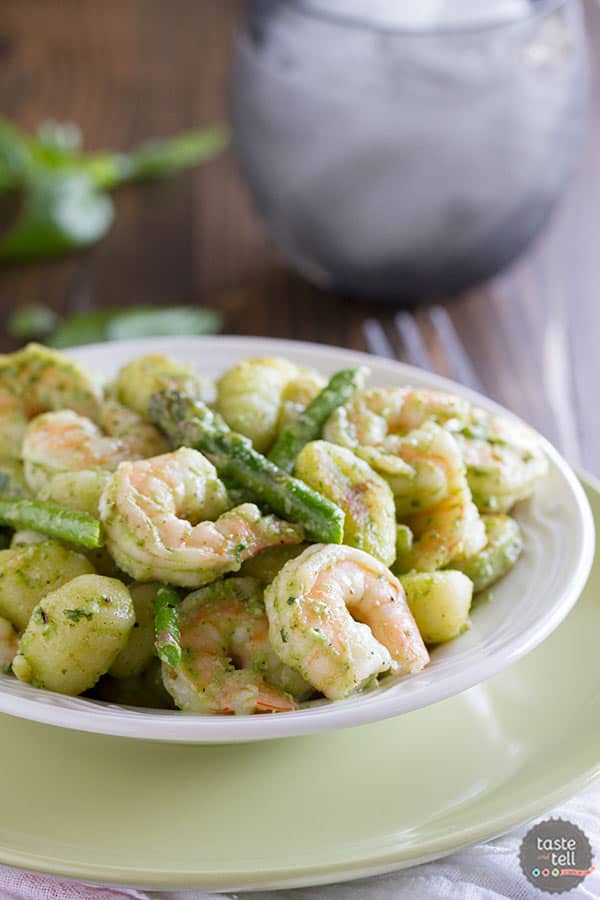 Gnocchi with Pesto, Shrimp and Asparagus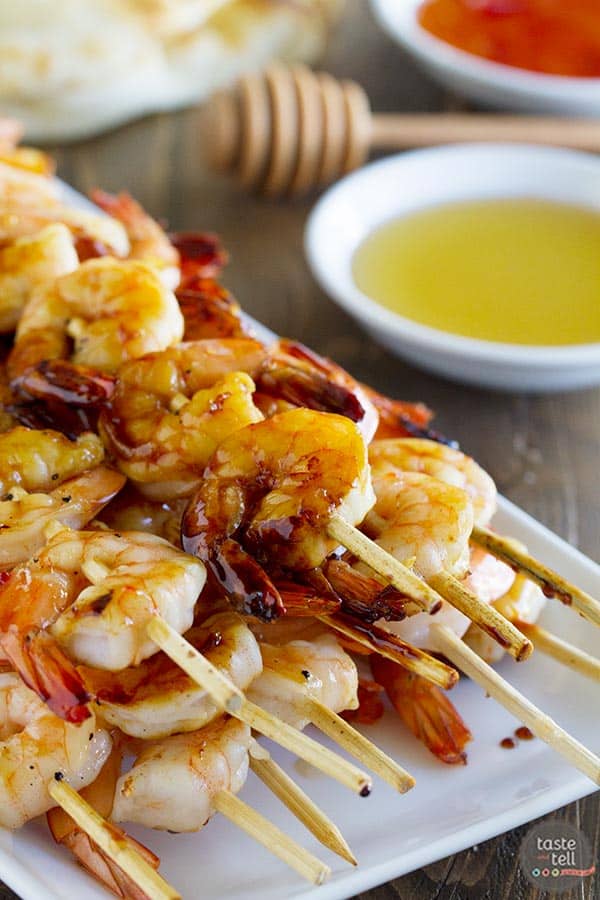 Chili Honey Garlic Shrimp Kabobs
Around the Web:
Baked Honey Cajun Shrimp from Natasha's Kitchen
Lemon Shrimp One Pot Pasta from Bake. Eat. Repeat.
Sweet Chili Shrimp from Carlsbad Cravings
Don't miss a thing! Follow me on Pinterest to see what I'm pinning!
Visit Taste and Tell's profile on Pinterest.