Whether it's for a date night at home a special occasion or important company, this Shrimp Pasta in White Sauce is impressive, yet easy to make!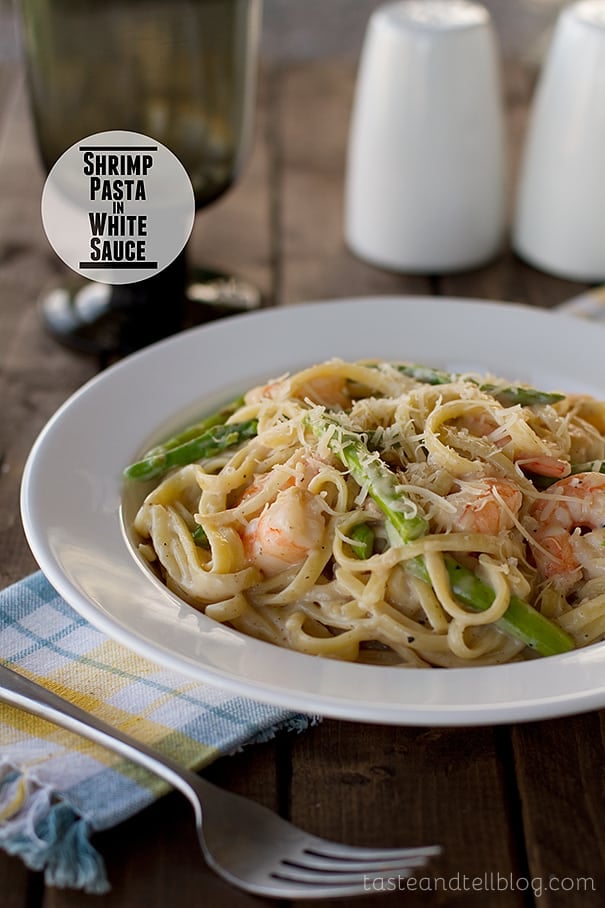 Photo Updated October 2013
Originally posted April 26, 2007 – This is one of my favorite pasta recipes, and it's been buried in the archives for way too long now, so I thought it was time for a fresh picture and update. If you are planning for company this holiday season, or if you want to make a special date night at home, this is the recipe for you!
One of my sisters sent me this recipe back in 2004 – I can't believe I have only made it once before last night. Josh is a huge Fettuccine Alfredo lover. I seriously think that he would eat it weekly if I made it that often. I am usually a huge cheater with my Alfredo sauce, though. They sell these sauce packets at a nearby grocery store, and they taste so good when prepared that I usually use them. But after making this pasta last night, I realized that it is just as easy to make your own sauce. I don't know why I don't do it more often!!
This recipe is extremely versatile. You can change the cheese – the recipe calls for Parmesan and I used Pecorino Romano. My sister's original recipe calls for scallops, but I used shrimp, but it would also be delish with chicken, bacon or crab. Ohh, or even salmon would be great. (I have actually never prepared scallops before, so maybe I will try that next time!) The asparagus could also easily be substituted – broccoli, peas….the possibilities are endless! I used the evaporated milk instead of cream, and it did not compromise the flavor or texture at all. I did overcook my asparagus, though. I just got my steamer for Christmas, and don't have the times down for different veggies, so I need to work on that. But this was yummy! Josh was extremely pleased – I got tons of compliments!!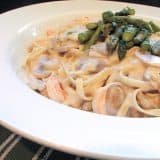 Shrimp Pasta in White Sauce
---
Prep Time: 20 minutes
Cook Time: 25 minutes
Total Time: 45 minutes
Yield: 4 servings 1x
Description
Whether it's for a date night at home a special occasion or important company, this Shrimp Pasta in White Sauce is impressive, yet easy to make!
---
Scale
Ingredients
12 oz pasta noodles
1/2 cup butter
1/4 cup onion, diced
1 cup sliced mushrooms
1 lb shrimp, peeled & deveined
1/4 cup flour
1 cup chicken broth
1 cup cream or evaporated milk
1/2 cup fresh Parmesan cheese
dash of nutmeg
1/4 teaspoon garlic powder
3/4 cup steamed asparagus, but on a diagonal in 1/2 in. pieces
---
Instructions
Boil water in a large saucepan. Add noodles and cook until al dente.
In the meantime, melt 1/4 cup butter in a medium saucepan over medium heat. Slowly cook the onions and then add mushrooms and cook until both are tender. Add shrimp and cook until shrimp have changed color and are cooked through.
In another large saucepan, melt the other 1/4 cup butter. Add flour and stir until combined. Cook and stir for about 2 minutes. Stir in chicken broth, cream, and pepper to taste. Add garlic powder and nutmeg to taste as well. Stir in the Parmesan cheese. Simmer 5-10 minutes or until it thickens. Stir the mushroom-shrimp mixture and asparagus into the sauce and combine. Add to the cooked pasta and gently toss.