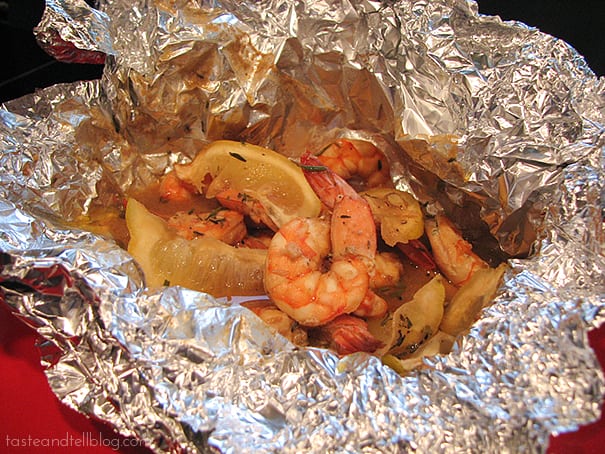 Reminder to self – when you cut down the portion size of a recipe, you also cut down the cooking time….
When I saw this recipe in the April Cooking Light, I knew I wanted to try it. The only problem was that it is a "Cajun" style recipe, and I knew my husband wouldn't like it. So what do I do? I wait until a night that he is working and make it for myself!!
This could have been a very good recipe. Since I was only feeding myself, I cut it down to a one person serving. I didn't measure anything – just kind of threw all of the ingredients in. I also used peeled shrimp instead of unpeeled. It would have been perfect, but I wasn't thinking and still cooked it for about 18 minutes. My shrimp was definitely overdone. The flavor was perfect, so I will make this again sometime and cut back on the cooking time. This was super easy and fast (minus the marinating time) and it actually turned out perfect as a single serving dish (except the cooking time mess up.) I would serve it over noodles or rice next time, but this time I just ate it straight out of the foil package!
New Orleans-Style Shrimp
from Cooking Light
Ingredients
3 tablespoons Worcestershire sauce
2 tablespoons fresh lemon juice
1 tablespoon butter, melted
2 teaspoons chopped fresh rosemary
2 teaspoons chopped garlic
1/2 teaspoon dried thyme
1/2 teaspoon hot pepper sauce (such as Tabasco)
1/4 teaspoon freshly ground black pepper
1/4 teaspoon ground red pepper
2 pounds unpeeled large shrimp
2 lemons, sliced into 1/4-inch slices
4 teaspoons butter, divided

Preparation
Combine first 11 ingredients in a large bowl; toss well. Cover and marinate in refrigerator 30 minutes.
Preheat oven to 425°.
Fold 4 (16 x 12-inch) sheets of heavy-duty aluminum foil in half crosswise. Open foil. Remove shrimp mixture from bowl; reserve marinade. Place about 2 1/4 cups shrimp mixture on half of each foil sheet. Drizzle remaining marinade evenly over shrimp. Top each serving with 1 teaspoon butter. Fold foil over shrimp; tightly seal edges.
Place packets on a baking sheet. Bake at 425° for 20 minutes. Let stand 10 minutes. Place on plates. Unfold packets carefully; peel shrimp, and serve immediately.
Yield
4 servings (serving size: 1 packet)
Nutritional Information
CALORIES 323(30% from fat); FAT 10.7g (sat 4.9g,mono 2.3g,poly 1.8g); PROTEIN 46.4g; CHOLESTEROL 363mg; CALCIUM 156mg; SODIUM 513mg; FIBER 0.8g; IRON 6.5mg; CARBOHYDRATE 8.9g