Easy enough for a weeknight meal, but impressive enough for company, this Gnocchi with Pesto, Shrimp and Asparagus is packed with flavor and done in less than 30 minutes!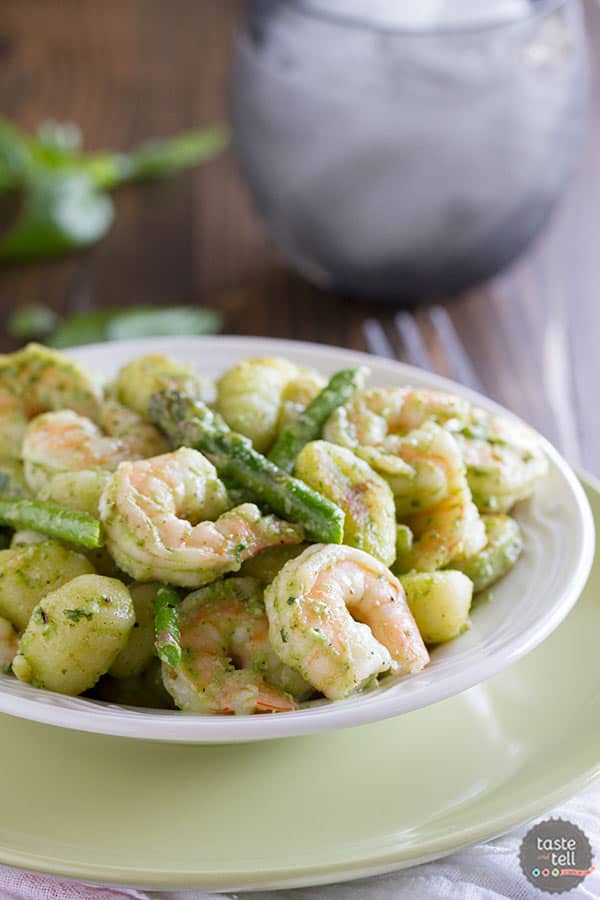 Originally posted March 17, 2008 – I originally posted this recipe on St. Patrick's day as a last minute attempt at something green, and here I am again, last minute and not a green recipe in sight. This is not Irish by any means of the imagination, but green is better than nothing, right? And it definitely doesn't hurt that it is crazy delicious. We have become gnocchi addicts in my house, and this is no exception. So St. Patrick's day or not, this is a great spring recipe!

I was going to make a fun St. Patrick's Day green treat to bring into work today, but that didn't happen. Remember last month when I promised to do my Daring Baker's challenge earlier in the month? Well, I did it yesterday, and with the creative liberties I made, it literally took me most of the day. So I was beat, and I didn't have the energy to make anything else!!
So instead, I looked through my photos of foods patiently waiting to be posted about, and I found this green pasta dish. And why I didn't post about it sooner is beyond me, because this was delicious!!
Until this dish, I had actually never had gnocchi before. But this will not be the last time, because my husband and I really enjoyed it. I did buy it premade, but now I'm ready to try making it from scratch one of these days. When I think of gnocchi, I think of Top Chef. Any of you Top Chef fans out there – is it just me, or have the judges criticized every single gnocchi that has been made on the show? I think this is one reason I'm a little scared to try to make it from scratch, because if these professional chefs have a hard time making it well, I will probably really struggle with it!! But then again, my husband and I are the only judges, and we are not nearly as harsh as Tom, Padma and Gail!
This is a dish that can literally come together in less than 30 minutes. And it's versatile as well – my husband did not want shrimp, so I did chicken for him and shrimp for me. And as spring keeps getting closer and asparagus is showing itself on grocery shelves, this is a perfect springtime meal.
Happy St. Patrick's Day to everyone!!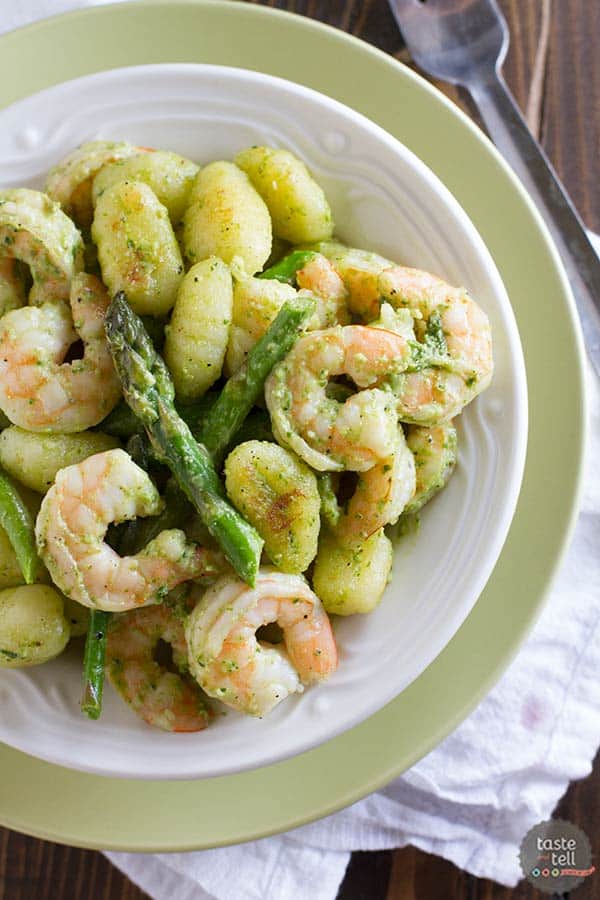 Like what you see here? Make sure you are following Taste and Tell for more great recipes and ideas!!

Facebook ** Pinterest ** Twitter ** Instagram ** Google+
or you can subscribe to my newsletter or Feedly or Bloglovin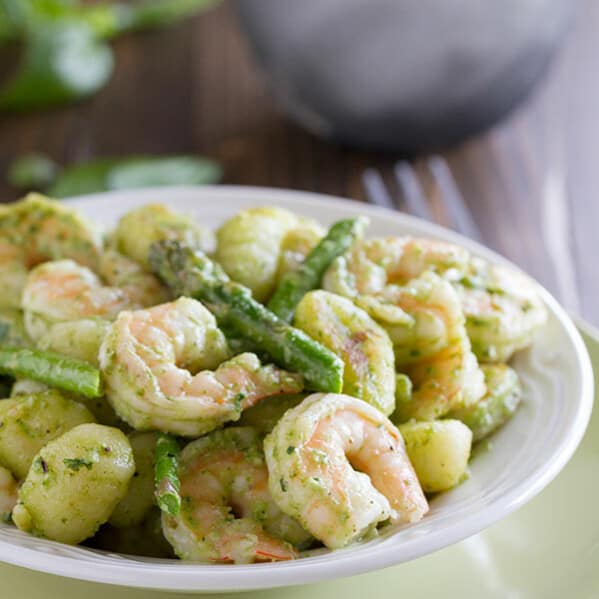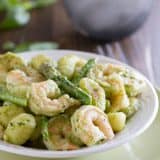 Gnocchi with Pesto, Shrimp and Asparagus
---
Prep Time: 10 mins
Cook Time: 15 mins
Total Time: 25 mins
Yield: 4 servings 1x
Description
Easy enough for a weeknight meal, but impressive enough for company, this Gnocchi with Pesto, Shrimp and Asparagus is packed with flavor and done in less than 30 minutes!
---
Scale
Ingredients
Pesto
1 cup loosely packed basil
2 tablespoons pine nuts, toasted
2 tablespoons grated Parmesan cheese
2 cloves garlic, minced or grated
2 teaspoons fresh lemon juice
1/4 teaspoon salt
1/4 teaspoon pepper
4 teaspoons extra virgin olive oil
Gnocchi
1 package (16-oz) gnocchi
3 tablespoons extra virgin olive oil, divided
1 lb asparagus, tough ends removed then cut into 2-inch pieces
1 pound peeled and deveined large shrimp, tails removed
salt and pepper
---
Instructions
Prepare the pesto:
Combine the basil, pine nuts, Parmesan, garlic and lemon juice in a food processor or blender. Season with the salt and pepper. Process until smooth, scraping down the sides as needed. Stream in the olive oil until the mixture comes together in a smooth sauce.
Make the Gnocchi:
Bring a large pot of salted water to a boil. Add the gnocchi and cook until it floats to the top of the surface.
While the gnocchi cooks, heat one tablespoon of the olive oil in a large sauté pan over medium high. Remove the cooked gnocchi from the water with a slotted spoon to the sauté pan and cook until it is crisp on all sides, stirring and flipping the gnocchi as needed, about 5 minutes. Transfer the gnocchi to a plate.
Heat another tablespoon of the oil in the same sauté pan and add the asparagus. Cook until crisp-tender, 3-5 minutes depending on the thickness of the asparagus. Remove the asparagus to the same plate as the gnocchi.
Season the shrimp with salt and pepper. heat the remaining tablespoon of oil in the same sauté pan and add the shrimp. Cook until shrimp are pink, 2-3 minutes per side.
Combine the gnocchi, asparagus and shrimp and add the pesto sauce. Stir to combine, then serve immediately.


**This post contains affiliate links. If you purchase an item from Amazon from the link Taste and Tell receives a small commission. Thank you for supporting Taste and Tell through your purchases!**