Filled with veggies, hearty farro and a spicy chicken, this Thai Chicken Buddha Bowl will leave you craving for more. Don't forget the spicy peanut sauce!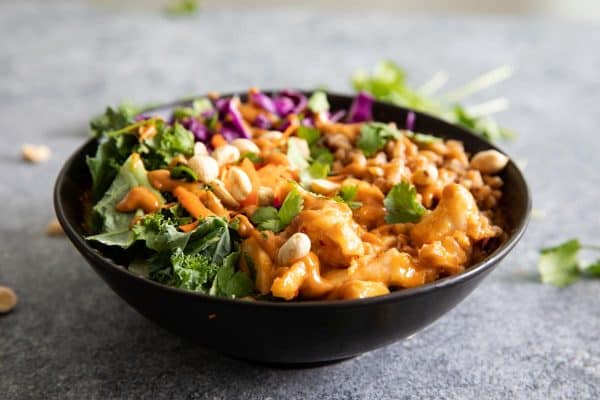 I am fairly new to the meal prep world. But because I love food, and I love to splurge every once in awhile, I try to keep most of my meals at home fairly healthy. Sometimes that is hard, though, especially when I'm at home and hungry and the easiest thing to eat is a grilled cheese sandwich.
But when I have prepped meals in the refrigerator, it makes it so much easier to grab for the healthy choice.
Damn Delicious Meal Prep
Enter the newest cookbook by Chungah Rhee – Damn Delicious Meal Prep.
I am really loving this book so far. I've only made a few recipes from it, but there are so many great recipes in it that make meal prepping easy and that are full of flavor.
I also love that it's not just full of meals that can be saved as single serving meals – but there are lots of things that you can make ahead for the whole family, meals that are perfect for the freezer, or even snack ideas. I have a feeling I'll be cooking from this cookbook a lot!
Thai Chicken Buddha Bowls
Let's talk about the recipe I'm sharing from this cookbook today – these Thai Chicken Buddha Bowls. When I first got this cookbook, I made 2 recipes from it. This recipe won out for my favorite. And let me tell you – I am so in love with it. When I finished my first batch, I immediately wanted to turn around and make some more. I would seriously crave this recipe.
I will say that this is probably not the most family friendly meal, as it is a bit spicy, but I will gladly hoard these away in the refrigerator just for myself. I love the combination of the farro that is a bit chewy, the spicy chicken and the crunchy vegetables.
When I first made this recipe, I had to go back and read it a few times because I thought for sure that you heated it up to eat it. But you don't! This bowl is meant to be eaten cold, which I didn't think I'd like but I actually really loved it cold. It also makes this meal one that is easier for people who are away from home since you can eat it anywhere without having to heat anything up.
This recipe is seriously my favorite thing right now.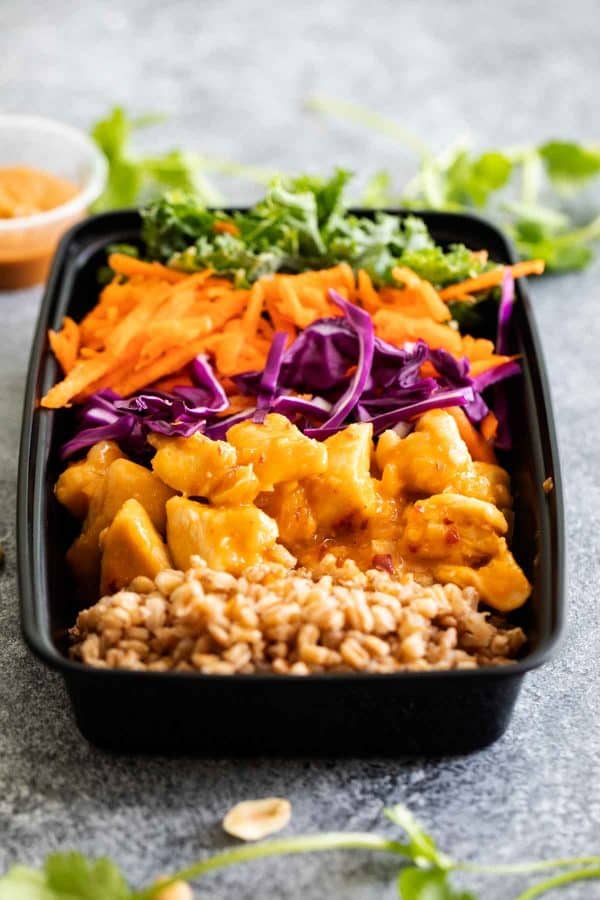 What is a Buddha Bowl?
So, you've probably been seeing Buddha bowls popping up over the last few years. And probably mostly on Instagram. Usually artfully arranged and super colorful. But what exactly are they?
Well, the basic concept behind a Buddha bowl is balance. Not too much of one thing – keeping a variety of nutrients, textures and flavors. Most contain a grain, some sort of protein, and lots of vegetables. The original mentions of Buddha bowls were vegan, but you will see many with lean meats these days.
There is no hard and fast rule to what they contain, but variety and balance seem to be the key.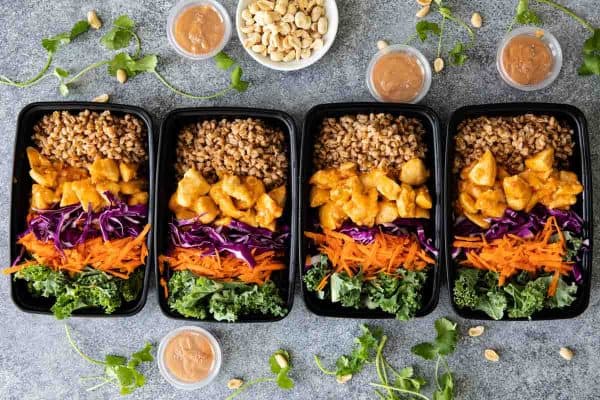 Are Buddha Bowls healthy?
For the most part, Buddha bowls tend to be very healthy, or at least filled with lots of healthy ingredients. But just because something is labeled as a Buddha bowl doesn't automatically make it healthy. It is only as healthy as the ingredients it contains. Many Buddha bowls contain a dressing of some sort, so be careful dressings that go overboard with the dressings or that serve a dressing with ingredients that aren't that great for you.
How long do prepped meals last?
Depending on the meal, most meal prepped meals will last 3-5 days. Since I'm the only one that is eating these meal prep meals, I can only make one batch at a time and eat them over the course of 4 days. It makes it hard to keep a variety, but with meals as good as this one, you won't mind eating the same thing for 4 days!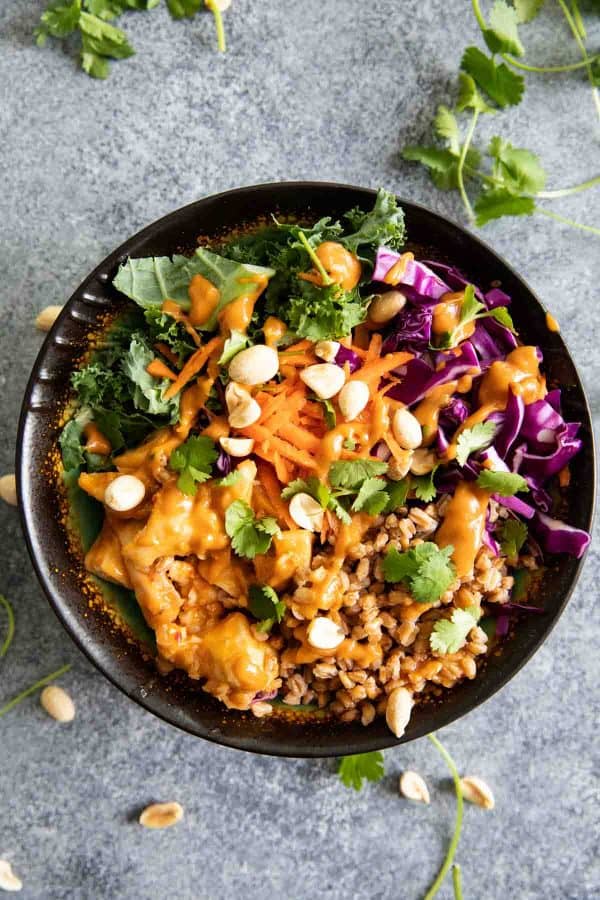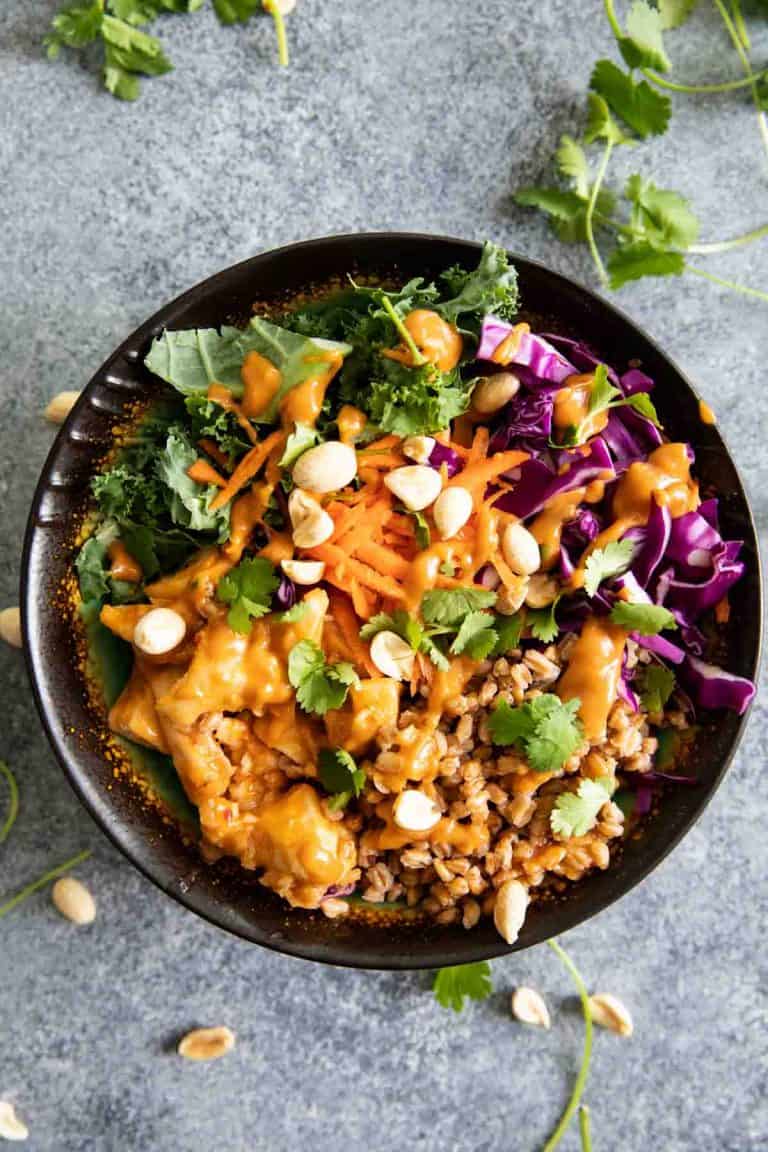 More Thai Inspired Recipes
Spicy Thai Chicken
Thai Style Tacos with Lime-Cilantro Slaw
Thai Chopped Chicken Salad
Thai Style Hot Dogs
Sweet Thai Chicken Wings
Spicy Thai Noodles with Shrimp
Favorite Meal Prep Containers
Looking for some of those meal prep containers? I have these from Amazon and have really loved them so far!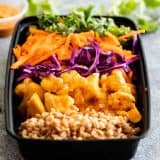 Thai Chicken Buddha Bowl Recipe
---
Author:
Prep Time: 20 mins
Cook Time: 30 mins
Total Time: 50 minutes
Yield: 4 servings 1x
Category: Main Dish
Method: Stove Top
Cuisine: Asian
Description
Filled with veggies, hearty farro and a spicy chicken, this Thai Chicken Buddha Bowl will leave you craving for more. Don't forget the spicy peanut sauce!
---
Scale
Ingredients
Peanut Sauce:
3 tablespoons creamy peanut butter
2 tablespoons freshly squeezed lime juice
1 tablespoon reduced-sodium soy sauce
2 teaspoons light brown sugar
2 teaspoons sambal oelek (ground fresh chile paste)
Buddha Bowls:
1 cup farro
1/4 cup chicken stock
1 1/2 tablespoons sambal oelek
1 tablespoon light brown sugar
1 tablespoon fresh lime juice
1 pound boneless, skinless chicken breasts, cut into bite sized chunks
1 tablespoon cornstarch
1 tablespoon fish sauce
1 tablespoon extra virgin olive oil
2 cloves garlic, minced
1 shallot, minced
1 tablespoon freshly grated ginger
Salt and pepper, to taste
2 cups shredded kale
1 1/2 cups shredded purple cabbage
2 carrots, peeled and grated
1/2 cup fresh cilantro
1/4 cup roasted peanuts
---
Instructions
In a small bowl, whisk together the peanut butter, lime juice, soy sauce, brown sugar, and sambal oelek. Whisk in 2-3 tablespoons of water. If using for meal prep, divide the sauce into 4 small containers. Cover and refrigerate for up to 3 days.
Cook the farro according to the package directions, then set aside to cool.
While the farro cooks, combine the chicken stock, sambal oelek, brown sugar and lime juice in a small bowl. Set aside.
In a large bowl, combine the chicken, cornstarch and fish sauce. Stir to coat the chicken. Let it sit for a few minutes to absorb the cornstarch.
In a large skillet over medium heat, heat up the olive oil, then add the chicken and cook until golden, about 3-5 minutes. Add the garlic, shallot and ginger and continue to cook until fragrant, about 2 minutes. Stir in the chicken stock mixture and continue to stir and cook for another minute, or until slightly thickened. Season to taste with salt and pepper.
For meal prep, divide the farro equally into 4 containers. Divide the chicken, kale, cabbage, carrots, cilantro and peanuts evenly between the 4 containers.
Buddha bowls will keep covered in the refrigerator for 3-4 days. Serve with the spicy peanut sauce.
Recipe Notes:
Very slightly adapted from Damn Delicious Meal Prep
Nutrition information provided as an estimate only. Various brands and products can change the counts. Any nutritional information should only be used as a general guideline.
Nutrition
Calories: 482
Sugar: 9 g
Sodium: 939 mg
Fat: 15 g
Saturated Fat: 2 g
Unsaturated Fat: 9 g
Trans Fat: 0 g
Carbohydrates: 53 g
Fiber: 7 g
Protein: 36 g
Cholesterol: 56 mg