Spice up your Caesar salad with spicy croutons and Cajun shrimp.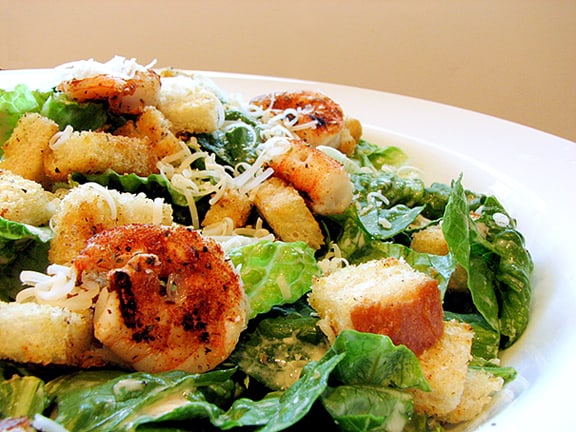 Hay, Hay, It's Donna Day is one of the first food blogging events I found out about when I first entered the food blogging world. I love seeing what everyone comes up with. This month, it the theme is Caesar Salads hosted by Katie at Other People's Food.
I love Caesar salad, but normally pass it up because of the tremendous calorie count. One of the best Caesar salads I have had was at a restaurant that used to serve a their Caesar with those little fried shrimp on top. Yeah, really healthy, right???!!!??? I was going to try to come up with something really unique and wonderful, but I stuck with the salad element on this. (I actually came up with an idea for something fantastic, but the deadline is coming up and it's just not going to happen this week…..) I thought I'd take the idea of the shrimp and throw it into my salad as well.
While searching for a recipe, I ran across a "healthier" dressing recipe on cookinglight.com. The recipe also included making a spicy, Cajun style crouton. I decided to take this a step further and add the seasoning to my shrimp before grilling them.
I LOVED this dressing recipe. It was perfect – and although I still wouldn't call it healthy, it does cut down on a lot of the calories and fat from a normal Caesar dressing. I did really like the Cajun seasoning as well. So here it is – my entry for the Caesar Salad theme of Hay Hay It's Donna Day!!
Like what you see here? Make sure you are following Taste and Tell for more great recipes and ideas!!

Facebook ** Pinterest ** Twitter ** Instagram ** Google+
or you can subscribe to my newsletter or Feedly or Bloglovin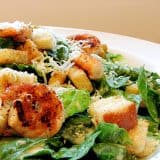 Creamy Caesar Salad with Spicy Croutons and Shrimp
---
Prep Time: 25 minutes
Cook Time: 15 minutes
Total Time: 1 hour 45 minutes
Yield: 6 servings 1x
Description
Spice up your Caesar salad with spicy croutons and Cajun shrimp.
---
Scale
Ingredients
Salad:
1/2 cup nonfat mayonnaise
2 tablespoons red wine vinegar
2 teaspoons Dijon mustard
2 teaspoons Worcestershire sauce
1 teaspoon anchovy paste (I just threw in 2 anchovies)
1 garlic clove, finely minced
1/4 teaspoon pepper
2 teaspoons olive oil
3/4 teaspoon Cajun seasoning (recipe follows)
1 garlic clove, minced
2 cups (3/4-inch) sourdough bread cubes
1 lb peeled, deveined shrimp
2 teaspoons Cajun seasoning
18 cups torn romaine lettuce
1/3 cup (1 1/3 ounces) grated fresh Parmesan cheese
Cajun Seasoning:
2 1/2 tablespoons paprika
4 teaspoons dried oregano
1 teaspoon salt
1 teaspoon garlic powder
1 teaspoon white pepper
1 teaspoon black pepper
1 teaspoon ground red pepper
---
Instructions
Combine the mayonnaise, vinegar, mustard, Worcestershire sauce, anchovy paste and garlic in a food processor and process until well blender. Transfer to a bowl, cover, and refrigerate for at least 1 hour.
Preheat the oven to 400F. In a bowl, combine the olive oil, Cajun seasoning and garlic clove. Microwave on high for 20 seconds. Add the bread cubes and toss to coat. Spread into single layer on a baking sheet and bake until golden brown, about 15 minutes.
Toss the shrimp with the 2 teaspoons of cajun seasoning. Grill the shrimp until cooked through. Remove to cool.
Place the lettuce in a large bowl. Add the dressing and toss to coat. Sprinkle with the cheese, shrimp and croutons.
Cajun seasoning:
Combine all the seasoning ingredients in a ziptop bag and shake to combine.