This Shrimp and Grits Casserole is a southern staple served casserole style.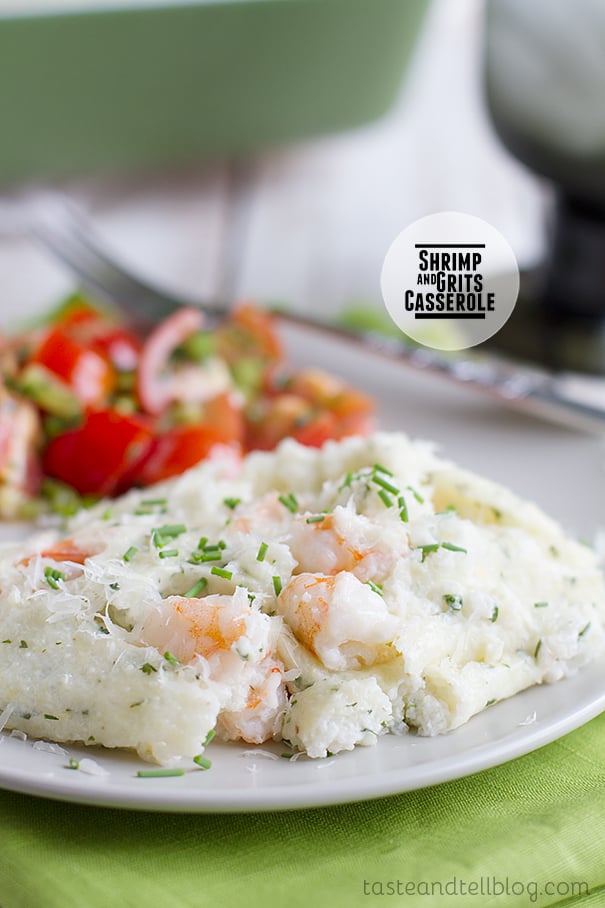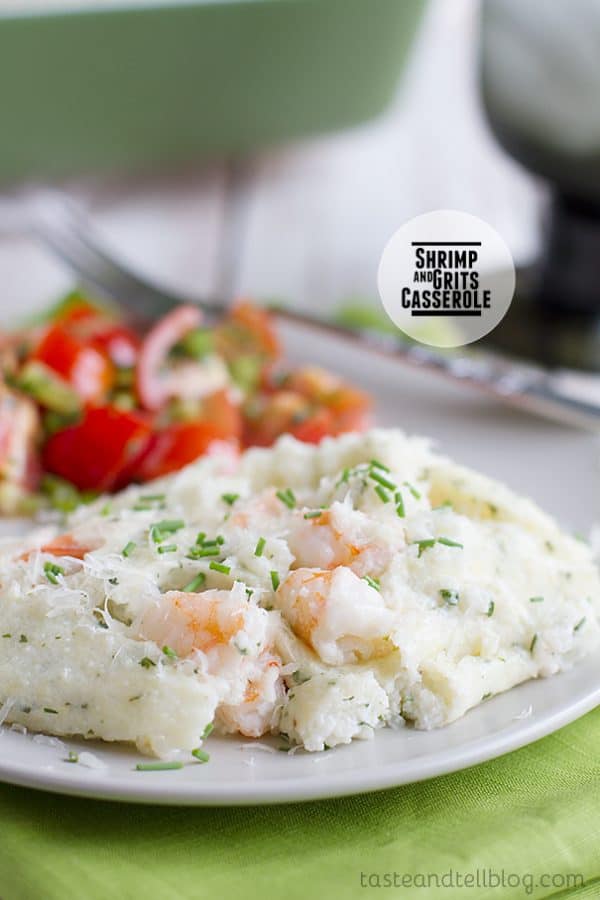 Why is it that casseroles are typically looked down upon? I know that sometimes they might not be as pretty as some other dishes, but it just seems like "casserole" is a dirty word to some people.
Luckily, I'm not one of those people. In fact, I'm a casserole loving girl. Almost always comforting, these meals typically served family style from a 9×13-inch baking dish are usually down home, no fuss, easy weeknight dinners. And most of the time, that is exactly what I'm looking for in a dinner recipe.

Well, today I'm going into casserole territory. But this isn't your typical cream-of-something laden casserole. Think of the southern staple – Shrimp and Grits – but made easy in casserole style.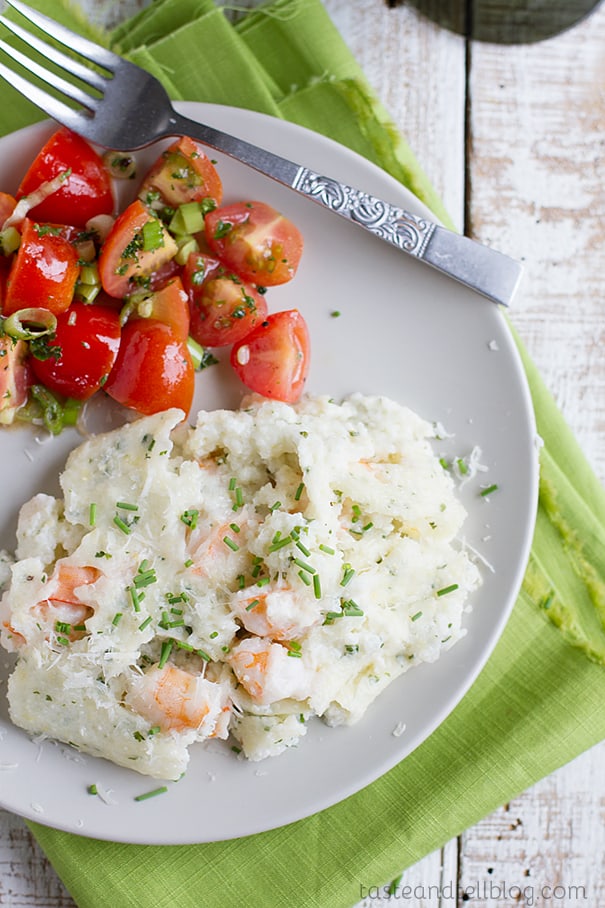 My daughter has become quite a shrimp and seafood lover, so I have been trying to make more recipes with shrimp at home. But I was also looking for something that would be easy for a weeknight dinner and something that the whole family would love. Shrimp and Grits Casserole to the rescue!!
This was super easy, super creamy, and mild enough to be family friendly. If you happen to be one of those casserole haters, use individual ramekins or dishes instead of the large baking dish.
But no matter how you dish it up, I think you'll love this different take on shrimp and grits. I know my family did!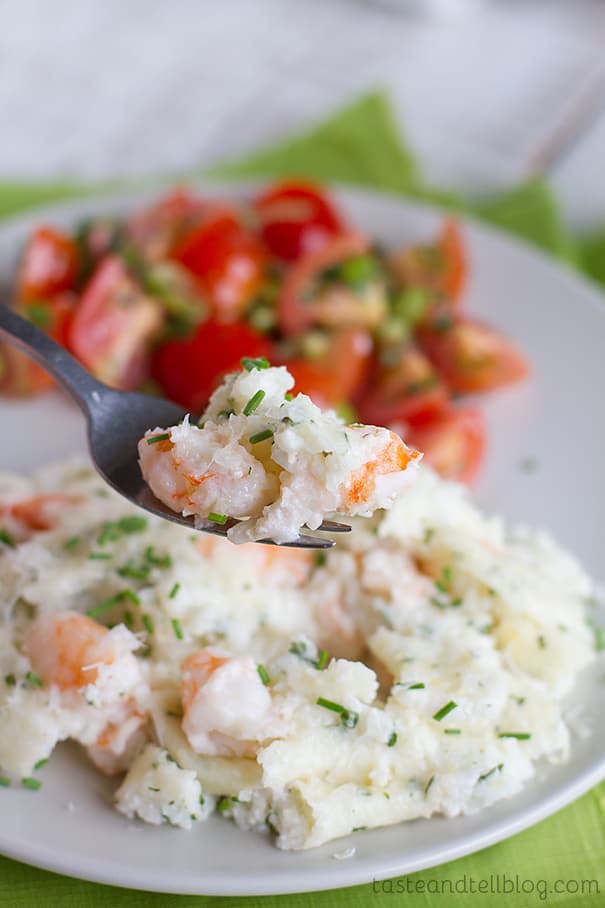 More Family Friendly Casseroles
Chicken Tamale Casserole
Corn and Bacon Casserole
Beef Enchilada Casserole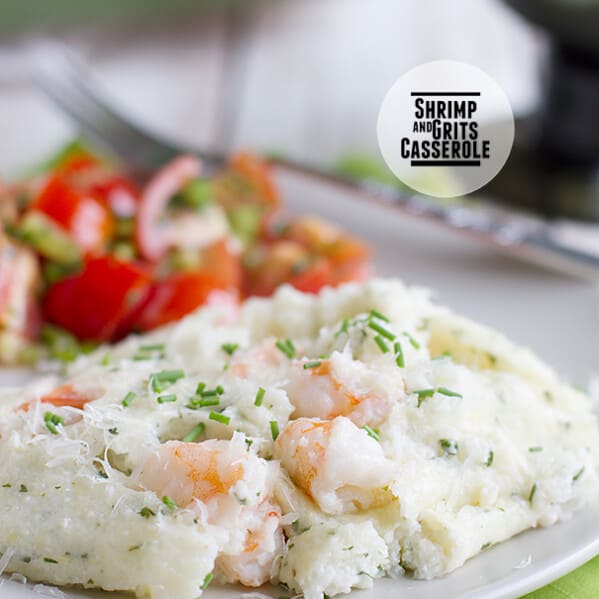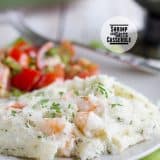 Shrimp and Grits Casserole
---
Prep Time: 20 minutes
Cook Time: 25 minutes
Total Time: 45 minutes
Yield: 6 servings 1x
Description
This Shrimp and Grits Casserole is a southern staple served casserole style.
---
Scale
Ingredients
2 cups milk
3/4 cup reduced sodium chicken broth
1 cup quick-cooking grits
1/4 teaspoon salt
1/2 cup shredded Parmesan cheese
2 tablespoons butter
3 oz reduced fat cream cheese
3 tablespoons chopped fresh parsley
1 tablespoon chopped fresh chives
1 tablespoon lemon juice
2 egg whites, lightly whisked
1 lb peeled and deveined shrimp, coarsely chopped
---
Instructions
Preheat the oven to 375°F. Spray an 11×7-inch baking dish with nonstick cooking spray.
In a medium saucepan, combine the milk and the chicken broth over medium-high heat. Bring to a boil, then gradually add the grits and the salt to the pan, whisking constantly. Remove from the heat and stir in the Parmesan, butter and cream cheese. Stir in the parsley, chives, lemon juice, egg whites and shrimp. Pour into the prepared baking dish.
Bake for 25 minutes, or until set.