As an easy dinner or quick lunch, this Shrimp Scampi Quesadilla Recipe is a great change up to your routine, and they are packed with flavor and only 4 ingredients!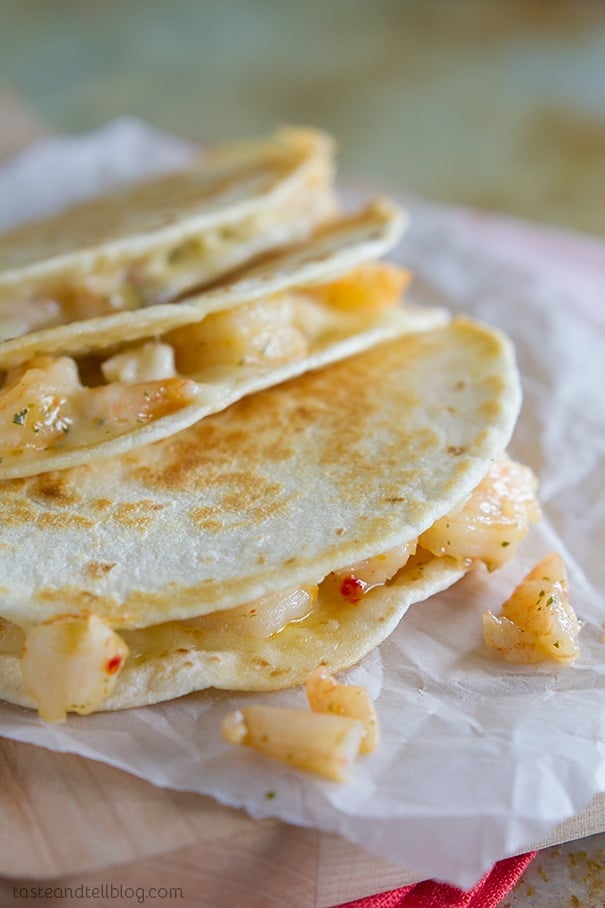 I am a huge advocate of family dinner. Studies have shown that when families eat together, everyone is generally healthier, they have better eating habits and the kids perform better in school*.
But I'm going to be honest. While we do have family dinner every night, it's not always pretty. Before I had kids, I had this idea that everyone would gather around the table and talk about their day over a meal that I had lovingly prepared.
But the reality is that with a 5 year old, a 3 year old and an almost 2 year old, dinner time is usually more crazy than pleasant. The 5 o'clock hour is a crazy one, and at the end of the day, it's all we can do to just get through dinner.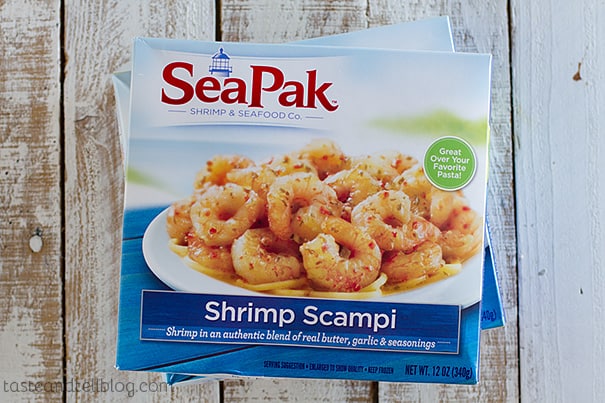 But I refuse to give up. When I heard that SeaPak was celebrating National Seafood Month by making dinnertime "Shrimptacular", showing that dinner doesn't have to be complicated and that it can be fun, I knew I wanted to participate. Having dinner together is beneficial for family members of all ages, and it doesn't have to be a big, time-consuming production.
On those days when it has been crazy, and when the kids are crying for attention and I don't think that dinner will ever happen, I like to change things up. Change the setting. A simple dinner and taking it away from the table is all it takes sometimes!!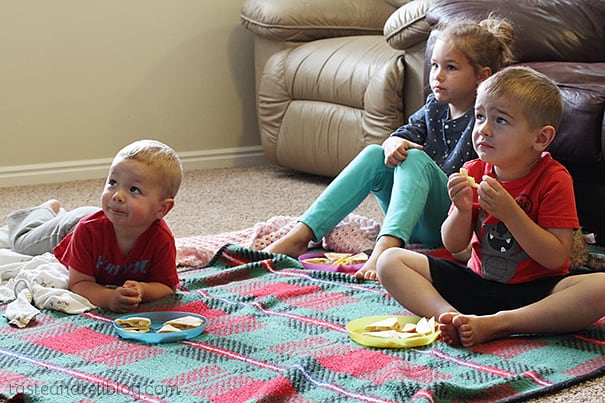 Our favorite way to have a Family Fun Night is to have a living room picnic. We put on a movie that we all love (the kids are totally into Harry Potter right now) and eat a picnic dinner on the living room floor. The kids stop fighting and start laughing, and we get to spend time together. And that's really what matters. I love that we are creating memories, and that we actually get to spend time together.
Keeping the food simple on these nights is key, as well. The quicker I can get dinner done and that I can attend to the family, the better. And this Shrimp Scampi Quesadilla Recipe definitely fits the bill!! We are huge fans of the SeaPak Shrimp Scampi, and while we usually eat it with pasta, the last time we were eating it, I thought that it would be delicious added to quesadillas. And I was right!!
The SeaPak Shrimp Scampi is packed with flavor and cooks up in just minutes. All you have to do it cook it, chop up the shrimp, and add it to simple quesadillas. The kids love quesadillas, and one of Abbi's favorite foods is shrimp, so I knew these would be a hit!
What do you do to make family dinner fun?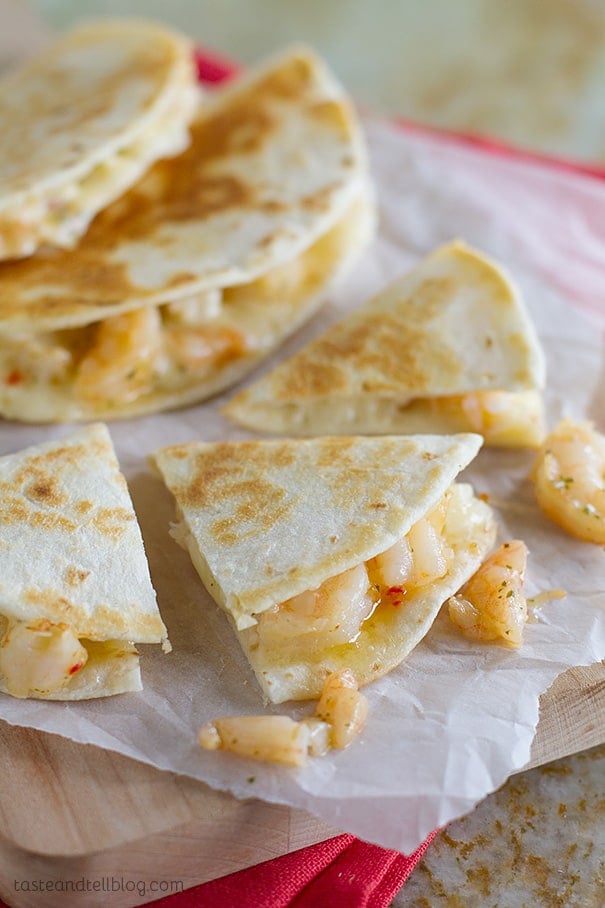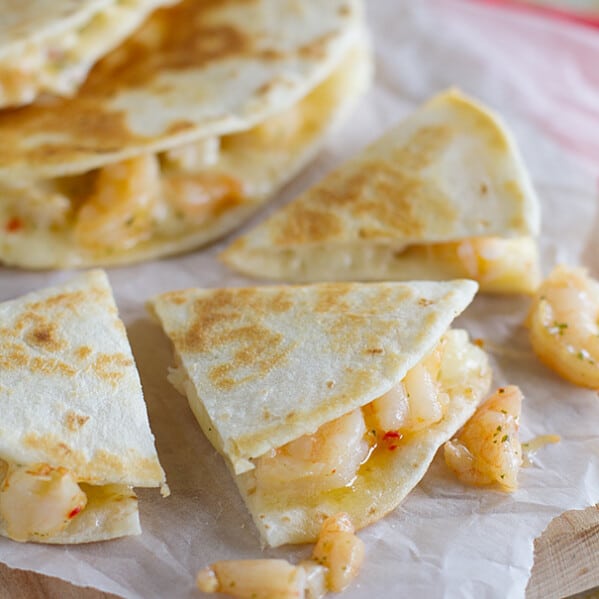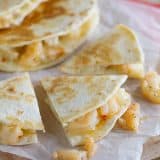 Shrimp Scampi Quesadilla Recipe
---
Prep Time: 10 minutes
Cook Time: 15 minutes
Total Time: 25 minutes
Yield: 4 servings 1x
Description
As an easy dinner or quick lunch, these Shrimp Scampi Quesadillas are a great change up to your routine, and they are packed with flavor and only 4 ingredients!
---
Scale
Ingredients
1 box (12 oz) frozen SeaPak Shrimp Scampi
4 6-8" flour tortillas
1/2 cup grated Monterey Jack cheese
1/3 cup grated Parmesan cheese
---
Instructions
Place a medium skillet over medium-high heat. Add the SeaPack shrimp in a single layer and sauté for 7-8 minutes, turning occasionally, until the shrimp are fully cooked. Remove the shrimp with a slotted spoon to a cutting board and coarsely chop.
Heat a griddle over medium heat. To half of each of the tortillas, add some of the Monterey Jack cheese, some Parmesan, 1/4 of the shrimp and then a little more Monterey Jack (to act as the "glue" to keep everything together). Fold the tortilla over the filling, forming a half circle.
Spray the griddle with nonstick cooking spray and place the quesadillas on. Cook until golden, then flip and cook on the second side until golden and the cheese is melted. Cut each quesadilla into wedges to serve.
Thank you to SeaPak for sponsoring this post. Because of sponsors like SeaPak, I am able to bring you all of the recipes I feature here.