Boneless pork roast is slow cooked in a sweet Asian-inspired sauce and then served over rice in this slow cooker pork roast recipe.



I can honestly say that I love to be in the kitchen.
Sometimes, as a food blogger, I worry about burnout and getting sick of cooking. And while I am human, and there are nights that I just don't want to make dinner, I can say that 95% of the time, I get excited about cooking. About looking at recipes, planning recipes, thinking about recipes.
Yesterday, it was like Christmas. I got 4 cookbooks in the mail. 1 of them I ordered, and the other 3 were review copies. (Have I mentioned that I have the coolest job ever?) This was all after I had just gotten home from the grocery store with 3 new food magazines in tow.
This is when you say – it's a good thing I like cooking!!
But really, it makes me happy like nothing else. It's my happy place, my sanctuary. If you haven't noticed, I've been posting a lot more than normal lately. I started off in August saying that I wanted to post 7 days a week. Just for fun. And while I did miss one day that month, the increased posting has stuck because I just have so much that I want to share. Believe it or not, I have a huge backlog of recipes right now. I obviously have an over-sharing problem and can't make dinner without talking about it with all of you. 🙂

So hopefully I'm not scaring all of you away with the 11 million recipes. Because they are going to keep coming for the next little while! 😉
The temps have definitely dropped here in Utah. The air conditioner hasn't been on for days, and I've been leaving a window open at night and waking up to a cold house. And while I am an advocate of cooking with your slow cooker year round, I know so many people think of breaking it out when the temperatures drop.
I actually made this slow cooker pork roast recipe back in the middle of the summer, but it's one of those recipes that is perfect year round. I am always a fan of Asian flavors, and I'm always looking for different proteins to use for dinner besides chicken and beef. Pork roast is a protein that I love but often forget about, but I don't think I'll be forgetting this Asian Slow Cooker Pork Roast anytime soon!
This is a simple crock pot recipe that takes only minutes to prep, which I know is something that you all are looking for.
This is a great slow cooker recipe to have on hand for busy fall nights!
Like what you see here? Make sure you are following Taste and Tell for more great recipes and ideas!!

Facebook ** Pinterest ** Twitter ** Instagram ** Google+
or you can subscribe to my newsletter or Feedly or Bloglovin


Print
Asian Slow Cooker Pork Roast
Boneless pork roast is slow cooked in a sweet Asian-inspired sauce and then served over rice in this slow cooker pork roast recipe.
Prep Time:

10 mins

Cook Time:

6 hours 10 mins

Total Time:

6 hours 20 mins

Yield:

4 servings
Ingredients
1/2 cup low-sodium soy sauce
1/2 cup light brown sugar
2 tablespoon Asian sweet-chili sauce
1 inch fresh ginger, peeled and finely grated
1/8 teaspoon black pepper
2 1/2 pounds boneless pork roast, cut into 2 to 2 1/2 inch chunks
1 tablespoon water
2 teaspoons cornstarch
prepared rice, for serving
2 green onions, sliced
Instructions
Combine the soy sauce, brown sugar, chili sauce, ginger and pepper in the bottom of a 4- to 6-quart slow cooker. Add the pork and stir to coat. Cook until the pork is cooked through, 3-4 hours on high or 5-6 hours on low.
When the pork is cooked, remove from the slow cooker. Pour the remaining sauce into a saucepan and heat over medium heat. Bring to a boil. In a small bowl, combine the water and cornstarch. Pour into the boiling sauce. Continue to cook until slightly thickened, about 4-5 minutes.
Combine the pork and the sauce back in the slow cooker and stir to coat with the sauce. Serve the pork with the sauce over rice. Garnish with the green onions.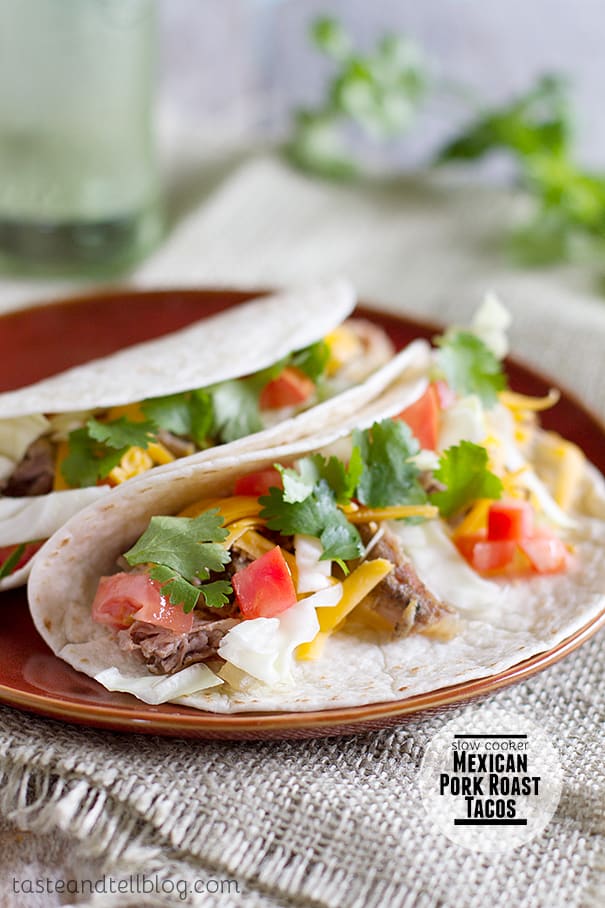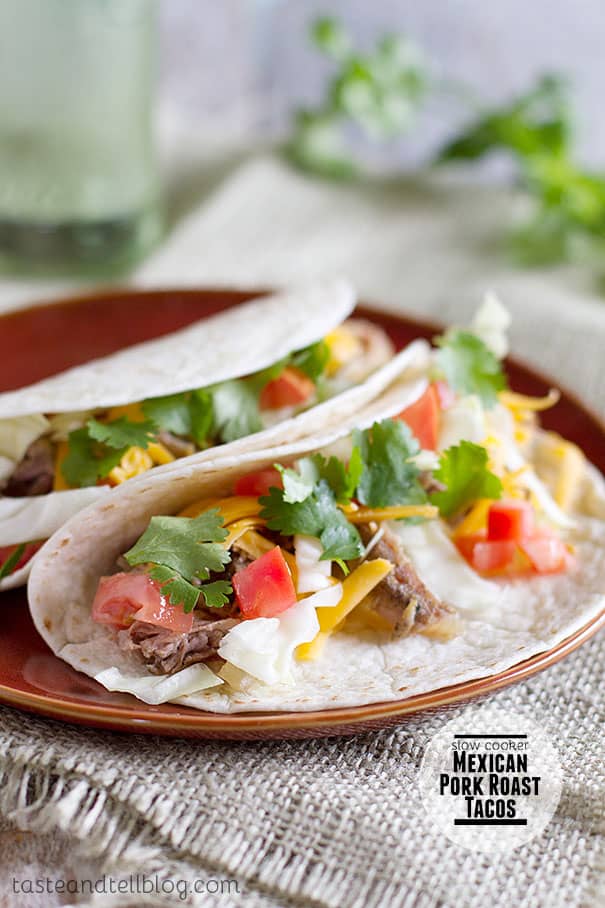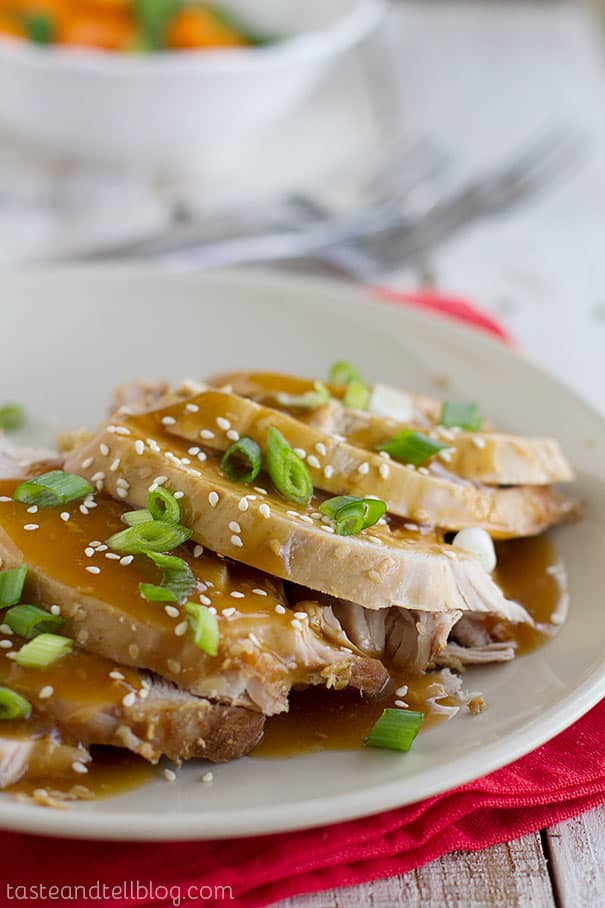 Around the Web:
Crock Pot Hoisin Shredded Pork Sliders from 365 Days of Slow Cooking
Smothered Sweet Pork Burritos from Mel's Kitchen Cafe
Jamaican Jerk Pulled Pork Tacos from Shugary Sweets