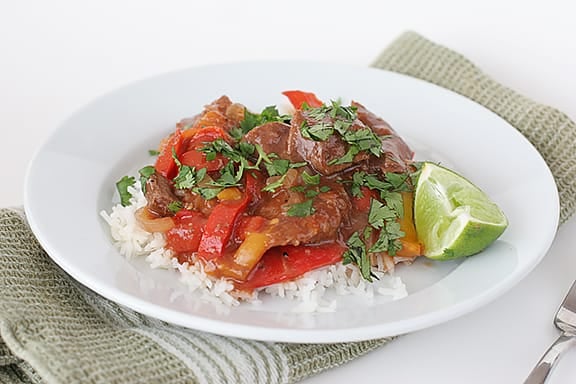 I know what you're probably thinking – "this is a Rachael Ray recipe and it's a slow-cooker meal?  I thought she was the queen of 30 minute meals?"
Yeah, I have to admit that I never thought I'd see a slow-cooker recipe come from Rachael Ray.  But that's one reason I love her talk show – she can go beyond the 30 minutes if she wants to.  And just because this takes longer than 30 minutes to cook, it only takes minutes to put together!!
I knew I was going to be having a crazy day yesterday, and I remembered that several months ago, RR did a week long of slow-cooker recipes on her talk show.  So, to the internet I went to find something easy for dinner!  I had almost all of these ingredients on hand, so my choice was made.  I've said it before, but I'm not a fan of the texture of meat after it's cooked in a slow-cooker.  This meal was really delicious, but once again, the meat just wasn't for me.  I guess it's because I like my beef a little more on the rare side, and this is definitely well done.  Almost falling apart well done.  But the flavors are all there, and it's surprisingly very flavorful and not watered down like a lot of other slow-cooker recipes get.  So this recipe is a great one – especially if you don't mind the texture of the meat!
There is one thing – and I remember her mentioning this on her show – that I think is very important when it comes to using your slow-cooker – you have to do something to brighten and freshen the dish up.  The recipe calls for bean sprouts which I left out, but the fresh cilantro and the lime juice are key in this dish.  Don't skip out on them!
Asian Pepper Steak
from the Rachael Ray Show
serves 6-8
3 pounds beef sirloin
3 tablespoons cornstarch
3 cloves garlic, grated or finely chopped
2 tablespoons ginger, grated
1 large onion, sliced
3 red bell peppers, sliced
3 yellow bell peppers, sliced
1 8-ounce can tomato sauce
4 tablespoons brown sugar
3/4 cup soy sauce
ground black pepper, to taste
Topper:
2 cups bean sprouts
1 cup cilantro, roughly chopped
2 limes
For Serving:
Prepared rice
In a large skillet, sear the meat in some EVOO until nice and brown on both sides. Remove the steak to a cutting board and slice the steak into 1-inch thick strips.
Place the sliced steak into the crock-pot bowl, then dust the meat with cornstarch and mix the meat around until there is no more visible cornstarch.
Add the remaining ingredients except for the topper ingredients to the crock-pot, then place a lid on top and cook on high for 4 hours or low for 6 hours.
When you are ready to serve, get a medium bowl, mix the topper ingredients and place a portion of the mixture on top of each portion of Asian Pepper Steak. This will add pop of freshness and texture.
Serve on top of cooked rice.