Simple and healthy, these Grilled Pork Chops with Cilantro Lime Sauce are packed with flavor and done in under half an hour.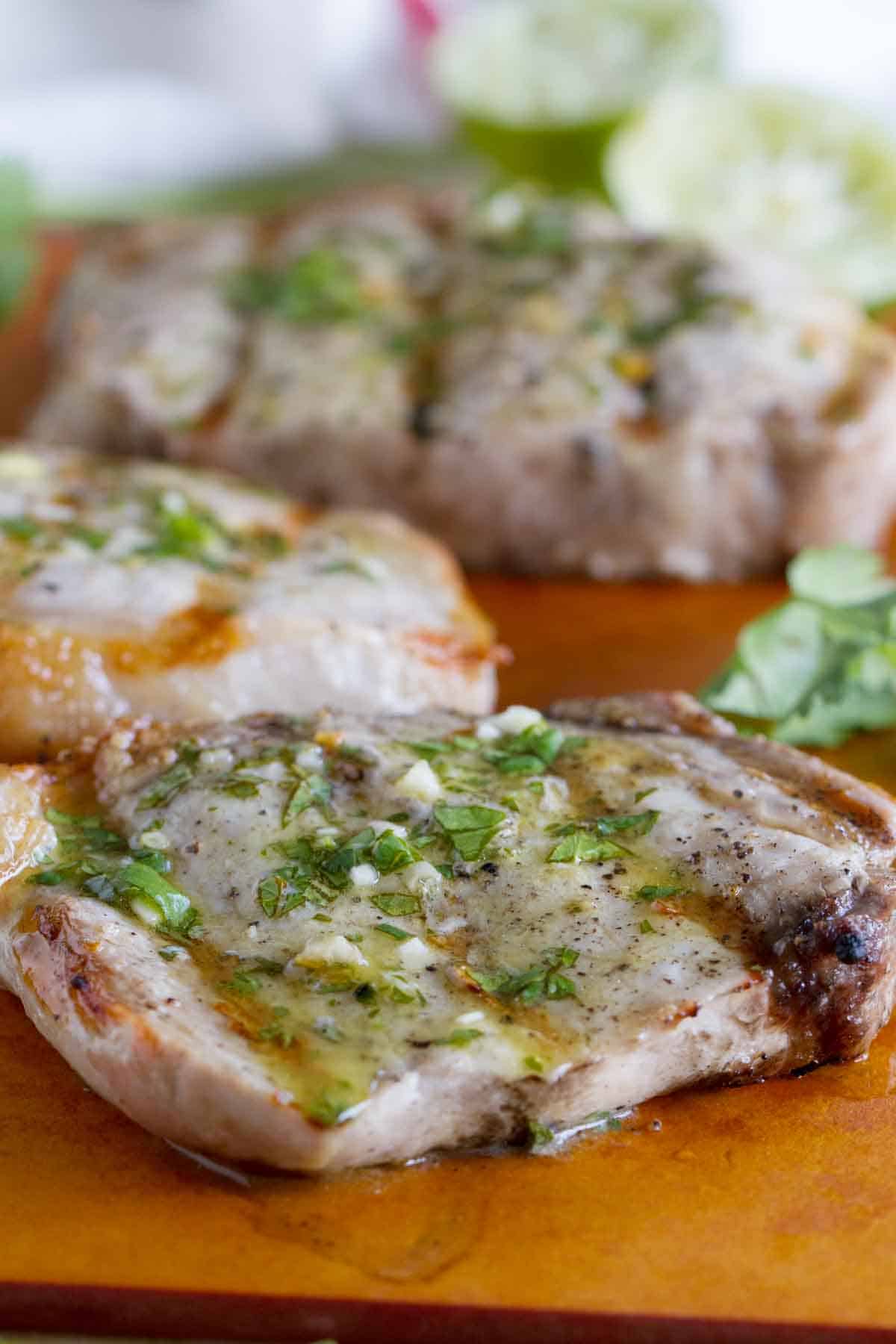 There are only a couple of things I miss about being in the workforce. One of them is having lots of time to blog. Yeah, I know I probably shouldn't admit to spending most of my days at my former job on the computer food blogging and reading other food blogs, but when you have nothing else to do, it sure does help to fill the time.
But now – with life as a stay-at-home mom, life is busier than ever. My computer time is extremely limited, and I really miss spending so much time in the food blogging world. Not to mention that my folder of food to blog about is growing larger by the day. I probably have at least 30 recipes to share, but even posting 3 times a week is pushing it for me right now.
But even though I don't spend the time I used to, I still am reading and using your recipes!! Like this meal, saved from Sass and Veracity over 2 years ago. Meals like these are the ones that I can't believe I waited so long to make.
This pork would be perfect to make now that it is grilling season. I made this a few months ago, and with the unpredictable Utah weather, I made them inside on a stovetop grill. I'm always looking for new ways to cook pork, and this was a great change up.
But the side dish – what a winner!! I always say that I'm going to cook quinoa more often because not only is it tasty, but healthy as well. But then I forget about it until I'm going through my pantry and find a half empty bag. This dish I will not soon forget. So simple, but the ingredients come together so well. This made a ton, but I didn't mind and snacked on it for days after! (UPDATE: find the Tomato and Black Bean Quinoa Salad here.)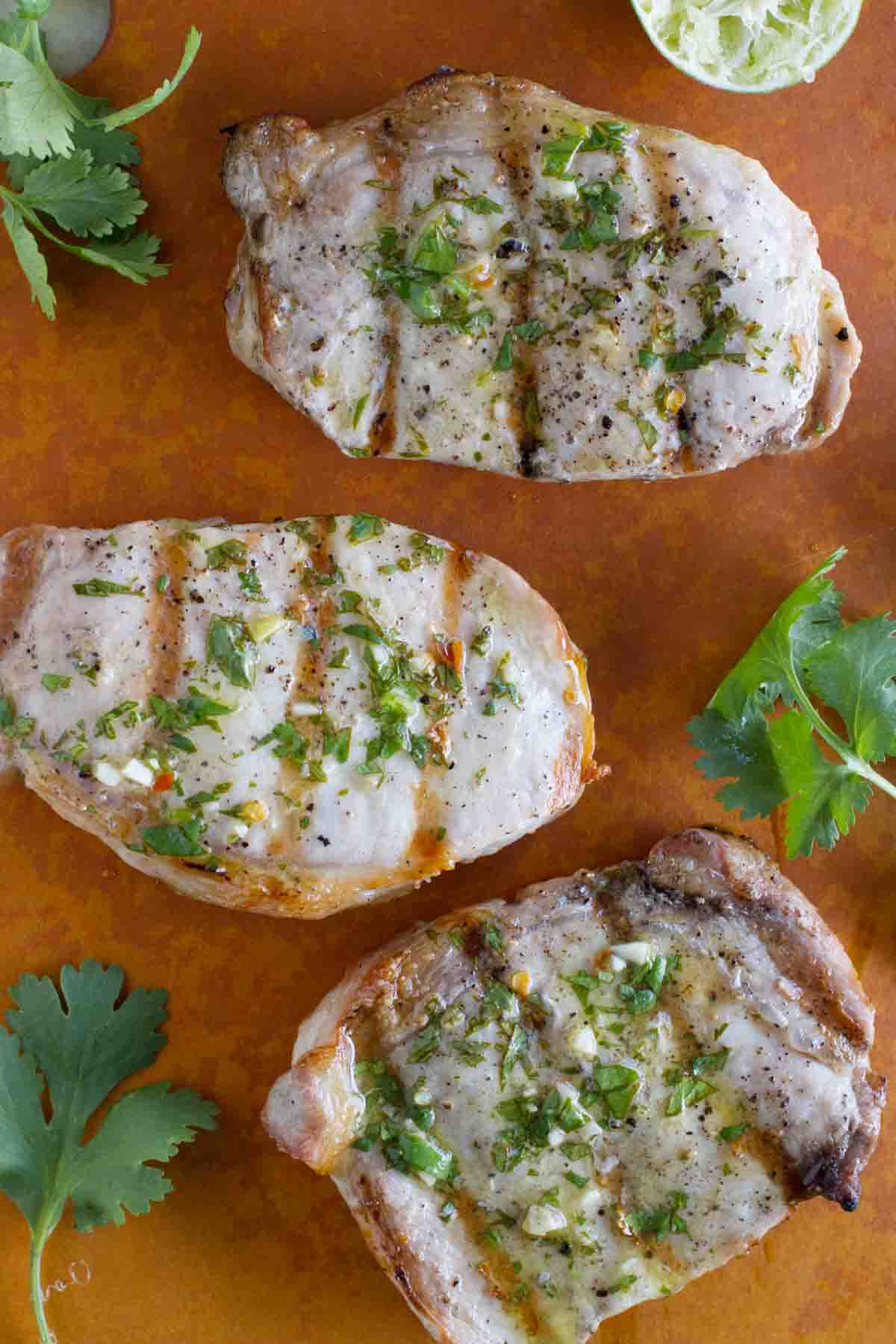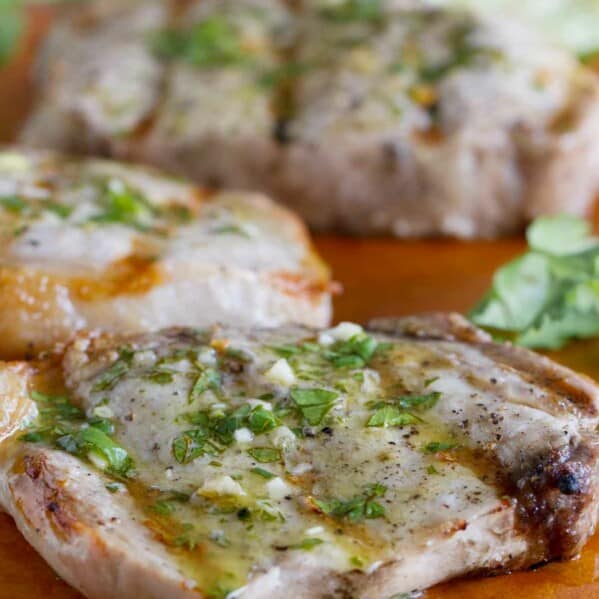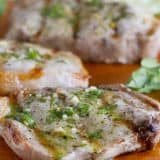 Grilled Pork Chops with Cilantro Lime Sauce
---
Author:
Prep Time: 5 mins
Cook Time: 15 mins
Total Time: 20 mins
Yield: 6 servings 1x
Category: Main Dish
Method: Grilled
Cuisine: American
Description
Simple and healthy, these Grilled Pork Chops with Cilantro Lime Sauce are packed with flavor and done in under half an hour.
---
Scale
Ingredients
1/4 cup fresh lime juice
1 clove garlic, minced
1/4 teaspoon red pepper flakes
1/3 cup extra virgin olive oil
2 tablespoons minced cilantro
6 (1/2-inch to 1-inch thick) boneless pork chops
---
Instructions
In a small bowl, whisk together the lime juice, garlic and red pepper flakes. Stream in the olive oil, whisking well. Whisk in the cilantro.
Prepare a grill to medium-high heat. Pat the pork chops dry with a paper towel and season with salt and pepper. Grill the pork, turning once, until they reach 135ºF, 8-10 minutes. (The pork will come to full temperature, 145ºF, as it continues to cook while it is resting.) Add a spoonful of the cilantro lime sauce over the tops of the chops when they have about 2 minutes remaining.
Let the pork chops rest for 10 minutes before serving. Drizzle with the remaining cilantro lime sauce.
Recipe Notes:
very slightly adapted from Gourmet July 2007
Keywords: grilled pork chops